While eating breakfast my mind wandered to beauty recipes. Have your ever noticed that some of best beauty ingredients come in your breakfast bowl? Yogurt, oatmeal, fruit and spices – these are natural beauty all stars! Here's a pore cleansing facial inspired by my favorite oatmeal flavor: Apple Cinnamon
Apple + Cinnamon Pore Cleansing Face Mask
This is a great mask for those with oily or acne-prone skin. The natural acids in the apples and yogurt naturally exfoliate skin while the oatmeal soothes inflammation. And cinnamon is an antioxidant as well as antibacterial and anti-fungal.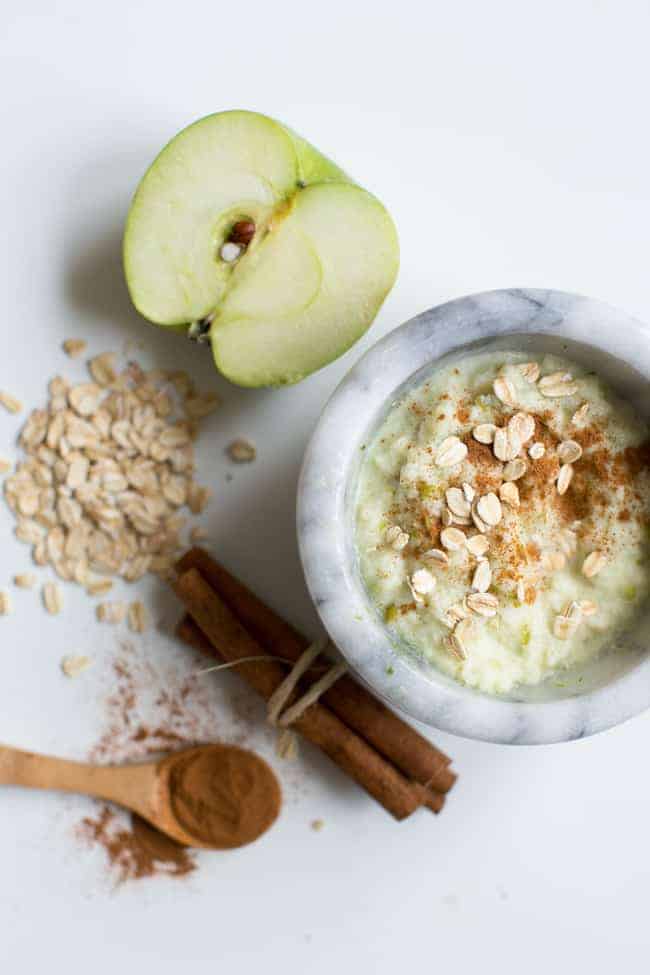 Supplies needed
1/2 green apple, roughly chopped
2 tablespoons Greek yogurt
2 tablespoons oatmeal
1/2 teaspoon cinnamon
Puree the green apple and yogurt together until smooth. Add the oatmeal and give the mixture a couple of pulses. You want to break down the oatmeal but not puree it. Transfer to clean bowl and stir in the cinnamon. Apple mask to face with clean hands or a facial brush. Avoid eye area. Let sit for 15 minutes and remove with warm water. Pat dry and follow with moisturizer.
What's your favorite oatmeal flavor? Peach? Blueberry? Chances are it would make an awesome face mask too! The next time you reach for your breakfast yogurt consider its versatility.
9