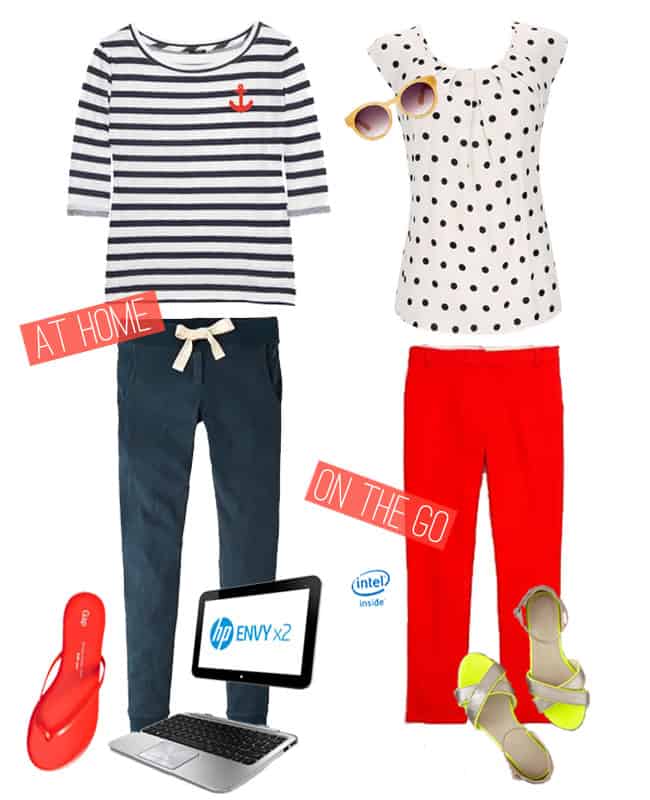 Sometimes I miss dressing up to go to the office each day. Well, not the suits. But the days when high heels weren't off limits and I could take 2 minutes to coordinate my jewelry without asking myself, Is this a choking hazard?
Since my shopping splurge, I've been making much more of an effort to "get dressed" each day. For me, this means no yoga pants after 10am. It means not leaving the house without a swipe of lipstick and an attempt to tame my hair. And this week it means buying new bras and underwear.
But let's keep it real. When I'm home, I keep it simple with comfy pants and a stripey T-shirt. Instead of wearing much jewelry, I go with bright red flip flops to add a dash of color.
When I get to pull it together a bit more to get out of the house (yay!!) I stick with my cropped pants. Then I'd add some polka dots and neon sandals – and the shades I got for Christmas that always make me feel cool!
Do you dress up for working at home?
Envy x2 with Intel Inside®
The HP + Intel + Project Runway Pin Your Style Contest
Want to participate?
Pin a photo of the HP Envy x2 with Intel Inside® via the Pin It button on the Pin Your Style contest page (http://www.hp.com/go/pinyourstyle). Then, build a board that represents that week's theme. Check out the weekly Pinsetter images on the site for inspiration.
Submit your board's URL into the site to enter. Then, share your board with friends to earn the most votes!
Win prizes like an HP Envy x2 with Intel Inside® and a gift card to bring your style to life by getting the top votes for your board.
This post is sponsored by HP and Intel. Pin Your Style with HP + Intel + Project Runway to win chic HP products Pin Now
0