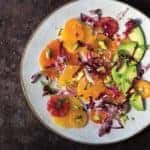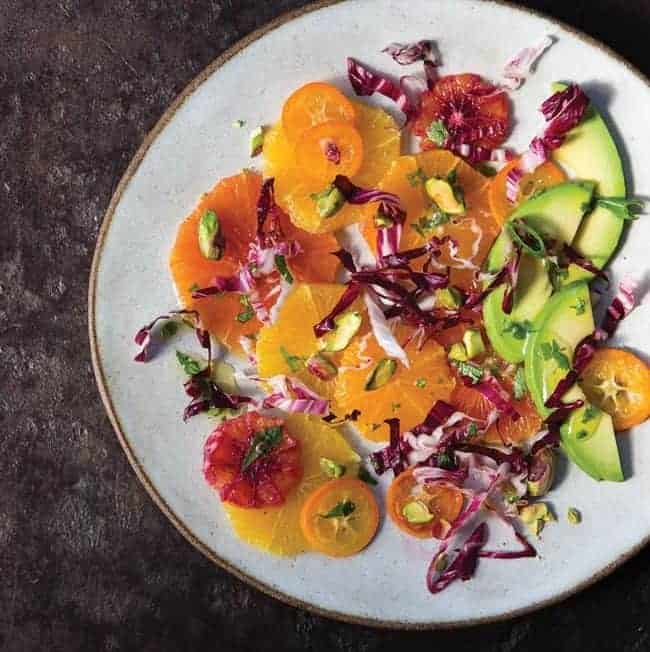 Print Recipe
Citrus and Avocado with Lime-Cumin Vinaigrette
Reprinted with permission from In My Kitchen by Deborah Madison, copyright © 2017. Photography by Erin Scott. Published by Ten Speed Press, an imprint of Penguin Random House LLC.
6

oranges

different varieties, preferably seedless

1

large ripe but firm avocado

2

handfuls finely shredded radicchio

napa cabbage, or romaine lettuce

1/4

cup

pistachio nuts
The Dressing
1

small clove garlic

Grated zest of 2 limes

3

tablespoons

lime juice

2

scallions

including an inch or so of the greens, finely sliced

1

tablespoon

finely diced jalapeño chile

optional

1/2

teaspoon

cumin seeds

1/2

teaspoon

coriander seeds

1/4

teaspoon

dry mustard

1/4

teaspoons

sweet paprika

4

tablespoons

olive oil

2

tablespoons

finely chopped cilantro
Take a slice off the stem end and flower end of each orange so that the fruit stands on a cutting board without wobbling. Using a sharp knife, slice down the sides, cutting just beneath the white pith. (Sometimes it takes a few strokes to get under it.) When you've removed most of the pith, hold the orange in your hand and slice off any patches that remain, then slice the fruit into rounds about 1⁄4 inch thick. Do this with all the oranges and put the slices in a shallow bowl. (If you wish to include thin slices of kumquats with their skins, do so.) Cover and refrigerate until you're ready to serve.
To Make the Dressing:
Begin by pounding the garlic in a mortar with 1⁄2 teaspoon of salt until it's smooth, after half a minute or so. Add the lime zest, juice, scallions, and chile if using. Set aside.

Toast the cumin and coriander seeds in a dry skillet until aromatic, then turn them out on a plate to cool briefly. Grind them to a powder in a spice grinder. Add them, along with the rest of the spices, to the mortar and then whisk in the oil and add the cilantro. Taste a little dressing on a piece of orange to make sure the balance is right. Halve the avocado, scoop out the flesh, cut it lengthwise into slices, and lay them on the oranges.

Pour the dressing over all, then scatter the shredded greens and the pistachios over the top. Present the salad like this, but toss it a bit as you serve it so that everything is well mixed.