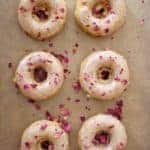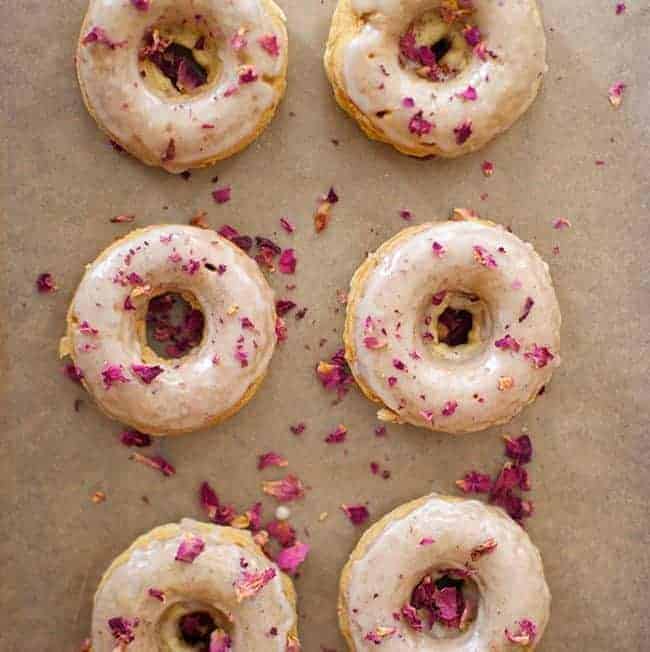 Print Recipe
CARDAMOM AND ROSE PETAL DONUTS
Delicious baked donut recipe with cardamom and rose petals from The Inclusive Vegan.
For the doughnuts:
1⅓

cup

all purpose flour

⅓

cup

sugar

1

teaspoon

baking soda

1

teaspoon

nutmeg

½

teaspoon

salt

½

cup

non-dairy milk

2

tablespoons

apple cider vinegar

2

tablespoons

canola oil

1

teaspoon

vanilla extract
Preheat the oven to 350 Fahrenheit.

In a bowl combine flour, sugar, salt, baking soda and nutmeg.

In a separate bowl combine milk, oil, vinegar and vanilla.

Pour the wet ingredients into the dry ingredients and mix until just combined.

Put the batter into a pastry bag and pipe out the dough into a doughnut shaped baking pan. This will give a clean circle. If you're less concerned about that, you can fill the pan by hand or bake them off as cupcakes.

Bake 12 minutes until just golden. Let cool 5 minutes and remove from the pan.
For the glaze:
Combine powdered sugar, cardamom and almond milk. Stir until a thick glaze forms.

Dip the doughnuts into the glaze. Pull them up and twist slightly to catch the glaze on the top of the doughnut.

Allow the glaze to set and dip a second time.

Before the glaze becomes dry, sprinkle with rose petals.

Serve with strawberries and champagne, if you're fancy like that.