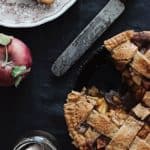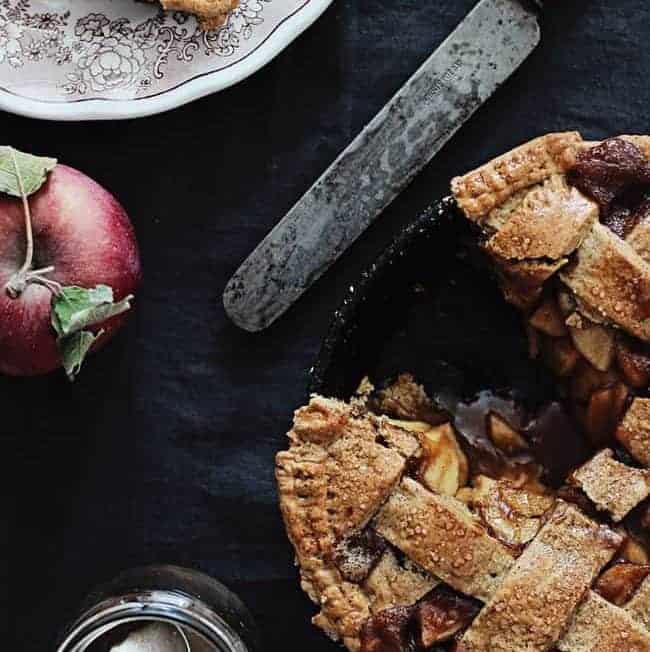 Print Recipe
Healthy Gluten-Free Apple Pie
If apple pie is your favorite autumn dessert you will love this guilt-free version. Gluten-free, low in sugar, low in unhealthy fats, but with a gorgeous taste and bathed in healthy caramel sauce.
Prepare the crust dough - In a food processor, with dough blade, pulse the gluten-free flour, baking soda and sea salt until well combined. Add the coconut butter and pulse to obtain crumb-like texture. Add the cold water and vinegar, and process until well combined. Remove the dough from the processor, wrap in plastic foil and refrigerate for 30 mins.

Preheat the oven to 220°C/425°F.

Peel the apples, remove the cores, and cut in cubes. Place in a bowl and set aside.

Prepare the caramel sauce - mix the lemon juice, water and sugar in a sauce pan and bring to boil over medium heat. Add the coconut milk and sea salt, mix well and let simmer for 10 mins until the liquid thickens.

Remove from the heat and pour it over the apples. Add the cinnamon and mix to combine.

Divide the dough in two, roll them out and place one on the bottom of the baking pan.

Fill with apples in caramel sauce, place the top crust on, sprinkle with sugar and bake for 10 mins.

Reduce the heat to 175°C/347°F and bake the pie for 35 mins.