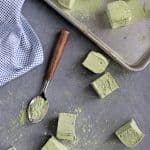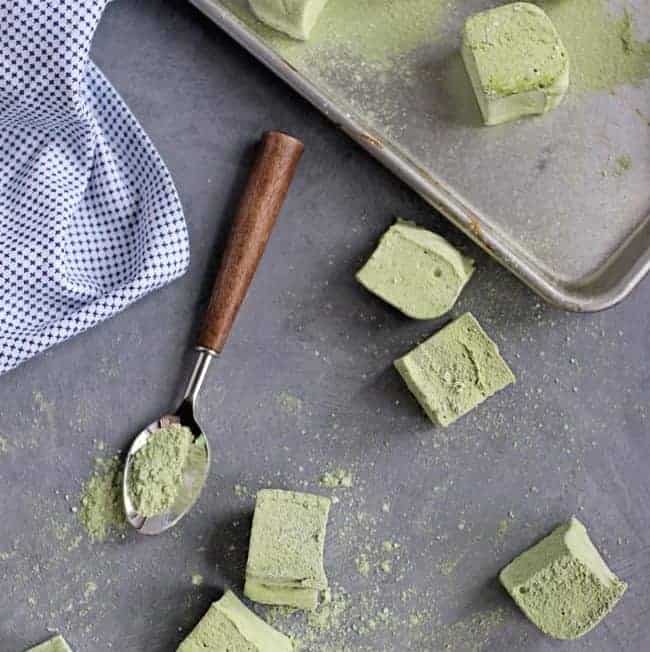 Print Recipe
Collagen Matcha Marshmallows
Recipe adapted from Cooks Illustrated
Servings:
25
marshmallows
Line a rimmed baking sheet with parchment paper. In a small bowl, combine corn starch and powdered sugar, and whisk together. Sift cornstarch and sugar mixture evenly over the parchment paper.

Pour ½ cup water into the bowl of a stand mixer with whisk attachment. Sprinkle gelatin over the top and let it sit without stirring for 15 minutes.

Meanwhile, in a medium sauce pan, combine the remaining ½ cup water, corn syrup, sugar, and salt. Without stirring, attach your candy thermometer to the edge of your pan and bring everything to a boil over medium-high heat. Let it boil for about 8 minutes, or until the thermometer reads 240ºF.

When the sugar mixture reaches 240º, remove from heat. Working quickly, turn your stand mixer on low to whisk the gelatin. With the mixer still running, carefully pour the sugar mixture into the bowl. Turn the mixer to medium and continue whisking for 8 minutes.

Without turning off the mixer, slowly add matcha 1 teaspoon at a time. Continue whisking an additional 2 minutes.

Pour the marshmallow creme onto the prepared baking sheet. Spray a spatula with non-stick cooking spray and spread the creme as evenly as possible. Dust the top with more sifted cornstarch/sugar. Cover with parchment and allow to set up overnight.

To cut the marshmallows, grease a knife with non-stick cooking spray and cut into large squares.

Store marshmallows in an airtight container with a little extra cornstarch for about 1-2 weeks.