Are you ready for another beauty smoothie? I just can't get enough of these tasty, healthy creations, and I think you'll really love this one. Taking care of our skin starts from within, and this Wrinkle Fighting Berry + Kale Smoothie is full of nutrients to help combat those pesky wrinkles we all hate. As a bonus, this wrinkle-reducing beauty smoothie is also delicious!
Wrinkle-Fighting Berry Kale Smoothie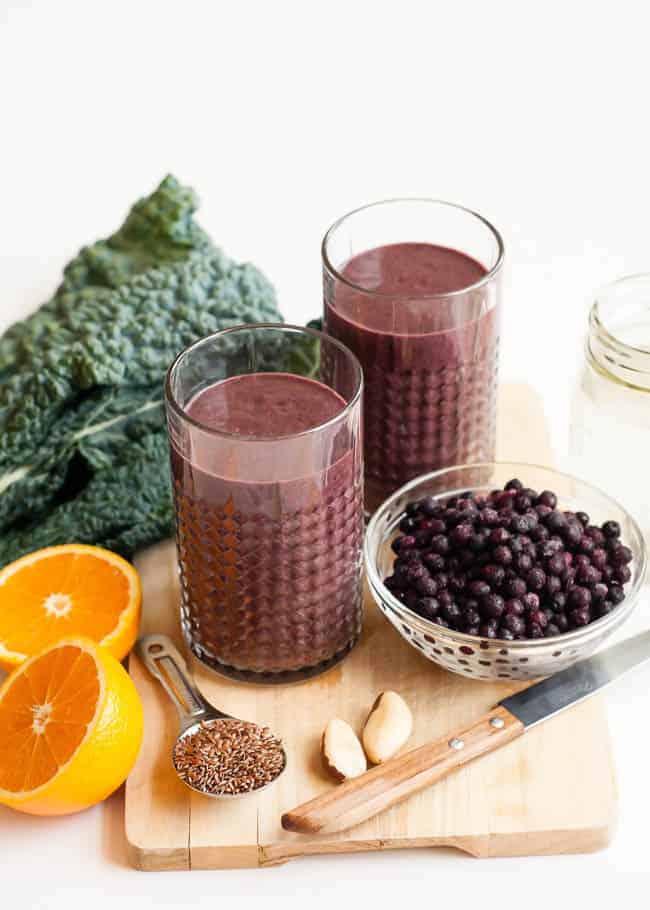 Let's take a closer look at the smoothie ingredients and how they can help reduce wrinkles:
Coconut water
Full of potassium and electrolytes, coconut water replenishes and rehydrates skin inside and out, making it softer and younger looking.
Kale
Kale is loaded with the skin's favorite Vitamins A, D, and K, not to mention antioxidants that help to detox the body and rid it of free radicals.
Blueberries
Considered one of nature's best super foods, blueberries are full of antioxidants and, like kale, combat free radicals. Blueberries also help boost the production of collagen.
Oranges
Oranges are loaded up with Vitamin C, a powerful antioxidant that is essential for collagen production.
Brazil nuts
These powerhouses are one of the best sources of selenium, which can help improve the skin's elasticity. They're loaded with the healthy omega-3 fatty acids and Vitamin E that will keep skin moisturized and supple, and they also contain copper to help support the production of melanin and protect and repair tissues.
Flax oil and seeds
Flax oil and seeds both contain essential fatty acids which help keep the skin hydrated and smooth. They're powerful anti-inflammatories that can help with other skin maladies like rosacea, acne, and dermatitis, and they'll even help wounds heal more quickly. For even more benefits, you can substitute flax oil instead.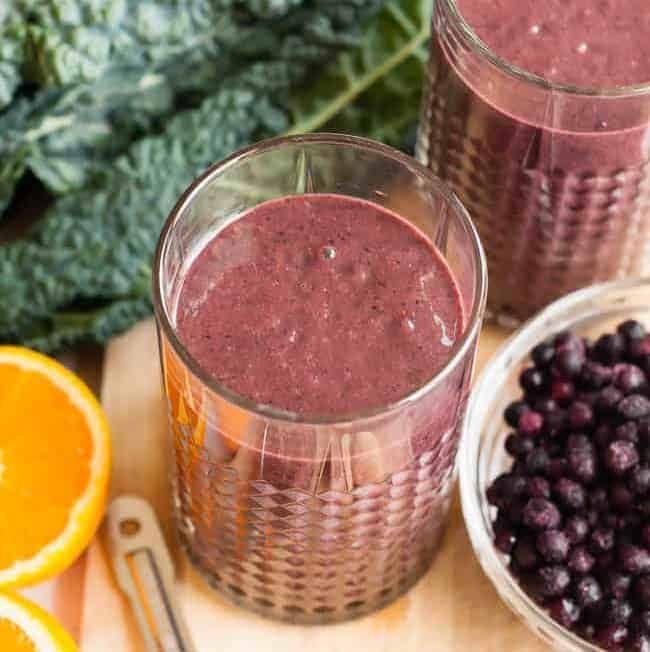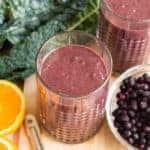 Print Recipe
Blueberry Kale Smoothie
This yummy smoothie includes ingredients that can help you have glowing skin and reduce wrinkles.
Ingredients
1 1/2

cups

cold coconut water

2

cups

lightly packed kale, roughly chopped

2

cups

frozen wild blueberries

1

orange

peeled and cut in half

1

tablespoon

flax seeds

2

Brazil nuts
Instructions
Place ingredients in a blender and blend until smooth.
42