While pregnancy can sometimes be an unexpected occurrence for many women, it is a planned and much-anticipated event. Deciding to have a baby, however, doesn't always mean that conception will be effortless. For many women, it can be stressful, which not only leads to mental health issues such as depression and anxiety but can also negatively impact fertility.
My own journey to motherhood included four years of medical tests and fertility treatments. Eventually, after a few failed attempts, I decided it was time to let go and turned my focus towards healing. I signed up for a yoga teacher training program in Costa Rica where I practiced yoga every day, ate fresh organic food, and sat in meditation each morning; two weeks into my program I found out I was pregnant. While I can't say for certain that yoga was the magical ingredient, I do know that some women's bodies require relaxation and release of stress to optimize their chances of both conceiving and maintaining pregnancies.
Meditation + Yoga for Fertility
Incorporating gentle yoga, breathing, and meditation into your reproductive plan can be a great way to prepare the body and mind for both natural and assisted pregnancies. Below are some suggestions that can help to reduce stress, improve your quality of sleep, and increase circulation in the pelvic area. If you are the type of person that needs to burn off some energy before you can sit still and relax, consider going for a walk, a bike ride, a light jog, or taking five to ten sun salutations before easing into these.
1. Alternate Nostril Breathing
This pattern of breathing is very calming for the nervous system and can be practiced in the morning or
evening. Set a timer for five minutes and then close your eyes and focus on the breath.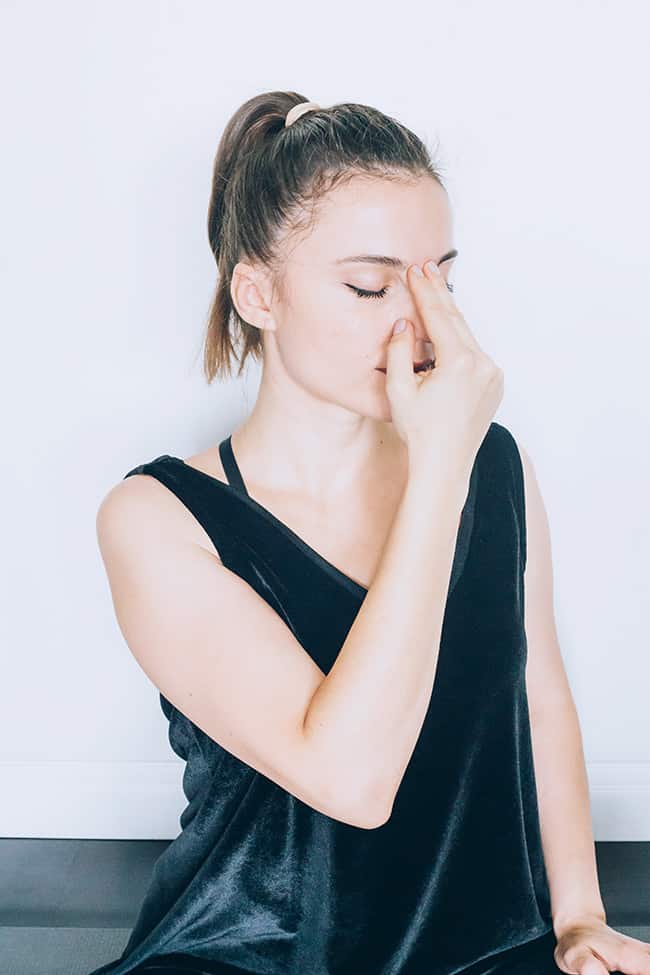 Sit up tall in a chair or on your mat. Place the first two fingers of your right hand between your eyebrows and allow your thumb to rest outside of your right nostril, and your forth finger to rest outside of your left nostril. Close the right nostril and breath in through the left. Seal the left and contain the breath, then release the right nostril and exhale. Inhale through the right, close and hold, release the left and exhale. Continue alternating between sides, with each phase of the breath set to a count of four. When you've finished, allow your hands to rest lightly on your thighs and take a few minutes of relaxed, natural breathing.
2. Butterfly
This posture with movement is a great way to increase the circulation in the pelvic region.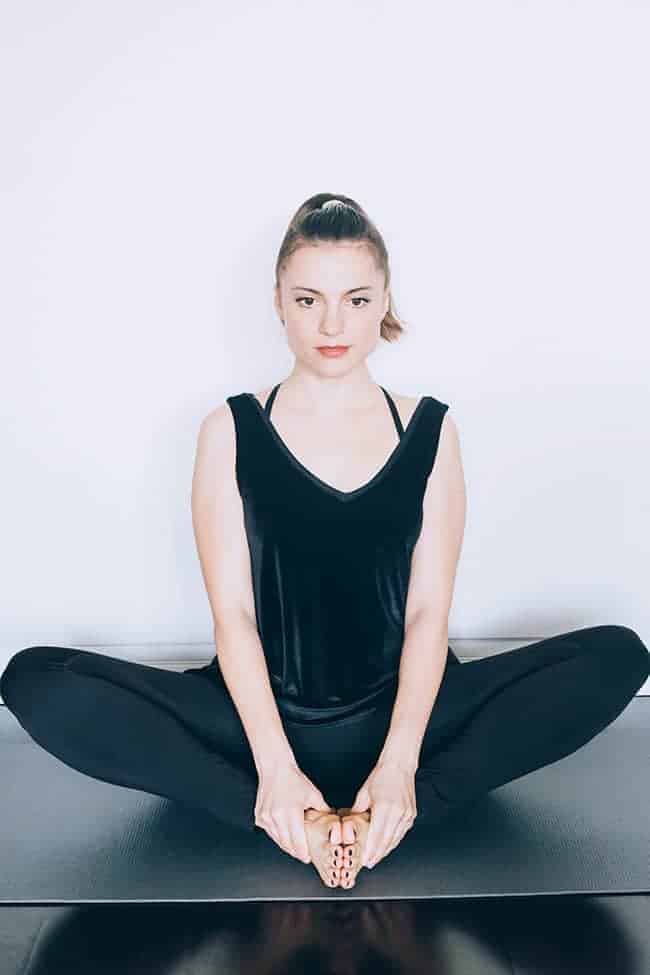 Sitting up tall on your mat or a folded blanket, bring the soles of the feet together with the heels approaching the inner groins. Rest your hands lightly on your ankles, close your eyes, and gently pulse the knees up and down in a flutter for two to five minutes. Take some deep breaths in child's pose or lay on your back with your knees to your chest to release.
3. Squat
Another posture that helps to increase circulation in the pelvic region is malasana, or squat.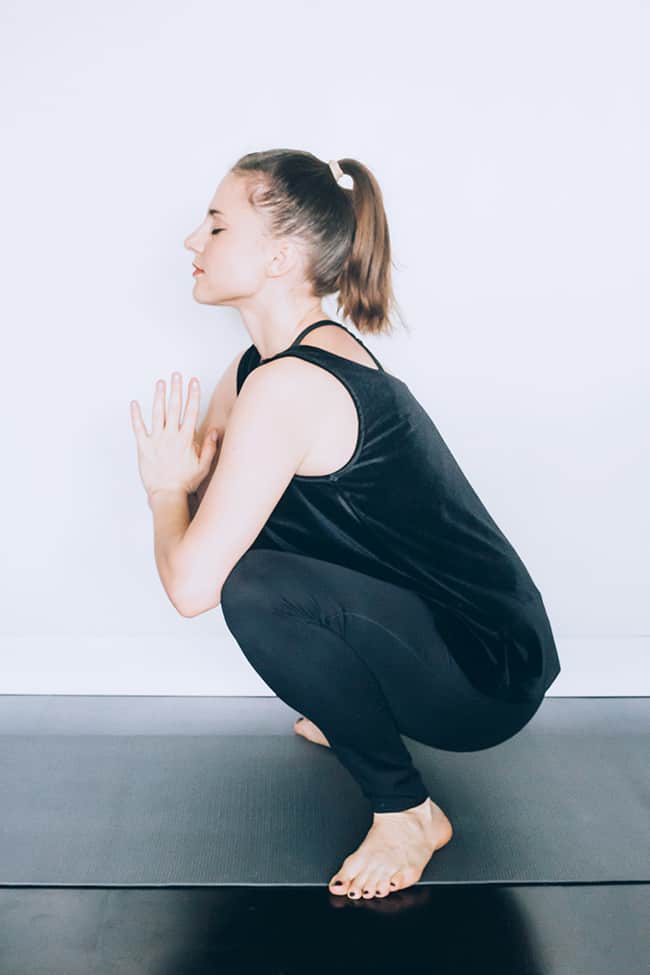 Stand with your feet wider than your hips, toes turned outward slightly, and then lower your hips towards your heels. Keep your knees tracking straight over your toes, and if your heels lift up, try rolling a towel or blanket beneath them for support. You can also sit upon a block. Bring your hands together at the heart with the arms resting inside of the legs. Take deep breaths here, working up to a two to five minute hold.
Sometimes dynamic movement is more relaxing than longer holds, so if you'd like a flowing variation of this, begin in standing with hands in prayer position at the heart, and lower to the squat on the exhalation; on the inhalation, rise back up with the arms overhead, finding your flow up and down for two to five minutes.
4. Legs Up The Wall
This is a calming posture which draws blood flow to the base of the spine and pelvic area. Inversions are also very good for mood regulation and stress reduction.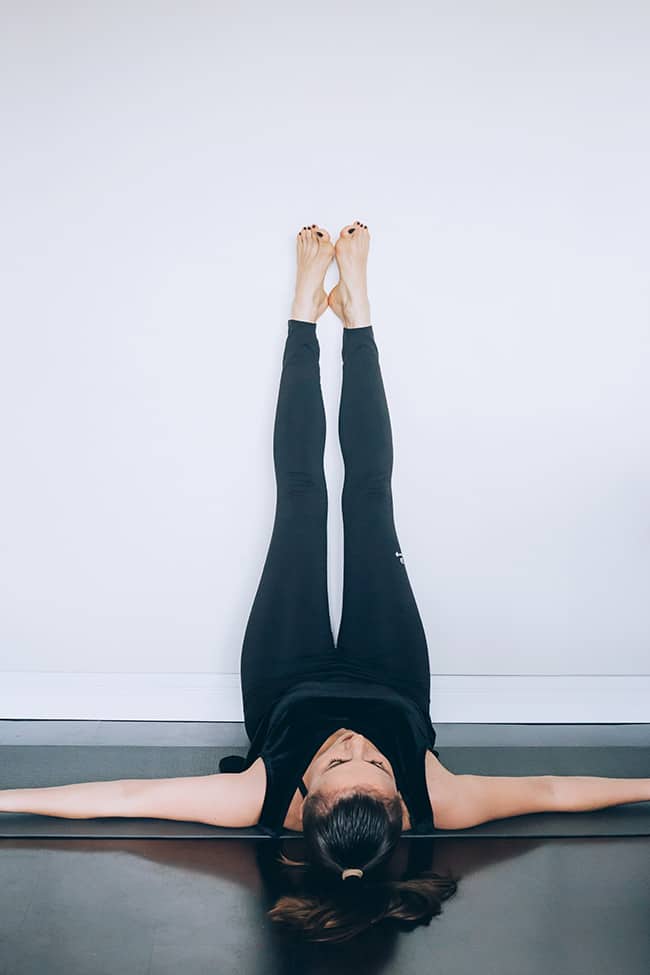 Sit with your one hip against the wall and then roll onto your back, allowing your legs to swing up the wall. Nuzzle your buttocks close enough to the wall so your legs are able to stay up with ease. A yoga strap can be used to tether the thighs together if needed. Let your arms relax, bent at the elbows like a cactus by your head, or rest your hands lightly on your low belly as you breathe deeply. Aim for five minutes of easy, natural breathing here.
5. Guided Meditation
Sitting calmly in quiet meditation is a skill that requires much practice. I find that using a meditation app or a video can be an asset to those of us with very active minds.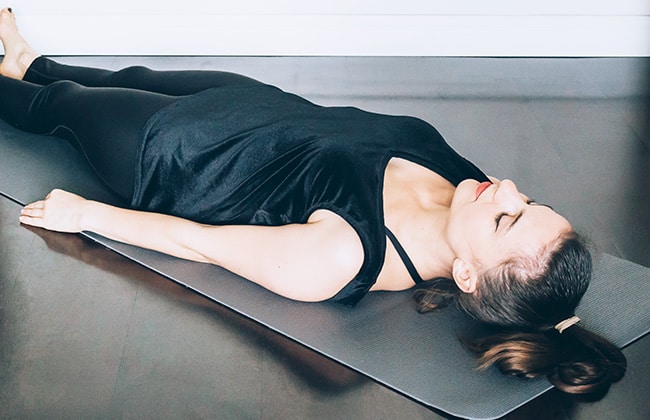 Choose a yoga nidra (yogic sleep) or guided meditation video or podcast, a chakra sound meditation or a crystal bowl sound bath (many are available for free on iTunes or YouTube). I would recommend selecting one that is at least 10-15 minutes in length so that you have time to sink into the experience. Find a relaxing position, such as savasana (laying on your back with arms and legs at ease), close your eyes and be present.
When your mind is focused on listening, there can be less anxiety around the pressure to sit still and be quiet. If you have trouble sleeping, tuning in to a yoga nidra session or a guided meditation before bed can be a perfect way to calm the nervous system in preparation for the night ahead.
There is no one-size-fits-all promise that practicing yoga or meditation will lead to a successful pregnancy outcome, but by reducing stress and increasing the circulation in the pelvic region, both the body and mind are better prepared for the journey ahead.
3