It is so easy to feel helpless when the symptoms of PMS arise and take hold. The time leading up to "that time of the month" is largely uneventful for some lucky women. For others, however, it can be a difficult time full of bloating, mood swings and abdominal cramping. But you don't have to suffer and wait it out on the couch, though. Yoga can be a helpful practice to turn to when you're looking to ease the discomfort of your PMS symptoms.
Check out these poses that can help you get back to feeling like you again! After all, you're the boss of your body!
1. Lighten up tired and heavy legs
Many women experience a few days of heaviness in the legs before their period arrives. On those days when even standing is a chore, viparita karani or "legs up the wall pose" can feel blissful, allowing the legs to be weightless and released.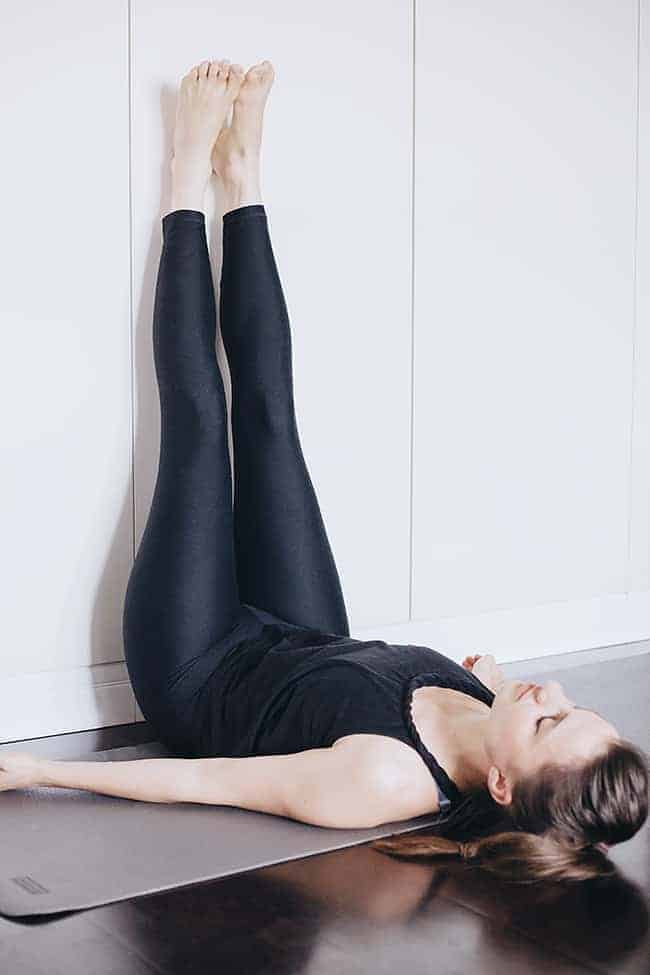 Sit with your hips up against the wall, facing sideways. Begin to turn, laying your back to the floor as you slide your legs up the wall. Inch your hips in closer until you feel your legs can stay inverted without too much effort (you can also use a strap or belt to tether your legs together at the thighs for a complete release of effort here).
Allow the arms to rest comfortably at your sides or even overhead. Stay here for anywhere from 3-10 minutes. This is also a very calming pose — a perfect pre-bedtime choice.
2. Relieve a tender low back
A sore lower back is a very common PMS symptom. While heating pads or a bath can work wonders, moving through the gentle movements of cat/cow pose helps as well.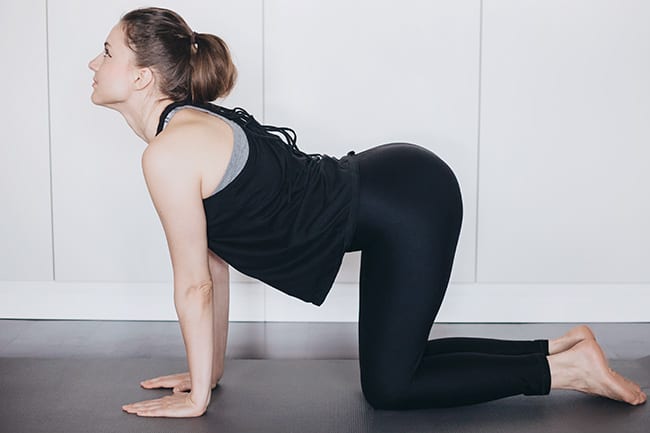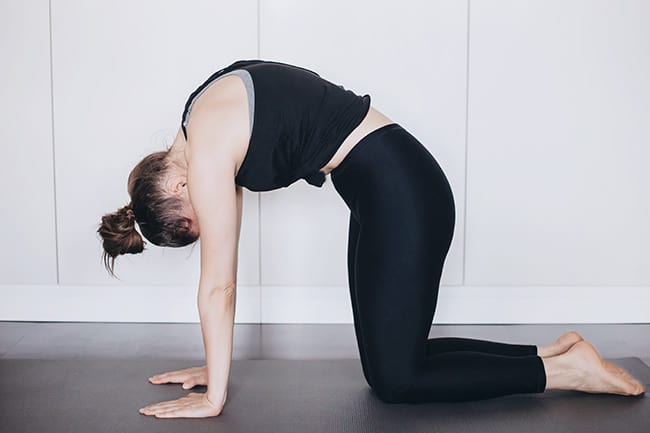 Begin in a table shape, wrists beneath shoulders and knees beneath hips. On your inhalation, tilt your tailbone upwards and allow your spine to flex, belly lower, and shoulder blades move together, while taking your gaze up. On your exhalation, begin to round the spine, lengthen the tailbone and look to your navel as you tuck in, spreading your shoulder blades apart. Repeat this breath-based movement for 3-5 minutes.
3. Stabilize moodiness
One of the quintessential symptoms of PMS is moodiness. We may feel out of balance, quick to anger or feel frustration, or generally find ourselves carried away by waves of emotion. To settle the nerves and balance this energy, try sitting for 5 minutes of pranayama or breath work. Nadi shodhana or "alternate nostril breathing" is a very relaxing practice that will make you feel more even and calm.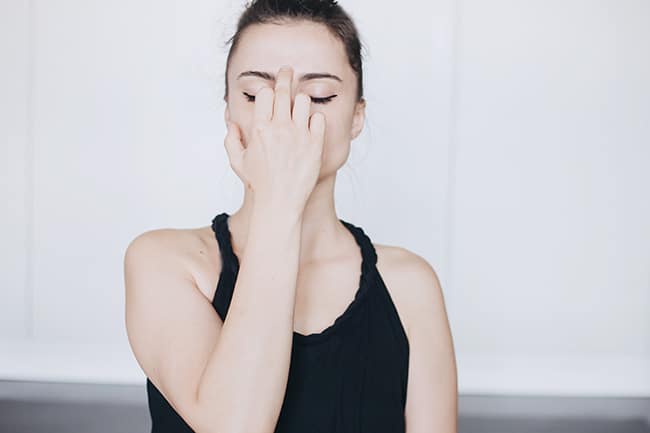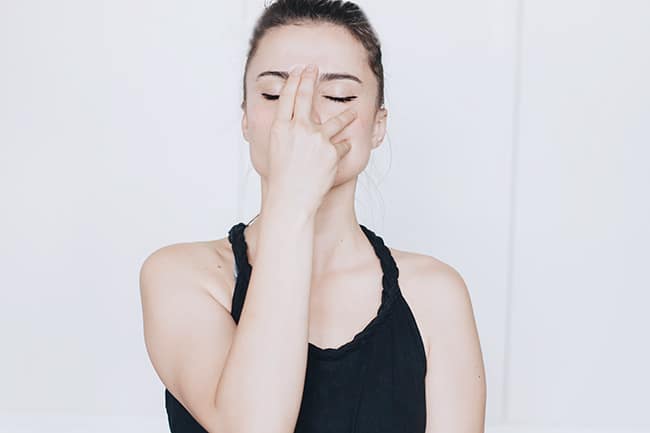 Take a comfortable seat. Place your right thumb against your right nostril and your fourth finger outside of your left. Gently press the right nostril closed as you take a deep breath into the left. Close both nostrils and pause, containing the breath. Release the right nostril and exhale completely. Inhale through the right, contain and hold, exhale left.
Continue breathing steadily like this, alternating back and forth for anywhere from 3-5 minutes. If you feel out of breath or are struggling at all with the work, release and breathe naturally, and then come back to it.
4. Reduce cramping
Stretching out the belly can provide some relief when you feel the tightening pull of abdominal cramps. While our natural tendency might be to roll into a ball and call it a day, taking the front body long and stretching out can often assist in easing the pain.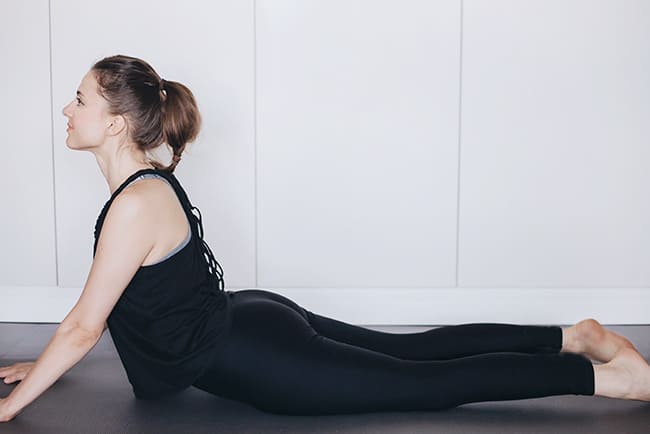 Cobra is a nice basic belly stretch. Lay on your front with legs long and toned, hands beneath your shoulders and back of the neck long. On your inhale, press into your hands and lift the chest up away from the floor. Pelvis stays rooted and elbows move in and can stay bent. Exhale as you lower back down. Take 5-10 cobra lifts.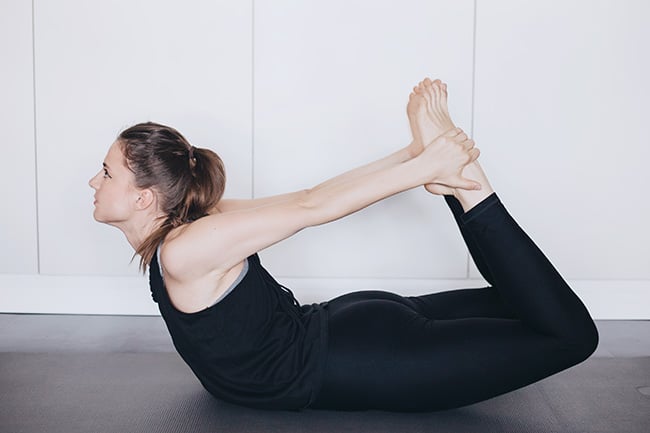 If this feels good, you add in bow pose as well, which also offers a deeper chest stretch. Stay on your belly and bend your knees, reach back for your ankles or tops of the feet (use a strap or belt to help you make contact if you're not able to reach). Draw your thighs in towards one another and on your inhalation lift your chest. Keep the back of the neck long, pull your hands into your feet and your feet into your hands until you are able to get a bit of lift or lightness of thighs away from the floor.
Think of lengthening your tail bone here as well to avoid compressing the low back. Hold for 3-5 steady breaths and release. Don't worry about how high you're lifting—instead, keep it low and focus more on stretching out through the abdomen.
5. Alleviate bloating
If one of your most annoying symptoms of PMS is abdominal distention/bloating, you are certainly not alone. Sometimes hormones lead to water retention which can cause bloating (in which case, up your intake of celery and parsley!), and other times it can be gas related. In the case of the latter, try practicing apanasana or "wind-relieving pose."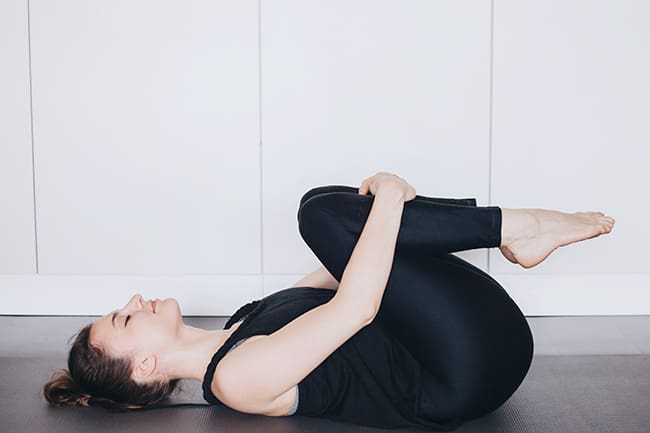 Lay on your back and draw your knees to your chest. Take an inhalation here, and on the exhalation, collect your knees more deeply in towards you, drawing thighs to the belly. Release the pull on your inhalation. Repeat this squeeze/release pattern for 10 cycles.
This post was medically reviewed by Dr. Kimberly Langdon, M.D., a university-trained obstetrician/gynecologist with 19 years of clinical experience. Learn more about Hello Glow's medical review board here. As always, this is not personal medical advice and we recommend that you talk with your doctor.
Photos by Ana Stanciu
2