There are many advantages to staying active during your pregnancy, yet so many exercises and forms of movement become cumbersome, difficult or even contraindicated during this time. Incorporating yoga into your prenatal healthcare regimen can be a wonderful way to tend to the needs of your changing body.
Whether you are in your first, second, or third trimester, there are postures that will benefit the body and there are some to be avoided. Generally, we advise that pregnant women avoid twisting postures, heavy abdominal/core focused postures (think crunches and plank work), and inversions or arm balances that may be new to you as there is always the risk of falling.
Instead, use these months to find your roots; low-to-the-ground hip openers with deep/slow breaths can help to prepare the body for delivery, and lots of standing postures can make you feel strong, capable and empowered.
Yoga For Pregnancy
Here are some of my favorite poses for pregnancy that you can try at home:
1. Supported Supta Baddha Konasana (Reclined Butterfly Pose)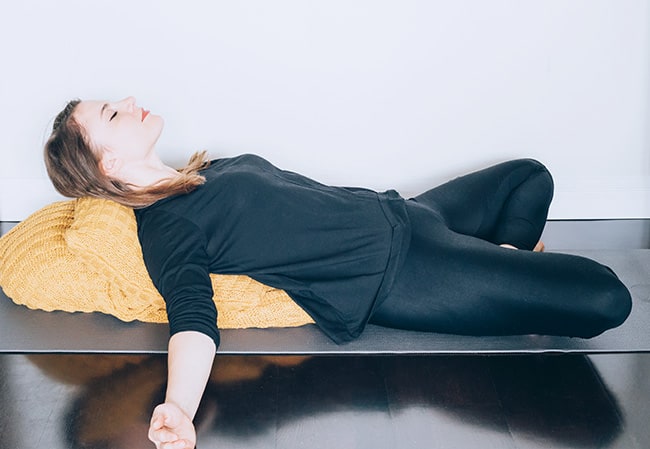 Laying flat on your back during pregnancy can be an uncomfortable experience, yet many women miss it! Propping yourself up so that your heart is higher than your belly can be a way to recline in comfort. If you don't have a bolster, stacking up some folded blankets can work just as well.
Place one yoga block on its highest setting, and the second yoga block on its side just ahead of it. Lay the blankets or bolster like a ramp over them. Sit with the base of your spine against the edge of the bolster and lay back, allowing the arms to rest at your sides. Draw the soles of your feet together, heels close to the inner groins. If this puts too much pressure on your knees, you can wedge pillows or blankets under them for support. Place your hands on your baby bump, close your eyes and take deep, steady breaths. Stay here for as long as you're comfortable.
2. Torso Circles and Side Stretches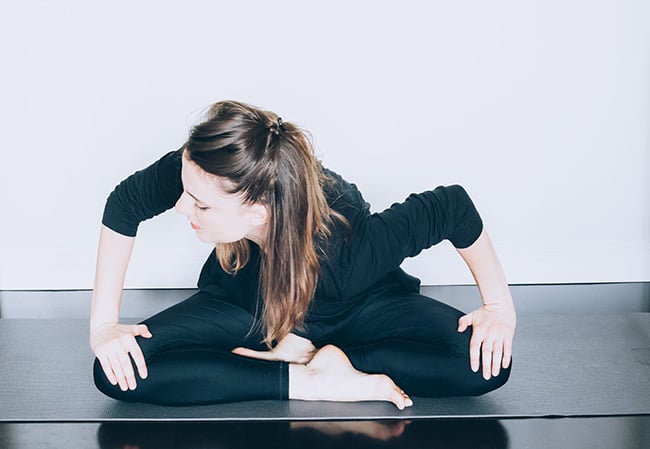 Sit upon a folded blanket in a cross-legged position. Placing your hands lightly on your thighs, eyes closed, begin making large circles with your torso, easing into the hips and shoulders, breathing deeply as you move. After flowing for a minute or so on one side, find your circles in the other direction.
3. Warrior Flow (Warrior 2/Reverse Warrior/Side Angle Pose)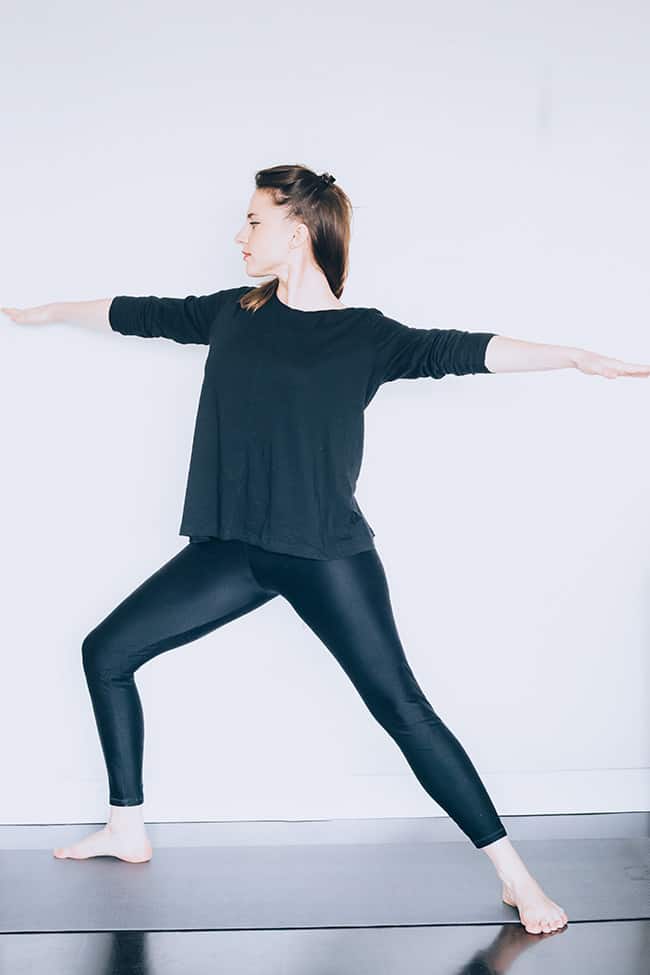 Standing postures are strong and challenging, and holding them to the edge of your endurance can build a sense of confidence and empowerment, which are great assets to the birthing journey. Adding a little flow between them also gets you stretching into the little spaces around the ribs and hips.
Begin in warrior 2 with your feet rooted, arms out. Take a breath here. On your next breath, reach your front hand upward as your back hand comes around and scoops under your baby bump for a reverse warrior modification. Take a breath here then return to warrior 2. On your next breath, reach your front arm under the belly as your back arm extends overhead for a side angle modification. Continue to move between postures, taking a breath in each position, creating a flow back and forth. Take 3-5 sets and then switch sides.
4. Figure 4 Hip Release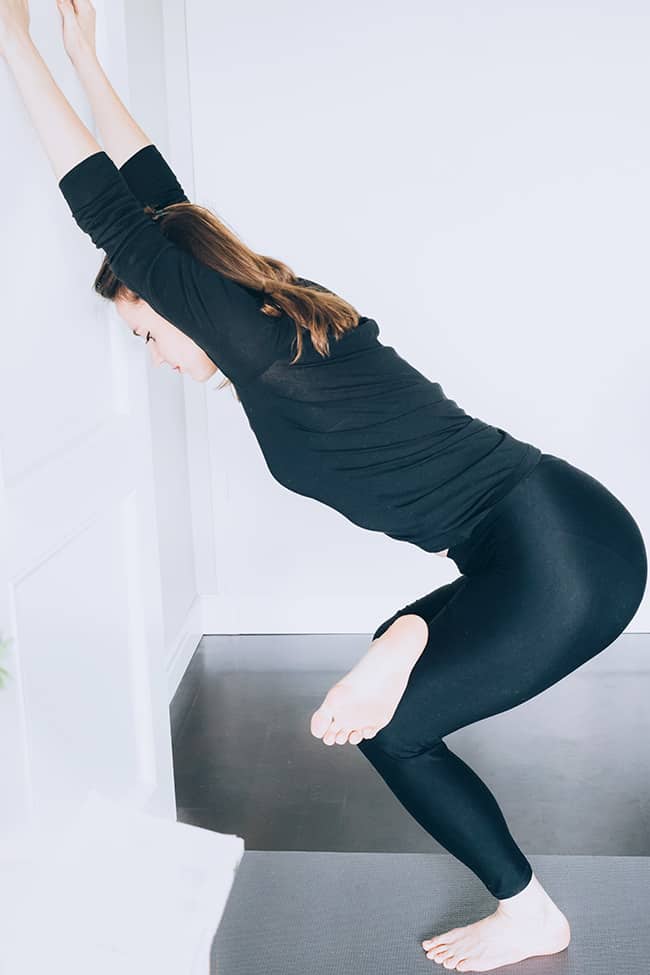 A lot of women experience sciatic pain during pregnancy (pain deep in buttocks, low back, or radiating down the leg). As prenatal hormones loosen up the connective tissues in your body, the piriformis muscle must work harder to keep your sacrum stable; when it gets tight or inflamed, the piriformis can press against the sciatic nerve causing discomfort or pain. This posture helps to release the muscle, offering some much-needed relief.
Stand in front of a wall with your feet hip distance apart. Place your right ankle across your left knee, and let your hands come to the wall for support. Sink down into your hips as if you were sitting in a chair and take as many breaths as you feel comfortable with here. Release and switch sides.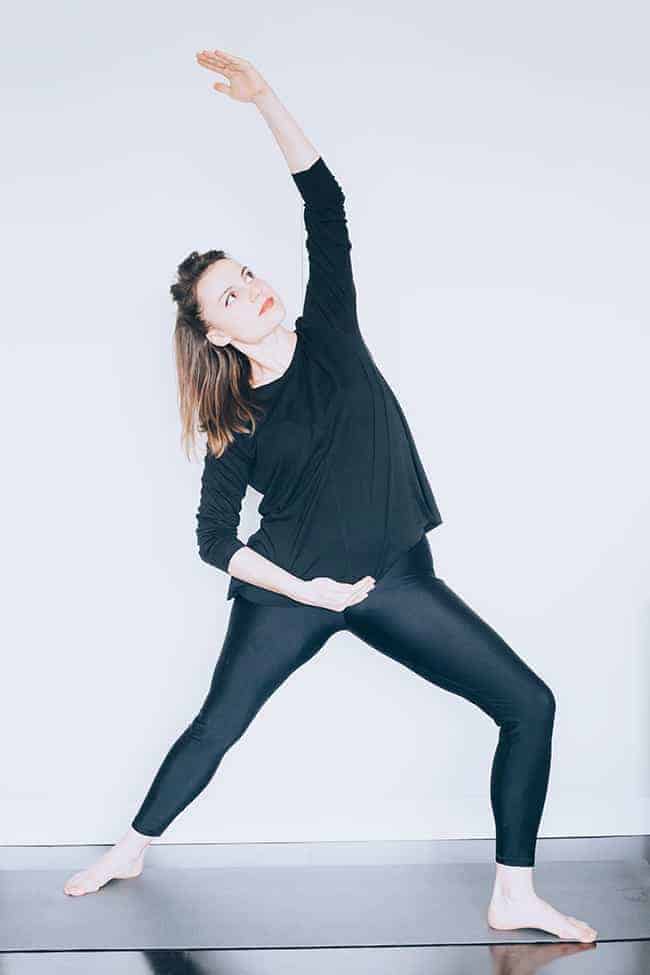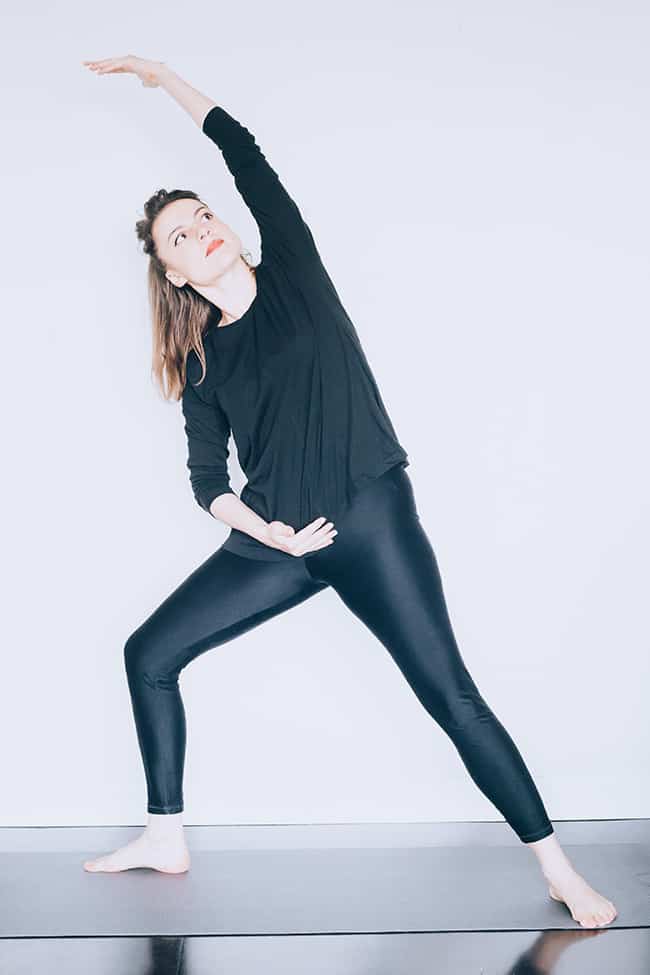 5. Malasana with Kegel Focus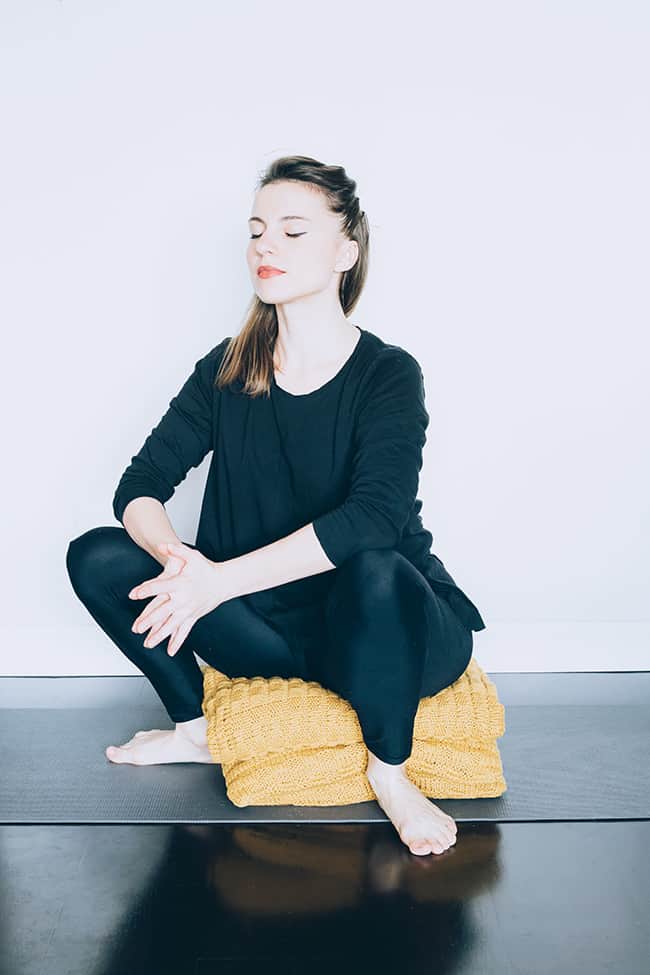 In many cultures, a squat is the go-to birthing position. Even in hospital births where women are laying on their backs, the legs are often drawn back into this position. Allowing your hips to get used to this feeling is important, and I like to add in the pelvic-floor work to increase blood flow to the pelvis and strengthen the muscles which can facilitate delivery. A kegel is an exercise where you tone and contract the pelvic floor. One way of thinking about this action is to engage the muscles that you would need to use if you drank a lot of water and had to "hold it" in line for the ladies room!
Sit upon a block and draw your legs into a squat position. Rest your arms on your thighs and take some deep breaths here. Then, using the image of the pelvic floor as an elevator, tone as you lift to the first floor and pause. Increase the contraction as you lift to the second floor and pause. Continue to lift to the third, and then forth floor. Hold there with your strongest contraction, and then release in reverse until you return to neutral. Take anywhere from 5-10 sets. Kegels don't need to be saved for your yoga practice! They can also be done when you're sitting in your car or at your desk, or relaxing on the couch watching TV. Come back to these in the first days post-delivery to increase blood flow to the area, which can help to speed recovery.
If you're feeling discouraged by the limitations put upon you by your changing body, explore the range of movements and poses that not only feel good but can benefit you during this time. Yoga can be a great way to tune in to the present moment, allowing you to meet the body as it is during each phase of baby's development, as well as to prepare you for labour, delivery and post-natal healing.
This post was medically reviewed by Dr. Kimberly Langdon, M.D., a university-trained obstetrician/gynecologist with 19 years of clinical experience. Learn more about Hello Glow's medical review board here. As always, this is not personal medical advice and we recommend that you talk with your doctor.
4