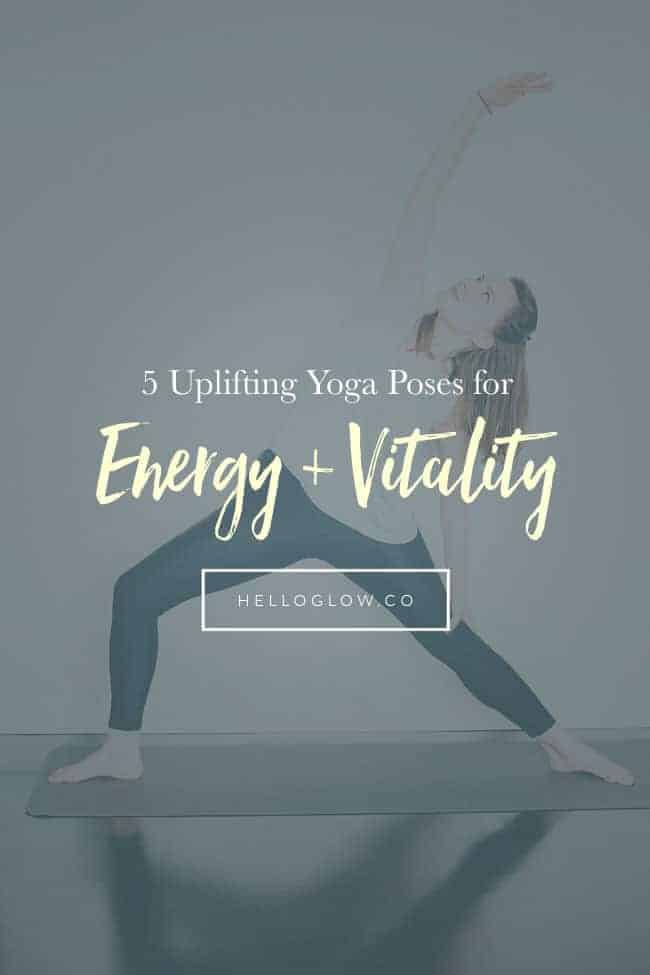 Yoga seems to have earned itself quite the reputation. Say the word "yoga" and most people think "calming" and "chill". When I tell people that I teach yoga for a living, I often hear, "Wow, you must be really relaxed!"
But what a lot of people don't know is that yoga isn't only useful for unwinding. Depending on the style of practice or the types of poses, it can be very invigorating and uplifting. If you've been feeling like your engine could use some revving, give these movements and poses a try.
1. Dynamic Seated Twists
We all know that breathing has an effect on our nervous systems, and that is true not only for calming us down but also for picking us up. Much of the awakening that comes from this particular movement stems from the dynamic breathing pattern.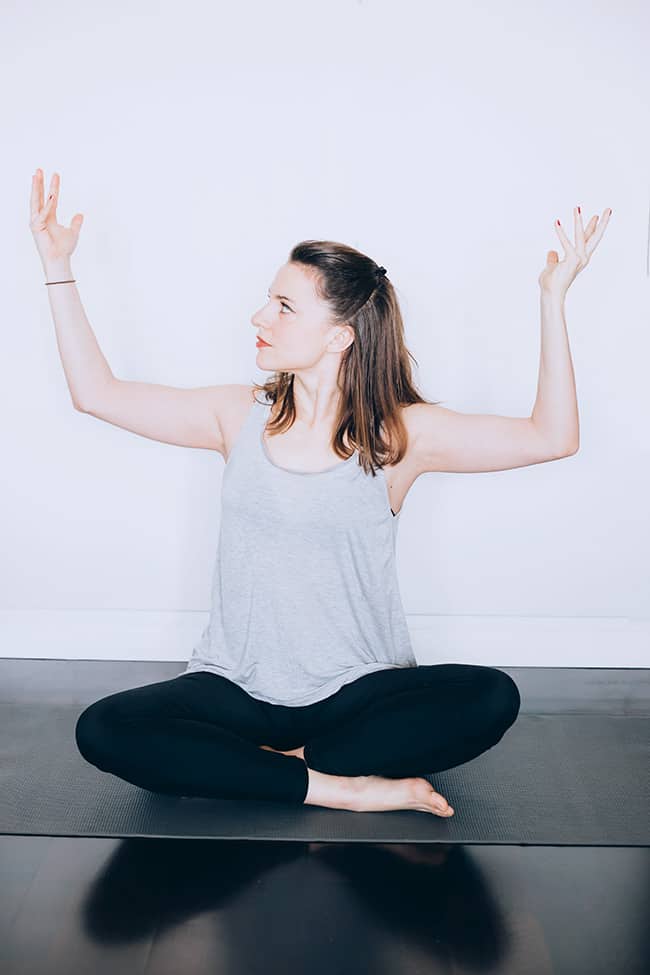 Sit up tall on your mat or a folded blanket. Bend your elbows and hold your arms up at shoulder height. Take an inhale here in centre, and on a strong nasal exhale, turn your torso to one side. Inhale as you return to centre, and exhale through the nose as you turn to the other side.
Begin picking up speed, pumping your exhale from the belly and out of the nose as you move from side to side, allowing the inhalation to happen naturally in between. Slow down or take a break if you feel at all lightheaded. Aim for 1-3 minutes of continuous movement.
Note: vigorous breathing and twisting is not advisable for pregnant women or people who suffer from high blood pressure.
2. Wood Chop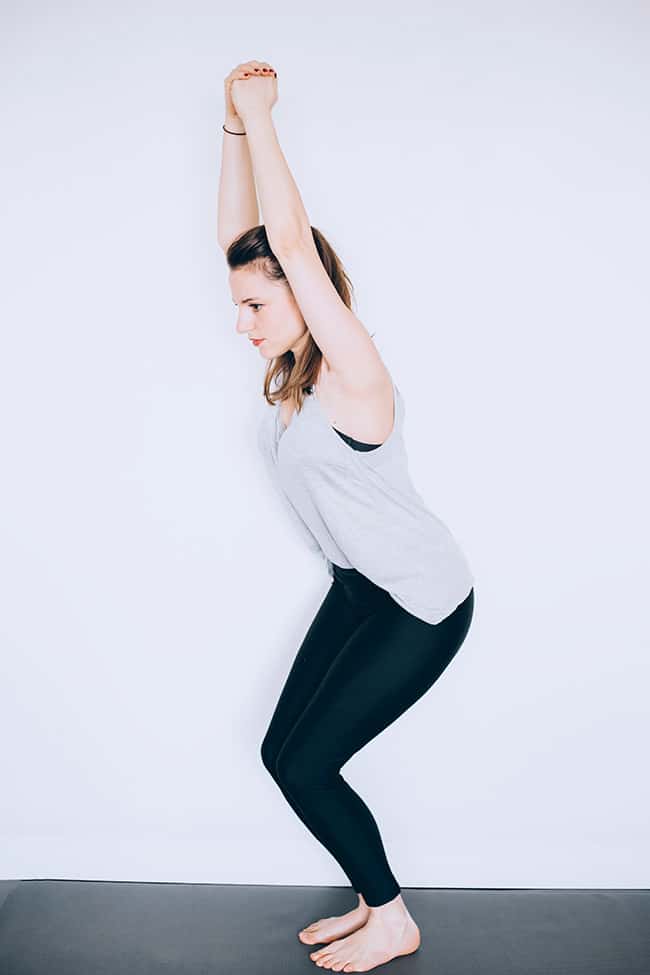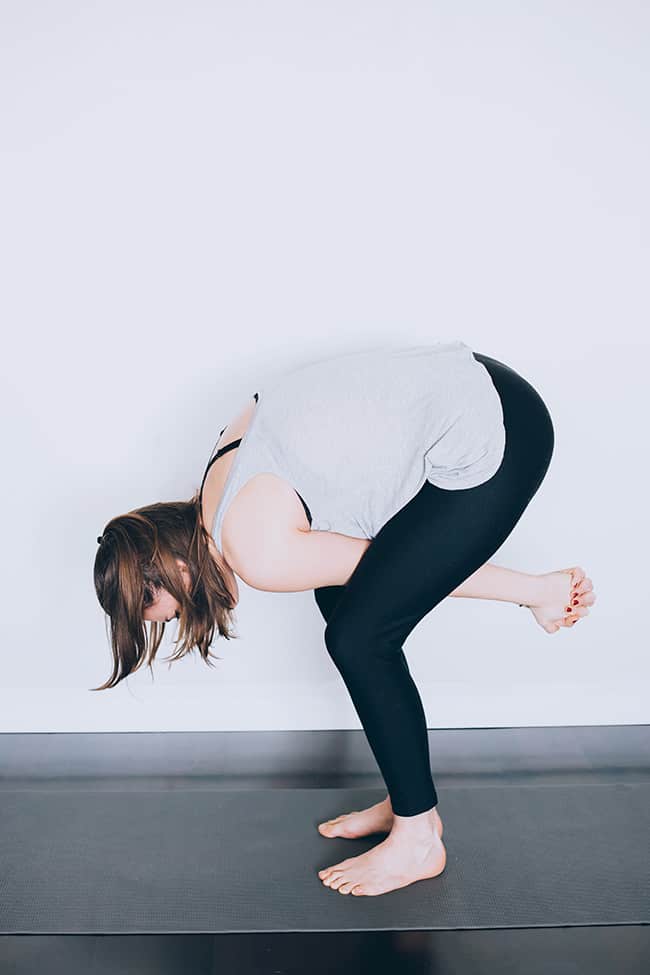 Stand with your feet slightly wider than hip distance, and allow your knees to be softly bent. Take your hands together and interlace your fingers. On your inhale, reach your arms up overhead, and release a strong "ha" as you exhale (even make the sound!) and swing your arms down towards the floor and possibly back through the legs with a wood-chopping motion.
Take anywhere from 10-25 repetitions. If you feel light-headed, allow yourself to rest in standing.
Note: As with the seated twists, this one is also not advisable for pregnant women or people with high blood pressure.
3. Take a Backbend
I don't usually teach backbends in my evening classes as they can be quite stimulating, which isn't ideal for most of us at night unless we're hoping to burn the midnight oil. During the day, however, a backbend can really help to brighten us up. If you practice yoga regularly and wheel pose (urdva dhanurasana) is something you enjoy, go ahead and enjoy a few rounds of that.
For the rest of us, bridge pose can bring many of the same benefits with less demand on the shoulders and spine. Note: this pose not advisable for students with pre-existing or active neck injuries.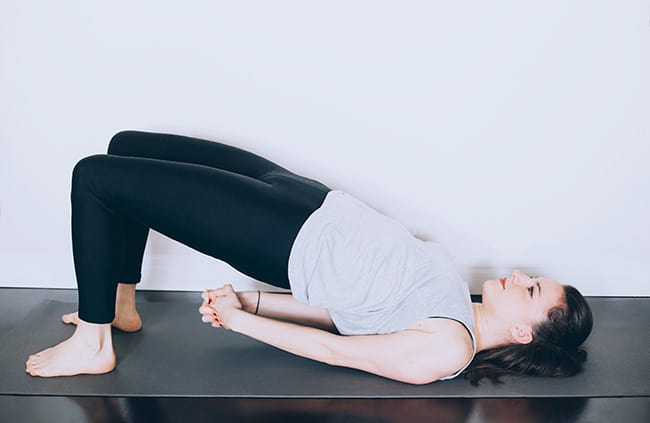 Lay down on your back. Bend your knees and place your feet hip distance apart, drawing your heels in towards your buttocks. Lay your arms at your sides. On your inhalation, press firmly down into your heels and lift your pelvis and spine off the mat until you feel that lift up to your shoulder blades.
Draw your hands beneath you and roll as much of your upper arms under you as possible. If it's available to you, interlace your hands and press your pinkie fingers and wrists downward, and if not, simply run the arms beneath you in parallel.
Draw the energy of the heart up towards the chin and keep lengthening through the back of the neck, trying not to let your knees wing out to the sides. Take a few deep breaths here, and lower by releasing your arms from beneath you and rolling back down the spine one vertebra at a time. Take a counter-pose by hugging your knees into your chest for a few breaths.
4. Turn it Upside Down
Flipping the body heels-over-head is a great way to bring your energy level up fast. It's invigorating and fun! If you've never tried to go upside down, starting in downward facing dog with your heels at the wall can be a good place to start. If you feel good in downward dog, try walking one foot up the wall and then the other and see how your arms and shoulders feel when supporting the weight of the body.
Note: If you have shoulder or wrist injuries or mobility limitations here, stick to downward dog which still offers many of the energizing benefits of an inversion.
Step 1: L-Shape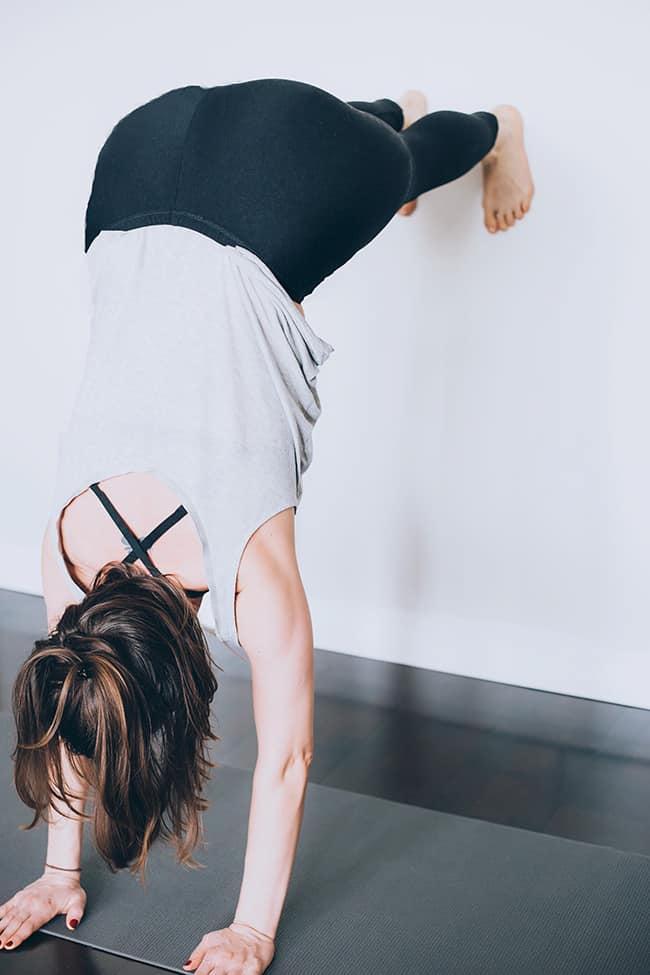 Begin in downward dog with your heels at the wall. You'll want your downdog to be a bit shorter than usual, with your hands on the floor shoulder width apart. Place one foot on the wall at the same level as your hips, and then step the other up as well, or walk your feet up until they are at hip height.
Be sure you don't collapse into your spine here—keep your abdominals engaged to stay out of a backbend. Your hips should be stacked over the shoulders which are over the wrists.
Press down firmly into your hands, and keep your feet moving actively into the wall. If you feel secure here, try holding for a few deep breaths. Step down when you're ready, and take a fold forward, allowing your head, neck and shoulders to fully relax.
Step 2: Handstand
If L-Shape went well, you have the shoulder mobility, and you know you can hold your body weight on your hands without a collapse of the spine, try kicking up to the wall. Even the kicking action itself can be invigorating!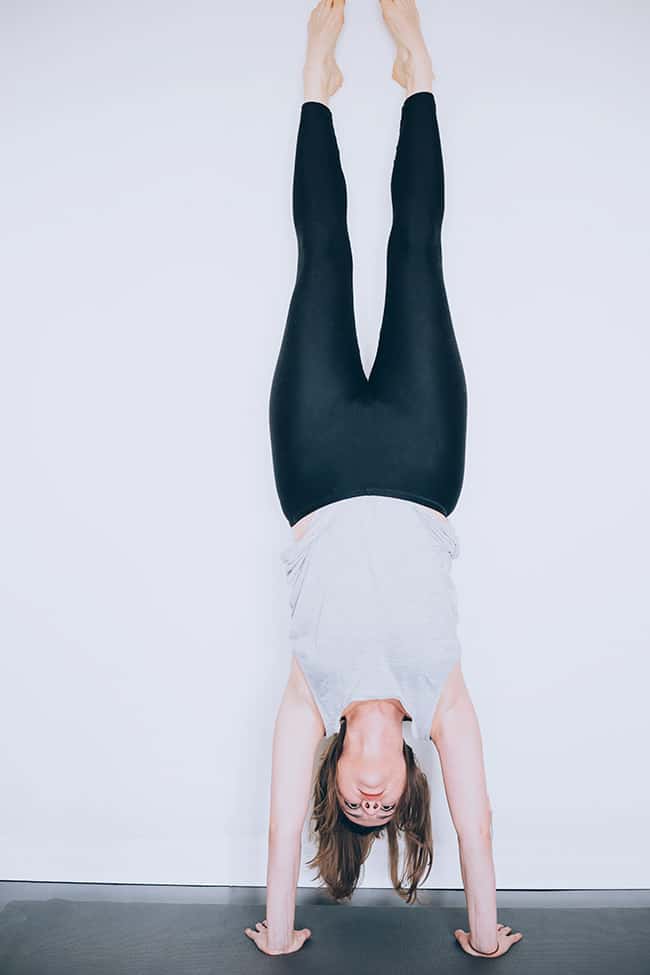 Stand facing the wall. Come into downward dog by placing your hands onto the floor or mat about a foot away from the wall, shoulder distance apart, and firmly root them down. Bend one knee and lift the other leg up and give yourself a kick-off, landing your feet up against the wall. Keep pressing down into your hands and keep the abdominals active to prevent a banana-shaped backbend.
Take a few breaths here, and come down when you're ready. Counter pose with a relaxed forward fold or child's pose.
5. Dancing Warrior Sequence
This mini-sequence incorporates the vigour of standing poses and the conscious breath of flow, which together can create a lovely boost of energy.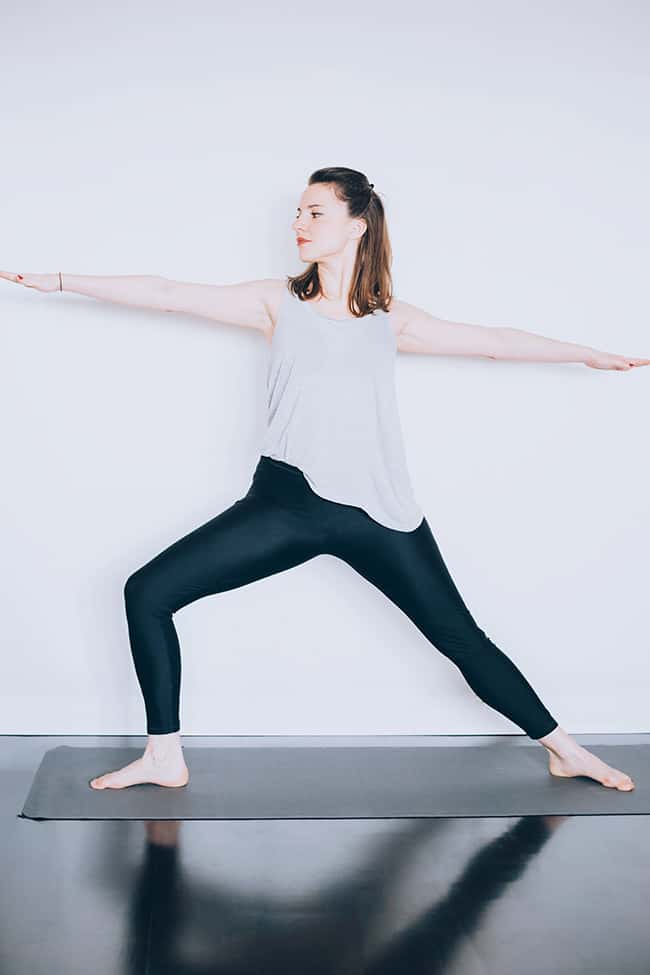 Begin in warrior 2 pose: bring your right foot to the centre at the top of your mat and bend your right knee until it is stacked above your ankle (try not to let your knee sag inward). Step your left foot way back with the foot either parallel to the edge of the mat or slightly turned inward. If you were to look down the midline of your mat, you'd see that your front heel would intersect somewhere around the arch of your back foot.
Press firmly down through the left foot until you feel this engagement move all the way up the left leg. Feel your hips opening to the side of the mat as you lift your arms up to shoulder height and press out through your fingertips. Turn your gaze forward over your right middle finger.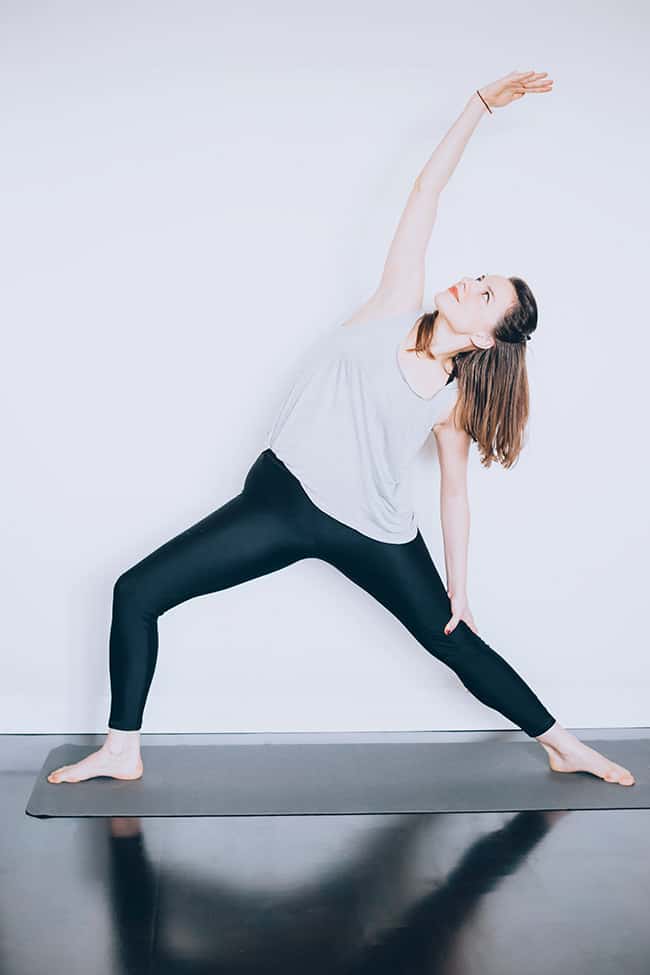 Take a full breath here in warrior 2. On your next inhalation, reverse your warrior: keep your legs steady in position, and rest your left hand against the back of your left thigh. Reach your right arm up and stretch it back, taking your gaze upward. Take a full breath here. Come back to Warrior 2, once again stacking your spine over your hips.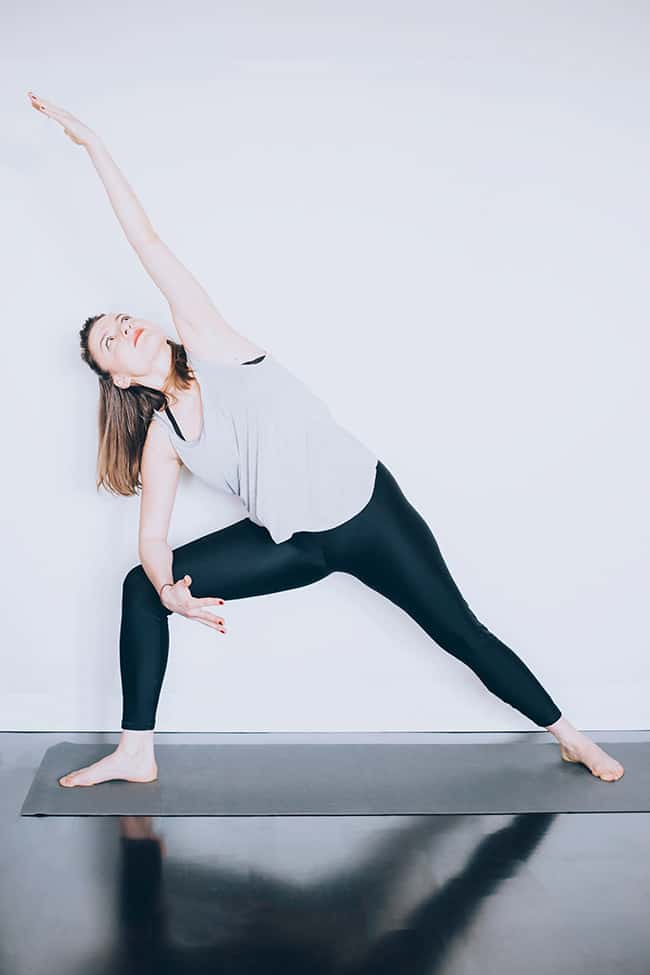 On your next breath, come into side angle pose: keep your lower body strong and rest your right forearm on your right thigh. Reach your left arm overhead, allowing the upper arm to graze the ear, and take your gaze upward. When you're ready for your next breath, come back to warrior 2.
Take 5 sets of this "warrior 2/reverse/warrior 2/side angle" flow, and then switch sides, carefully setting up your lower body so that it provides a strong foundation before you incorporate any additional movements.
Remember, yoga isn't only for stressed-out people who need some serious chill time! Enjoy these poses and movements any time you feel the need for a stimulating body/mind wake-up call.
Photos by Ana Stanciu
10