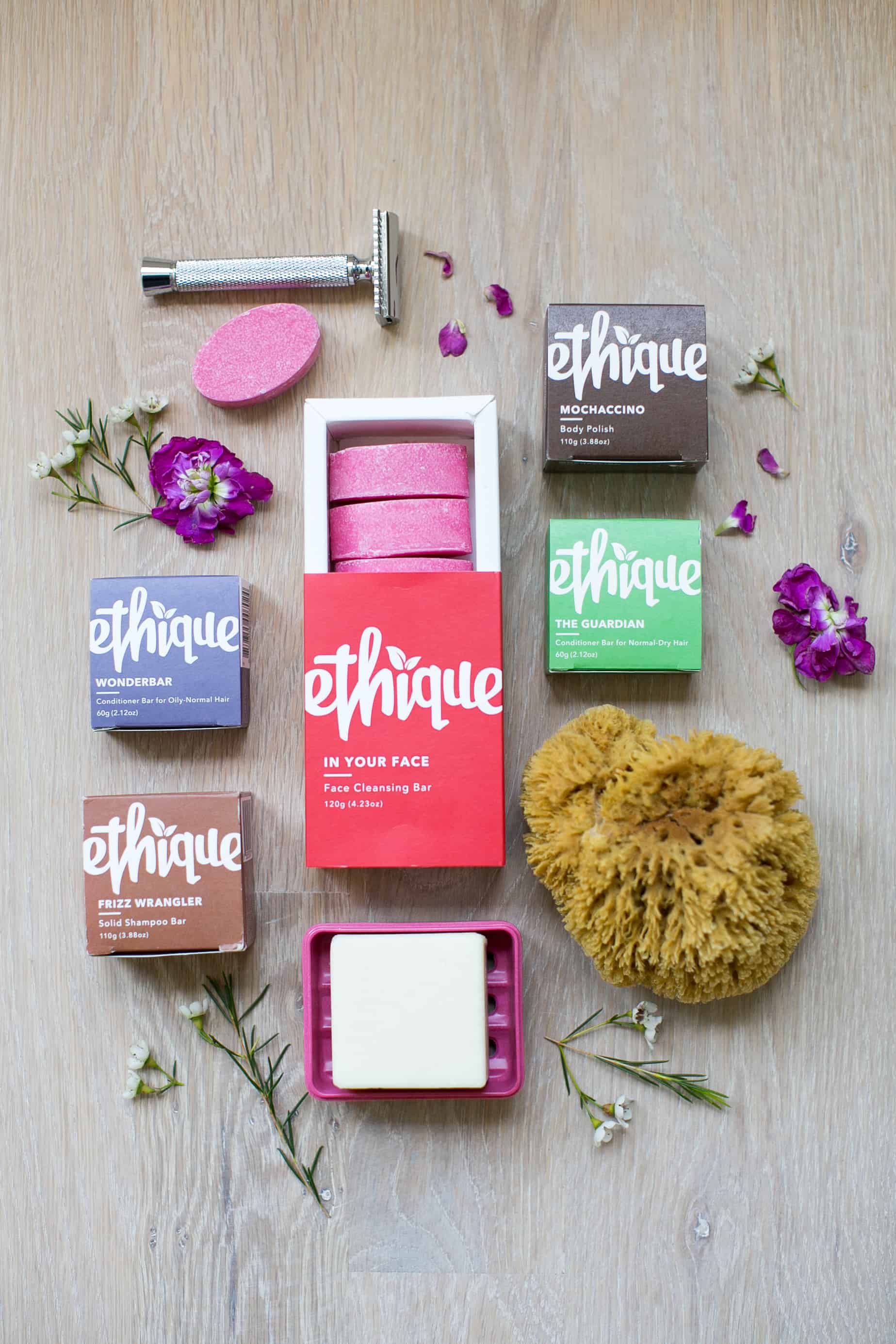 We've partnered with Ethique to create this post.
Plastic water bottles are one of the first things to go when you start caring about the environment. It's so obviously wasteful! How difficult is it to refill a water bottle? After that one change it's hard not to notice that plastic is everywhere. Lots of eco-conscious shoppers are diligent about recycling and bringing reusable bags to the grocery store. I've even started keeping a reusable straw in my purse (yes, my kids think I'm crazy).
When you start thinking about your everyday routines you realize just how many plastic bottles are in the shower, under the sink and on your vanity. It's a lot! Between my stuff, the hubby's and more for the kids, I had 13 bottles just in the shower. Tossing those adds up to more than 80 billion shampoo and conditioner plastic bottles in landfills each year.
Want to give your routine a make-under (and make your counters way cleaner in the process)? Here are a few small changes to get you started:
1. Start making your own stuff
Buying is convenient because stores are full of a million cheap and easy products. And honestly, it might not even occur to you that you can make your own stuff. Things like toothpaste and body wash seem like amazing inventions that you couldn't possibly recreate, but guess what, all you need is a few basic ingredients like baking soda and liquid soap. It can take a bit more investment and effort on the front end but it's worth it. Here's a list of beauty products you can start making on your own.
2. Look for refillable containers
Bless you, mason jars. I have a small hoard of glass jars that wind up storing some kind of concoction. If you're not into DIY, you can buy supplies in bulk and then refill glass pump or spray bottles. A safety razor is one refillable product that only recently occurred to me.
3. Ditch the plastic bottles for no waste products
Not everything has to come in a bottle! The brilliant team behind Ethique (pronounced Eh-tique), including founder and formulator Brianne West, has developed 30 solid beauty bars for everything from shampoo and conditioner to serum and self-tanner. The solid bars are super concentrated so they last between three to six times longer than the bottled stuff and are packaged in compostable packaging. And when you've used them up there's nothing to throw away.

Look for other non-plastic options, like sea sponges, floss, and bamboo toothbrushes, some of which can now be composted.
4. Think about packaging
To-go containers, packing peanuts and bubble wrap are wasteful (and annoying). Even cucumbers and potatoes are now sold individually wrapped in plastic! Smart companies like Ethique are now using compostable packaging that can go straight in the composter.
So what does a zero waste beauty routine look like? Here are the only skincare products I need after a make-under: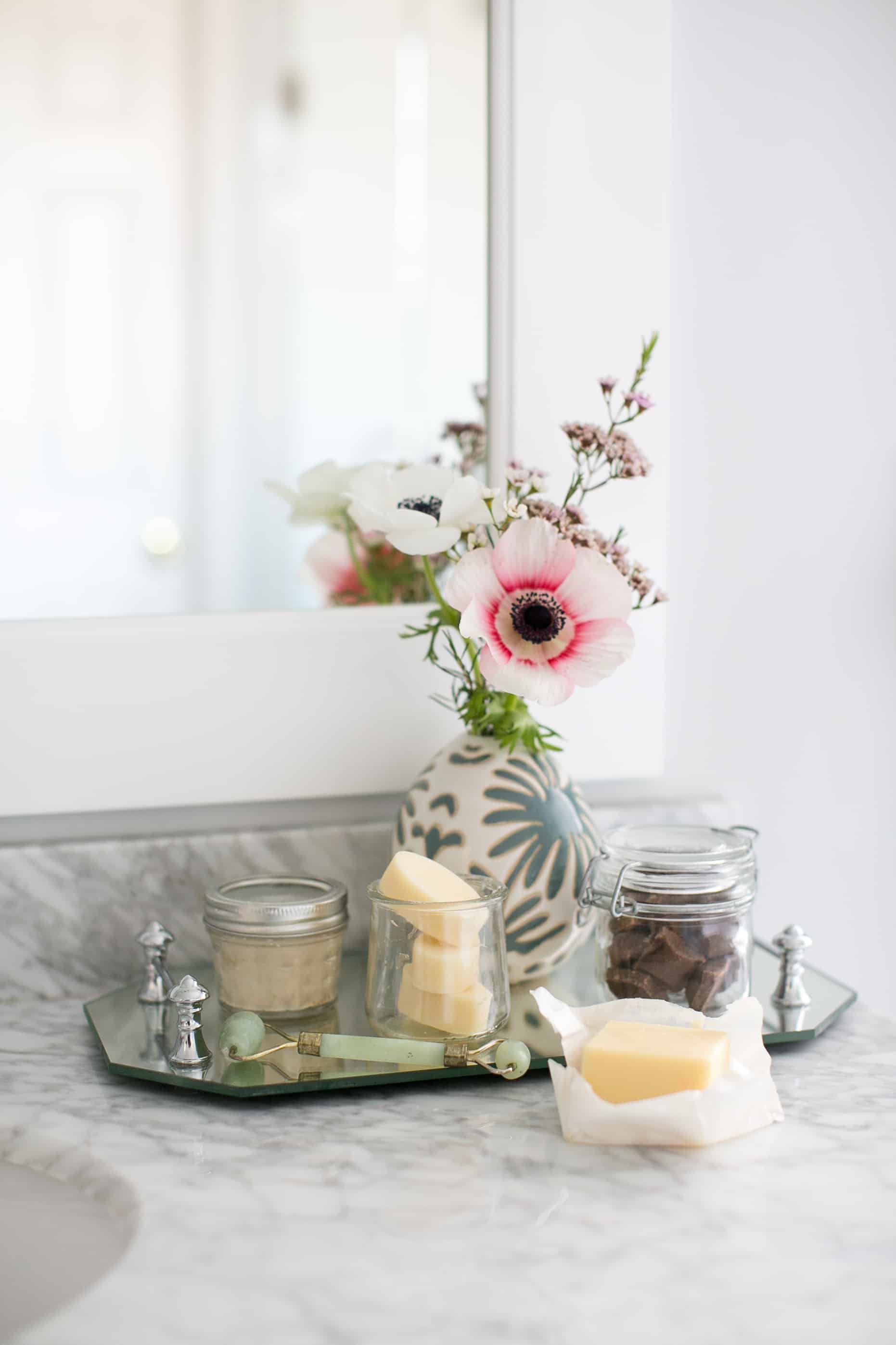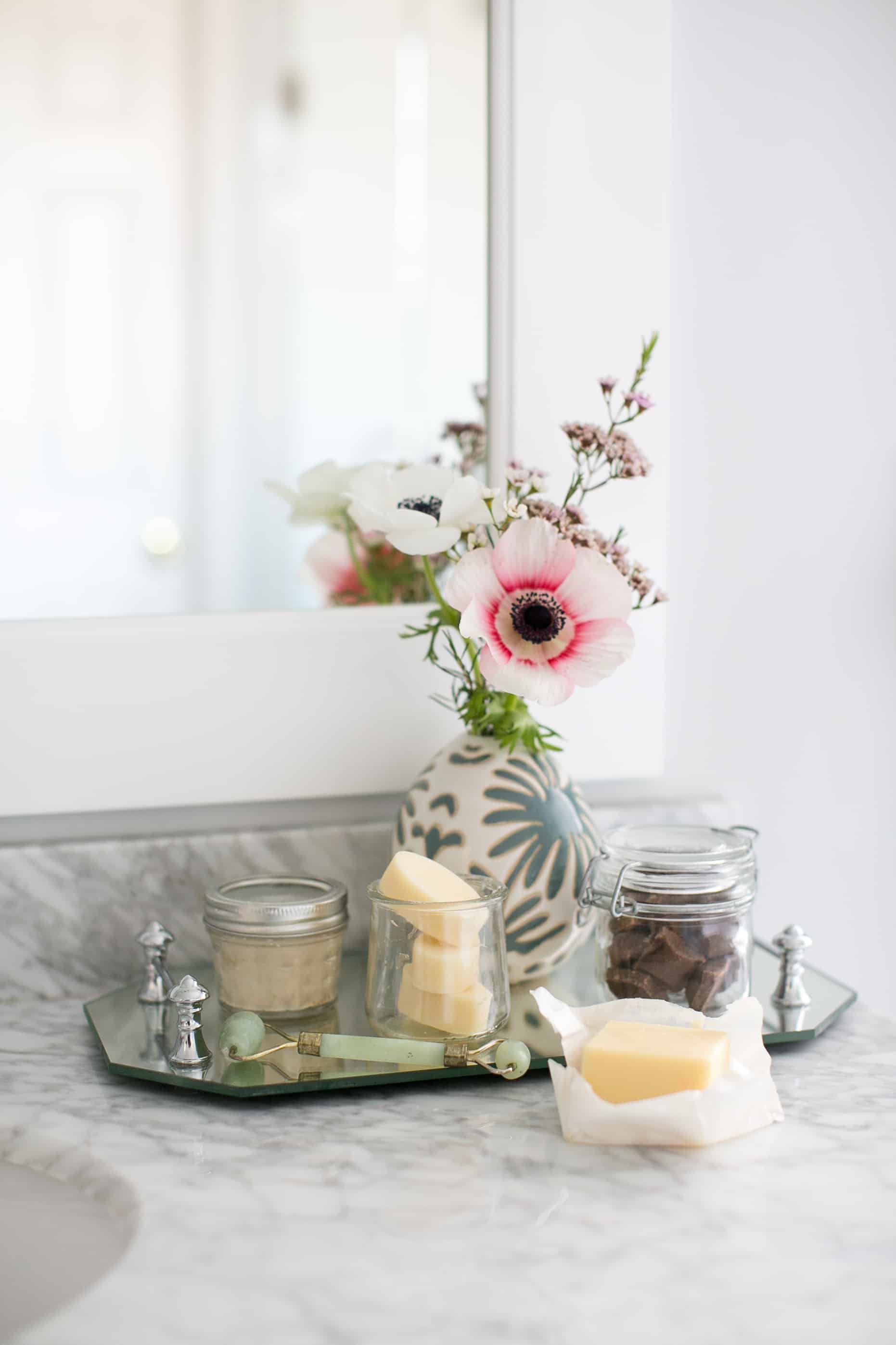 DIY toothpaste made with clay
Jade roller
I've never used a face scrub cube, but it's such a genius idea. You get it wet and rub it into your skin and then use your fingers to massage the exfoliating sugar over your face. One little cube will last for several uses, and it can be used as a face wash too.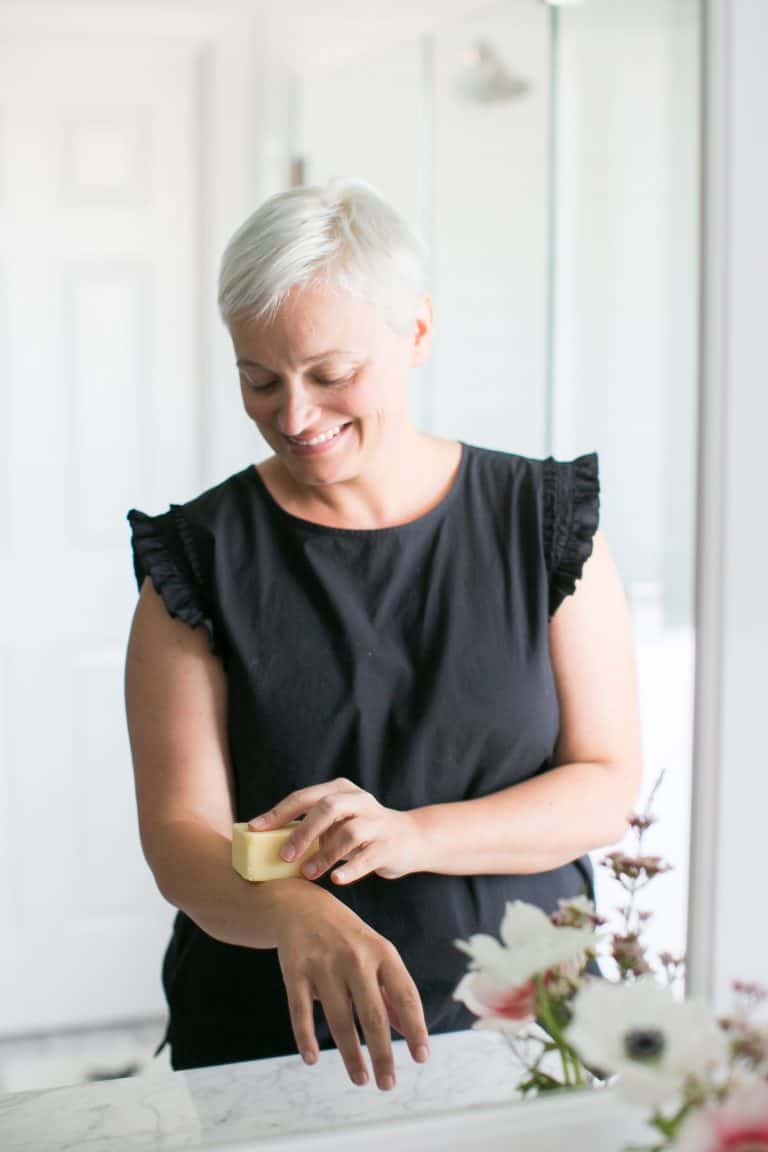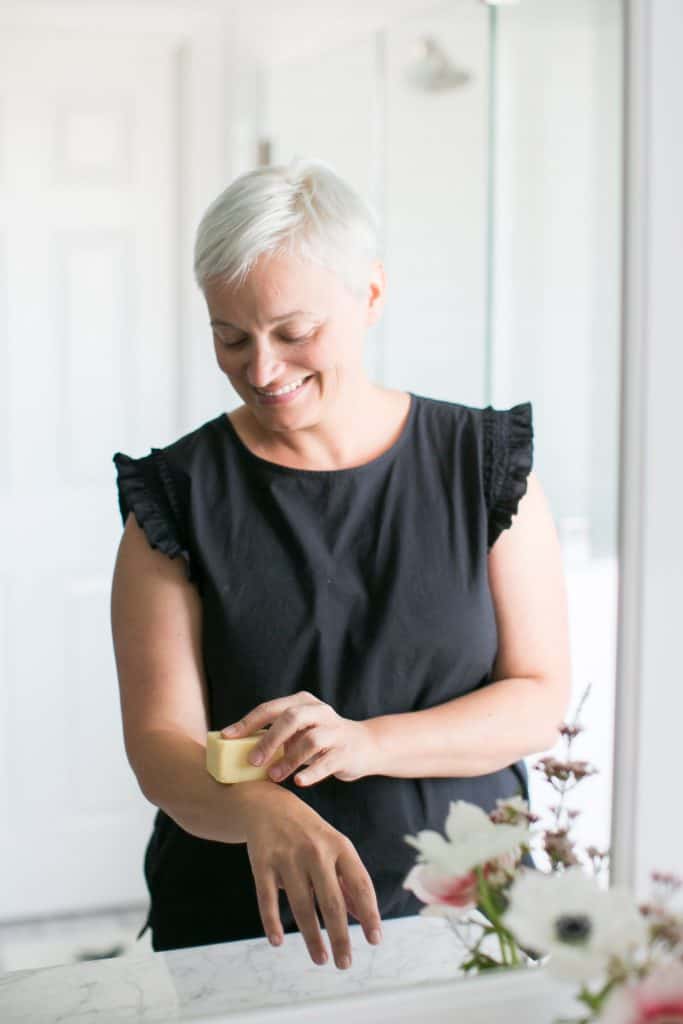 The moisturizing bars are concentrated with hydrating butters and oils. You apply the serum bar by running it over your face, and it's a lifesaver for dry skin. The butter bars and deodorant smell amazing with essential oils like jasmine and ylang ylang.
With 13 plastic bottle gone, here's my shower now: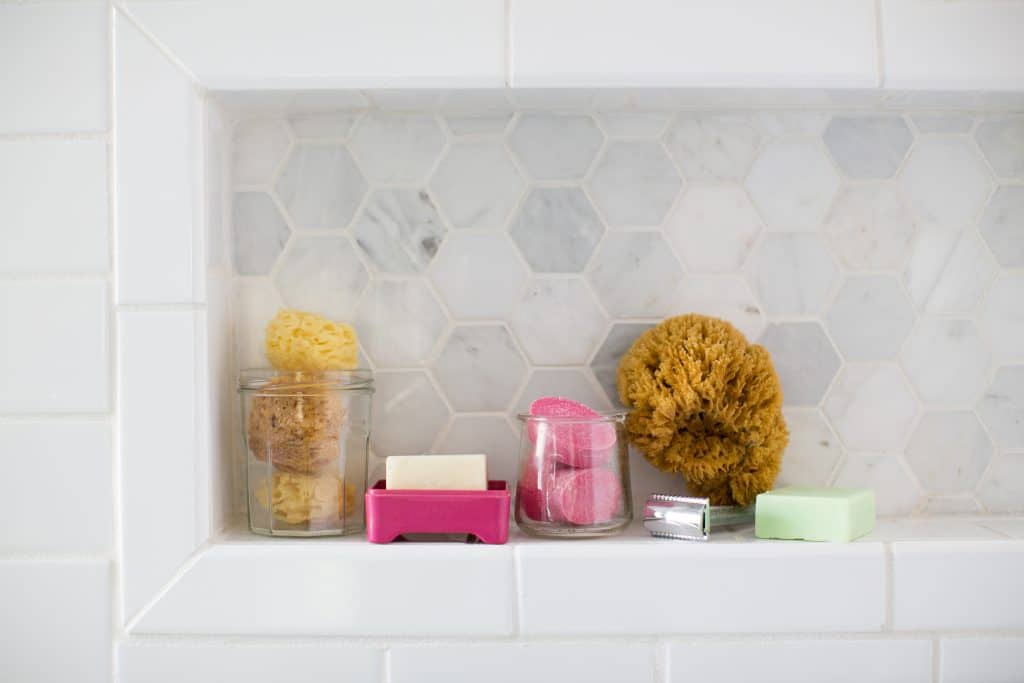 Natural sea sponge
Safety razor
Dry brush (not pictured)
Everyone can use the same shampoo and conditioner now. In fact, the kids do better with a bar than trying to squeeze things out of a bottle. The only challenge is sometimes I forget which bar is what.
I have so much more space when everything is simple and streamlined! What are your zero waste beauty tips?
To keep up with the latest from Ethique, follow them on Instagram.
45