A 'zero waste' kitchen might seem like too much trouble, especially since we're such creatures of comfort. However, it's not as impossible at it sounds!
You can start by reducing the waste in your kitchen simply by paying more attention to your shopping, storage and cooking habits. Keep a canvas tote in your handbag and one in your car. Buy items from the bulk section and store them in pretty mason jars.
See? You're already a few steps further!
Below you'll find even more ideas for how you can produce less waste in the kitchen: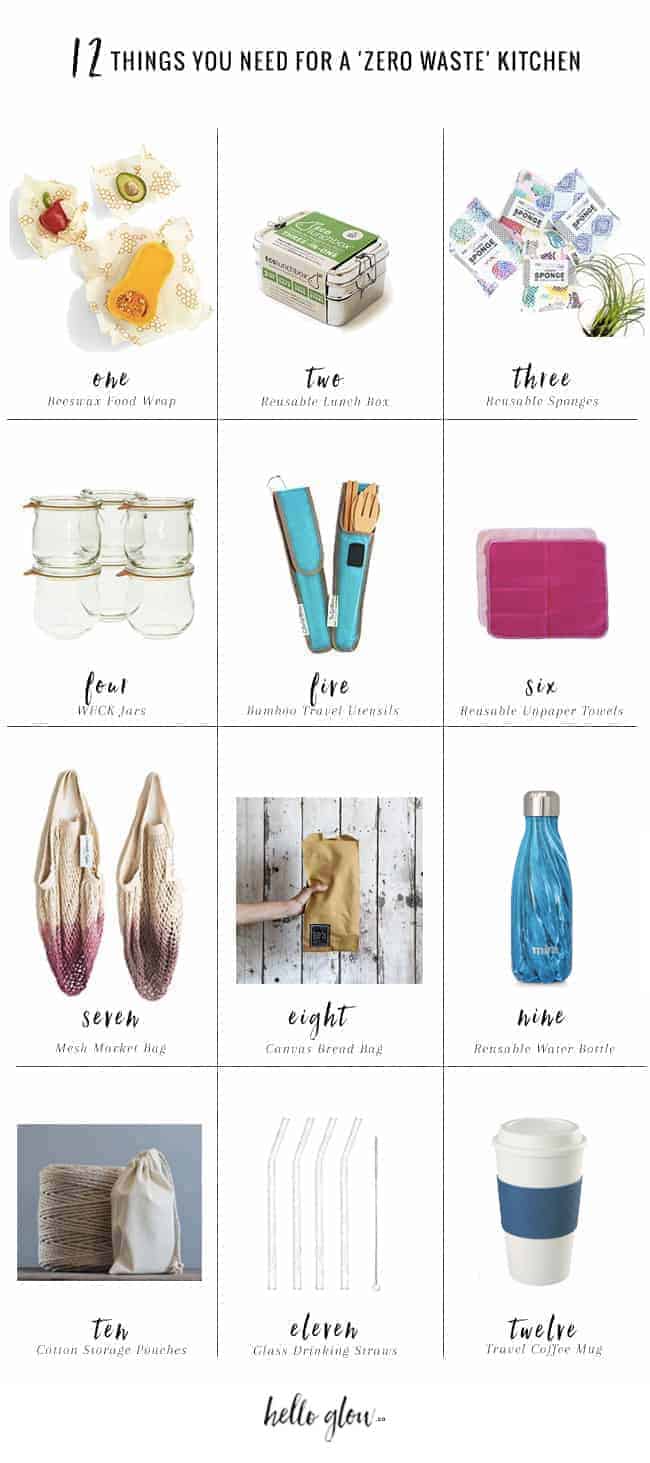 Zero Waste Kitchen Must-Haves
1. Beeswax Food Wrap // Instead of plastic or aluminum foil, use and reuse beeswax cloth.
2. Reusable Lunch Box // You could wrap your sandwich in plastic for lunch… or you could pack it in a stainless steel lunch box you'll be using for ages!
3. Reusable Sponges // Replace dish sponges with pretty, machine-washable ones! They're made from a combination of terry cloth, cotton flannel and polyester mesh.
4. WECK Jars // Your kitchen isn't complete until you start using WECK jars! You can use them for canning, baking and freezing, but also just for storage. Needless to say, they look super cute on the shelf!
5. Bamboo Travel Utensils // Whether you're having lunch at the office or on vacation, you won't be needing any of those flimsy plastic forks anymore.
6. Reusable Unpaper Towels // Can't give up paper towels? These colorful, reusable, highly absorbent towels will make you change your mind.
7. Mesh Market Bag // Mesh bags are not just an eco-friendly way to carry your groceries home—they're also a chic accessory! The same goes for woven baskets.
8. Canvas Bread Bag // This paper bag lookalike is actually made of durable canvas! Perfect for carrying and storing your baked goods.
9. Reusable Water Bottle // We cannot emphasize this enough: you need to hydrate and you need a water bottle!
10. Cotton Storage Pouches // Rather than tying knots on plastic bags, how about using canvas drawstring pouches? The fabric is breathable, keeping refrigerated produce fresh for longer.
11. Glass Drinking Straws // If you (or your little ones) can't have a smoothie without a straw, you should consider reusable ones. Made of durable glass, they also come with cleaners, so you don't have to worry about the washing.
12. Travel Coffee Mug // We understand if you can't get out of the house without coffee. That doesn't mean you have to always buy and then throw out plastic cups! Most coffee shops are happy to oblige and serve your drink in your reusable mug.
5 Zero Waste Kitchen Swaps That Are Totally Doable
Not sure where to start? Going zero waste is a process rather than an end goal. It's about using what you have, and when it's time to buy new, making better choices. Here are 5 super easy kitchen swaps you can make (in a weekend!) to help ease you into a zero waste lifestyle.
1. Replace plastic food containers
I love to meal prep, so I always have tons of plastic food containers lying around. But recently I started hoarding glass jars and using those instead.
Save jars from things like pasta sauce or pickles to store leftovers, dry goods, and pre-made meals. They're free and they last forever. Plus you don't have to worry about toxins from the plastic leaching into your food.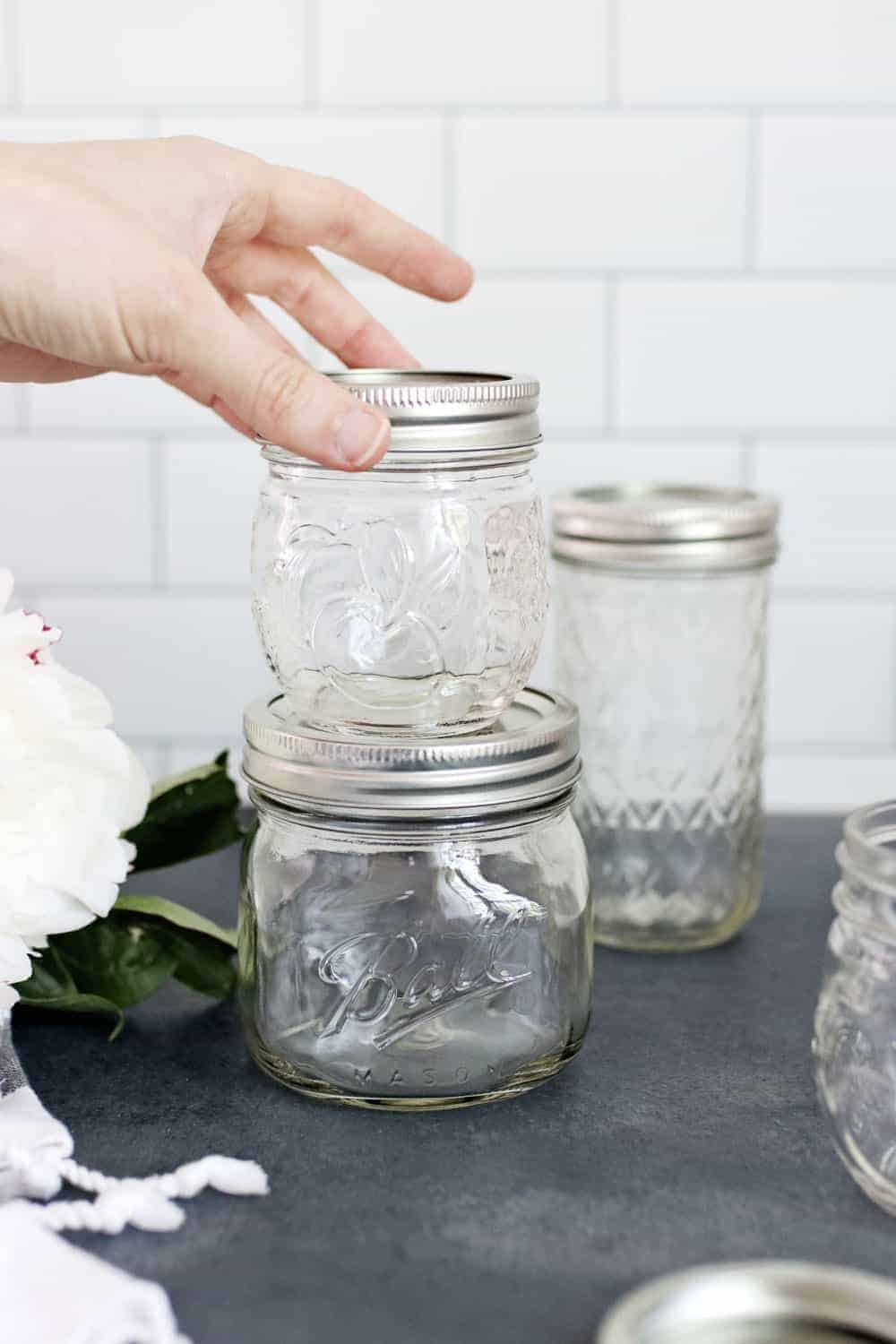 2. Ditch your paper products
This is one of the harder transitions my husband and I made. And while we're not perfect, we're trying. The allure of paper towels lies in the fact that a clean sheet is always ready when you need it.
So instead, I like to keep a drawer stocked with reusable rags for almost every occasion. For spills, I use a shammy. For cleaning, I use terry towels I bought at the dollar store.
I even keep cloth napkins and tissues in there just in case. When you're done, just toss it in the laundry for next time.
3. Toss your plastic dish brush
Or better yet, repurpose your old dish brush into a utility brush and stick to biodegradable options in the kitchen. I use our old plastic brushes to clean carpets and pet stains until they fall apart and I can replace them with smarter options.
In the kitchen, use a wooden dish brush made from compostable materials like beechwood and natural bristles. They only cost a couple dollars more than the plastic ones and when it's time to replace it, just toss it in your compost bin.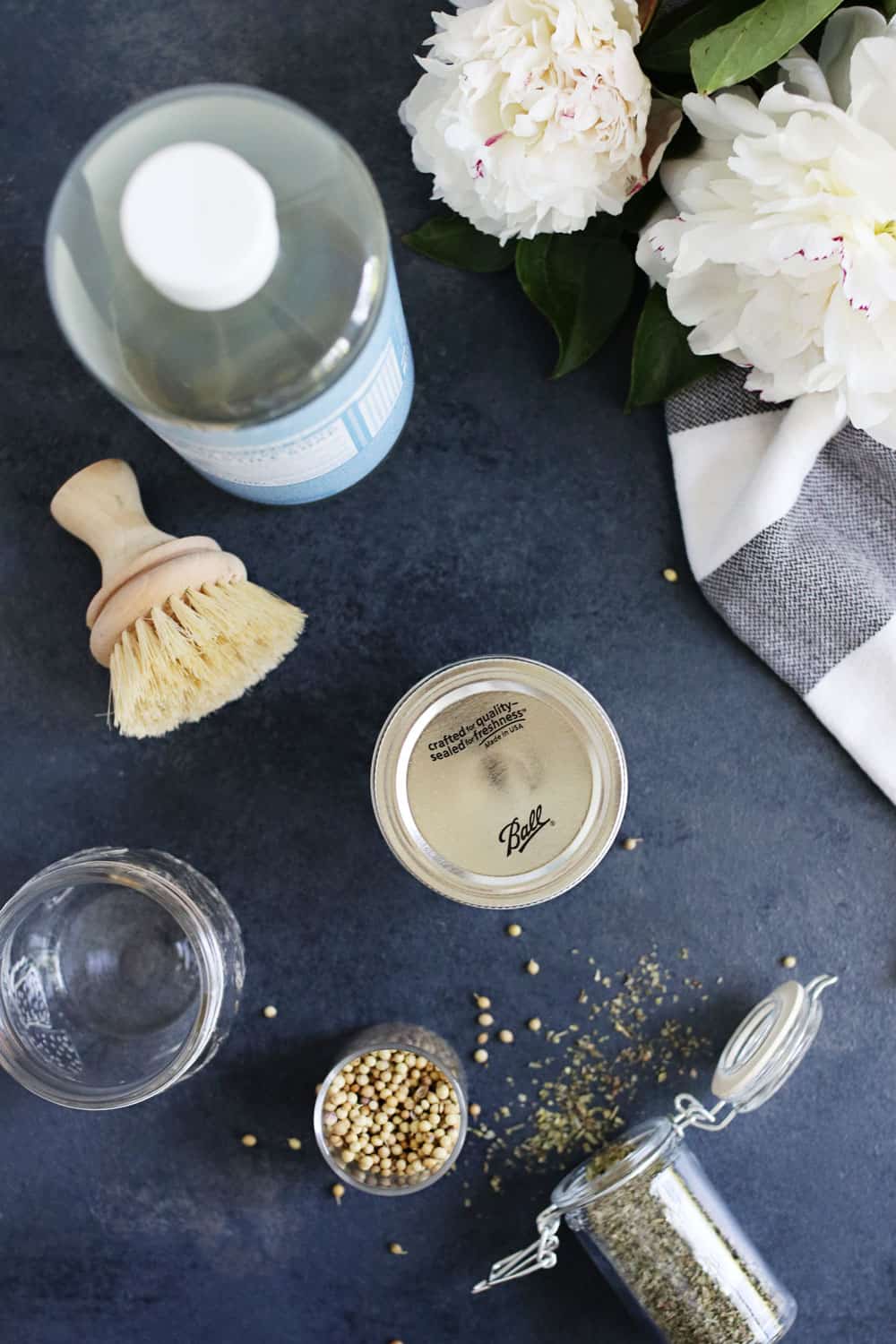 4. Choose one-size-fits-all soap
With lots of different cleaning products comes lots of trash. Instead, buy one concentrated soap that you can use for practically everything.
I love Dr. Bronner's Castile Soap because you can use it for practically everything and a little goes a loooong way. I fill a glass pump bottle 1/3 of the way with soap and then top it off with water.
Because it's so gentle, I use it to clean dishes, wash my hands, remove eye makeup, get stains out of clothes, even wash my hair in a pinch. Easily, that one bottle of soap replaces 5 other plastic bottles I have lying around.
5. Green your spice cabinet
Herbs, spices, and small dry goods are one of the most pervasive sources of plastic in the kitchen. Invest in some small glass jars or repurpose old glass spice containers you have kicking around.
When it's time to buy new, get your spices and dry goods from the bulk bin at the supermarket, and use either recyclable paper bags or your own cotton spice bags to transport them home. Transfer to glass jars for long term storage.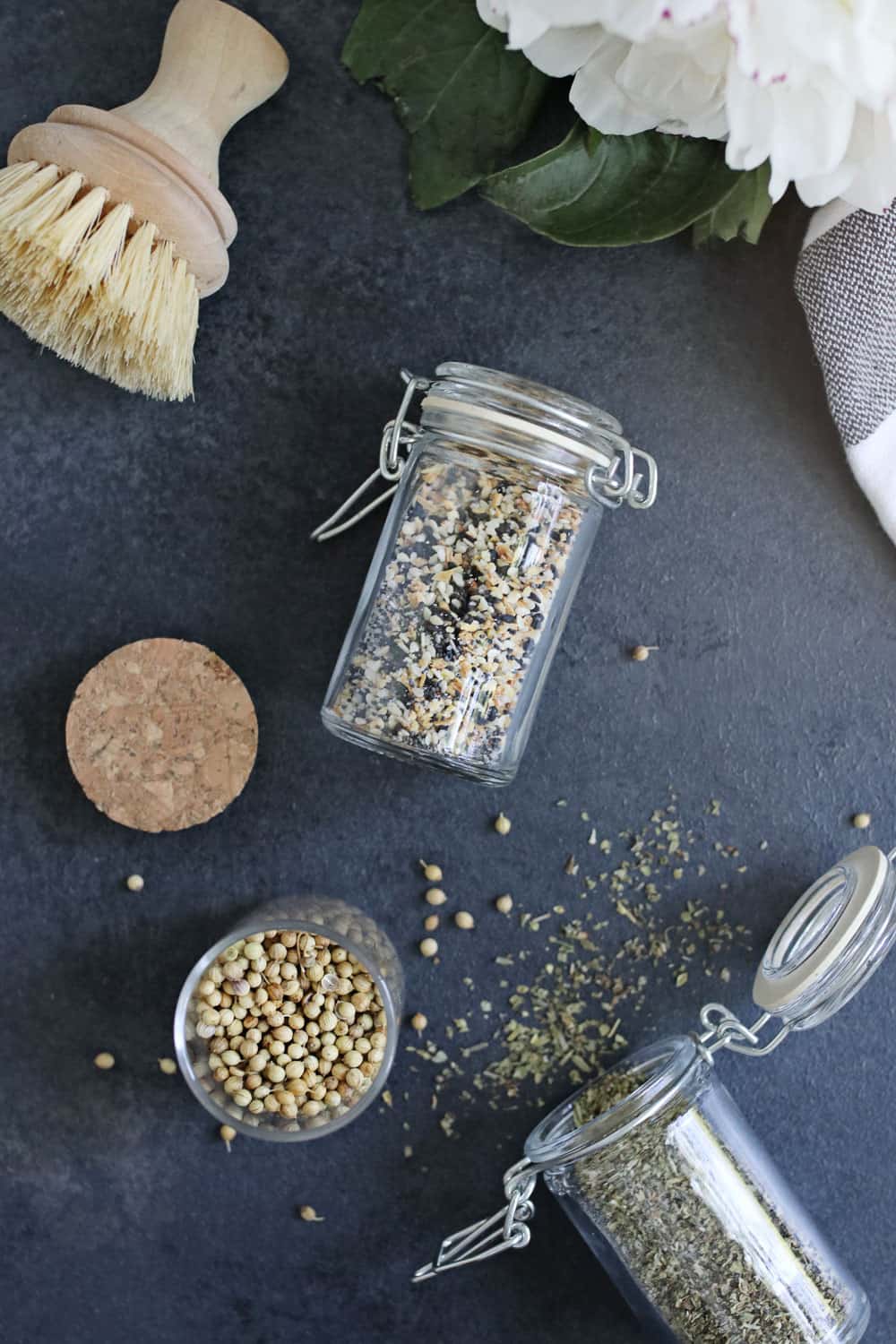 Zero Waste Kitchen FAQ
What is a zero waste kitchen?
Essentially, there are three driving factors behind the zero waste movement, and I'm sure you've heard them before: reduce, reuse and recycle. The goal is to keep items out of the landfill—or, as is more often the case, to simply generate the least amount of garbage possible. Since the kitchen is one of the largest sources of household waste, it's a great place to start.
Where should I start if I want to reduce waste in my kitchen?
You can start small—little changes go a long way, and you don't have to get it perfect right from the start. Even if you start by carrying reusable shopping bags and mesh market bags to corral produce at the grocery store (instead of using the plastic bags provided) you can start to make a difference.
Once you've mastered that habit, you can start integrating reusable storage solutions (like glass jars) and slowly investing in items like glass straws and reusable towels and food wrap over time.
Is going zero waste affordable?
Some zero waste products may be more expensive at the outset (like buying reusable towels instead of paper towels). However, because these products are reusable and typically of higher quality, you could be saving money over time.
There is an initial investment to take into account, but just think of how many packages of paper towels you would normally buy in a year's time! Investing in sustainable alternatives can be much more cost effective in the long run.
How else can I go zero waste in other areas of my home?
The bathroom also provides an excellent opportunity to incorporate more zero waste solutions. Think of all of the products sitting on your bathroom vanity, shower or the cabinet under the sink.
As you run out of these products and need to replace them, there are lots of opportunities to swap in more sustainable options like bamboo toothbrushes, recycled or bamboo toilet paper, reusable facial rounds and shampoo & conditioner bars. I also love heading to my local apothecary's refilling station to fill reusable bottles with my favorite liquid Castile soap!
Looking for more zero waste ideas? We have some easy tips for how to incorporate zero waste beauty products into your routine.
257