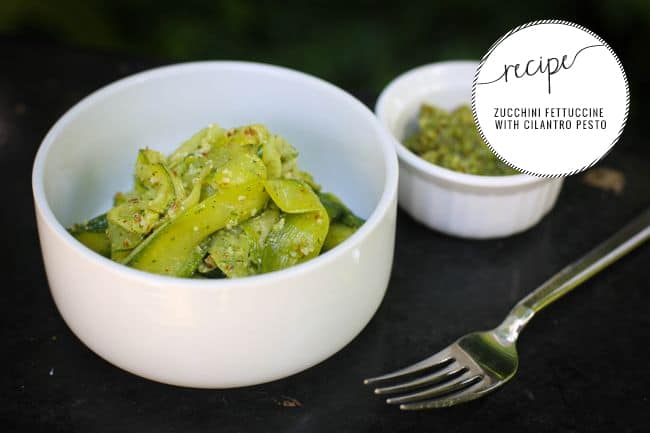 I often cook dinner on Friday night for my local extended family, and last week I made pesto zucchini fettuccine (something healthy to go with the yummy sangria). My photographer happened to be over shooting a few other projects so we snapped some quick pics. Then a funny thing happened – she wouldn't stop eating it! Before I knew it I was left with a few tiny strands of "pasta" to feed five people. Um, really? I guess that means this one's a winner?! Good thing it was easy to make more!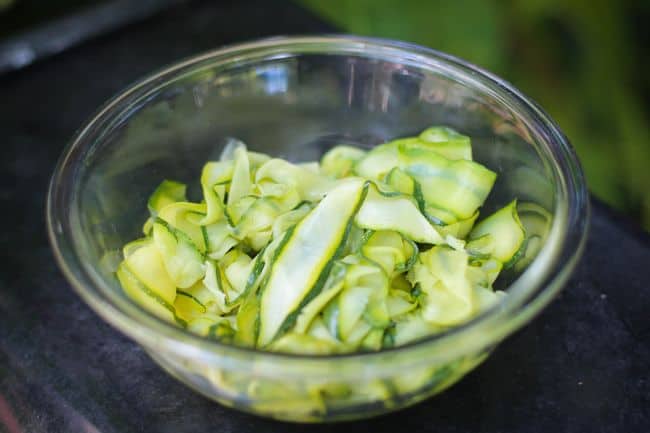 I never know what do with zucchini in the summer. Grill it? Bake it into muffins? I just tried making zucchini chips, and 4 zucchinis were sacrificed in that sad attempt. What's the trick to having them not stick to the pan? Using cooking spray and parchment paper didn't work for me. But now I have the perfect zucchini dish. It feels like you're having pasta, only with less calories and more nutrients.
I combined the "pasta" with cilantro pesto because I love cilantro and it's usually cheaper than basil. And there's no cheese!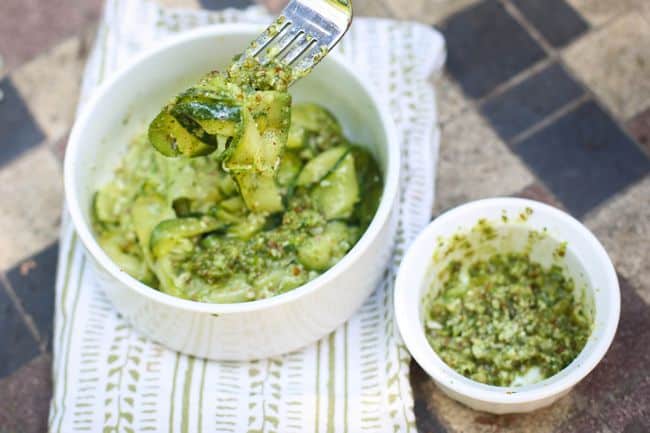 Zucchini fettuccine with cilantro pesto
Ingredients
4 zucchini
1 bunch cilantro
1/2 cup walnuts (I pretty much use whatever nuts I have on hand.)
1 garlic clove
1/2 cup olive oil
Directions
Make the pesto by blending together cilantro, walnuts, garlic and olive oil in a food processor. Try to remember to do this when the baby isn't napping. Sam's afternoon nap came to an abrupt end with this one. Whoops.
Use a vegetable peeler to make long strips of zucchini. Keep peeling until you reach the center part with seeds. Steam the zucchini for about 5 minutes then toss with the pesto until combined.
Best served warm – but also pretty darn good cold if you ask my photographer. :)
0