Zucchini is one of my favorite summertime veggies. It's easy to grow and easy to love. On its own it's pretty bland, but that's not a bad thing! It means that it's perfect for pairing with bold, big flavors. I have three zucchini recipes that will have you coming back for seconds all summer long.
You may have never realized it, but zucchini is loaded with important nutrients. It's a good source of vitamin A and C, B vitamins, potassium, and trace minerals like copper and manganese. Zucchini is a low GI food which can help in the regulation of blood sugar due to the nutrients I mentioned (source). So eat that zucchini!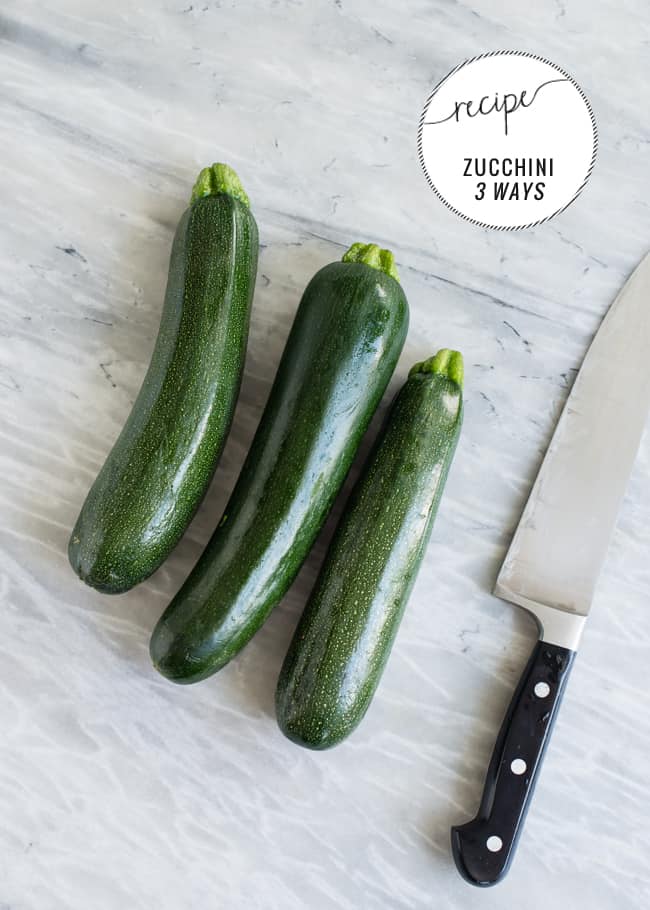 I like zucchini all ways, but have recently started loving it raw. When turned into zucchini noodles (zoodles) it's a great gluten-free substitute for pasta. I also like it thinly sliced, drizzled with olive oil and fresh squeezed lemon juice as carpaccio. And while one of the hottest food trends seems to be sweet potato fries, I like zucchini fries. We sprinkle them liberally with finely grated parmesan cheese, which seems to be everyone's favorite.
Raw Zucchini Carpaccio Salad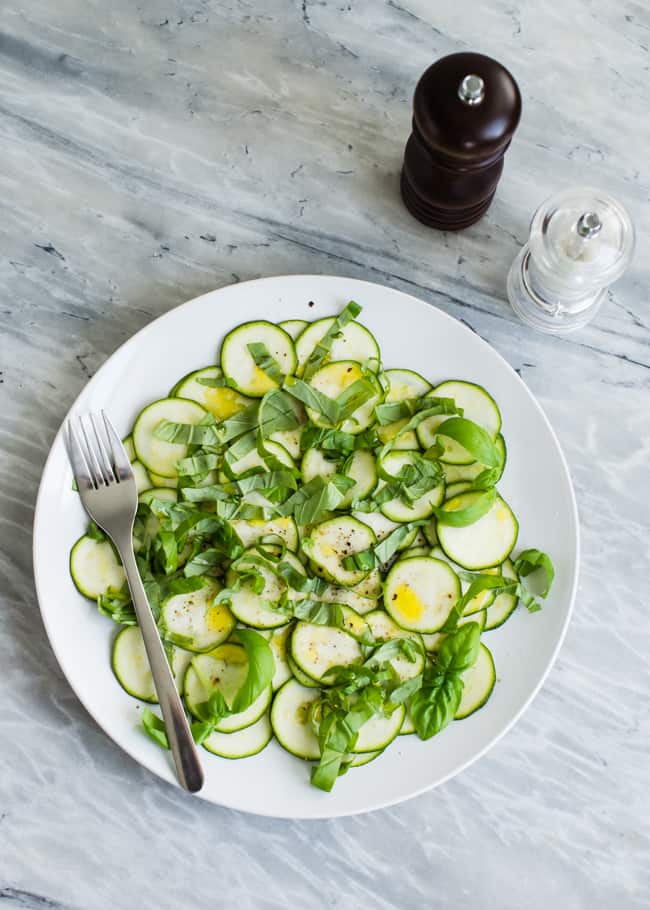 Zucchini Carpaccio Salad
Yield 2 -4
Ingredients
1 large zucchini, cut into very thin rounds
1 Tablespoon extra virgin olive oil
1-2 Tablespoosn fresh lemon juice
coarse salt and pepper, to taste
8-12 fresh basil leaves, cut into thin ribbons
Instructions
Place half of the thinly sliced zucchini in a shallow serving dish.
Drizzle with half the olive oil and lemon juice, and season with salt and pepper.
Top with the remaining half of the zucchini and drizzle with the remaining olive oil and lemon juice, seasoning again with salt and pepper. Top with the basil and serve immediately.
Courses appetizer
Cuisine Italian
 Baked Parmesan Zucchini Fries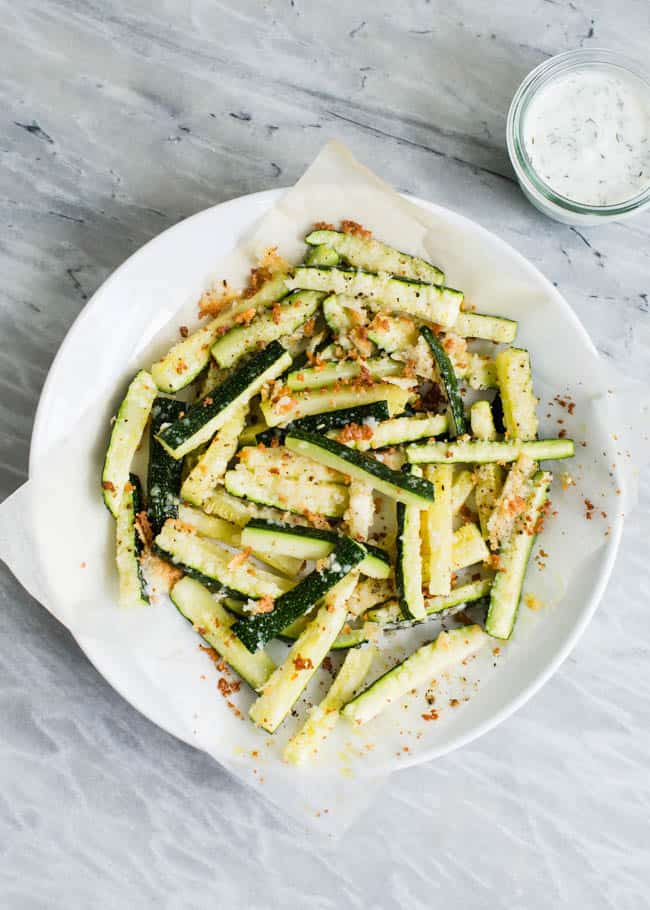 Baked Parmesan Zucchini Fries
Yield 4
A great alternative to French fries, these zucchini fries are topped with parmesan cheese and baked until golden.
Ingredients
1 large zucchini, cut into sticks
2 teaspoons olive oil
1/4 cup finely grated parmesan cheese
Salt, for sprinkling
Ranch or marinara, for dipping
Instructions
Preheat oven to 425° F. Line a baking sheet with parchment paper.
Toss the zucchini sticks with olive oil and season with a little salt and pepper. Arrange in an even layer on the lined baking sheet. Sprinkle the parmesan cheese evenly over the top of the zucchini. Slide the baking sheet into the oven and bake for 10-15 minutes, or until fries are golden and the cheese is crispy. Serve immediately with your choice of sauce.
Courses Side
 Zucchini Noodles with Pesto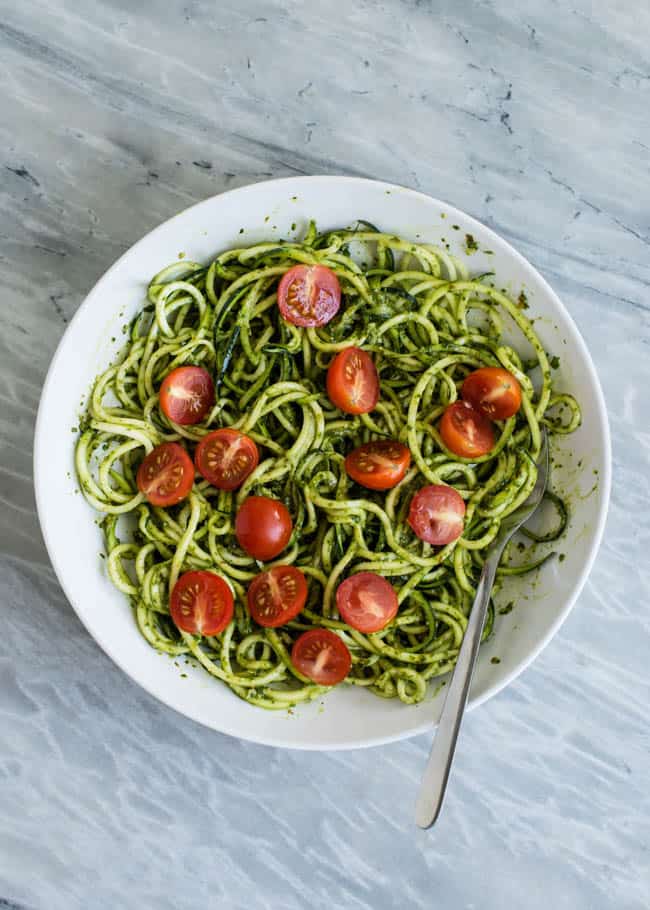 Zucchini Noodles with Pesto
Yield 2
A great low carb and gluten-free substitute for wheat pasta, zucchini noodles are fantastic tossed with pesto and a little vinegar. Top with cherry tomatoes for a light summer dinner.
Ingredients
1 medium zucchini, ends trimmed
2 Tablespoons homemade pesto or store-bought
1-2 teaspoons white balsamic vinegar or lemon juice
1/2 cup cherry tomatoes, halved
Salt and pepper, to taste
Instructions
Cut zucchini into "noodles" using a spiralizer or creating long, thin ribbons using a mandoline, very sharp knife, or vegetable peeler.
Place in a bowl and add the pesto and vinegar or lemon juice. Toss well to coat the noodles. Season well with salt and pepper, to taste, and top with the halved cherry tomatoes. Serve immediately.
Courses Main
What's your favorite way to enjoy zucchini?
3