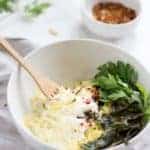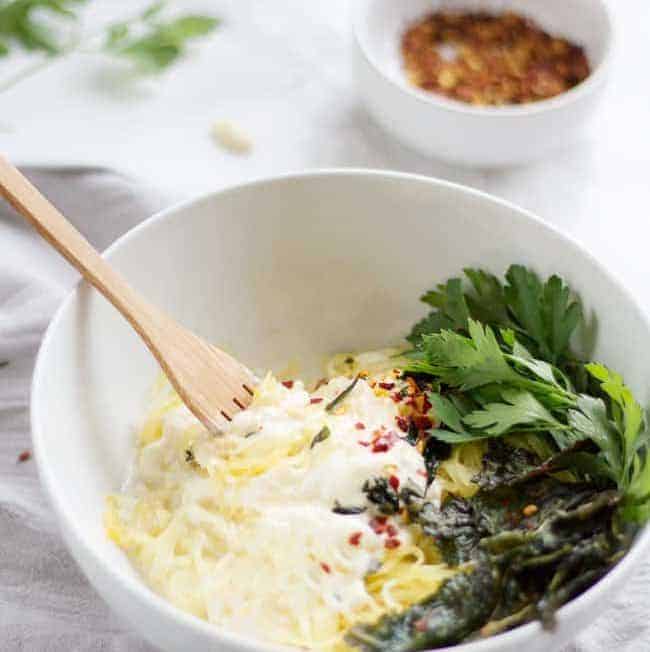 Print Recipe
Healthy Spaghetti Squash Alfredo with Crispy Kale Leaves
This quick and easy spaghetti squash alfredo makes for the perfect weeknight family dinner
1

whole spaghetti squash

2

cups

kale leaves torn into 2-inch pieces

2

tablespoons

olive oil

2

cloves

minced garlic

1/2

cup

Horizon Heavy Whipping Cream

1/2

cup

chicken broth

1/2

cup

parmesan cheese

1

teaspoon

arrowroot starch

Large pinch of salt

Parsley and red pepper flakes

for garnish
Preheat the oven to 400ºF. Slice your spaghetti squash into 1-inch thick rings and remove the seeds. Lay the squash rings on a baking sheet and bake for 35 minutes or until the spaghetti squash easily separates into "noodles".

While the squash is baking, spread your kale leaves in a single layer on a baking sheet and drizzle with 1 tablespoon olive oil. Toss to coat. Place kale in the oven along with your spaghetti squash and bake for 10 minutes, or until the kale is crispy but not burnt.

Meanwhile, combine 1 tablespoon of olive oil with the two cloves of minced garlic in a small saucepan and sauté over medium heat for one minute, until fragrant.

Add the cream and whisk until just barely simmering. Then add the chicken broth and parmesan cheese, whisking constantly.

Add arrowroot starch and a pinch of salt and whisk until everything comes together and the alfredo sauce thickens slightly. Remove from heat and let sit for 5 minutes.

Shred your spaghetti squash using a fork and divide it into bowls. Top with the alfredo sauce and kale. Garnish with red pepper flakes and parsley, if desired.