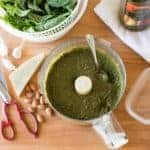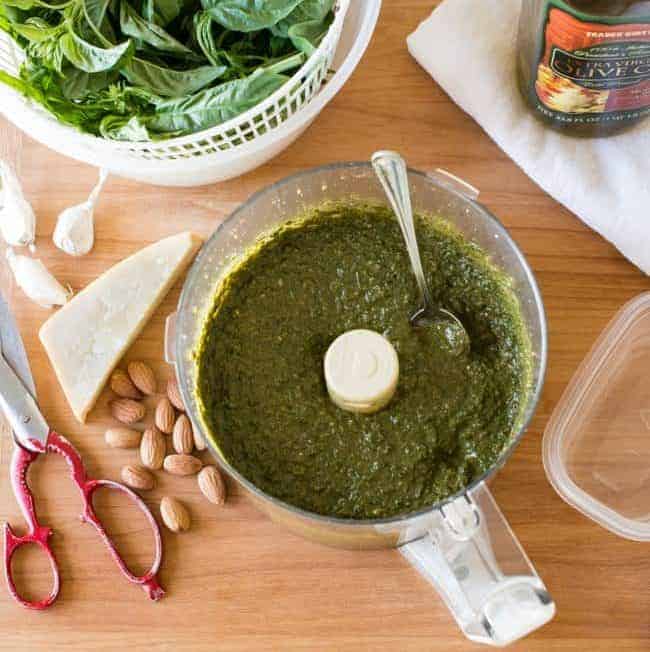 Print Recipe
Freezer Pesto
Make up big batches of fresh pesto to freeze and enjoy later.
6-8

cups

fresh basil

2-4

garlic cloves

1/2 to 1

cup

finely grated Parmigiano-Reggiano cheese

3/4

cup

nuts

almonds, cashews, walnuts, pine nuts

3/4

cup

extra virgin olive oil

Juice of 1 large lemon

1

teaspoon

sea salt

or more, to taste
Using a food processor or blender, turn on the machine and drop the garlic through the feed hole to chop it. (This helps prevent large pieces of raw garlic in the pesto.) Turn motor off and add the nuts. Pulse until finely chopped. Add the basil and cheese. Pulse again until finely chopped. With the motor running, add the olive oil and lemon juice through the feed hole. Process or blend until smooth, stopping and scraping down sides as needed.

To freeze, place pesto in ice cube trays or small 4-8 ounce freezer safe containers. Smaller containers thaw out more quickly. Resealable plastic bags can also be used and frozen flat. To thaw, remove container or bag from freezer and let stand at room temperature for a few hours, or overnight in the fridge. The pesto ice cubes can be added to soups and sauces, or thawed out quickly to toss with hot pasta.