One day shortly after my husband and I moved in together he warned me that he used a lot of laundry detergent. As a naïve twenty-something I thought this was pretty odd. I mean, isn't laundry detergent a hot commodity for everyone? Turns out, not like this. Some days I would follow him into the laundry room just to make sure he wasn't opening the spout and pouring our liquid gold directly in to the trash.
With the amount of money we were wasting on the expensive stuff, I decided it was high time to save a few bucks and make my own. This recipe for all-natural liquid laundry detergent is one my faves. It only requires 5 ingredients and it makes about a gallon—for just $5!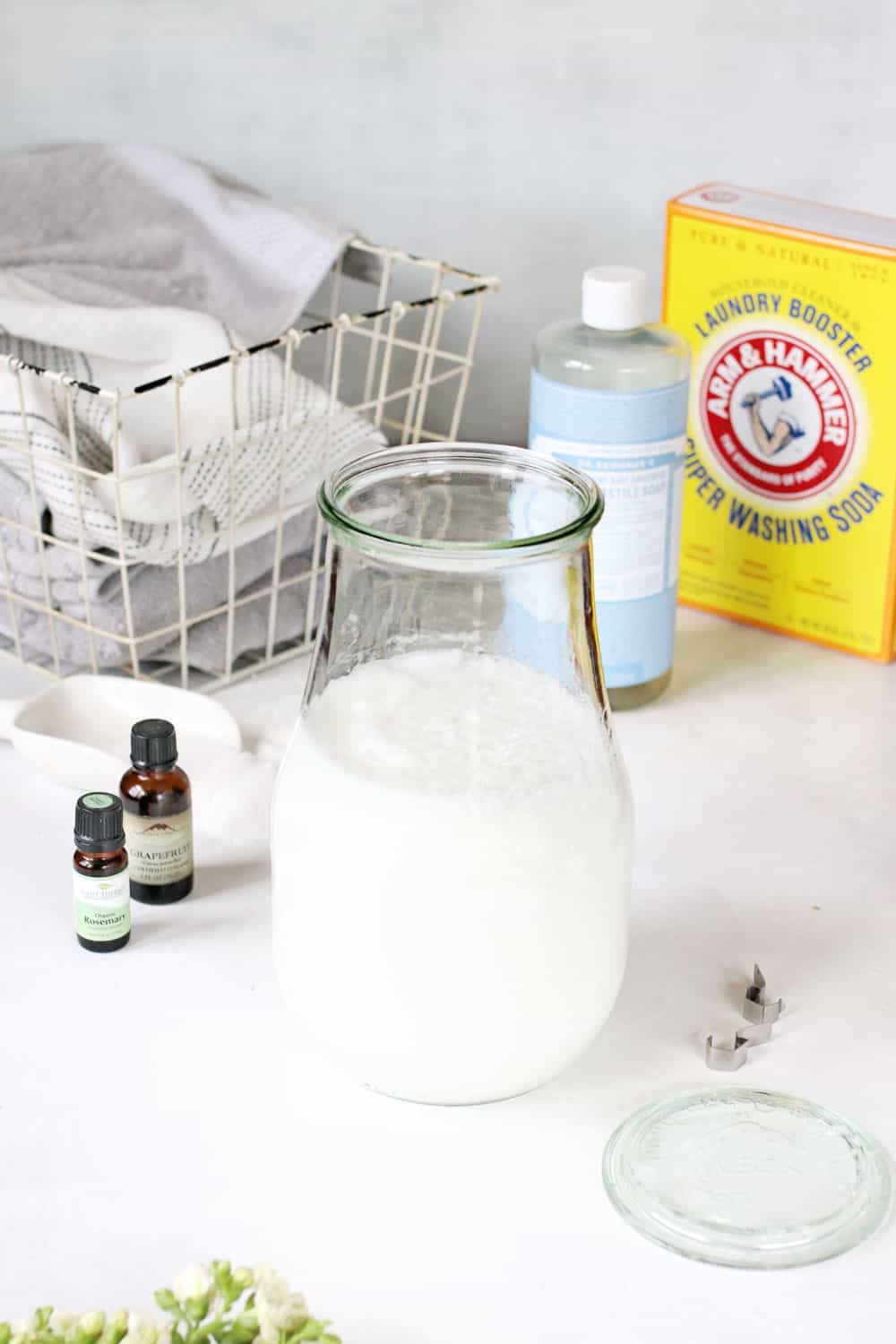 How To Make Natural Liquid Laundry Detergent
Natural laundry detergent has long been a priority in our house. Traditional detergents are loaded with chemicals that stick to clothes and seep in through our skin. Not to mention, they're often loaded with unnatural scents, like ocean breeze and citrus sunshine (or whatever).
Over time, all those chemical ingredients sink into your skin, work their way into your lungs and get into your eyes. And they have been known to cause eye irritation and lung problems as well as be a source of persistent skin irritation and pesky rashes. And don't even get me started on the carcinogens and endocrine disruptors!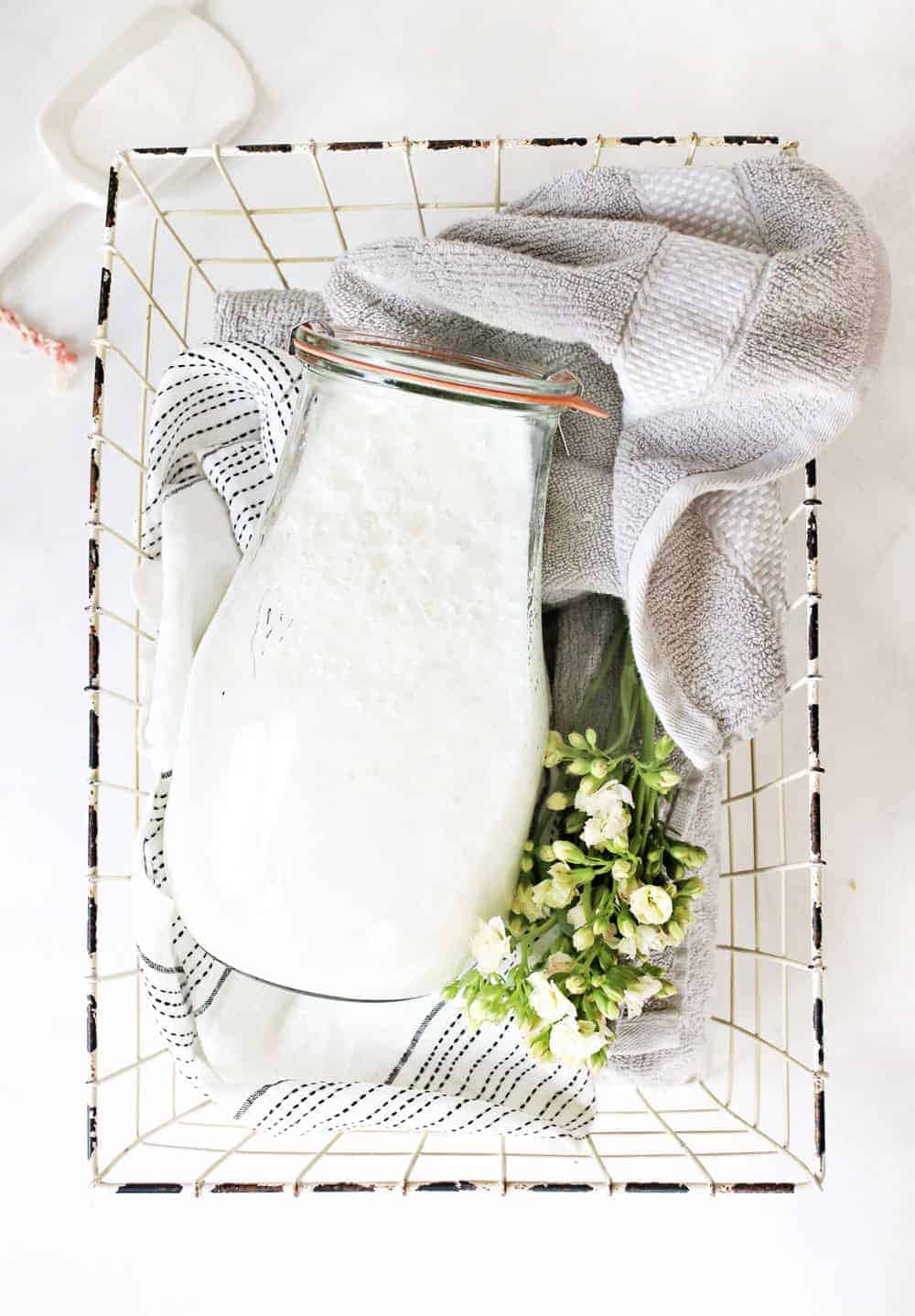 Natural laundry detergent, on the other hand, is better for you, your health and the environment. In the absence of harmful chemicals, sulfactants, parabens and phthalates, it's a lot safer for long term use. Plus it's completely biodegradable and won't pollute our waterways.
Oh, and the hefty price tag of the store-bought stuff definitely leaves something to be desired!
Even with just 5 ingredients, this laundry detergent is a lot cheaper than (and just as effective as) the store-bought kind. It relies on liquid castile soap to clean clothes and get rid of odors, and borax and washing soda to help tackle stains. Plus, by dissolving everything in water first, it won't leave any white flakes on your clothes like some homemade dry detergents.
Just watch how easy it is to make:
You can usually find everything you need to make your own laundry detergent at the neighborhood grocery store. The only ingredient I sometimes have trouble finding is washing soda. But a quick Google search usually points me in the direction of a local grocery store that sells it. If you can't find it nearby, you can usually find it pretty easily online.
Since this natural liquid laundry detergent doesn't contain preservatives, it's best to use it within a couple of weeks, otherwise it could get moldy. Because it has a somewhat short shelf life, the recipe below is for a half-gallon batch. If you can't use it fast enough, either make a smaller batch or store it in the refrigerator in between uses. It should store in the fridge for at least a month, but if you do notice mold, throw it out and make a fresh batch.
Just note that this liquid laundry detergent isn't the same texture as what you might be used to. Because it contains powdery ingredients, it has a tendency to thicken up as it cools. You can get around this by adding more water until you reach a consistency you like. And keep an open mind! Even if the consistency isn't what you had in mind, I promise it will win you over with its cleaning power.
Liquid Detergent FAQ
Will this ruin my high efficiency washer?
It's best to follow the instructions on your washing machine. If the manual says to only use a certain type of laundry detergent, then I wouldn't risk it by using homemade detergent. Better safe than sorry!
Can I use this with cool water or is it best with hot water?
To make sure the powders dissolve and don't leave a residue on your clothes, I would recommend using warm or hot water only.
My laundry detergent thickened too much, how can I fix that?
Add more water and stir well. You may also need to shake the detergent prior to each use if the ingredients have separated. Even if the detergent is thicker than what you're used to, it should still dissolve in warm water.
Not a fan of liquid laundry detergent? You can make your own laundry detergent powder with similar ingredients!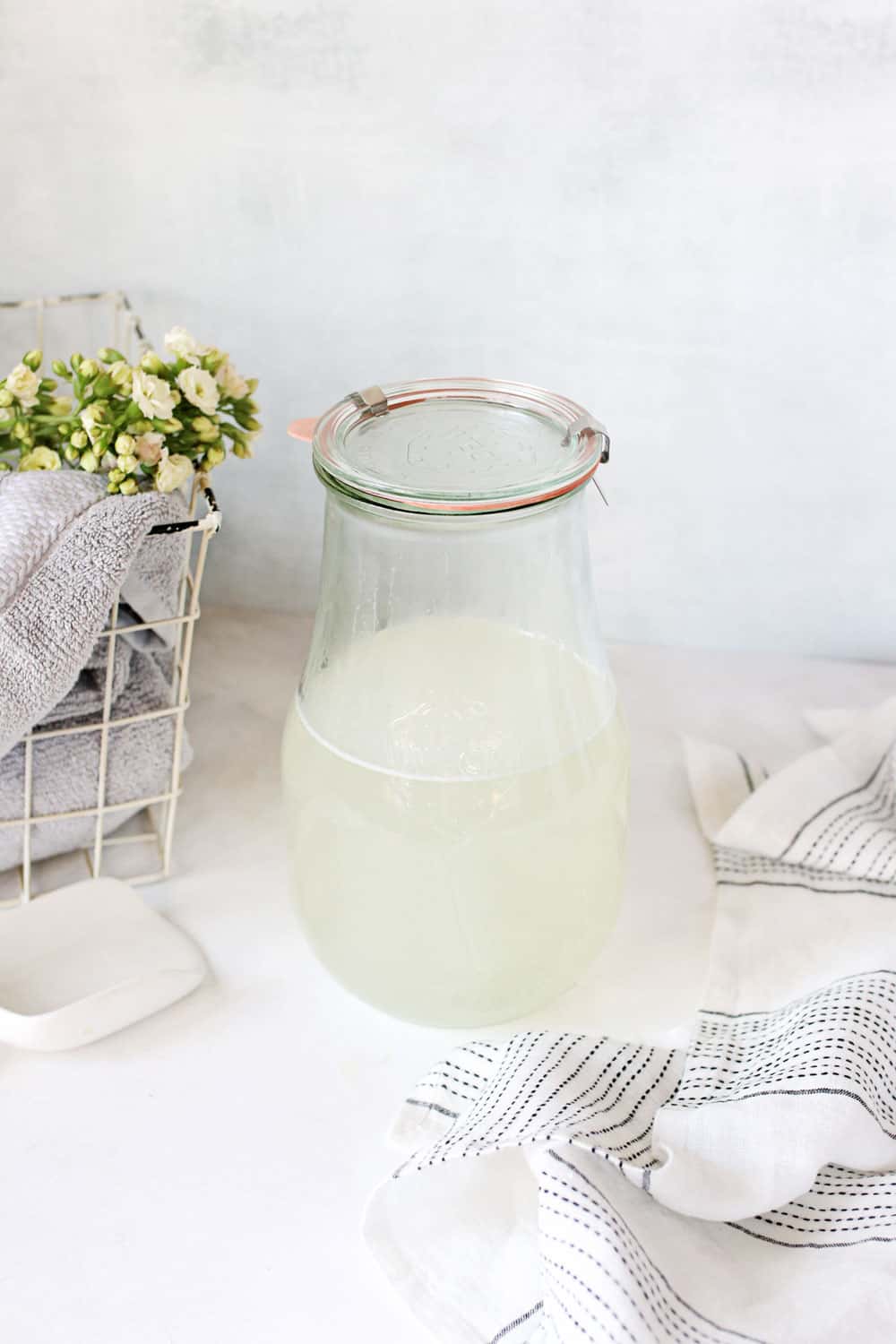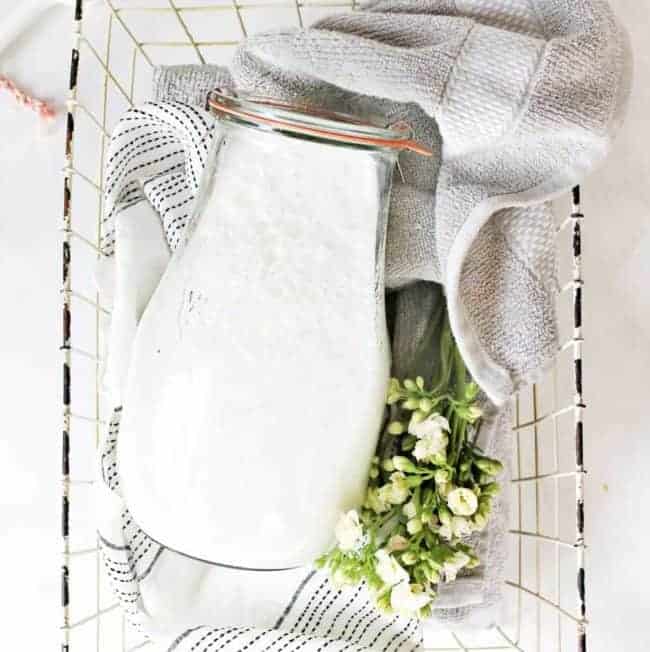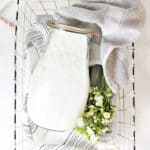 Print
Natural Liquid Laundry Detergent
This natural liquid laundry detergent recipe uses just five simple ingredients to get your clothes clean, without the hefty price tag of store-bought detergents!
Equipment
Medium stock pot

Gallon size jar or plastic bottle with lid
Instructions
Bring 4 cups water to a boil in a medium-size pot. Remove from heat and add the borax and washing soda.

Whisk until the borax and washing soda are completely dissolved. 

In a separate bowl, combine the remaining water, castile soap and essential oils. 

Combine the borax mixture with the castile soap mixture in a large lidded jar or old laundry detergent jug.

Gently stir to combine. As the mixture cools it should thicken up. If it's too thick, add more water and mix again.

Use 1/8 cup for small loads and 1/4 cup detergent for large loads of laundry.
Notes
I know some people aren't big fans of borax. Most of the studies used to prove borax's toxicity refer to ingestion, eye contact or prolonged undiluted use. In all my years of making my own laundry detergent, I have never had any issues with it. But if you would prefer not to use it, simply replace the borax with more washing soda.
Since this contains water, it should be used quickly. If you have a small family, halve or even quarter the recipe, and try to use it within 2 weeks.
232