This probiotic smoothie is reminiscent of a savory lassi. Not only will drinking kefir help you reap the benefits of the helpful strains of bacteria and yeast, but it also has plenty of calcium, protein, and vitamin D.
A happy microbiota keeps you healthy, so this detox probiotic smoothie is just what you need for nourishing your body cells and also the friendly bacteria living in your gut.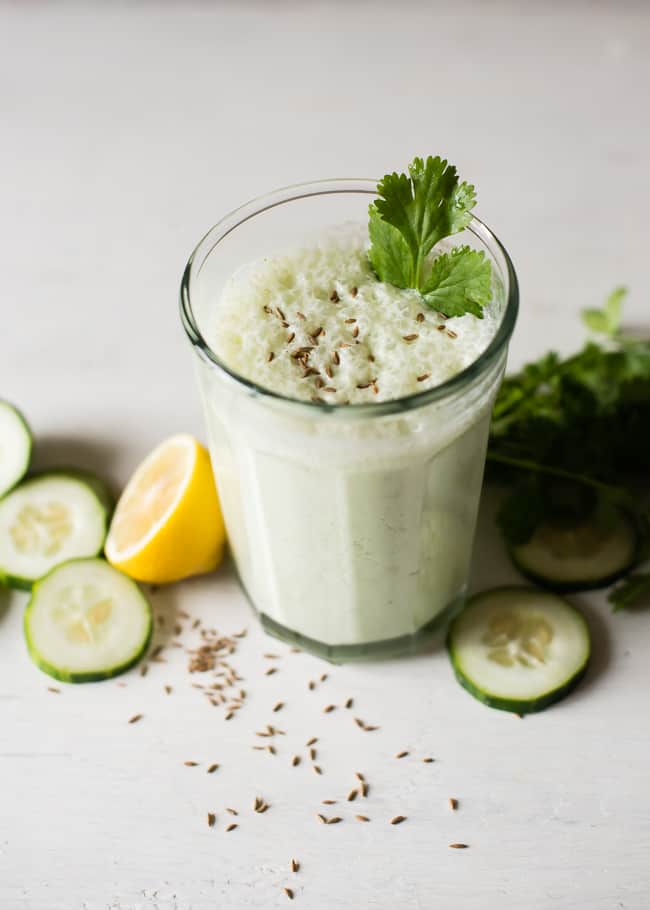 Probiotic Smoothie Benefits
Updating your usual green smoothie to make it microbiome-friendly is the best step towards a healthier you. The friendly bacteria that live in our gut are directly linked to a more vigilant immune system, a good mood, better nutrient absorption, and improved mental health. Adding kefir or yogurt to your smoothies will make them probiotic rich and help you replenish your gut microbiota with good bacteria [source] without the need of taking supplements.
One 8-ounce serving of kefir delivers up about 20 percent of your daily calcium needs, as well as good amounts of vitamin B12, biotin, and phosphorus, along with a whopping 10.5 grams of protein. Those who are lactose intolerant have an easier time digesting kefir than other dairy products. The probiotics in kefir can also help normalize digestive troubles [source].
You can make milk kefir at home, but store-bought is excellent, too. You'll find it in the refrigerated dairy section of the grocery store. Unsweetened organic kefir offers the most health benefits.
Low Sugar Kefir Smoothie Recipe
Unlike a lot of my other smoothie recipes, this one is also incredibly low in sugar, so go ahead and sip on it for breakfast, between meals, or as a snack. If you prefer your smoothies on the sweeter side, omit the cumin and add fresh mint and raw honey to taste. I prefer mine without the added sugar because I feel like it gives me more energy and prevents those mid-day blood sugar crashes.
But do what works best for you. Detox diets are hard enough without having to abide by strict rules and deprive ourselves of every little source of sugar (or dairy, gluten, or alcohol).
Like I always say, a little honey is better than processed sugar. So if you need a little sweetness, go ahead and add a spoonful or two.
Probiotic Smoothie Ingredients
Cucumber is an all-around wonder food [source]. It's 80% water, so it's super hydrating. It's also loaded with flavonoids and other anti-inflammatory mediators [source]. Cucurbitacins are compounds contained in cucumbers that have been shown to fight cancer [source]. They also promote cardiovascular health by healing toxic conditions with the body [source]. Cukes are said to aid weight loss and promote blood sugar balance [source].
Cilantro and fresh lemon juice are great detoxifiers. The leaves of the cilantro plant have potent anti-inflammatory [source], anticancer [source], antiseptic [source], antifungal [source], and antimicrobial properties [source] that help keep the microbiome in balance. It also has significant chelating effects, meaning it binds to heavy metals and then removes them gently from the body [source].
Lemons have shown potent anti-cancer, anti-inflammatory, anti-oxidant, glucose-lowering, and loads of other benefits for the body [source].
Kefir is a great probiotic source, being more potent and containing a wider bacteria variety than yogurt [source]. Whether made with whole milk or plant-based, kefir also has antimicrobial properties [source], boosts the immune system [source], acts as an anti-allergenic and anti-tumor agent [source], and is even beneficial for lactose malabsorption.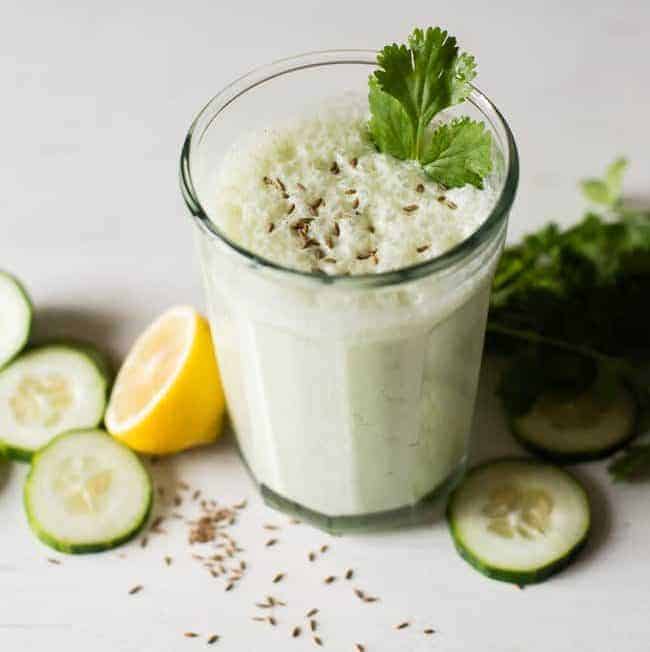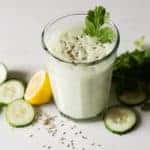 Print Recipe
Detox Probiotic Smoothie
Reminiscent of a savory lassi, this delicious kefir probiotic smoothie recipe delivers tons of calcium, vitamins, and protein.
Ingredients
2

cups

organic unsweetened whole milk kefir

chilled

1

cup

chopped cucumber

peeled if waxed

¼

cup

fresh cilantro or mint leaves

Juice of 1 lemon

¼–½

teaspoon

ground cumin

pinch

salt

cumin seeds

optional for garnish
Instructions
Place everything into the blender and puree until smooth. Drink immediately.

Sweet variation: omit the ground cumin and seeds, use fresh mint, and add sugar or honey to taste. Mango, peach, or berries can be used in place of the chopped cucumber, too.
Nutrition
Serving:
350
ml
|
Calories:
117
kcal
144