One 8-ounce serving of kefir delivers up about 20 percent of your daily calcium needs, as well as good amounts of vitamin B12, biotin and phosphorus along with a whopping 10.5 grams of protein. Those who are lactose intolerant have an easier time digesting kefir. The probiotics in kefir can also help normalize digestive troubles. You can make milk kefir at home, but store bought is excellent, too. You'll find it in the refrigerated dairy section of the grocery store. Unsweetened organic kefir offers the most health benefits.
Low Sugar Kefir Smoothie Recipe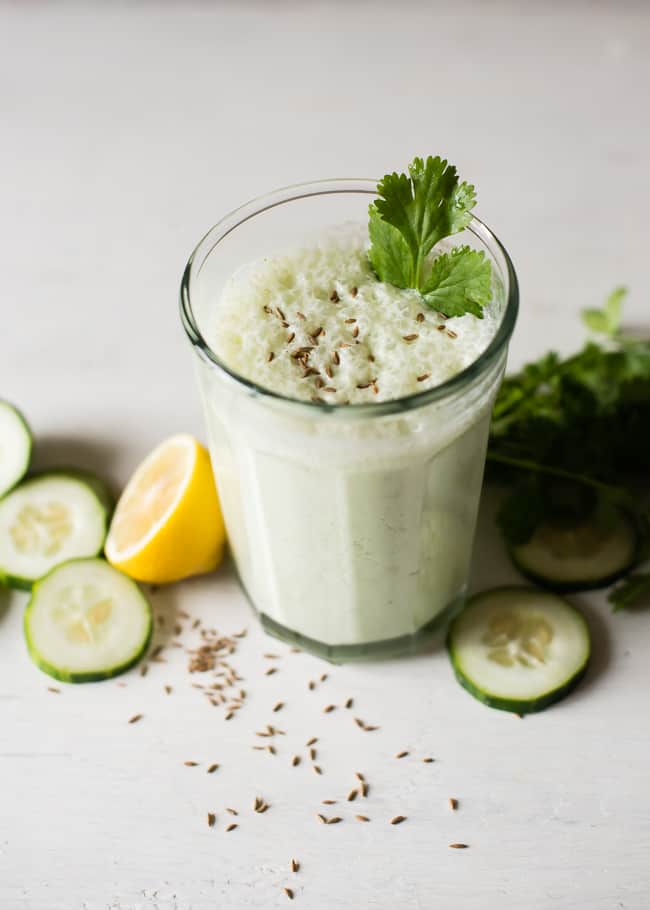 This probiotic smoothie is reminiscent of a savory lassi. Not only will you reap the benefits of the helpful strains of bacteria and yeast, but kefir also has plenty of calcium, protein and vitamin D.
Cucumber is an all-around wonder food. It's 80% water, so it's super hydrating. It's also loaded with cucurbitacins, lignans and flavonoids that have anti-inflammatory benefits (source). In addition to reducing your risk of cancer and improving cardivascular healthy, cukes are said to aid weight loss and promote blood sugar balance.
Cilantro and fresh lemon juice are great detoxifiers. The leaves of the cilantro plant has potent anti-inflammatory, antiseptic, antifungal and antimicrobial properties which help keep the microbiome in the gut in balance. It also has significant chelating properties, meaning it binds to heavy metals and then removes them gently from body.
Lemon, on the other hand, is bitter, which helps stimulate the digestive tract and encourages the pancreas to produce much-needed bile to help us digest our food. It also flushes toxins from the body and cleanses the liver so it can do a better job processing toxins.
Unlike a lot of my other smoothie recipes, this one is incredibly low in sugar, so go ahead and sip on it for breakfast, between meals or as a snack. If you prefer your smoothies on the sweeter side, omit the cumin and add fresh mint and raw honey to taste. I prefer mine without the added sugar because I feel like it gives me more energy and prevents mid-day blood sugar crashes.
But do what works for you. Detox diets are hard enough without having to abide by strict rules and deprive ourselves of every little source of sugar (or dairy, gluten or alcohol).
Like I always say, a little honey never hurt anyone so go ahead and add a spoonful or two.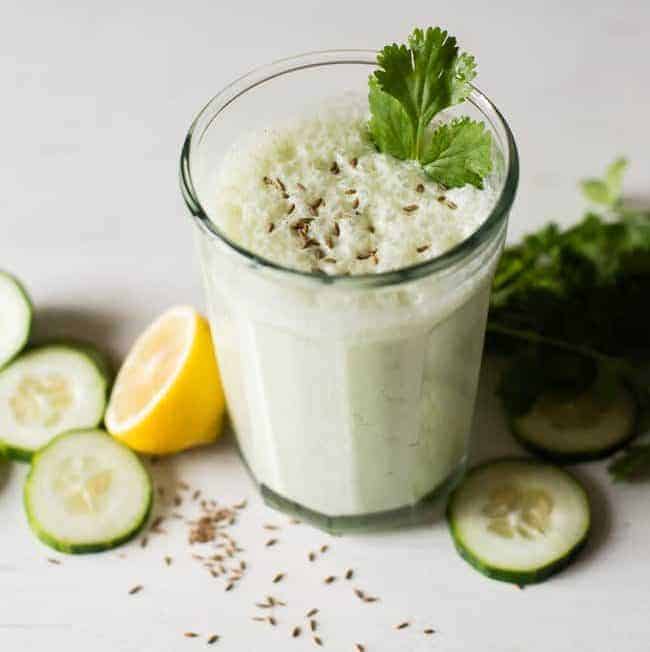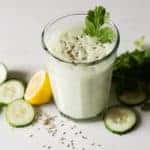 Print Recipe
Detox Probiotic Smoothie
Reminiscent of a savory lassi, this delicious kefir probiotic smoothie recipe delivers tons of calcium, vitamins and protein.
Ingredients
2

cups

organic unsweetened whole milk kefir, chilled

1

cup

chopped cucumber, peeled if waxed

1/4

cup

fresh cilantro or mint leaves

Juice of 1 lemon

1/4 - 1/2

teaspoon

ground cumin

pinch

salt

cumin seeds, optional for garnish
Instructions
Place everything into the blender and puree until smooth. Drink immediately.

Sweet variation - omit the ground cumin and seeds, use fresh mint, and add sugar or honey to taste. Mango, peach or berries can be used in place of the chopped cucumber too.
84