Is your jewelry starting to look dull and tarnished? Conventional jewelry cleaning solutions can be expensive and full of harsh chemicals. I wanted to find a jewelry cleaner and these two DIY jewelry cleaner recipes are easy to make and will have your pieces sparkling again in less than 20 minutes.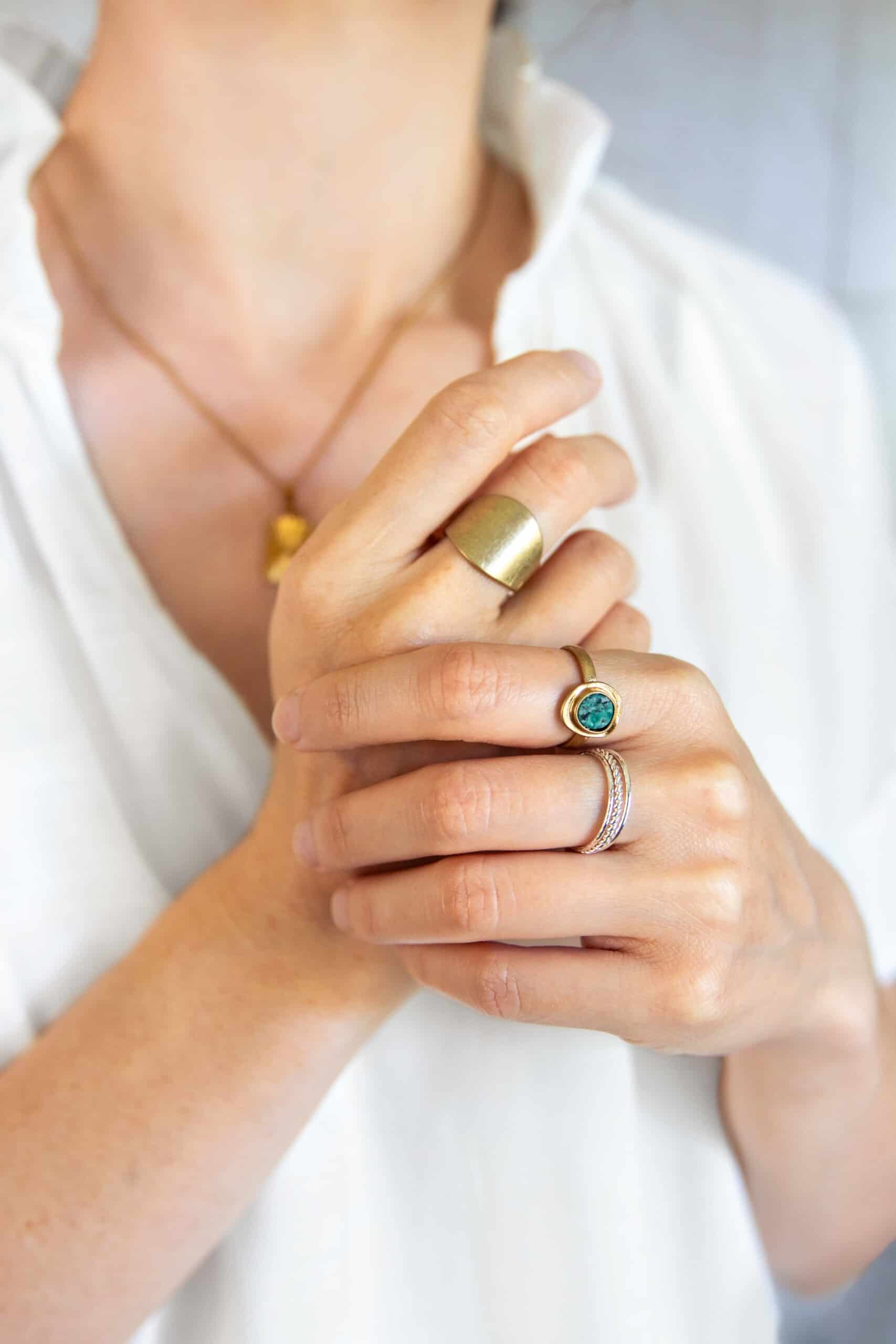 My rings rarely see the light of day. With the exception of a special moonstone ring, most are kept in a safe and taken out for special occasions. My hands take a beating all day every day, crafting and painting and sawing and sanding, and I'm afraid of putting my jewelry in harm's way.
You'd think these beauties would be sparkly and clean because they've been shielded from craft glue, but that isn't always the case! Sometimes the gold finish looks dull or the gemstones in desperate need of a pick me up. To tackle this issue, we've rounded up the best cleaning practices for your priceless pretties.
Jump to:
1. Everclear Homemade Jewelry Cleaner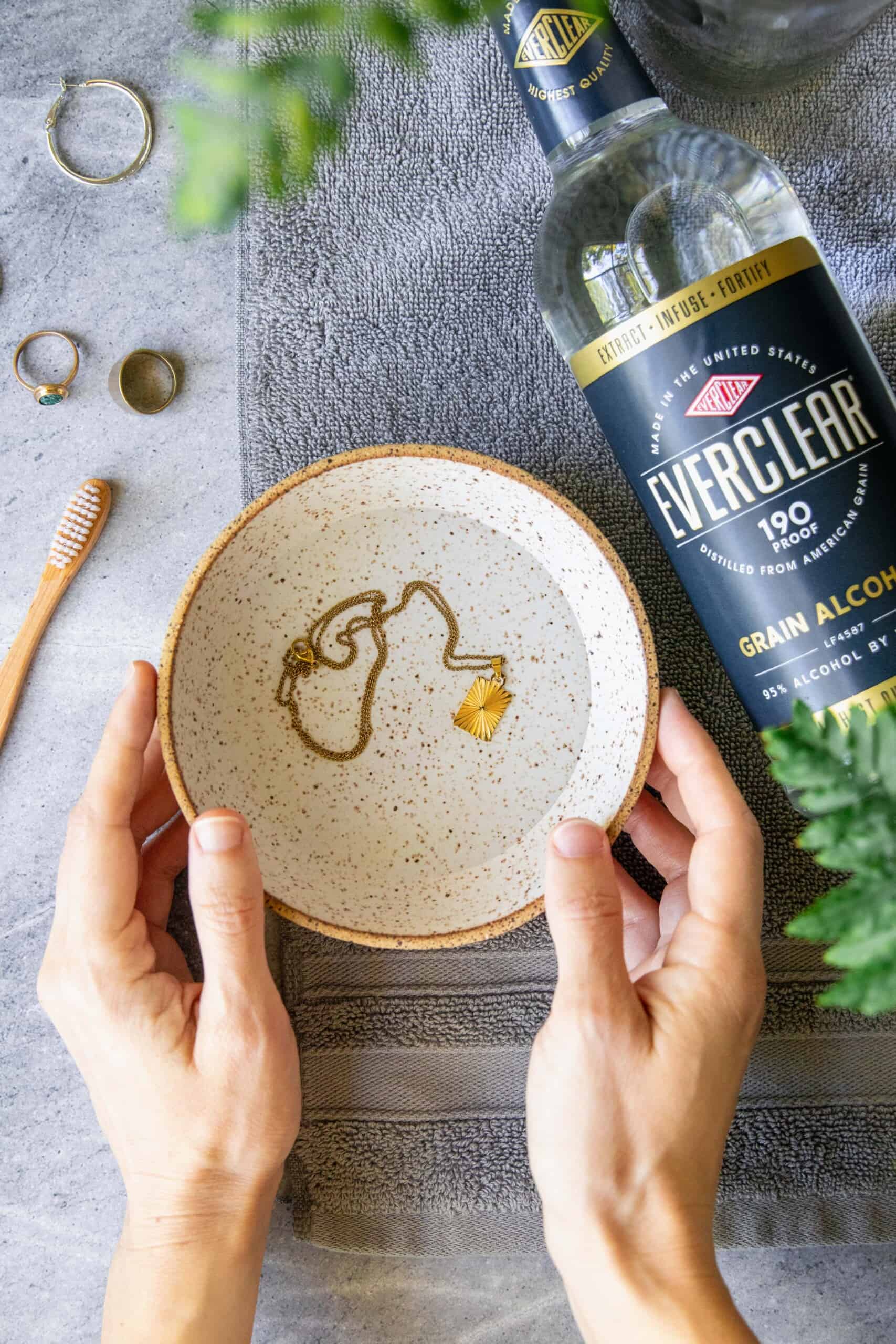 This DIY jewelry cleaner is made with one of the most versatile cleaning ingredients—Everclear Grain Alcohol. Not only is it safe to use on all your silver and gold jewelry but it melts away grease and grime in minutes.
So, what makes Everclear such an effective jewelry cleaner?
A high alcohol content: Everclear has a very high alcohol content, which makes it an effective solvent for breaking down and removing oils, dirt, and grime that often accumulate on jewelry.
It evaporates quickly: Everclear evaporates quickly, leaving no residue behind. This means that it won't leave your jewelry cloudy or streaked after cleaning.
It cleans gently: Grain alcohol is generally considered safe to use on a wide variety of materials, including metals like gold and silver, non-porous stones, and glass.
There are additives: Because it's a pure, food-grade alcohol, Everclear doesn't contain additives that could potentially harm your jewelry or irritate your skin. It's also less likely to cause allergic reactions.
Instructions
This recipe works best on simple silver and gold jewelry that doesn't have a lot of embellishments or fine stones. If you have any pieces that you're unsure about, you can play it safe by diluting the Everclear with some water or cutting down on the soak time.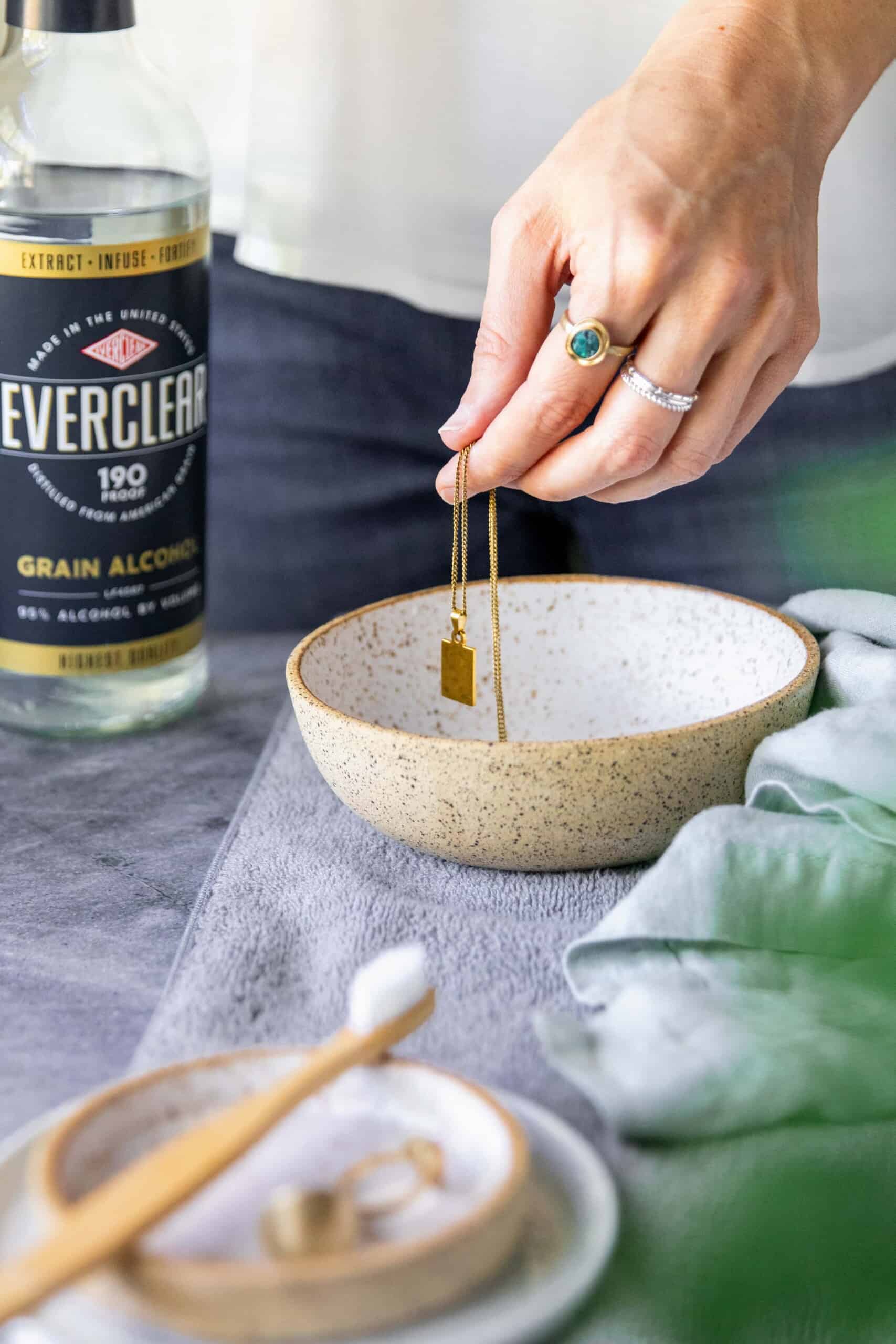 Step 1 | Gather Jewelry in a Small Bowl
Place the jewelry you want to clean in a small bowl or cup. You need enough room for pieces to lie flat at the bottom without touching each other.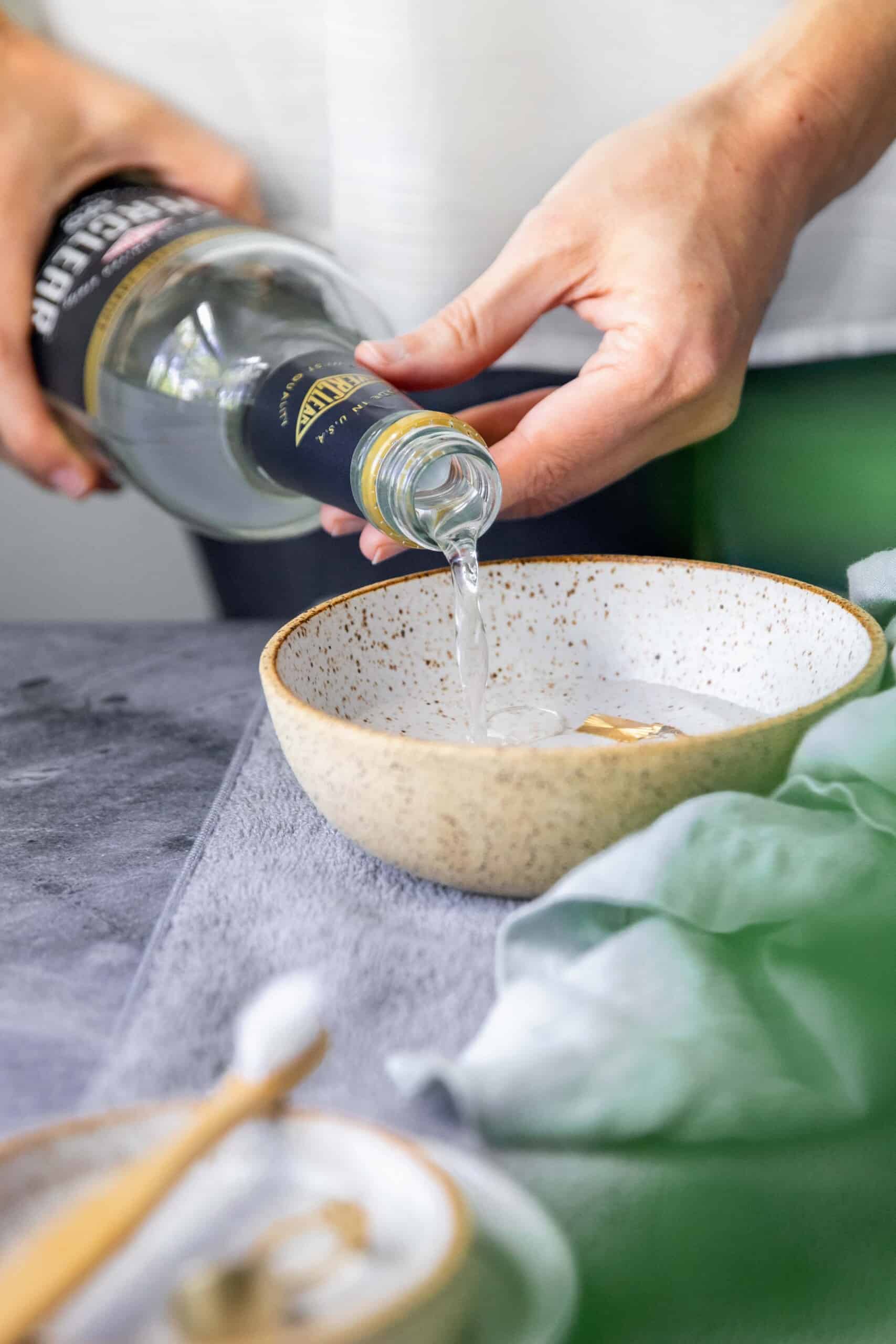 Step 2 | Soak in Everclear
Add just enough Everclear to cover your jewelry by a quarter of an inch or so. Soak for 15-20 minutes to loosen dirt, oils, and grime.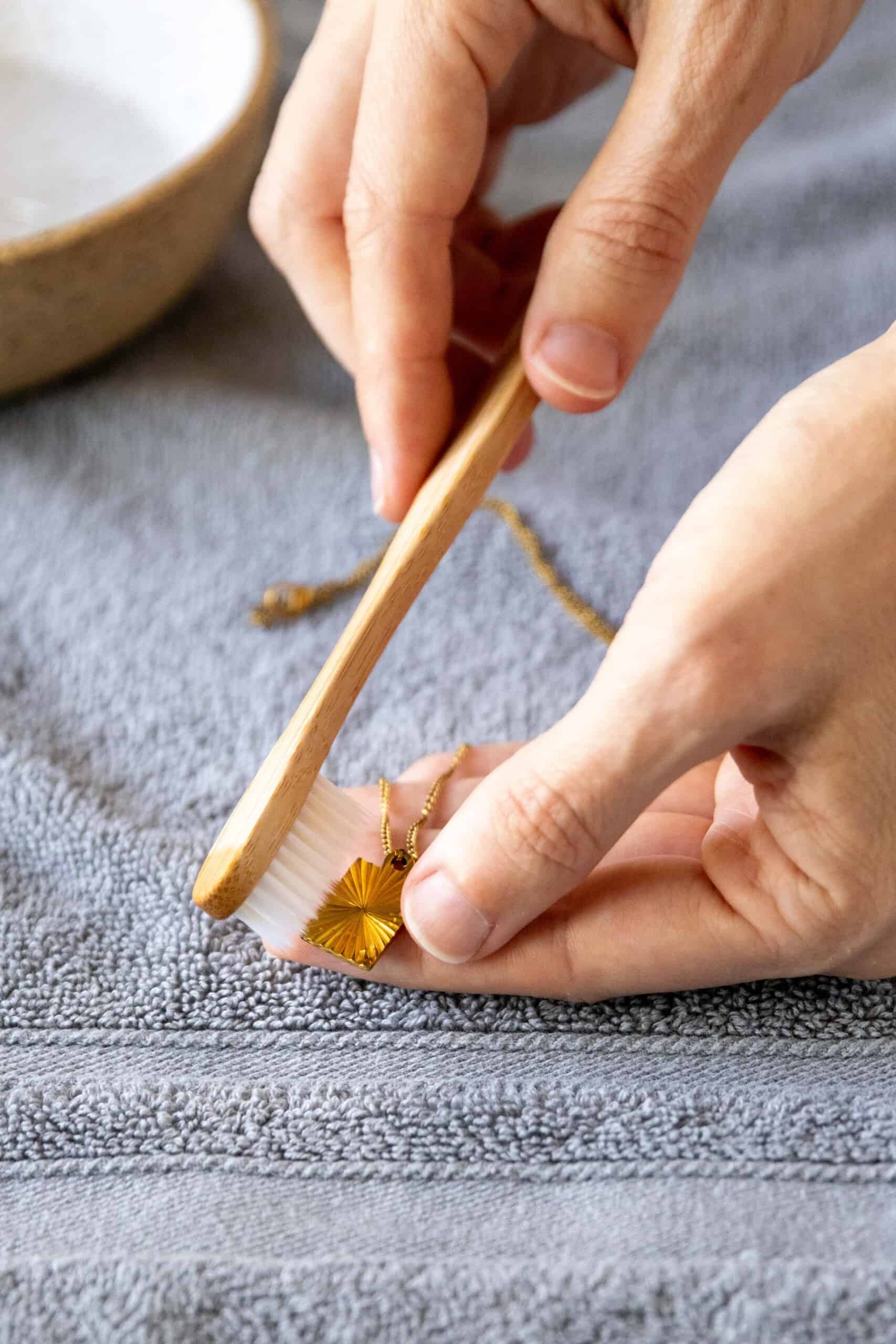 Step 3 | Swirl + Brush
Swirl the jewelry occasionally with your hands to help break up grime.
Gently scrub jewelry with a soft-bristle toothbrush or a soft cloth to get into crevices. For items like rings, pay attention to the underside where skin oils and lotions can accumulate.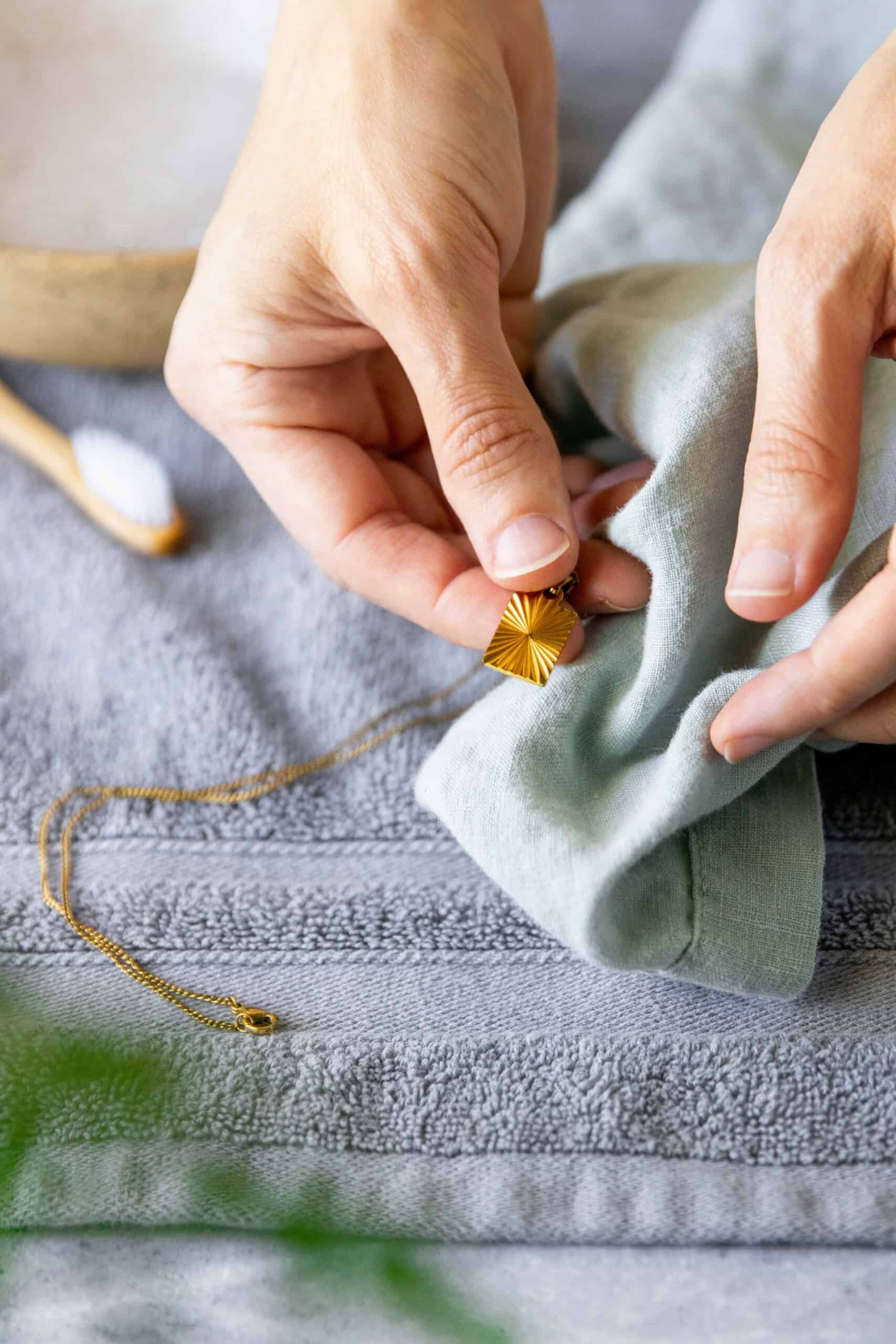 Step 4 | Rinse + Dry
Dip the jewelry in a bowl of warm water to remove any remaining Everclear and loosened debris. Use warm water if possible, as it can help remove the alcohol residue more effectively.
Gently pat the jewelry dry with a lint-free cloth.
2. Salt + Aluminum Homemade Jewelry Cleaner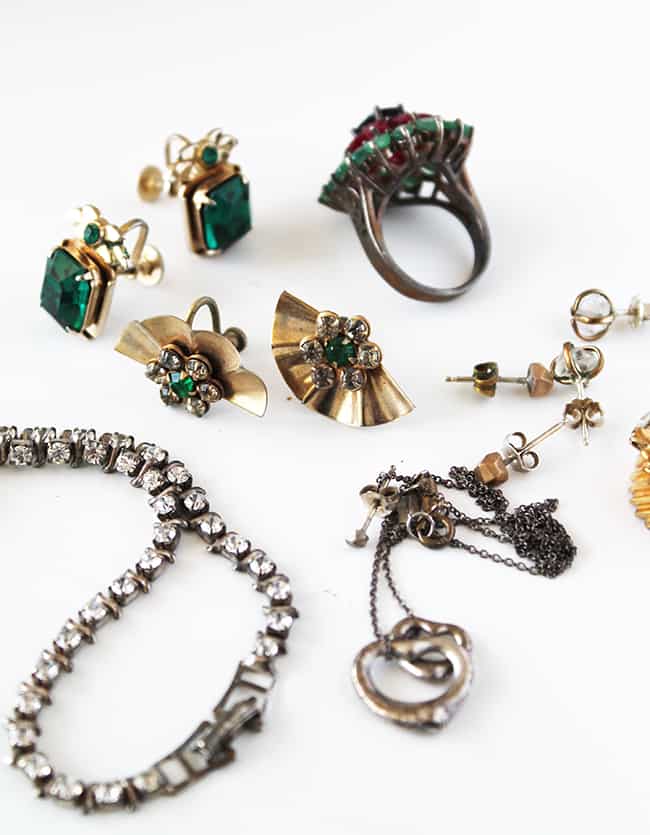 I absolutely love vintage shopping. I can spend hours happily hunting for great vintage clothing and home decor, but I especially love finding incredible vintage jewelry. The only bummer about finding vintage jewelry is that it usually needs a good cleaning. Here's how to clean vintage jewelry with natural ingredients.
Ingredients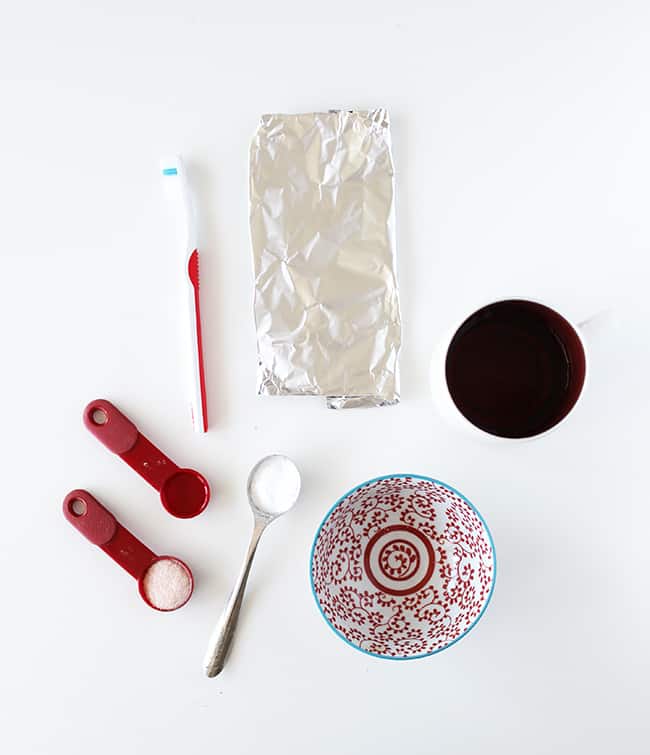 1 tablespoon Salt
1 tablespoon Baking Soda
1 teaspoon Dish Detergent
1 c Hot Water
Small Bowl
Aluminum Foil
Cleaning Toothbrush
Instructions
This natural cleaning solution is best for metallic pieces of jewelry. Materials like leather watch straps or other natural materials require different cleaning processes.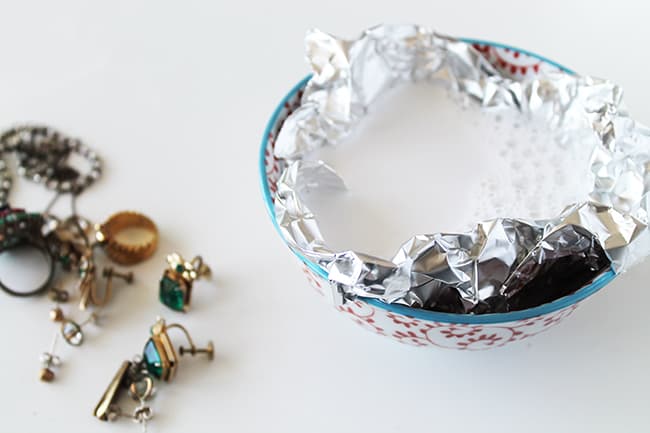 Step 1 | Line Bowl with Foil
Line your bowl with a piece of aluminum foil. Add the salt, baking soda, and dishwashing detergent to the aluminum foil-lined bowl.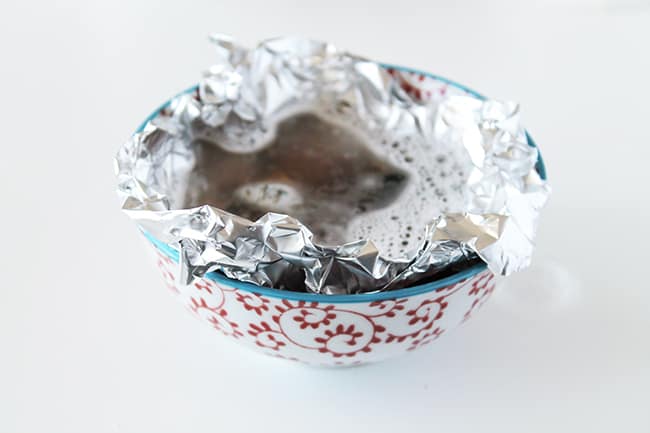 Step 2 | Add Hot Water + Jewelry
Pour in hot water and add your dirty jewelry items. Let your jewelry soak for 30 minutes—this gives enough time for the tarnish to transfer to the water through the magic of ion exchange.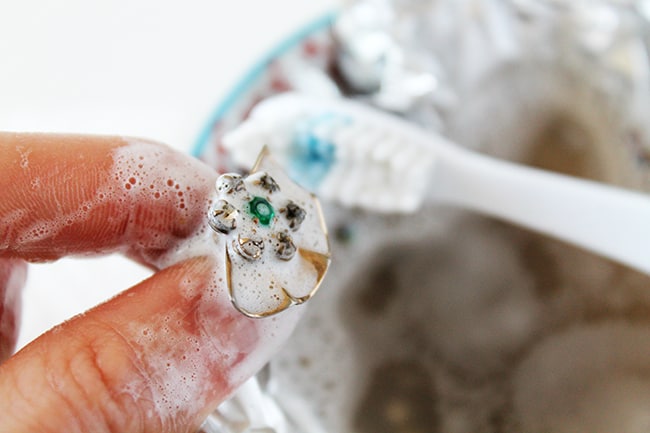 Step 3 | Gently Brush
Brush each piece with a toothbrush to remove any lingering dirt and grime.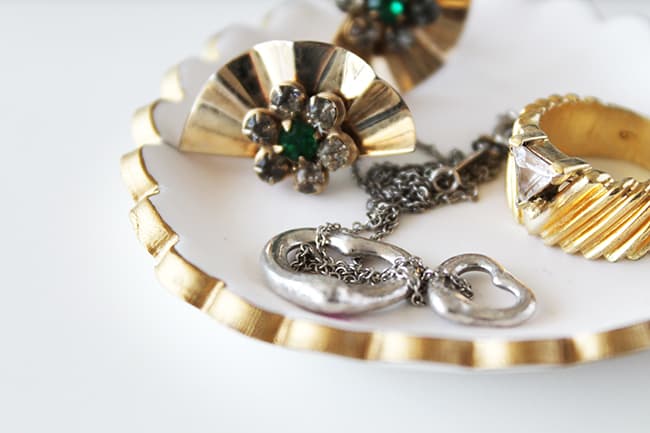 Step 4 | Rinse + Dry
Rinse each piece under clean water then set them on a clean towel to dry completely.
Hint: It's always best to test any jewelry cleaning solution on an insignificant/hidden portion of your jewelry before applying it to the entire piece.
How To Clean Diamonds
Gently scrubbing the stone with a soft bristle brush and a mixture of warm water and mild soap will help cut any grease buildup, but to really bring the shine, soak in Everclear for 10 minutes. For a milder approach, place rings in a glass of club soda overnight to restore a bright shine.
How To Clean Gold Jewelry
To bring back the luster of gold jewelry, soak it in a small dish of Everclear for 15 minutes. Dip the jewelry in a solution of 1 teaspoon dishwashing liquid and 1 cup warm water and use a soft-bristled brush to remove any marks or residue. Rinse jewelry in clean water and pat dry.
How To Clean Sterling Silver
It's easy to bring the sparkle back to silver. Submerge the tarnished silver item in Everclear grain alcohol for 15 minutes, then gently rub it with a soft cloth or a jewelry cleaning cloth. Or make a cleaner out of baking soda and aluminum foil (see above).
How To Clean Gemstones
Soak rubies, amethysts, citrines, sapphires, and garnets briefly in a 1:1 mixture of Everclear and water. Then, use a soft brush, and gently clean with a mixture of mild soap and warm water. Rinse and pat dry. This method will clean the setting as well as the stone.
How To Clean Emeralds
Emeralds are softer than other stones and can chip easily. Wash each piece by itself in a solution of water and gentle dishwashing soap to prevent damage.
How To Clean Pearls, Opals, and Turquoise
Avoid soaking porous stones, such as pearls, opals, fluorite, turquoise, amber, and malachite. Use a soft, dry cloth to polish and prevent surface scratches. Clean the setting with a soft brush (a toothbrush works great).
To prevent discoloration, blow through the drill holes to be sure no water is collecting inside. Do not use a hairdryer.
Never put pearls or opals in a mechanical cleaning system. Wipe pearls with a soft cloth after each wear to remove perspiration and oils collected from the skin.
How To Clean Costume Jewelry
Even if your jewels didn't cost a fortune, they're still precious! Clean costume jewelry in a glass of water with two Alka Seltzer tablets. Remove jewelry after five minutes and pat dry.
How to Store Clean Jewelry
Now that you have clean, sparkling jewelry, it's time to store and display it properly.
Avoid tangling: Store the pieces separately or spaced an inch or so apart. The goal is to keep each piece stored in its own compartment to avoid any possibility of tangling.
Special ring care: It's a good idea to keep a designated, safe place to store your rings in locations like your kitchen and bathroom. In order to keep your rings clean, it's important to remove them when doing activities like cooking, baking, or applying makeup and lotion. I like this DIY gold leaf clay ring bowl as a pretty option.
Avoid heat and humidity: Keep them out of direct sunlight. And avoid keeping your baubles in a basement which might be humid and damp and could cause the metal to tarnish or dull, or next to a heat vent. If you live in a humid climate you might want to invest in anti-tarnish strips.
This post was created in partnership with Everclear® Grain Alcohol. You can find Everclear at your local retailer or online via Cask Cartel, Caskers, or Drizly. You can also search Everclear's product locator page online
95