In my twenties, I would have the best sleep one could imagine—falling asleep as soon as my head hit the pillow and waking up fresh and restored. Now there are often moments when I find myself trying yoga for relaxation at 1 am because I can't fall asleep, although I'm tired, and there's an early alarm set for me in the morning.
New research says that a snack before bed might be a good thing, giving your body a dose of melatonin for natural sleep regulation and healthy carbs for cellular renewal. And guess what, smoothies aren't just for breakfast!
Bedtime Smoothie for Better Sleep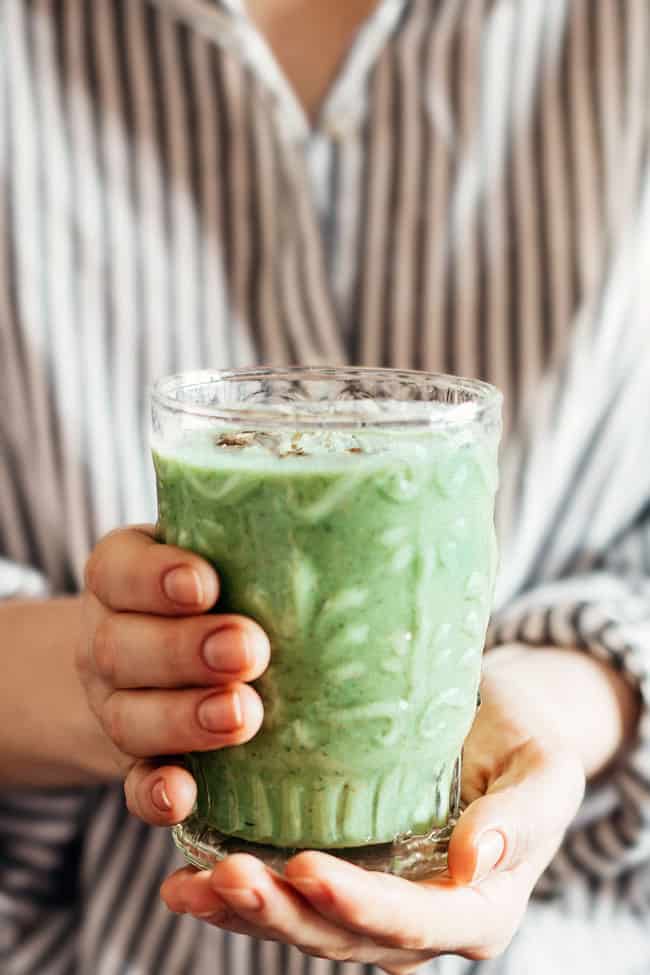 There are many reasons why we can't get enough sleep, and aging isn't always the problem. Staying late in front of the computer or browsing on your mobile, the never-ending to-do list waiting for you in the morning, skipping meals and eating late in the evening—these are just a few reasons why your brain stays alert and prevents you from falling asleep easily (source).
Fortunately, there are solutions! You can improve your beauty sleep with pre-bed rituals like taking a relaxing bath, going to sleep at the same time every night, avoiding bright screens within 2 hours of bedtime (be it tablet, computer, or mobile), cutting back on caffeine, and staying away from big meals and alcohol in the evening—these are some simple rules with long-term effects.
But you can also improve your sleep and reduce the amount of time you need to fall asleep by having a bedtime elixir made with some simple, but very effective ingredients (source):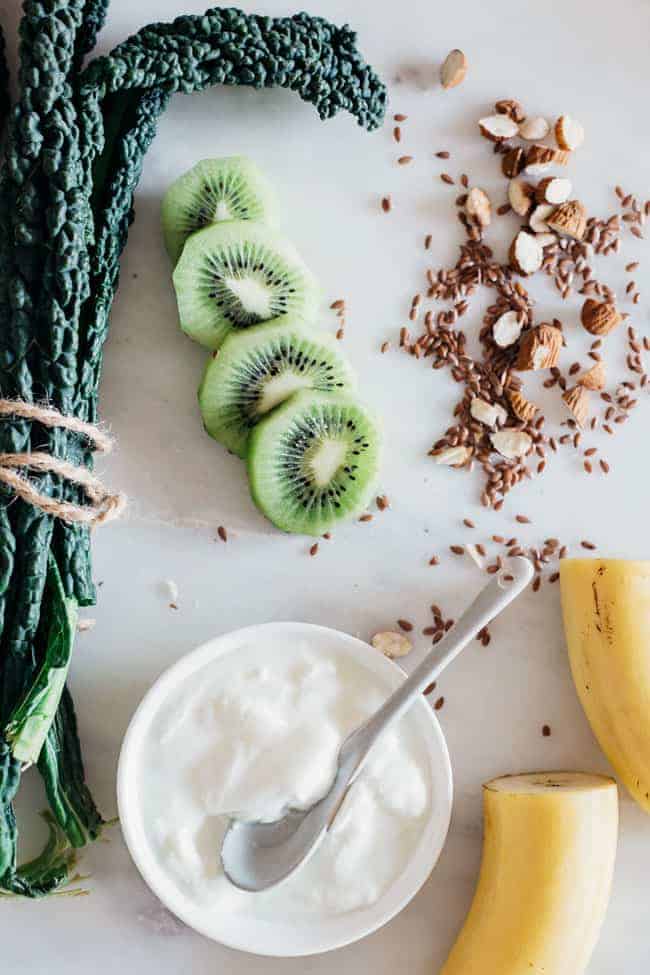 Kale
These reliable greens will give you a hand when it comes to falling asleep more easily, just as they do for detoxifying and nourishing your body. The nutritional profile of kale contains all nine essential amino acids, including tryptophan.
Interestingly, your body converts tryptophan into serotonin, a neurotransmitter hormone that regulates the sleep/wake cycle. Serotonin, in turn, is used by the pineal gland to synthesize melatonin, the hormone related to a night of healthy sleep.
Banana

A great source of potassium and magnesium for relaxing the muscles and creating an alkaline environment for your body cells to restore during nighttime. Bananas are also high in tryptophan, a key ingredient for better sleep.
Yogurt
Yogurt and other dairy products contain tryptophan and also calcium, which helps your body to utilize tryptophan for the production of melatonin. While sipping warm milk naturally calms you before bedtime, your body might find it difficult to digest, and this is why natural yogurt, which contains probiotics, is a more digestible option.
Kiwi
Kiwi fruits are another sleep quality-promoting ingredient because they are high in antioxidants (which recent studies have linked to better sleep) and serotonin, the hormone that helps initiate sleep and maintain it during the night.
Flax Seeds
Flax seeds are high in omega-3 essential fatty acids, which reduce anxiety and stress (some of the top causes of insomnia) and also tryptophan.
Almond butter
Almond butter contains a high concentration of magnesium, which relaxes your muscles, and protein to help you switch the alert-adrenaline cycle to a rest-and-digest cycle for good sleep.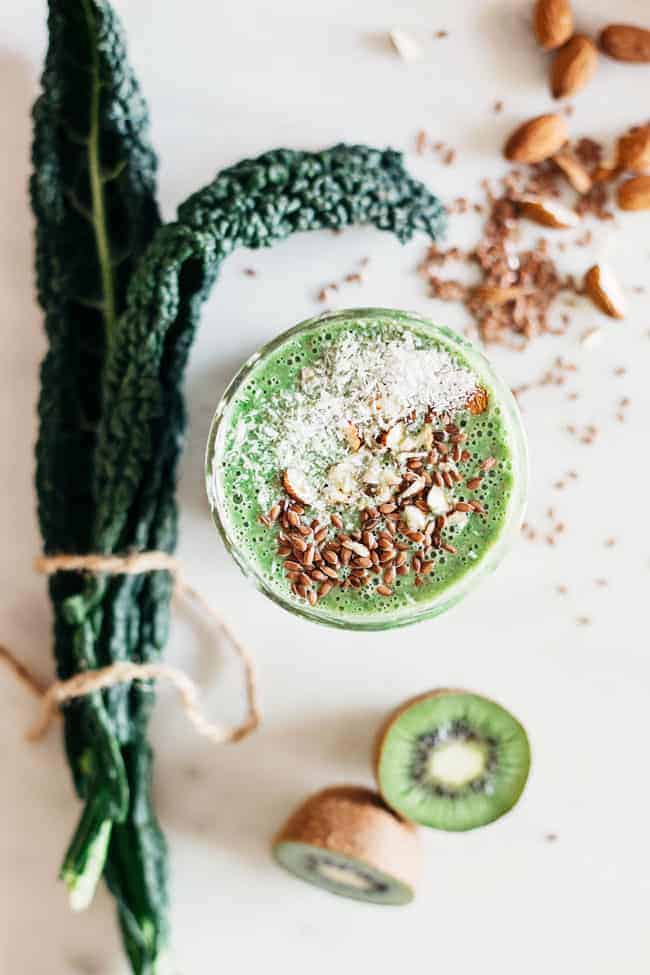 You can combine some of these or throw them all together into a blender to create a wonder smoothie to help you say goodbye to insomnia.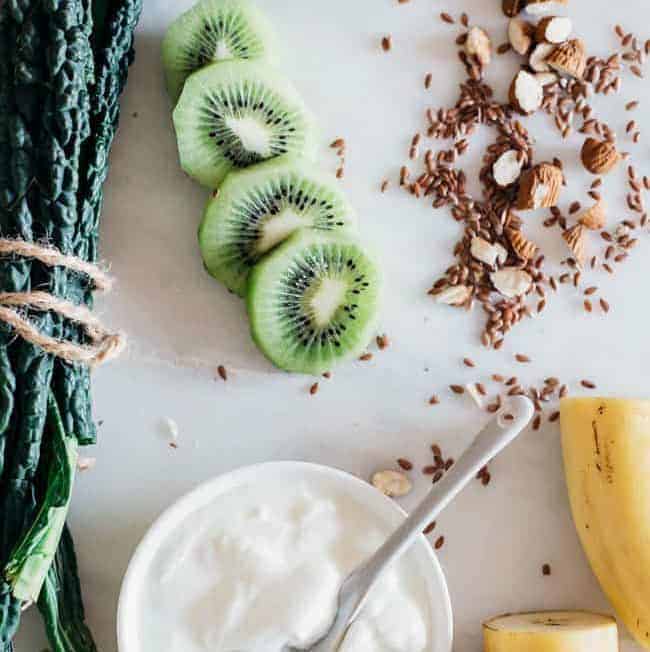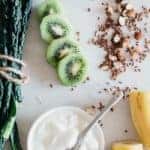 Print Recipe
Better Sleep Evening Smoothie
Say bye-bye to your sleep issues with this insomnia-fighting smoothie, loaded with ingredients high in tryptophan, protein, and omega-3s.
Ingredients
1

cup

kale leaves

1

cup

natural yogurt

1

ripe banana

1

tablespoon

raw almond butter

2

teaspoon

ground flax seeds

2

kiwi fruits

½

cup

almond milk
Instructions
Blend all the ingredients until creamy and drink straight away.
Notes
Don't forget to combine this with other sleep remedies such as unwinding before bed, using soothing essential oils and sipping sleepy time tea.
This article was medically reviewed by Dr. Gina Jansheski, a licensed, board-certified physician who has been practicing for more than 20 years. Learn more about Hello Glow's medical reviewers here. As always, this is not personal medical advice and we recommend that you talk with your doctor.
385