When you're crafting bath bombs, customization is key. We'll help you create unique scents using the best essential oils for bath bombs to make your bathing experience even more magical. Make calming lavender bath bombs for stress relief or zesty citrus-infused bath bombs to energize and uplift. The possibilities for personalization are endless!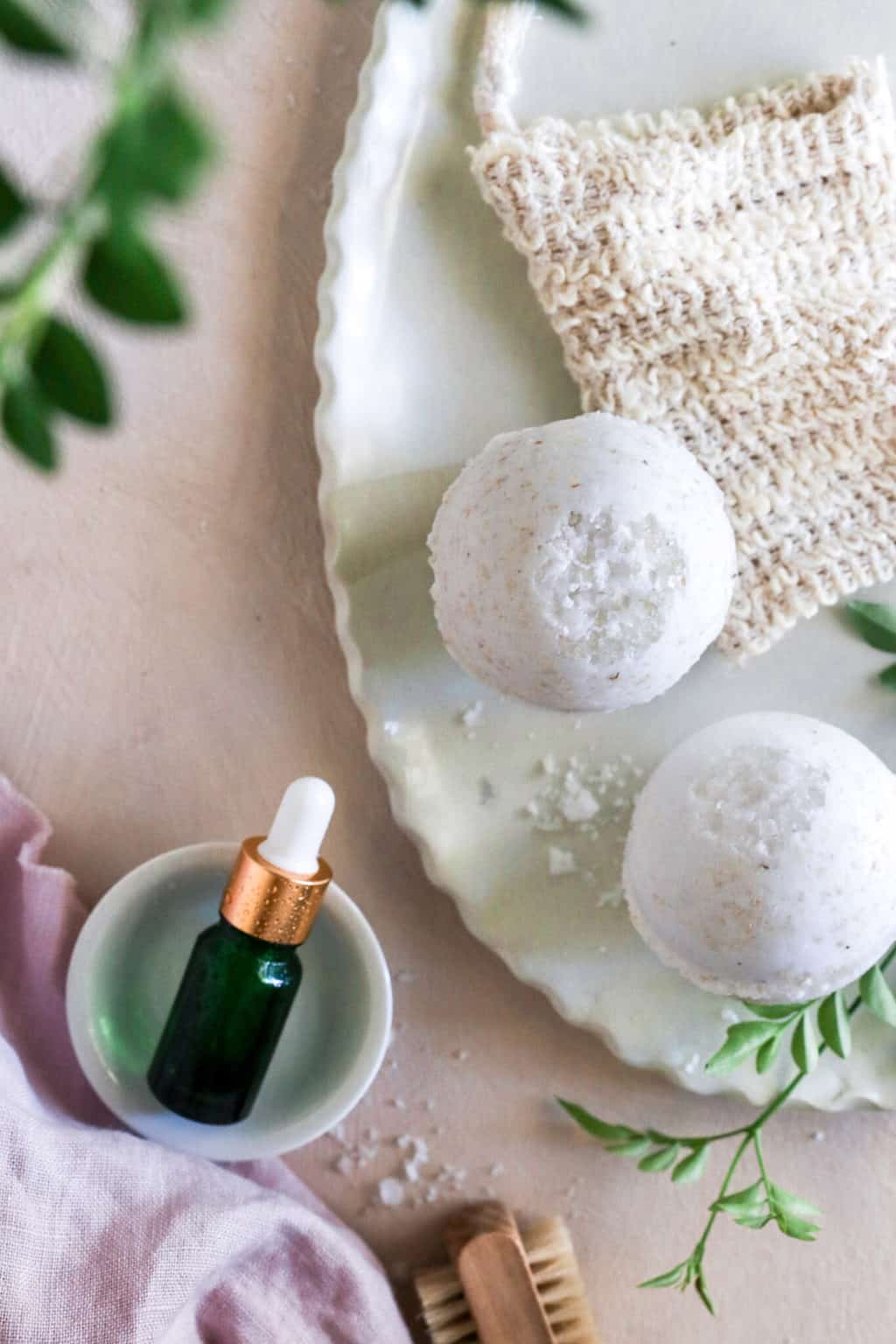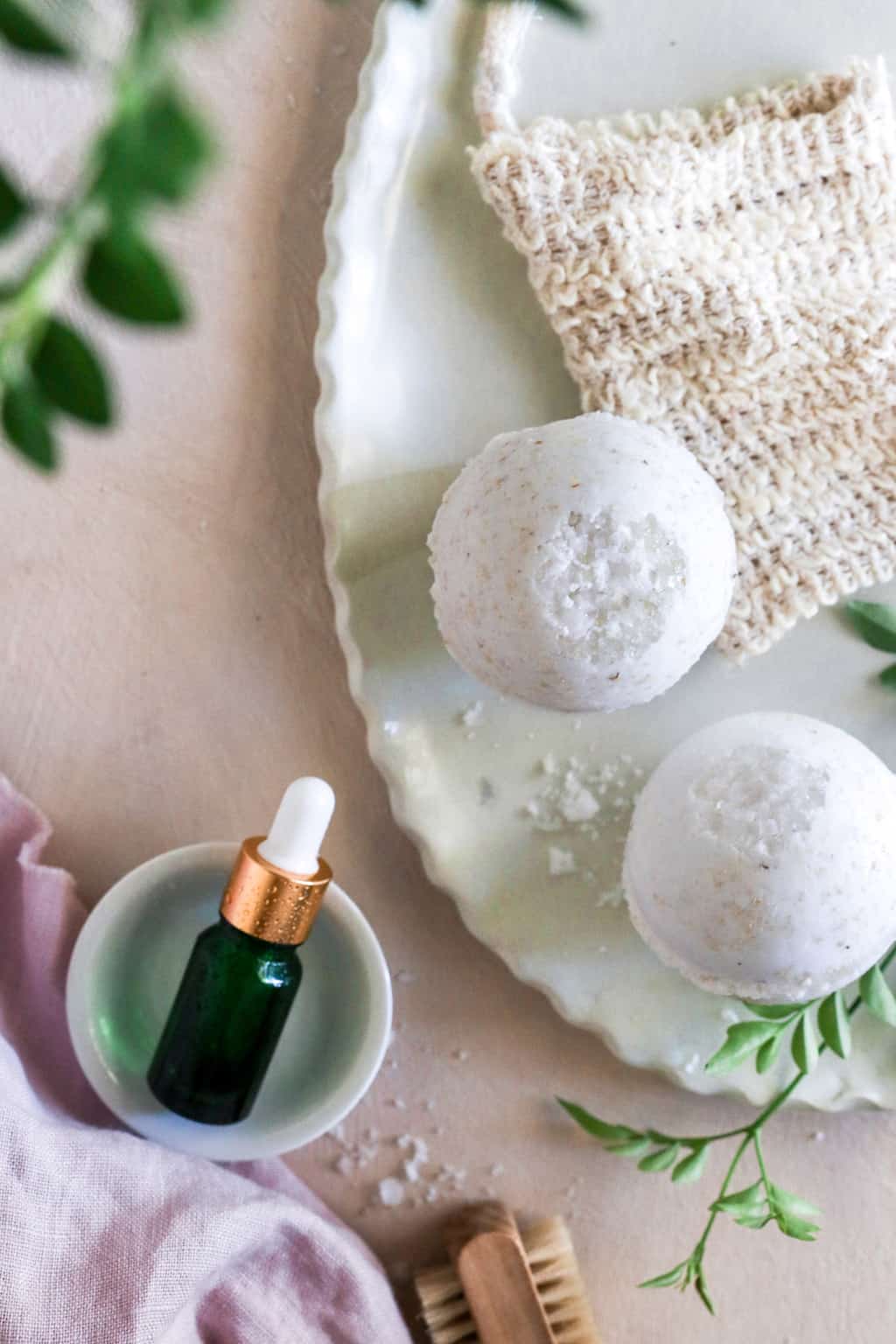 Jump to:
Essential Oil Benefits in Bath Bombs
Using essential oils in homemade bath bombs offers a range of benefits:
Aromatherapy Benefits: Essential oils are well-known for their aromatherapy benefits. When added to bath bombs, they can create a soothing, relaxing, or invigorating atmosphere in your bath.
Skin-Nourishing Properties: Some essential oils have skin-soothing and moisturizing properties to help leave your skin feeling soft and refreshed after a bath. Oils like lavender and chamomile are particularly known for their gentle effects on the skin.
Natural and Chemical-Free Option: Unlike synthetic fragrances, essential oils are derived from plants and offer a natural and chemical-free way to add scents to your bath bombs.
Therapeutic Benefits: Beyond the pleasant scents, many essential oils offer therapeutic benefits. For example, eucalyptus oil can help clear congestion and promote easier breathing, while peppermint oil can provide a refreshing and revitalizing sensation.
Mood Enhancement: Aromatic baths with essential oils can enhance your mood. Whether you're looking to relax, boost your energy, or unwind after a long day, the right essential oil can help set the tone.
Best Essential Oils for Bath Bombs
When it comes to picking the perfect essential oils for your bath bombs, you have a lot of choices. Some essential oils are better than others for use in the bath, but these are our favorites for essential oil bath bomb recipes: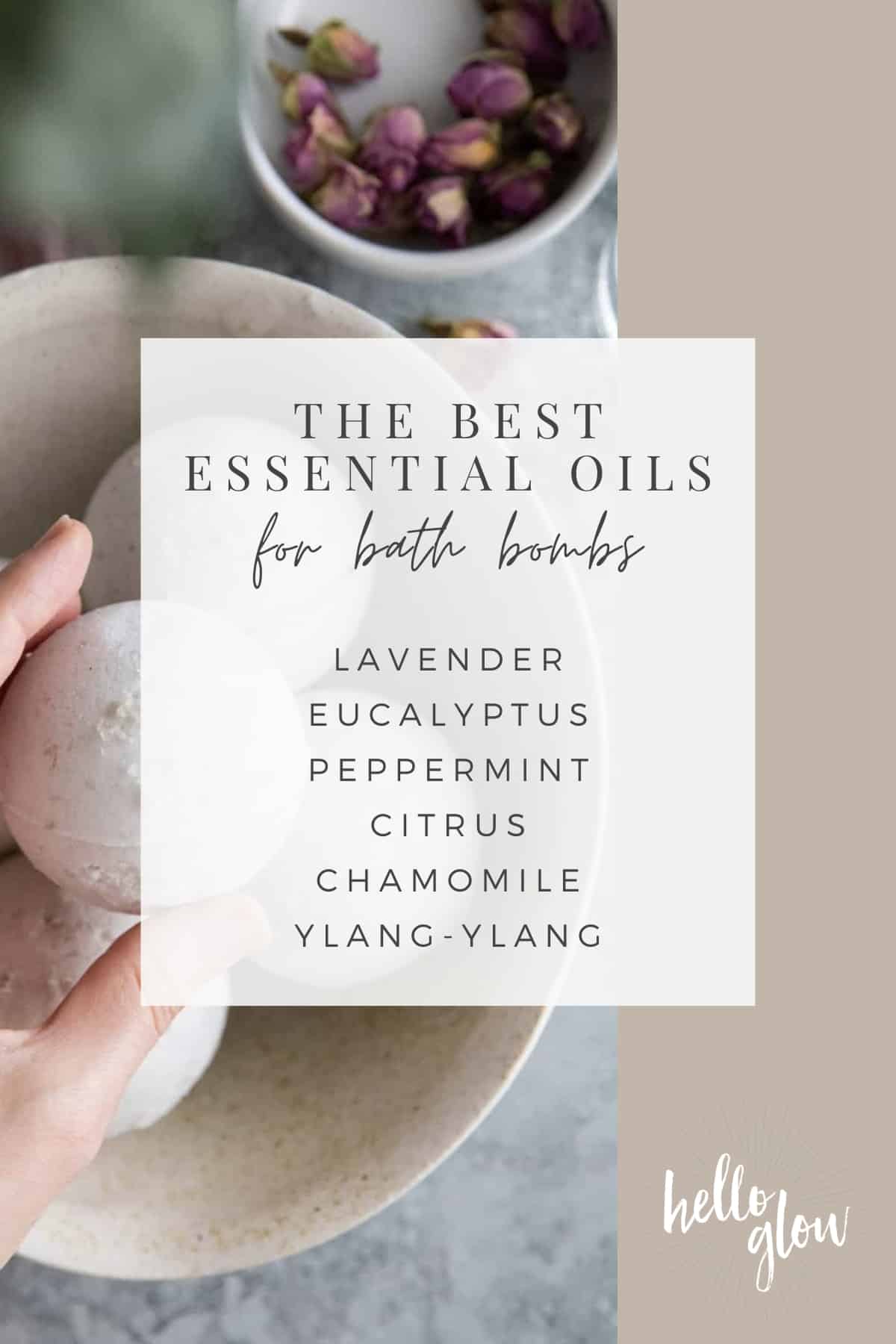 Lavender: The Calming Choice
Lavender, often called the "Swiss Army knife" of essential oils, is well-known for its calming and soothing qualities, making it a go-to option for relaxation. For instance, lavender essential oil can induce relaxation and reduce stress, making it a favorite for unwinding after a long day.
Eucalyptus: An Invigorating Experience
Eucalyptus essential oil provides an invigorating and refreshing scent, perfect for rejuvenating baths (or shower bombs!) when you're feeling under the weather or congested.
Peppermint: Cool and Revitalizing
If you prefer a cool and revitalizing aroma, peppermint essential oil is the way to go. Don't go overboard with this one because it can irritate sensitive skin areas.
Citrus Oils: Uplifting and Refreshing
Meanwhile, citrus oils such as lemon, orange, and grapefruit infuse your bath with uplifting and refreshing scents.
Chamomile: The Sleepy Oil
Roman chamomile is a popular choice for a calming, sleep-inducing pre-bedtime bath soak.
Ylang-Ylang: Floral Favorite
The sweet and floral notes of ylang-ylang are perfect for bath bombs to release tension from a bad day or to help set a romantic mood. Other floral oils like rose and jasmine are also great bath bomb choices.
How to Add Essential Oils to Bath Bombs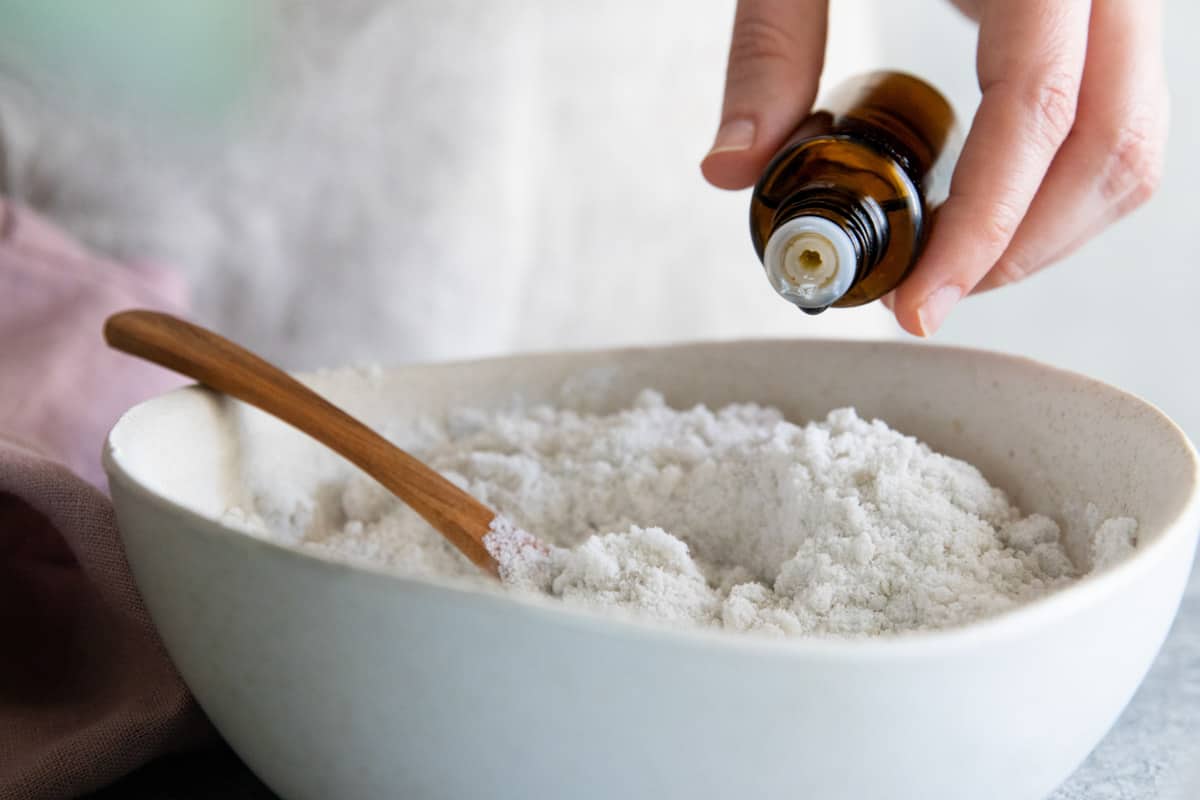 Incorporating essential oils into your bath bombs is a straightforward process, but it's important to get it right to achieve the desired fragrance without overwhelming the senses.
How much essential oil do I use?
The amount of essential oil you use will depend on the recipe and the specific oils you select.
Bath bomb dilution: Use 100 drops or roughly 1 teaspoon per 16 oz of bath bomb mixture. Dilute in a carrier oil before adding to the dry ingredients. If you're not using oil in your recipe, add an emulsifier like polysorbate 80 to the recipe.
Patch test: Some individuals may have adverse reactions to specific essential oils, so it's wise to conduct a patch test before immersing yourself in a bath infused with a new oil.
No-Fail Essential Oil Bath Bomb Recipe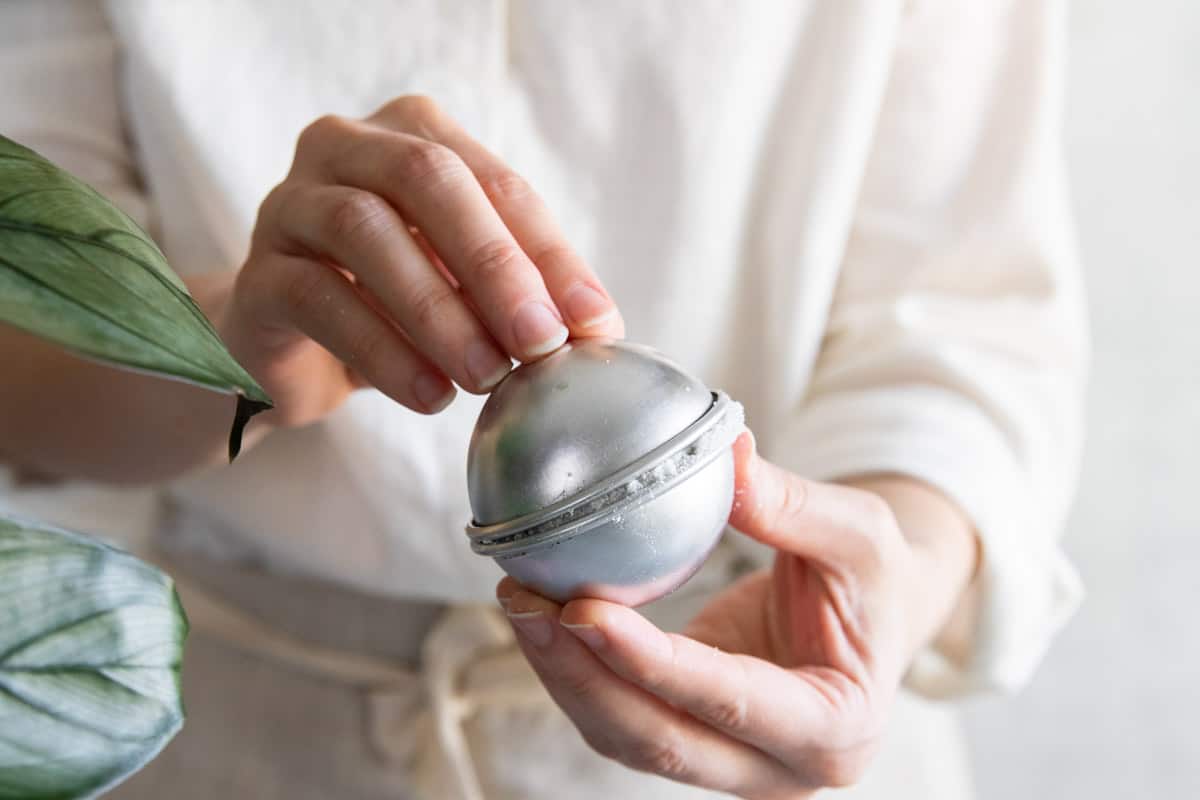 This is our no-fail method for making bath bombs that hold together and create plenty of fizz:
1 cup baking soda
½ cup citric acid
½ cup Epsom salt
1 teaspoon cream of tartar
2 tablespoons coconut oil
100 drops essential oil
In a large bowl, combine baking soda, citric acid, and Epsom salt. In a separate bowl, mix together 2 tablespoons of coconut oil and 100 drops of essential oil.
Slowly add the wet ingredients to the dry ingredients, mixing quickly to prevent the mixture from fizzing too much. Spray the mixture with witch hazel until it is just wet enough to hold its shape when pressed together.
Press the mixture into bath bomb molds and let dry for 24 hours before using.
To use a bath bomb and get the full aromatherapy benefits, don't drop it in until after your tub is filled and you're in it—otherwise the scent experience will be lost!
11 Essential Oil Blends for Bath Bombs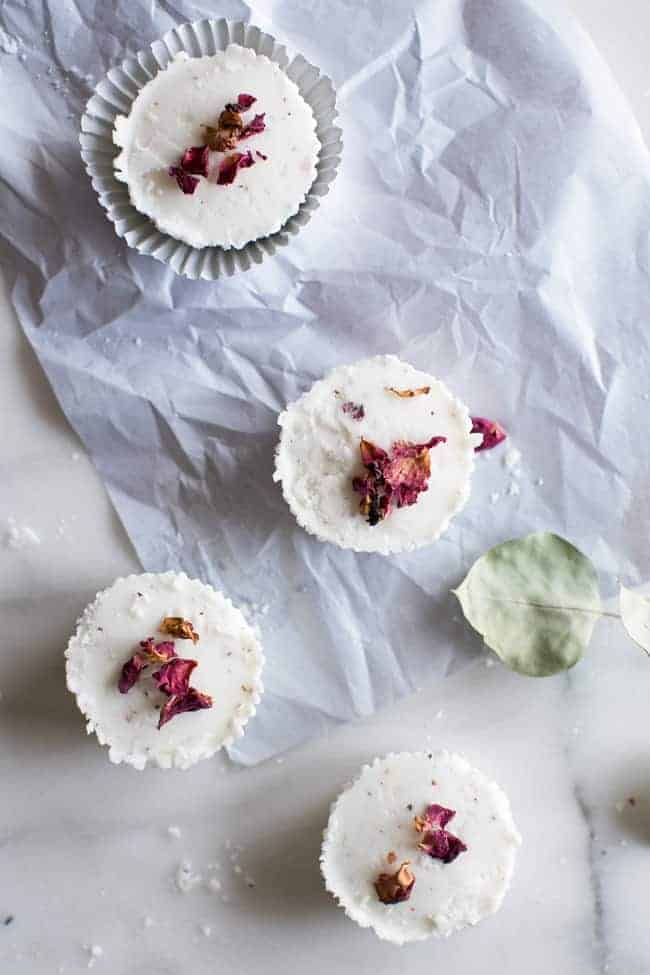 One of the joys of using essential oils in your bath bombs is the opportunity to create your unique scent blends. Mixing essential oils allows you to customize your bath experience to match your mood or preferences.
1. Relaxation Bath Bomb Blend
Essential oils like lavender, chamomile, and ylang-ylang are known for their relaxing properties. Try adding them to a CBD bath bomb to help reduce stress and promote a sense of calm and tranquility.
Lavender
Chamomile
Ylang-ylang
2. Stress Reduction Bath Bomb Blend
Scents such as lavender, rose, and frankincense have stress-relieving properties. Inhaling these fragrances during your bath can help alleviate anxiety and tension, allowing you to decompress and relax.
Lavender
Rose
Frankincense
3. Mood Elevation Bath Bomb Blend
Citrus essential oils like lemon, orange, and grapefruit have uplifting and mood-enhancing properties. These scents can boost your spirits and add a sense of cheerfulness to your bath, making it a great choice for starting your day on a positive note.
4. Energy Boost Bath Bomb Blend
Essential oils like peppermint, eucalyptus, and rosemary offer invigorating scents that can help increase alertness and energy levels. If you need a morning pick-me-up or a post-workout rejuvenation, these oils are ideal choices.
Peppermint
Eucalyptus
Rosemary
5. Better Sleep Bath Bomb Blend
A warm bath with relaxing essential oils can promote better sleep. Oils like lavender and chamomile are renowned for their ability to induce a sense of calm and aid in falling asleep more easily.
Lavender
Chamomile
Cedarwood
6. Respiratory Relief Bath Bomb Blend
Eucalyptus and peppermint essential oils have decongestant properties, helping to clear the airways and ease breathing. These oils are particularly beneficial when you have a cold or congestion.
Eucalyptus: 10 drops
Peppermint: 5 drops
Tea Tree: 5 drops
7. Pain Relief Bath Bomb Blend
Some essential oils, such as peppermint and ginger, possess analgesic properties. When added to bath bombs, they can help alleviate muscle soreness and discomfort.
Peppermint
Ginger
Lavender
8. Mindfulness and Meditation Bath Bomb Blend
For those who practice mindfulness or meditation, certain essential oils, such as frankincense or sandalwood, can create a serene and grounding atmosphere, enhancing your meditative experience during a bath.
Frankincense
Sandalwood
Lavender
9. Confidence and Focus Bath Bomb Blend
Scents like rosemary and basil can enhance mental clarity, focus, and self-confidence, making them great choices when you need to concentrate or prepare for an important event.
10. Skin Nourishing Bath Bomb Blend
Certain essential oils like tea tree and lavender can help improve skin health. Use them in an oatmeal bath bomb to soothe and nourish the skin.
Tea Tree
Lavender
Geranium
11. Romantic Mood Bath Bomb Blend
For a relaxing bath that you can enjoy together, combine warming nutmeg and the comforting yet romantic fragrances of rose and vanilla essential oils. Throw in some rose petals while you're at it!
2