There is something chic and effortless about a simple bun piled high on the head. The ballerina-esque style was a go-to for me when my hair was longer, but currently my hair is a bit too short to make it all the way to the top of my head. Luckily, I found a solution. The way to make a top knot work on medium length hair is to weave the shorter strands into the style, and an upside-down French braid does the trick perfectly!
French Braided Top Knot Tutorial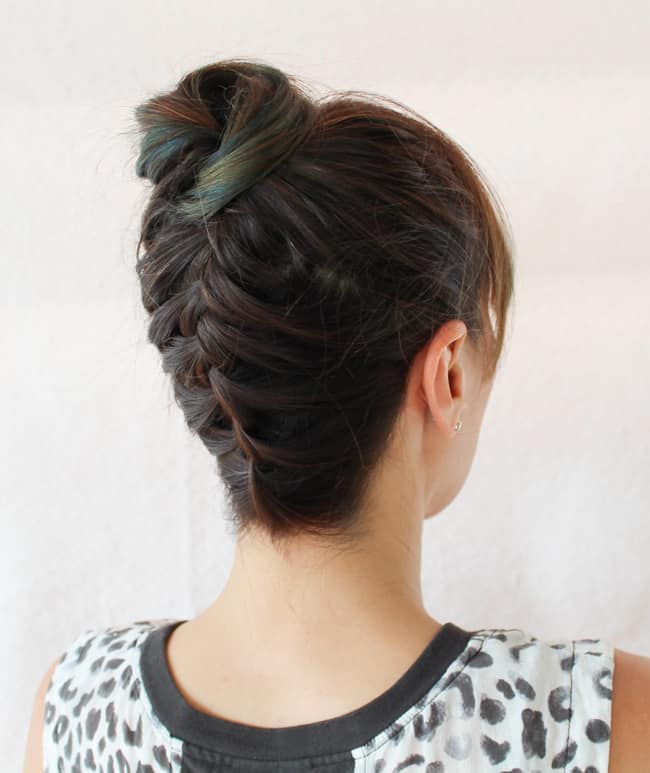 If you're thinking it sounds too difficult, I encourage you to give it a try. I found braiding from the nape to the crown with my head flipped over required no more dexterity than braiding in an upright position. Besides, the result is well worth the effort. The plait adds a pretty embellishment that makes a simple bun more special. I'll be keeping this style in my repertoire long after my hair has grown out!
Supplies Needed
Instructions

Step 1
Create a section in the front from your ears to the top of your head and tie or clip it out of the way.
Step 2
Flip your head upside down and brush your hair down from your nape. Apply a styling product that adds texture and grip. Do not skip this step unless your hair is dirty or already has texture; clean hair is slippery and difficult to braid.
Step 3
Grab a small section of hair at the nape. This will be the origin of your French braid.
Step 4
Divide the section into 3 strands and French braid the entire back section working from the nape to the crown. If you need detailed instruction on how to French braid, visit this step-by-step tutorial.
Step 5
When you reach the crown, continue braiding the 3 strands for an inch or two and secure the ends with a small hair band.
Step 6
Release the front section and tie it with the braid into a high ponytail. Remove the elastic holding the braid.
Step 7
Optional: If you would like a little more volume, spritz the ponytail with hairspray and tease it to your liking.
Step 8
Smooth the outer layer of the ponytail and wrap it around into a bun, hiding the hair elastic.
Step 9
Use bobby pins to secure the bun in place. Be sure to cross your pins for a secure hold. Finish with a layer of hairspray, if desired.
10