We're heading into summer, and it's time to repair those damaged tresses with a DIY deep conditioner using some of our favorite beauty oils and butters. Even if you're diligent about pool hair care, the trifecta of chlorine, sun, and salt will draw out moisture, leaving your hair dry and brittle.
And even if you don't go in the ocean or pool, there is plenty of UV light damage from the summer sun as well as the chlorine in tap water, so freshening up your hair with a deep hair conditioner will do everyone some good.


DIY Deep Hair Conditioner
I found this deep hair conditioner recipe and adapted it a bit for my family's hair. I like the combination of shea butter with coconut oil, rather than using olive oil (although olive oil is great for your hair, too).
And of course, you can massage coconut oil directly onto the ends of your hair anytime for a quick and convenient leave-in conditioner. It moistens and makes it smell like a day at the beach. (I find that works especially well when you can't even get a comb through your kid's tangled mass of hair.)
For a more intense conditioner, this hair mask adds a ton of moisture, and it's worth the extra few minutes to melt the oils together and whip it into a creamy texture. The thicker consistency makes the conditioner easier to control when applying it to your hair. You don't want to glop on all of the oil in one place!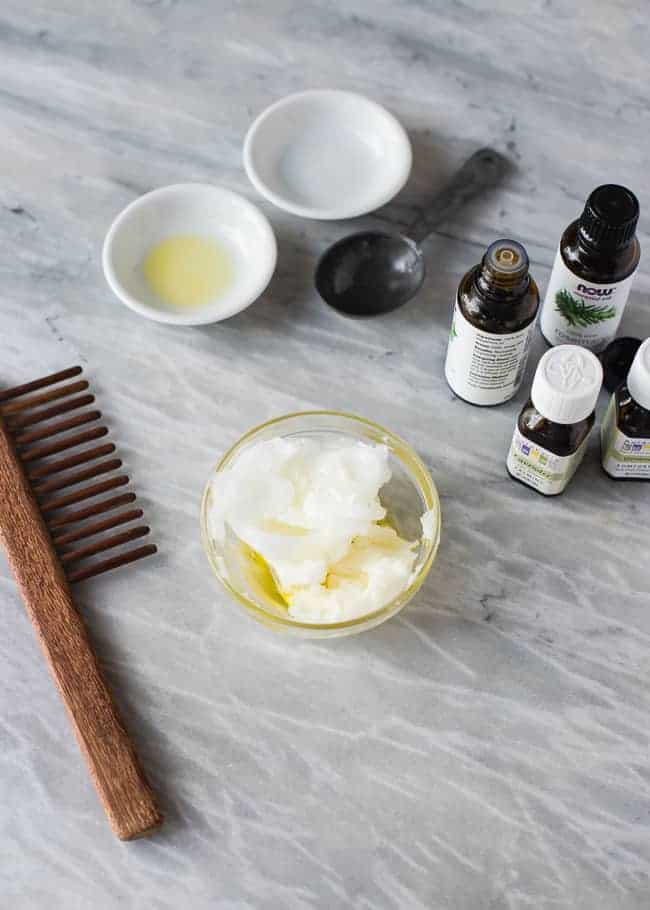 The Best Oils for Different Hair Types
By now, you probably already know that coconut oil can pretty much do anything. Argan oil is great for controlling frizz and adding shine to dull hair [source].
Shea butter not only adds moisture and shine, but it can also help remedy dandruff and a dry scalp. This deep hair conditioner has some serious conditioning power!
But you're not limited to just the oils and butters we are used to hearing about. Different oils have various properties, so if you're looking to tailor this recipe to your own hair type, here's how to make 'em work for you:
Dry or frizzy hair: Argan oil
Oily scalp or limp hair: Grapeseed oil
Extremely dry or damaged hair: Macadamia oil
Sensitive or flaky scalp: Almond oil
Flakes and dandruff: Shea butter
Boosting growth: Olive oil
And adding a few drops of an essential oil for your hair is the icing on the deep-conditioning cake. Rosemary, lavender, peppermint—all are great essential oils for strengthening your hair as well as making your strands smell like you just left the spa.
Just like with carrier oils, some essential oils are better than others at hydrating strands and boosting hair health. In addition to rosemary, lavender, and peppermint, here are a few we love for gorgeous locks:
Cedarwood: said to help balance oil-producing glands in the scalp, so hair looks less greasy
Lemongrass: may relieve scalp irritation and itchiness, helps to treat dandruff [source]
Thyme: an antimicrobial oil that helps keep bacteria at bay [source]
Clary sage: cleanses oils and nourishes dry skin
Tea tree: antimicrobial and antifungal making it ideal for dandruff-prone hair [source]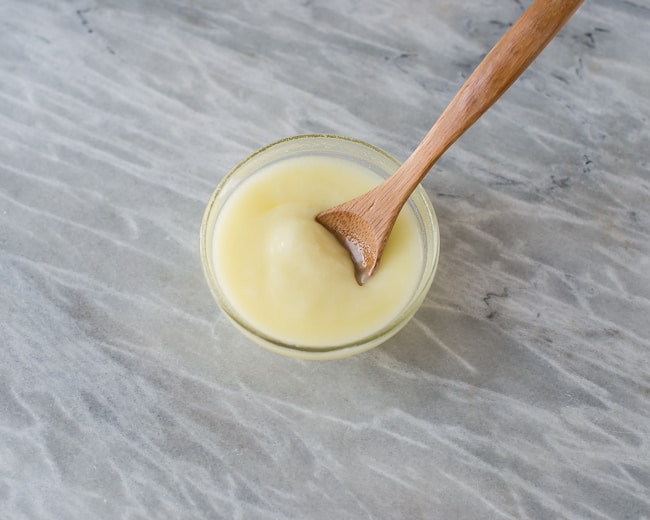 How to Do a Hot Oil Treatment
You can turn your deep hair conditioner into a hot oil treatment by warming the oils in the microwave or applying the mask as usual and just stepping outside in the sun for a few minutes. You can also put them on and then relax in a nice hot tub or jacuzzi. The warmth opens up the hair cuticle so the moisturizing oils can better penetrate your strands.
First, comb your hair to remove any knots. Then apply the conditioner from root to tip, massaging your scalp as you apply it. Wrap your hair in a warm, damp towel to encourage the oil to sink in even further and let it sit for 20–30 minutes. Rinse hair thoroughly before applying shampoo and conditioner as usual.
For even more conditioning power, try an overnight hair mask.
Hair Mask Frequently Asked Questions
How do I get the oils out of my hair?
I swear by baking soda. Next time you're in the shower after applying a deep conditioner, simply sprinkle it in your hair before washing it with shampoo. Use your fingertips to gently massage the baking soda at the roots and along the length of your hair.
Then rinse it out and shampoo as usual. The baking soda helps break down grease and leaves hair feeling squeaky clean, without the drying suds of traditional shampoo.
I have also heard that applying dry shampoo (this kind is my favorite) to hair 1–2 hours before showering will absorb the excess oil and make it easier to wash out.
Can I shampoo first and then deep condition?
Sure! But you may find that the oils linger and leave your hair looking flat and somewhat greasy. If that's the case, it might be best to shampoo when you're done. It just depends on your hair type and how you prefer to wear it.
How long does this deep hair conditioner last when I make the recipe?
Since it just contains oil, it should last for about a year without the need for refrigeration or preservatives. If you add any water-based ingredients, like aloe vera, rose water, etc., it should be refrigerated and used within a week. Instead, you can add those extra ingredients just to the portion you will be using on your hair at that time.
Can deep conditioner be used long term?
Yes, this is safe to use long term as long as you don't see any redness or irritation. As with any homemade beauty products, keep an eye out for changes in your skin and hair (such as redness, acne, hair loss, etc.) and stop using it immediately if some signs of irritation crop up.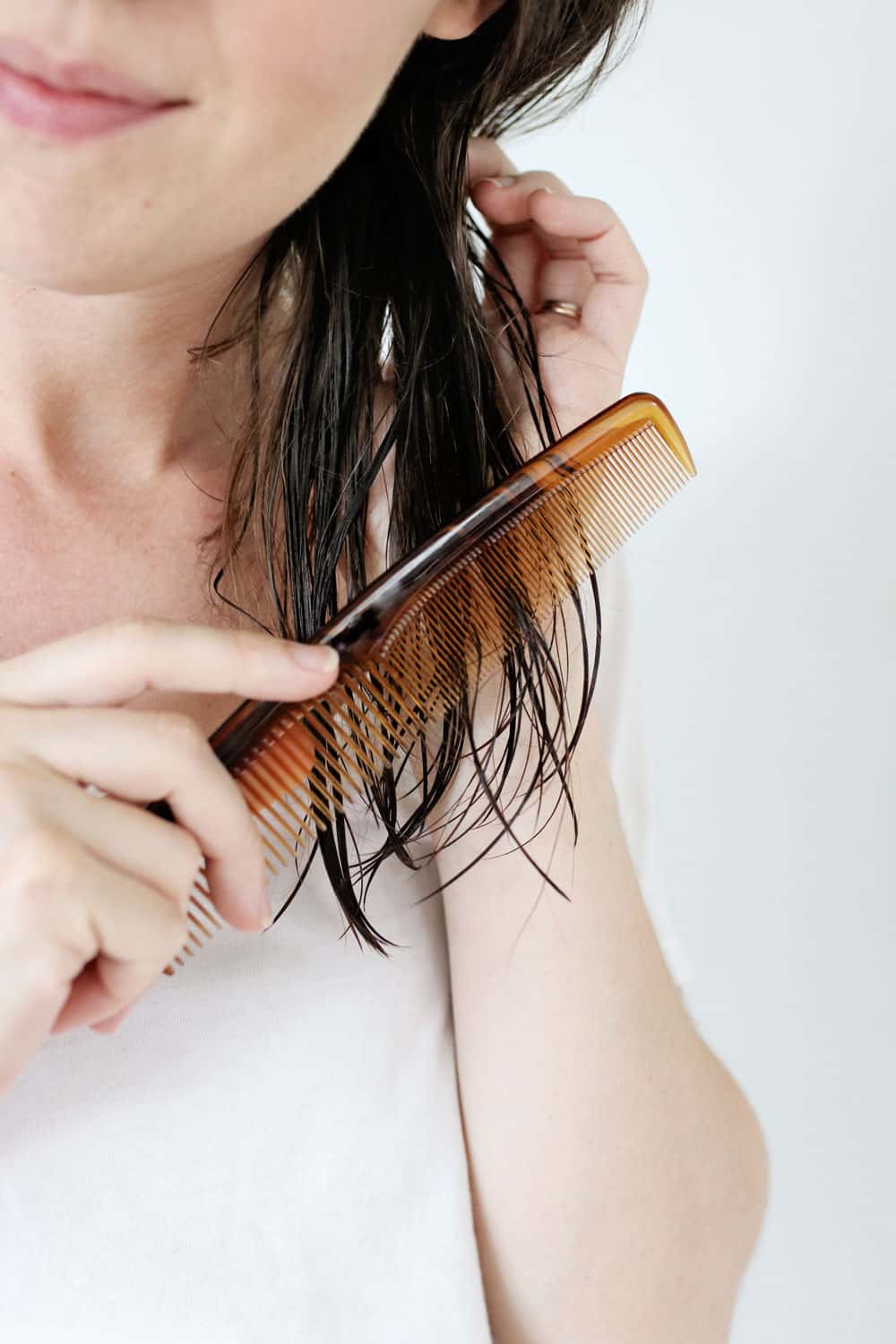 Can I use a deep conditioner as my regular conditioner (can I rinse it out after I put it in)?
Yep! It would make a great homemade conditioner. But again, since it's pretty oil-heavy—depending on your hair type—you may find that it leaves your hair feeling a little greasy, and it loses its bounce. If that's the case, you may prefer to shampoo and condition after the application.
Can I add mayonnaise to my DIY deep conditioning treatment?
I haven't tried this recipe with mayo, so I can't say for sure if it will work. I wouldn't add it to the recipe itself, just combine it with the portion of oil you are going to apply at the time. Feel free to add any natural ingredients you like, and let us know how it goes in the comments!
How often can I use a deep hair conditioner?
If your hair is dry or damaged, you can use this twice a week until your hair feels softer and more manageable. For regular maintenance, use it once every week or two to replenish the moisture you lose from heat styling.
I did the leave-in conditioner method, and my hair is still super greasy. What am I doing wrong?
This conditioner is pretty oil-heavy, so oils may linger in your hair after you use it. It's more noticeable in fine hair, but any hair type can be affected. Just use shampoo after your deep conditioning treatment to get rid of lingering oils and leave hair feeling soft and clean. You can also consider doing a citrus or vinegar rinse to cut the extra oil and add in some extra shine.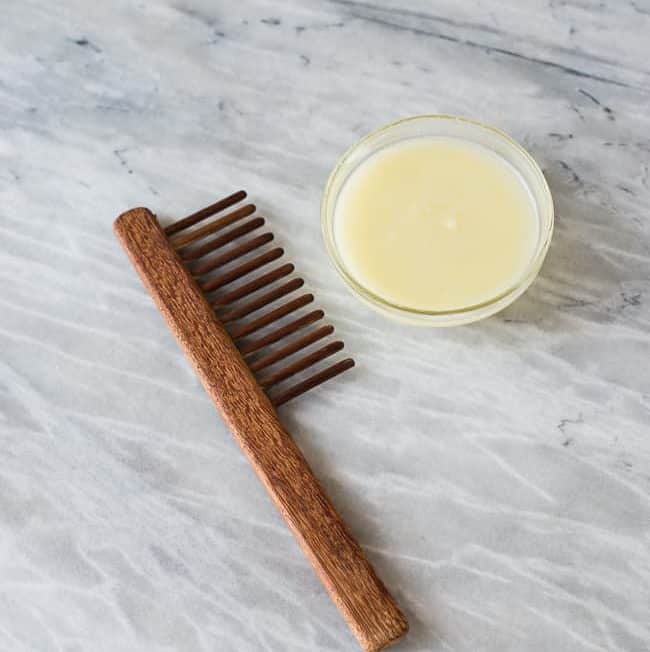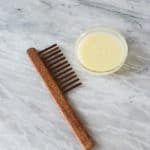 Print
Deep Hair Conditioner
This DIY deep hair conditioner is loaded with coconut oil, shea butter, and argan oil to nourish your hair and revitalize it from the inside out.
Equipment
Pyrex measuring cup and a saucepan (or a small bowl and a microwave)

Hand mixer
Instructions
Melt coconut oil and shea butter together in microwave or double boiler (I find a Pyrex measuring cup in a saucepan of hot water works well.)

Let mixture cool until almost room temperature, then add the argan oil.

With a hand mixer, whip mixture together for 3–5 minutes (transfer to a larger bowl, if needed, to accommodate the hand mixer). You'll get a creamy texture that's much easier to apply than melted oil.

Comb through clean, dry hair and let sit for 30 minutes. Rinse hair and shampoo as normal.
Notes
These are rich oils so you might need to shampoo more than once to remove all of the residue. If you prefer to condition without added oils, try a honey hair mask or one with pumpkin or avocado.
If you have seriously dry hair, feel free to double or even triple this recipe and store the extra in an airtight container in the bathroom for weekly use. It should stay good for a year as long as you're careful not to get any water in it. If you do, your conditioner may go bad within a few days and you'll need to make a fresh batch.
This post was medically reviewed by Dr. Jennifer Haley, a board-certified dermatologist with extensive experience in medical, cosmetic and surgical dermatology. Learn more about Hello Glow's medical reviewers here. As always, this is not personal medical advice and we recommend that you talk with your doctor.
211