I read an article recently about how perfumed laundry detergents are making a comeback. Apparently it has to do with laundry detergent's "luxe factor" and the need for people to customize the smell of their clothes. My first thought was, wait, what?? Quickly followed by, well, that's asking for trouble. Anything you soak your clothes in eventually sinks into your skin. And if you've got sensitive skin, like me, it'll leaving you red, dry and insanely itchy. Instead, why not make your own sensitive skin laundry detergent and customize the scent?
This gentle laundry detergent uses green, but effective, ingredients to get clothes squeaky clean. While it's naturally scented with pine essential oils (thanks to the Sal Suds), feel free to add your own skin-soothing oils, like lavender, chamomile and geranium, so your detergent does double duty. Or skip 'em if you want to keep things simple. That's the beauty of this DIY detergent — you can make 100% your own.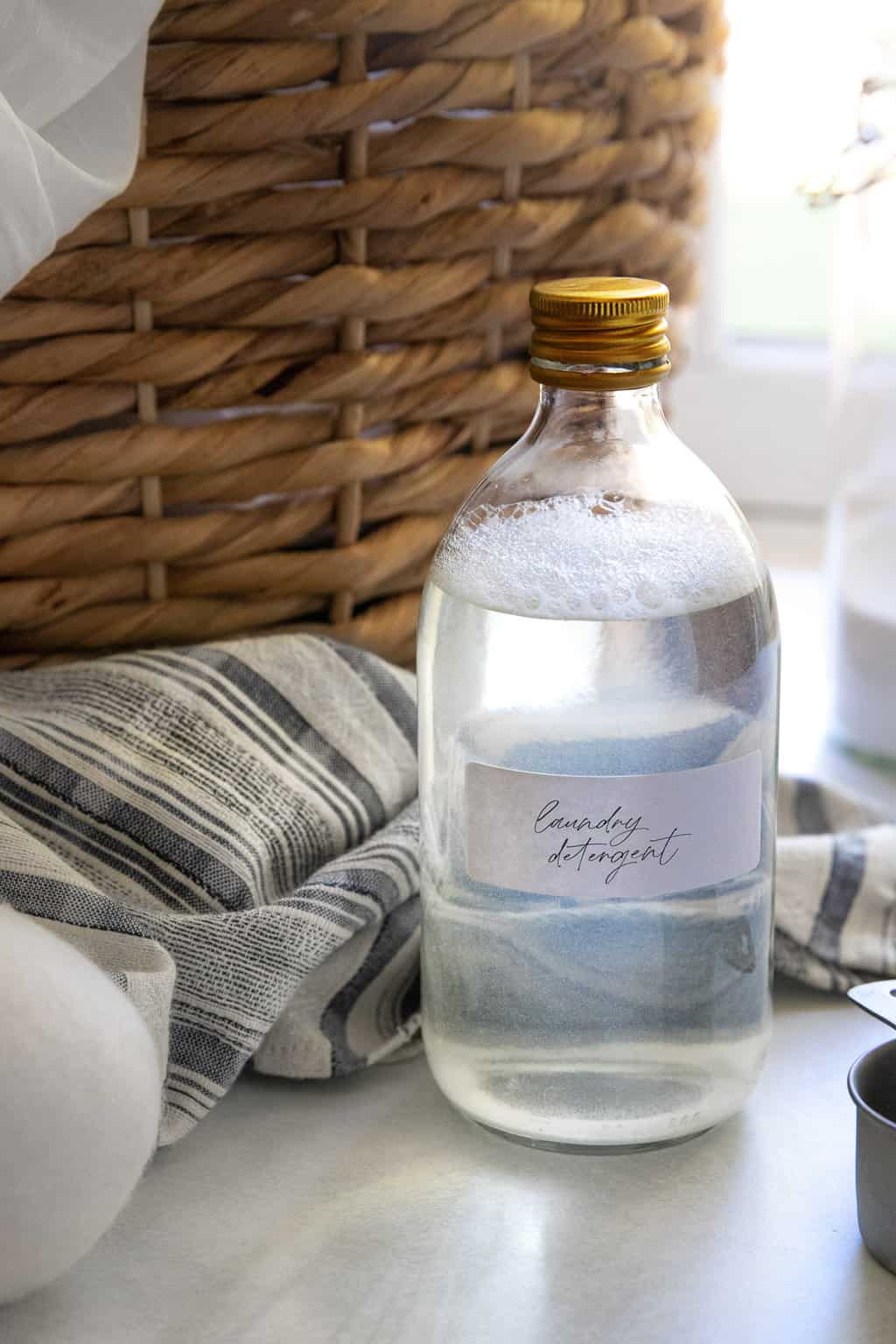 Laundry Detergent for Sensitive Skin
The main soap in this recipe is Dr. Bronner's Sal Suds. You're probably familiar with Dr. Bronner's Castile Soap, yes? Well, Sal Suds is a concentrated, all-purpose cleaner made from plant-based surfactants, as opposed to oils like in traditional Castile soap.
It's a bit stronger than liquid Castile soap, which means it'll get your clothes squeaky clean. But because it's plant-based and free of dyes, fragrances and preservatives, it's gentle on skin. Not to mention, it's effective in hard water and dissolves at both hot and cold temperatures, so it rinses cleaner than other homemade laundry detergents.
To boost the cleaning powder, add Kosher salt and super washing soda, which help scour clothes, remove greasy build up and lift stuck-on stains from fabric.
And lastly, essential oils boost the fragrance and give this sensitive skin detergent extra soothing properties. While you're free to choose any oils you like, I recommend picking gentle oils, such as lavender, chamomile, copaiba, tea tree, geranium or vetiver, and staying away from citrus oils, like lemon, grapefruit and sweet orange, which can make skin more sensitive to the sun.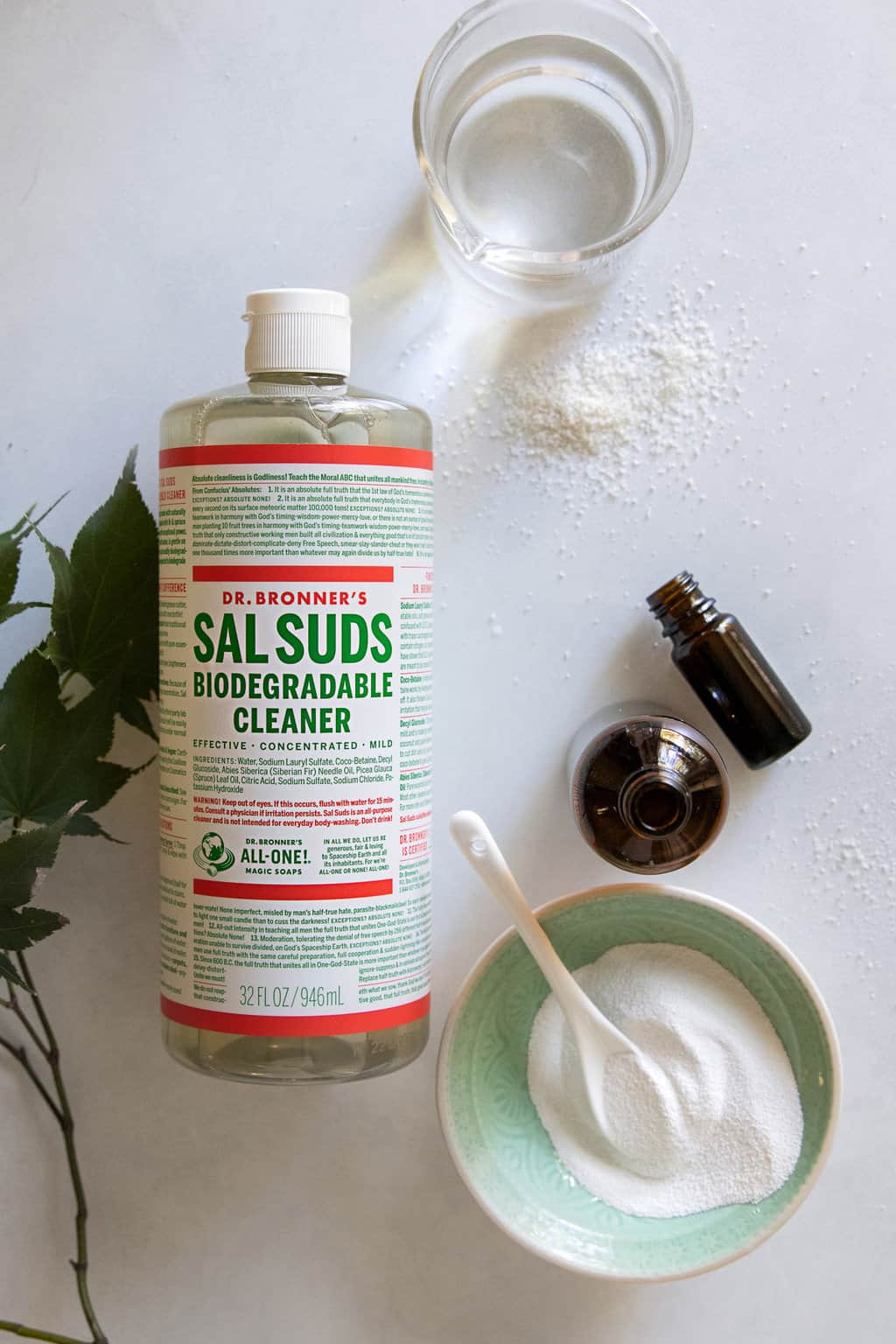 Laundry detergent supplies

—4 cups water, divided
—2 tbsp kosher salt
—2/3 cup washing soda
—1 cup Sal Suds
—15 drops essential oil
—Large glass jar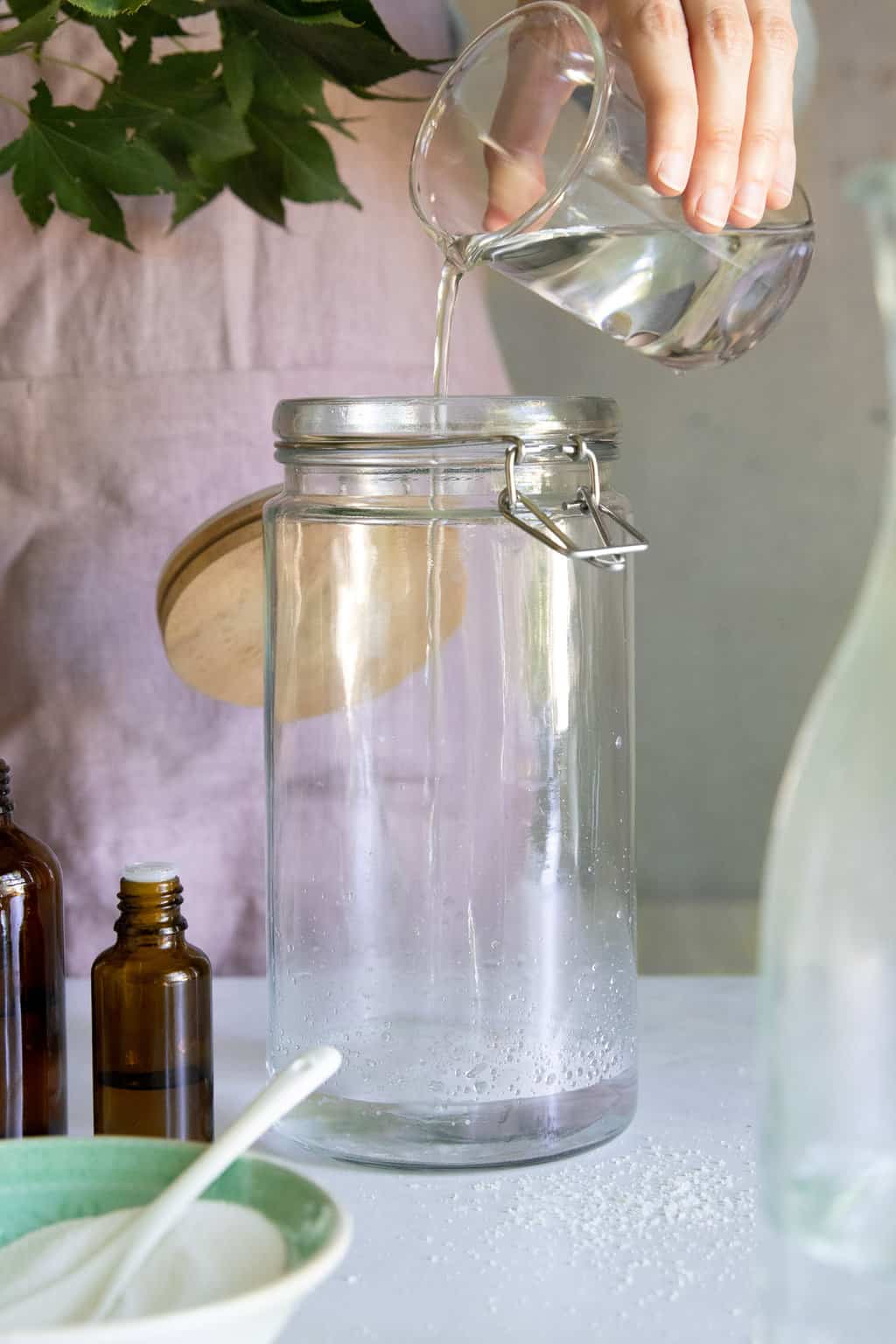 Step 1 | Add water
Pour 1 cup of hot water into a large glass jar.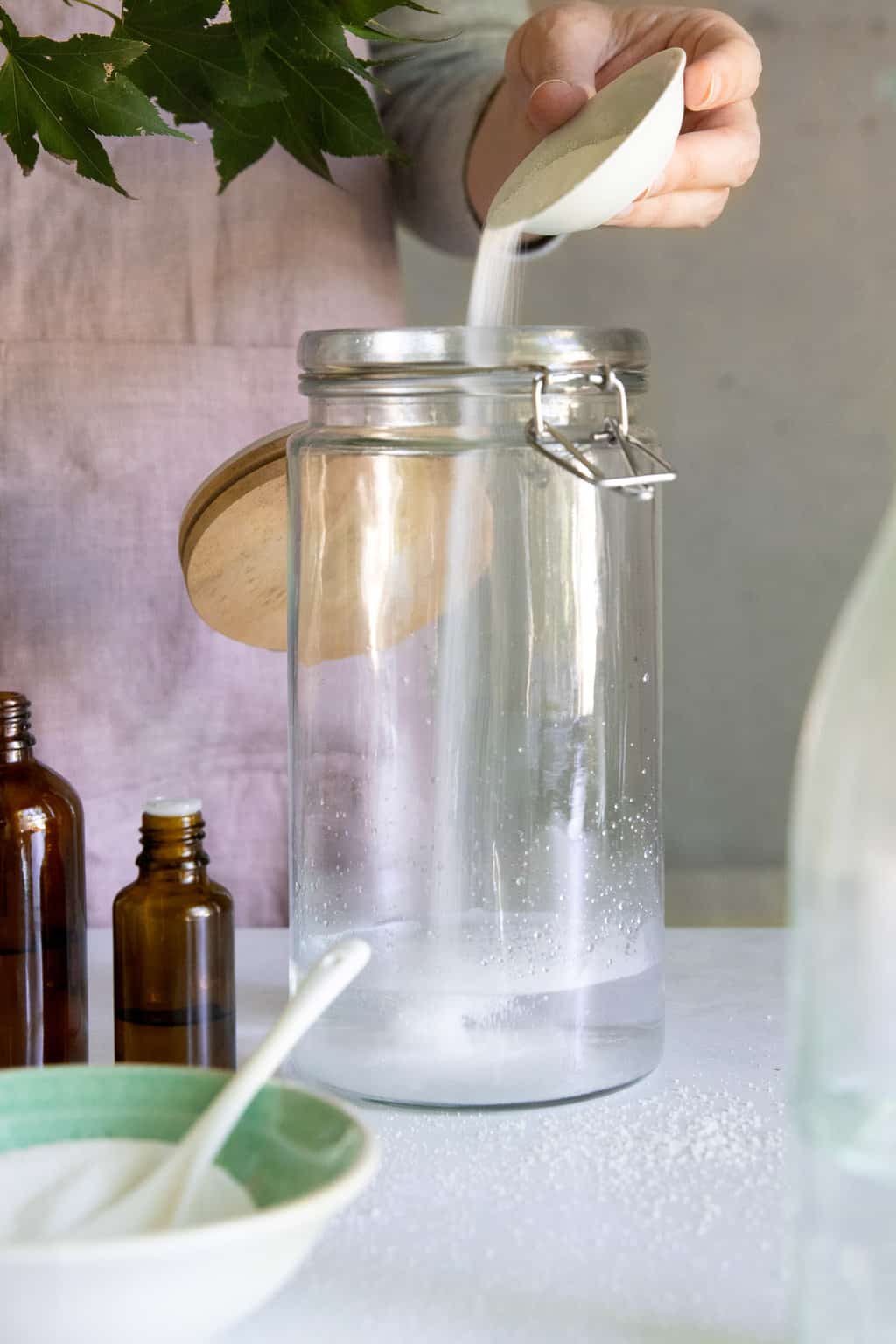 Step 2 | Add washing soda & salt

Add the washing soda and salt. Stir until the powders are well dissolved and the water is almost clear.
Step 3 | Add Sal Suds

Add the remaining water, Sal Suds and any essential oils. Stir until the mixture thickens (approximately 1-2 minutes).
Shake or stir well before each use.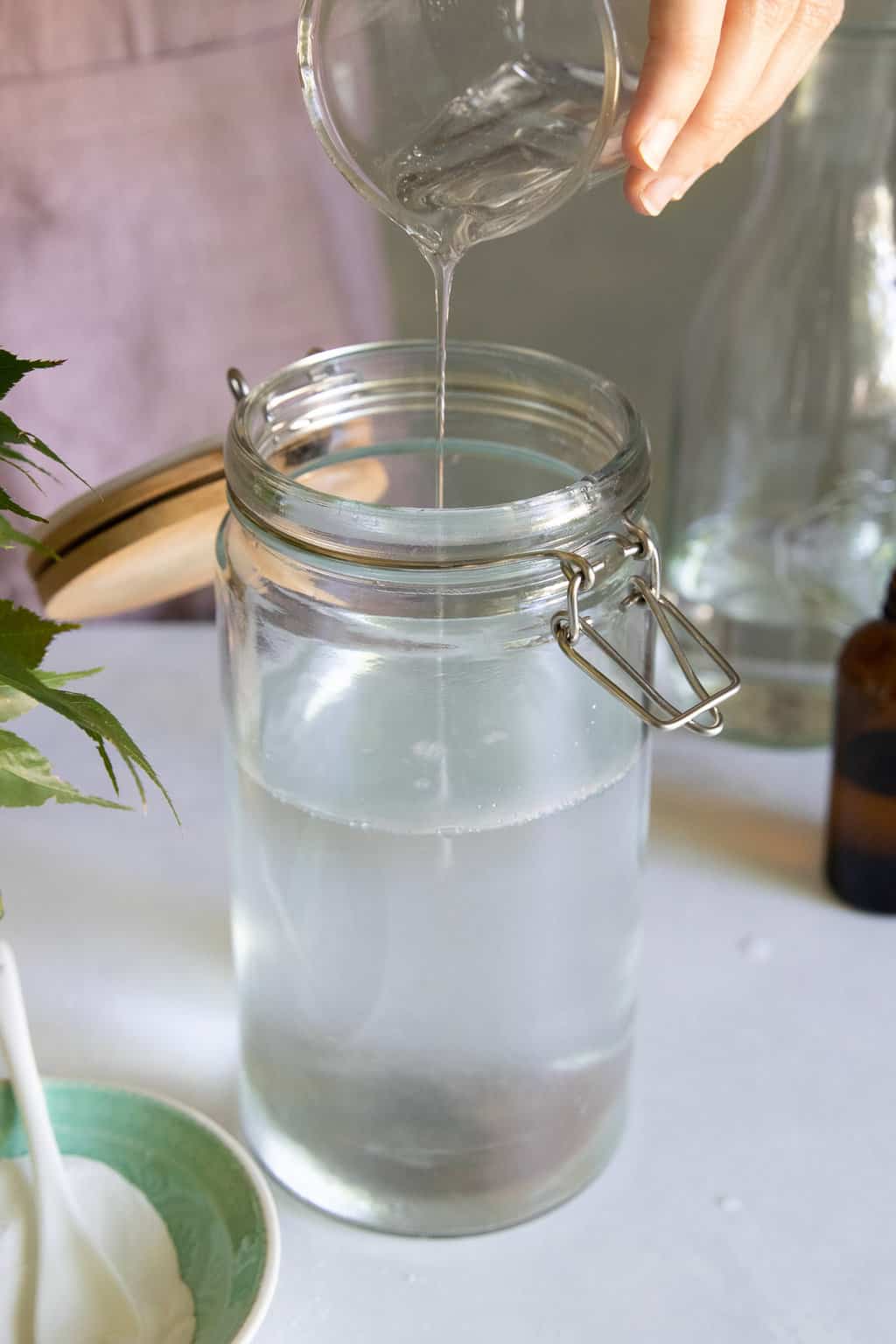 How To Use Homemade Laundry Detergent
Standard, non-HE washer — 1/2 – 3/4 cup depending on the load size.
High-efficiency washers — 1/4 – 1/2 cup depending on the load size.
Top-loading machines —Place the detergent in your machine's automatic detergent dispenser. If you have a front loading machine, either pour it into the detergent dispenser or directly in the washer drum before loading your laundry.
If you plan to keep making your own detergent, a glass beverage dispenser makes a great container, since it's easy to dispense and refill. Otherwise, make sure to store detergent in an airtight jar or container away from children and pets.
How long will it last?
This recipe makes enough for about 10 – 15 loads of laundry. Since it contains water, you need it use it quickly, otherwise you may notice a fuzzy film growing on top after a few weeks.
While you don't need to keep it in the refrigerator, you should aim to use it within 2-3 weeks to keep mold at bay. And if you notice any mold, throw it away and make a fresh batch. Feel free to scale the recipe up or down to meet your needs.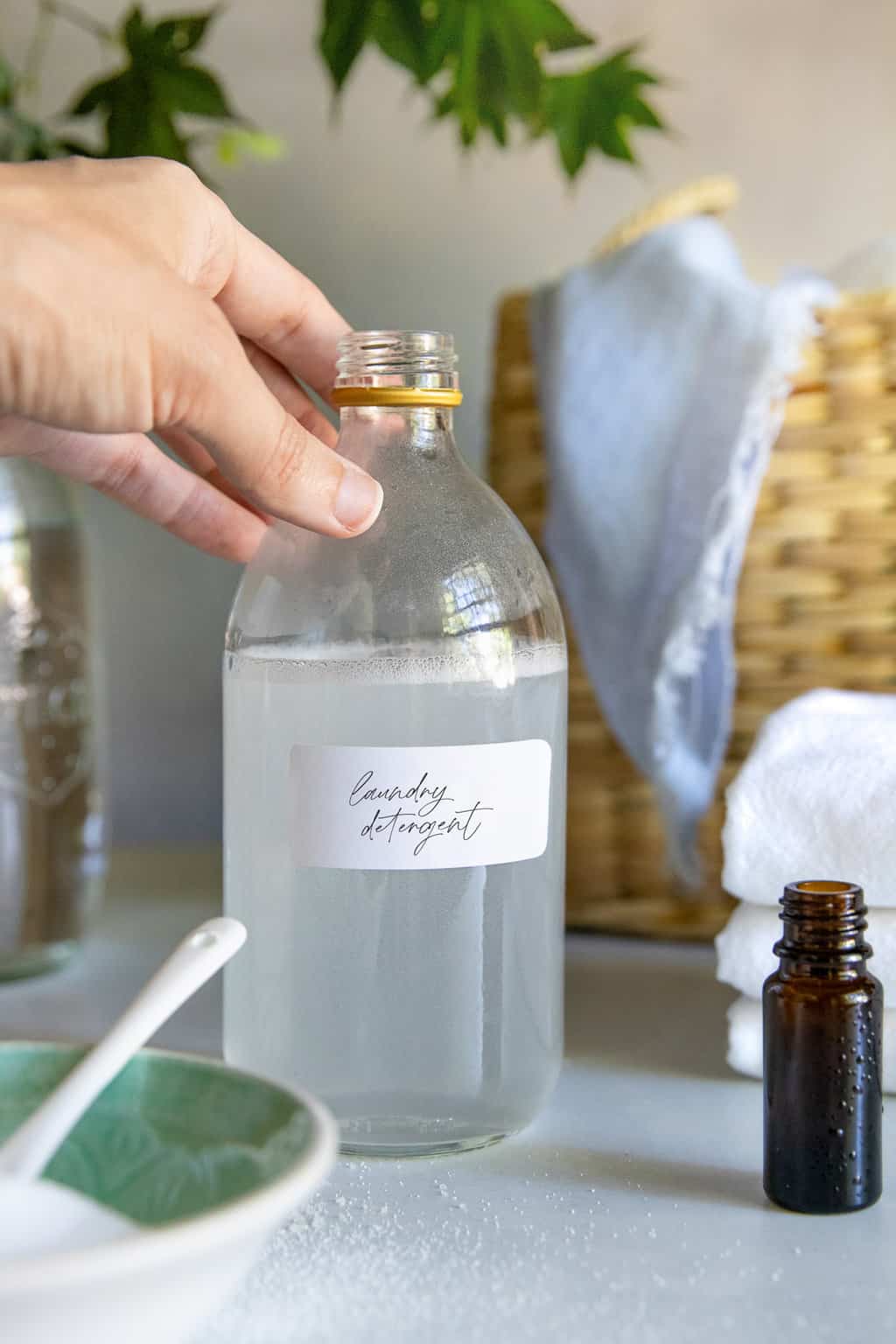 14