Getting our daily dose of hydration is as important as breathing. Especially during the summer months, when our bodies sweat overtime, we need to make sure there's plenty of water coming in to keep us going. The easiest method to make plain water taste better is to infuse it with fruits, veggies and herbs, and these simple fruit infused water recipes are a treat for your taste buds!

25 Fruit Infused Water Recipes for Glowing Skin
The possibilities are truly endless, and so are the health benefits. It's no wonder infused water is also known as detox water!
1. Citrus cilantro - Citrus fruit are packed with vitamin C, they neutralize free radicals and may protect against heart disease. Cilantro, on the other hand, contains no cholesterol and even helps reduce it!
2. Strawberry mint - Infused water is easier to drink than regular one. It's no wonder, since it has the delicious taste of strawberry and mint mixed in!
3. Orange & basil - A tasty combination that mixes the sweetness and vitamins of oranges with the refreshing taste of basil.
4. Cucumber herb - Classic spa water is made with cucumbers, known for being super hydrating. This one also features rosemary, thyme and mint to mix things up.
5. Pomegranate seeds + Persimmon + Orange + Cinnamon Sticks + Allspice Berries - This infused water doesn't just taste like winter in a cup, it's also immunity boosting!
6. Honeydew, cantaloupe and cucumber - Mix the sweet melon taste with cucumber, and you get a refreshing, vitamin-filled everyday water.
7. Green apple raspberry rosemary - Try saying "raspberry rosemary" six times in a row and you'll suddenly find yourself thirsty.
8. Tropical - Give a tropical twist to your plain water with mango and pineapple. You can even replace water with coconut water if you like!
9. Bubble water - For a different type of infused water, add in chia seeds: a healthy version of bubble tea.
10. Fruit ice cubes - Freeze fruit in ice cube trays, then add them to your water to chill and flavor it.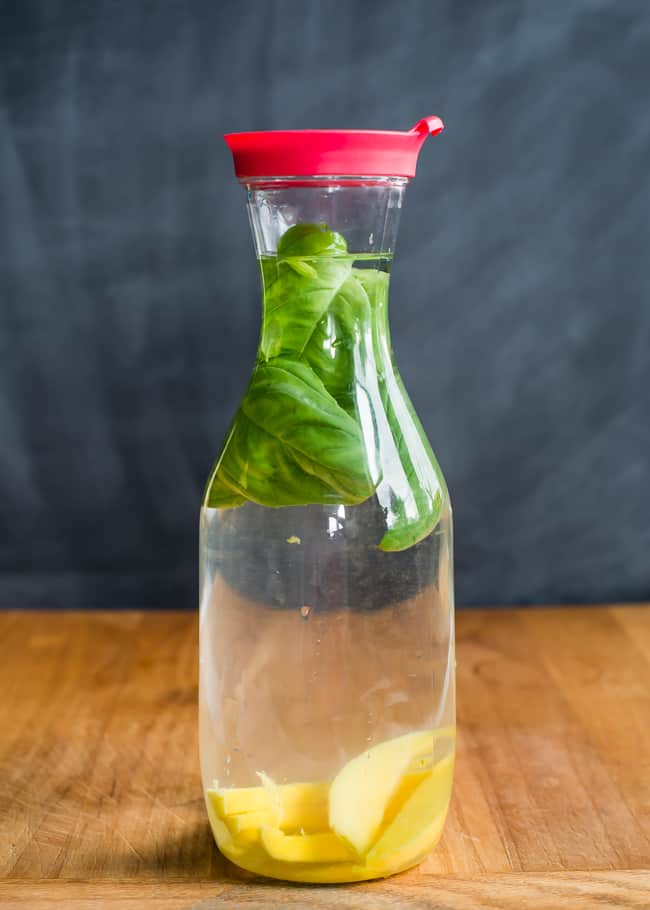 11. Mango basil - Basil is refreshing and flavorful, while mango adds sweetness and a tropical taste to the water. It's hard to tell that's it's not an actual cocktail!
12. Flavored water with lemon, mint and ginger - Ginger is considered one of the world's healthiest foods, and it adds a bit of spice to this lemonade-tasting infused water.
13. Orange, cucumber and mint water - The super refreshing drink is a good idea regardless of the season, and it helps you cut on sugary drinks while not compromising on taste.
14. Citrus and mint - The combination of orange, lime and lemon is not just tasty, but it looks good, too! The mint garnish will add to the taste and to the look as well.
15. Peach, blackberry & thyme - If fruits and herbs still don't make your water fun enough, add some sparkling water like this recipe suggests.
16. Lemon, mint and raspberries - The freshness of lemon and mint is sweetened with pretty raspberries in this water idea.
17. Watermelon rosemary - This lovely flavor combo is a keeper! Watermelon is super hydrating and rosemary even protects against macular degeneration! Your eyes will be thankful.
18. Cucumber and lime - A classic, hydrating flavor for your daily water, topped with fresh mint leaves which make it even tastier.
19. Mango Mint Infused Water - Fans of tropical flavors will enjoy this refreshing combination, especially during the cold season!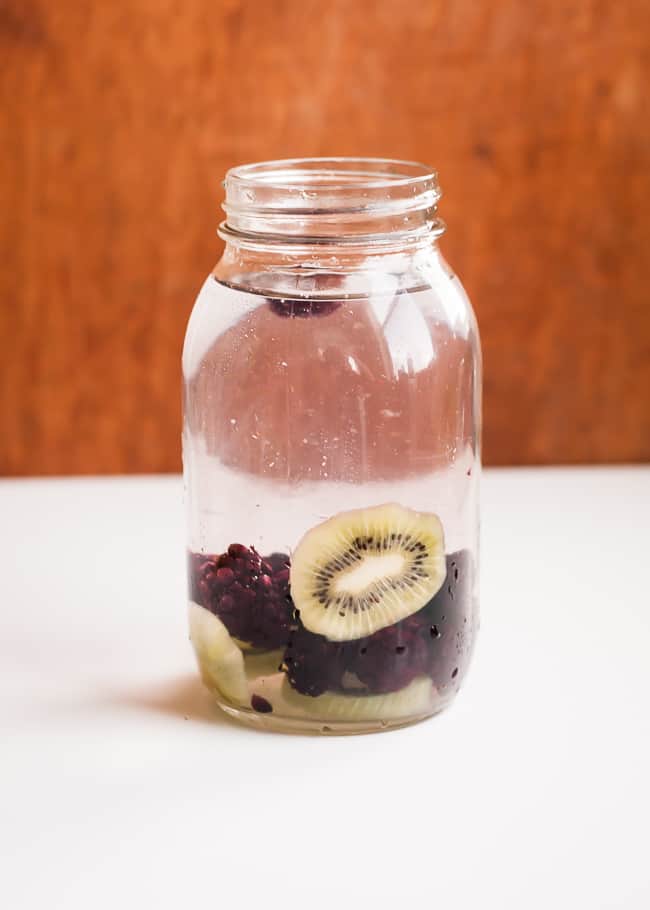 20. Kiwi blackberry - Kiwi has more vitamin C than an orange, and it also contains vitamin K, copper, fiber and vitamin. All these beneficial components are mixed with blackberries in this infused water idea.
21. Grapefruit + rosemary - This detox water features grapefruit, which is often used for weight loss, together with rosemary, which is rich in antioxidants and enhances memory and concentration.
22. Cool calm beauty water - Give yourself a boost with this berries and mint infused beauty water.
23. Collagen building cucumber spa water - No need to go to spa for their amazing cucumber water - here's how to make it at home.
24. Digestive aid beauty water - Ginger and ACV pair up in a refreshing summer drink that helps digestion and boosts beauty from the inside out.
25. Cantaloupe Blackberry Infused Water with Rosemary - This light, fruit-infused water is hydrating and tasty, just what you need to reach those 2 liters a day.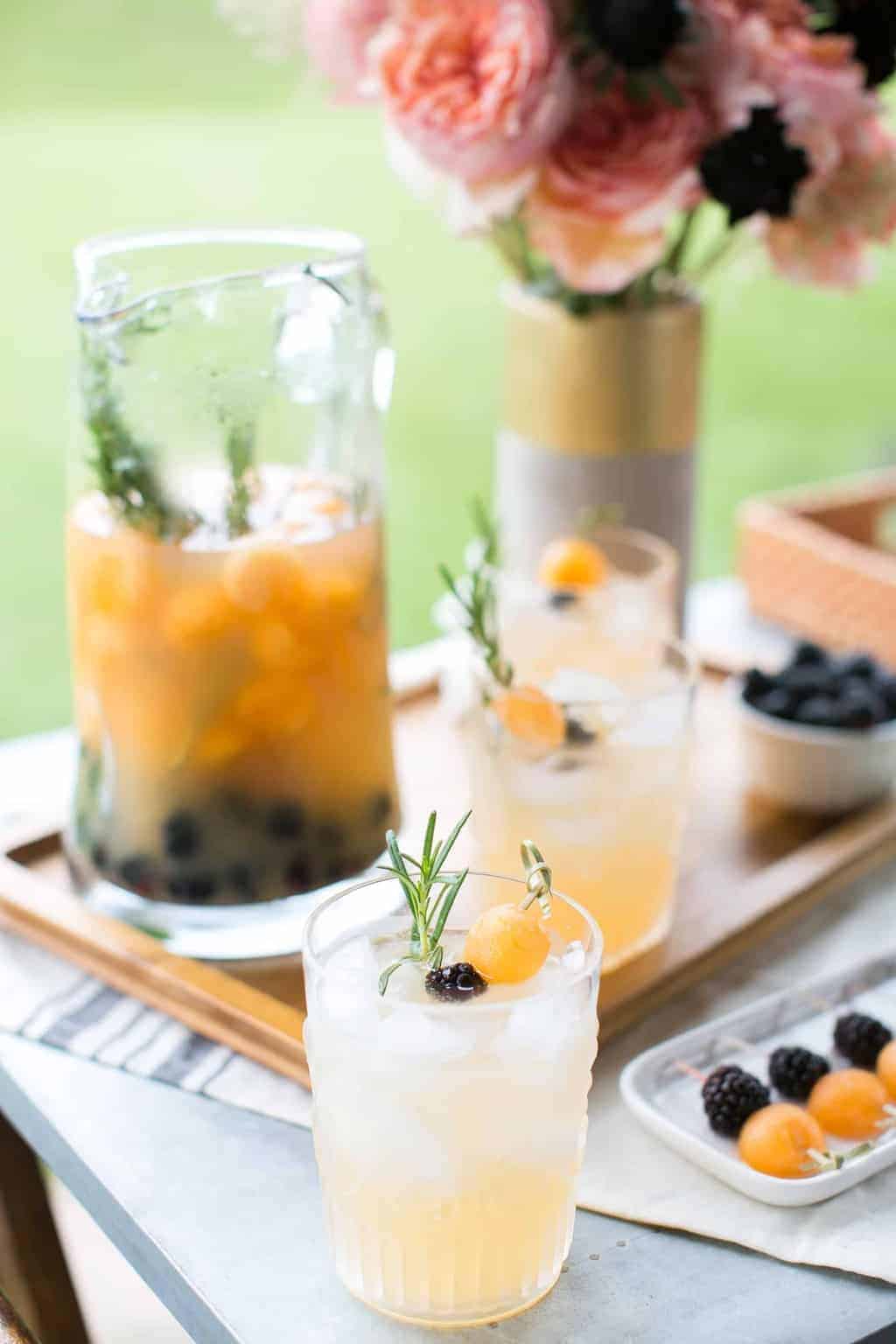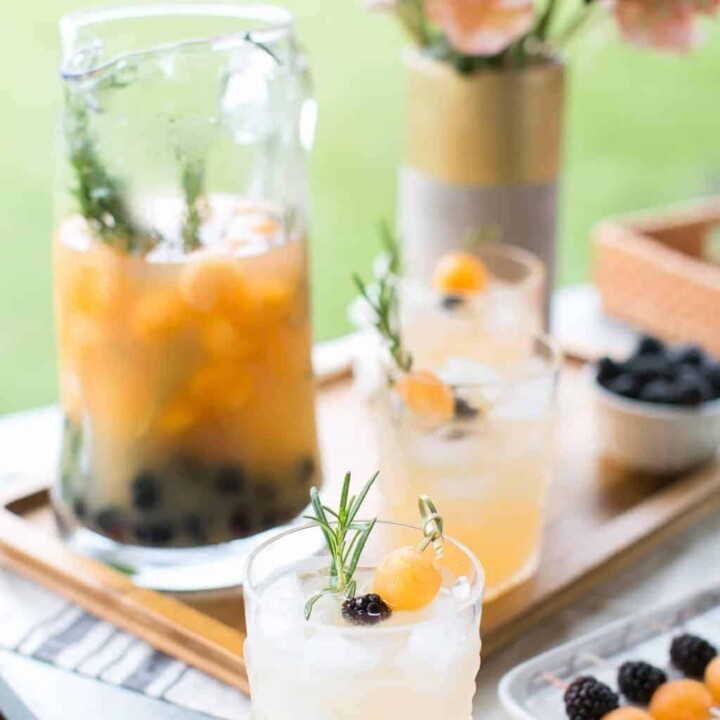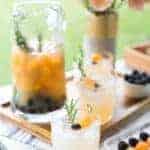 Print Recipe
Cantaloupe Blackberry Infused Water with Rosemary
A light, fruit-infused water that's hydrating and tasty.
Equipment
Food processor or blender

Melon baller

Large pitcher
Ingredients
2

cantaloupes

1

pint

blackberries

1

lime

juiced 

Water

Several sprigs fresh rosemary 

Cocktail picks

optional for drink garnish 
Instructions
Juice lime, remove seeds or strain, and set aside.

Cut both cantaloupes in half and scoop out the seeds in the center of each half. 

Chop half of one cantaloupe, place in a blender or food processor, and puree with lime juice. 

Use a melon baller to scoop out flesh of remaining cantaloupe and form into balls. Place ⅔ of the balled cantaloupe into a drink pitcher for serving. Reserve the remaining ⅓ for garnishes. Note: If you'd like to skip the garnish altogether, you can opt to use only a single cantaloupe for this recipe, pureeing half and balling the other half, which will be placed in your pitcher. 

Add half of the blackberries to the pitcher, reserving the rest for garnish.

Pour cantaloupe puree into the pitcher. Top off the pitcher with water and ice until full. Stir to blend puree with water. Add several sprigs of rosemary to pitcher. Refrigerate or serve immediately. 

For garnish, place one melon ball and one blackberry on each cocktail pick. Serve garnishes on tray or place directly in pre-poured glasses. 
Notes
Feel free to scale the recipe up or down to adjust the number of servings.
147