Hair gel is so much easier to make than you might think. While some recipes call for gelatin, I swear by nature's most popular gel: aloe vera.
Not only is it the perfect consistency for homemade hair gel, but it nourishes hair, softens strands, and sinks in like a dream, so you don't end up with limp, greasy locks by lunchtime. And the good news is that by tweaking just one ingredient, you can customize your aloe hair gel to give the perfect amount of hold for you.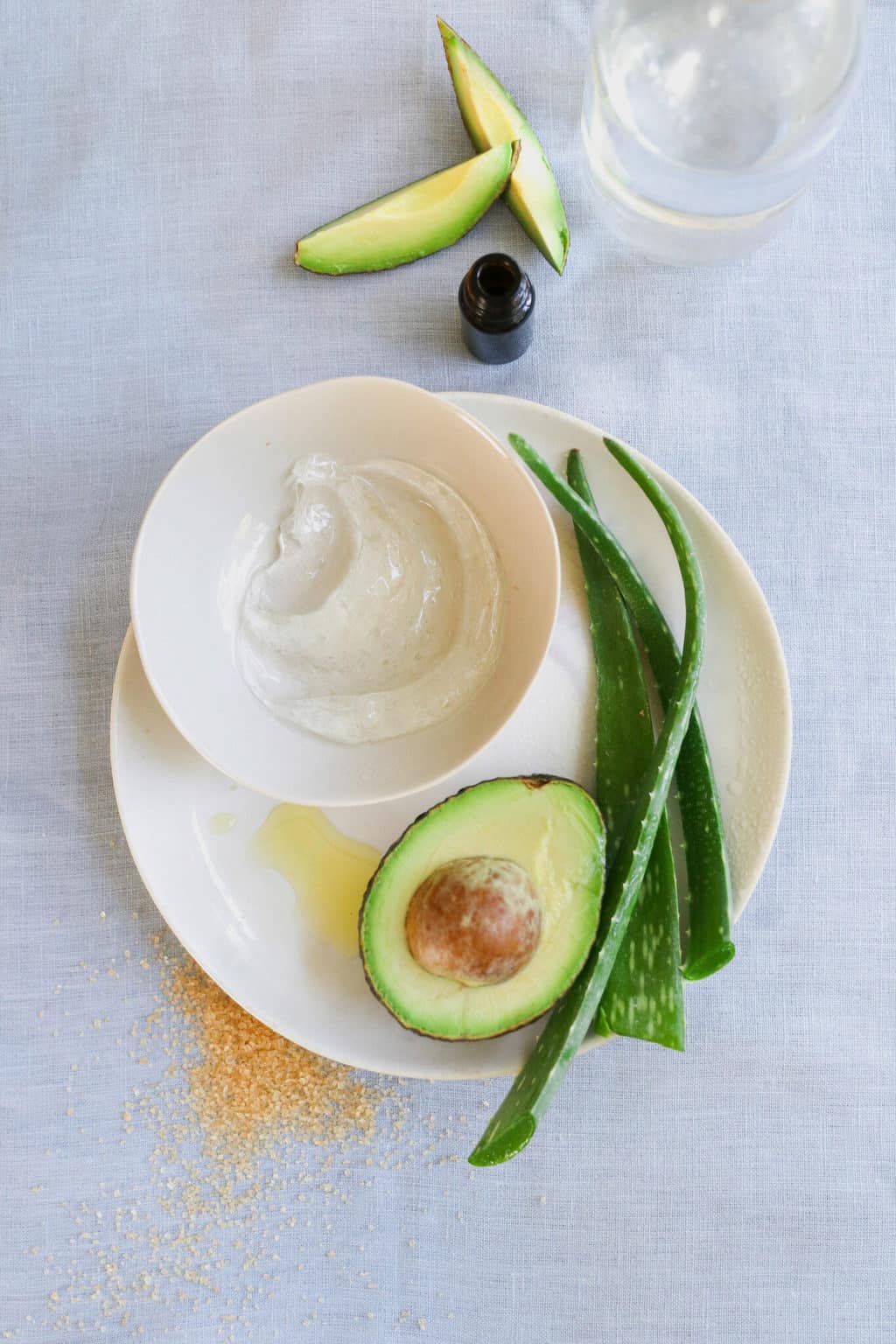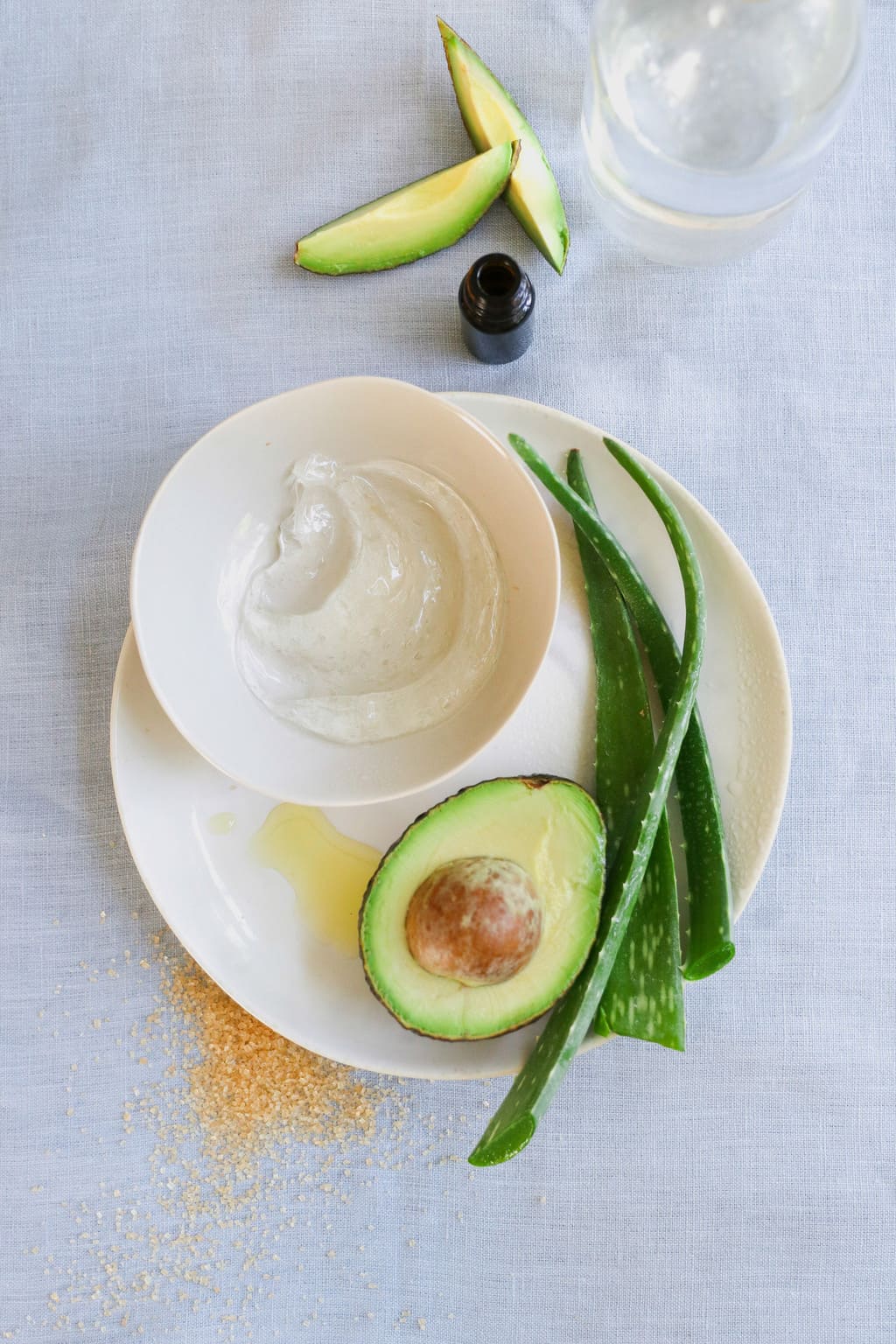 Benefits of Homemade Aloe Hair Gel
You may not realize it, but these hair care game changers have been hiding in your pantry this whole time.
Aloe
Aloe vera is amazing for both hair and scalp. Studies show that aloe may help reduce the inflammation that leads to dandruff [source].
It's said to cleanse the hair shaft [source], leaving hair feeling softer and shinier. And it contains vitamins A, C, E, and fatty acids [source], which boost hair health and reduce breakage.
Avocado oil
The flesh of avocados is packed with a slew of vitamins, minerals, lipids, and antioxidants [source], which are vital for healthy hair. Plus, it's great for most hair types (even fine hair, like mine!) because it's lightweight and helps seal strands without weighing them down.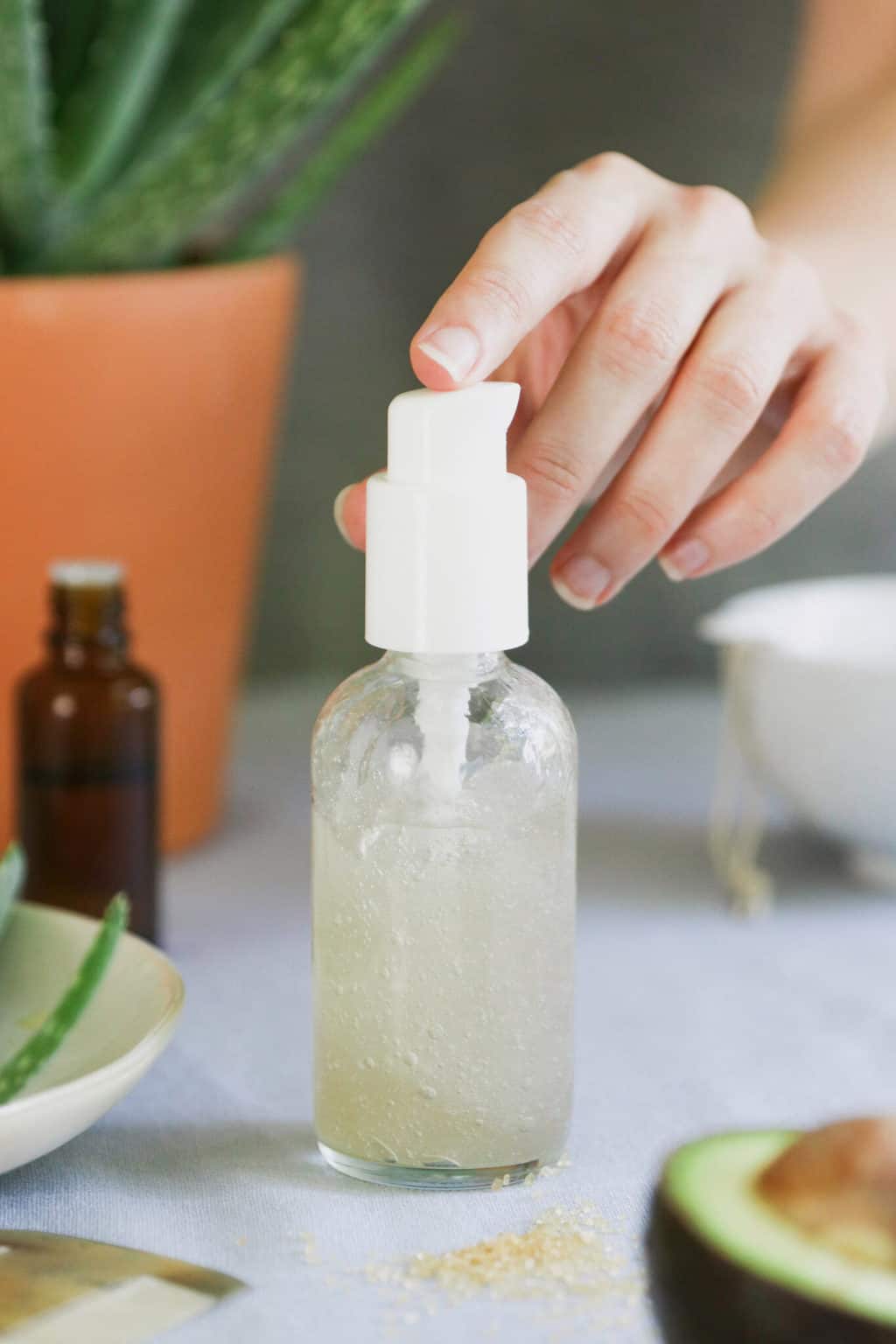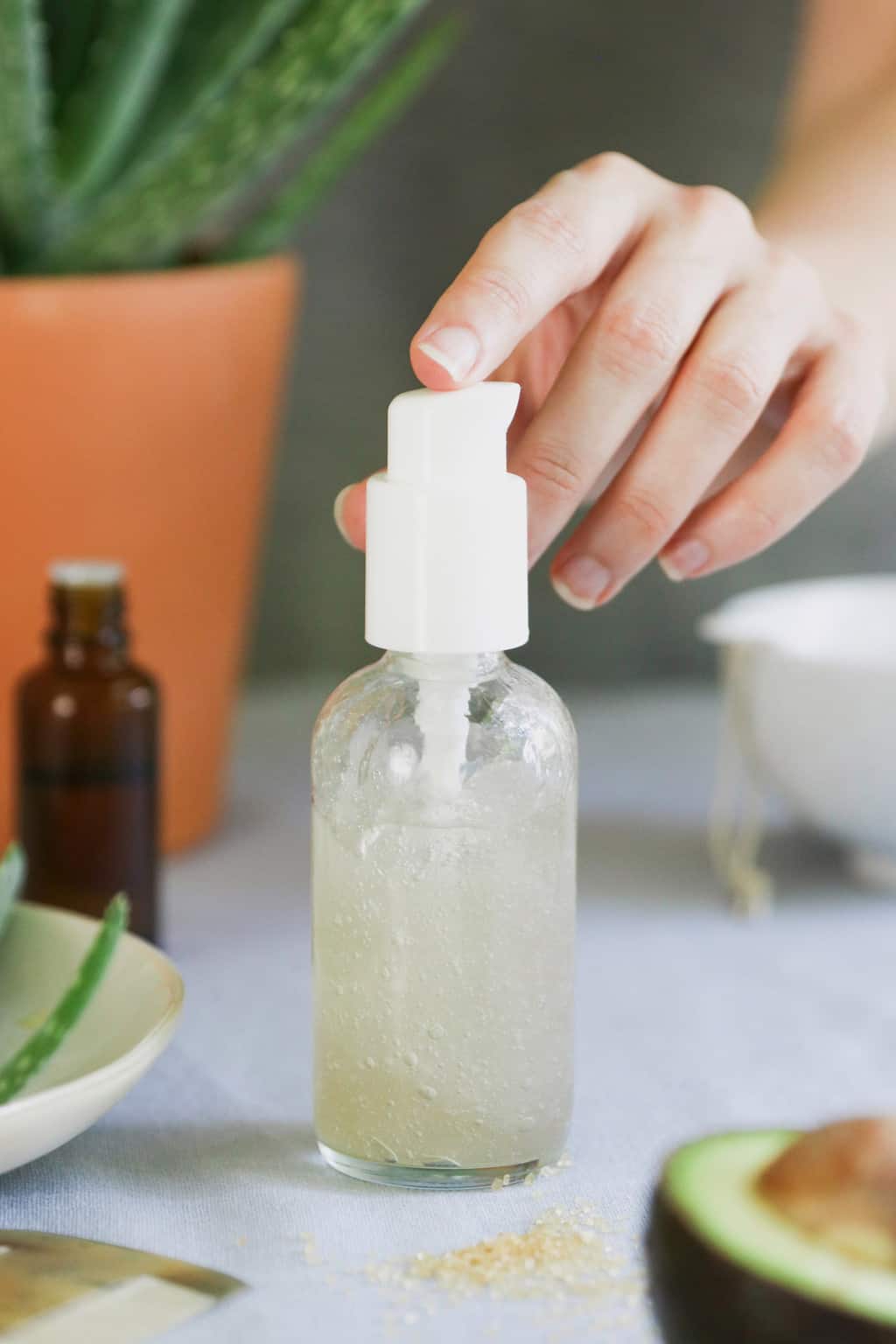 Rosemary essential oil
If you've ever wanted thicker hair (and let's be honest, most of us have, right?), look no further than rosemary essential oil. One 2015 study showed that rosemary oil was just as effective at preventing hair loss as minoxidil (Rogaine) after 6 months of use [source].
Not only that, but rosemary oil is antimicrobial and antibacterial [source], which means it may help tame the bacteria related to dandruff and other scalp inflammatory conditions.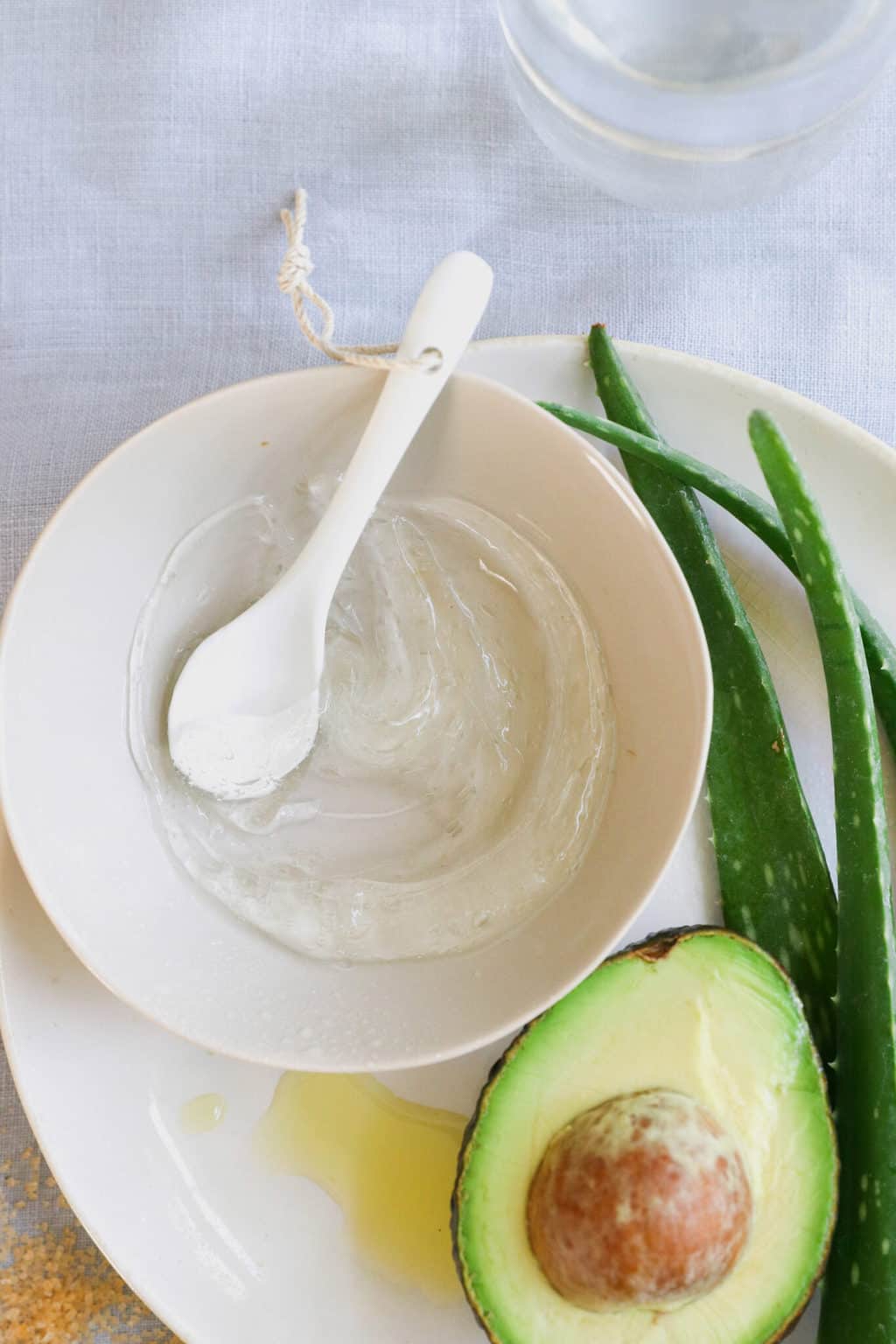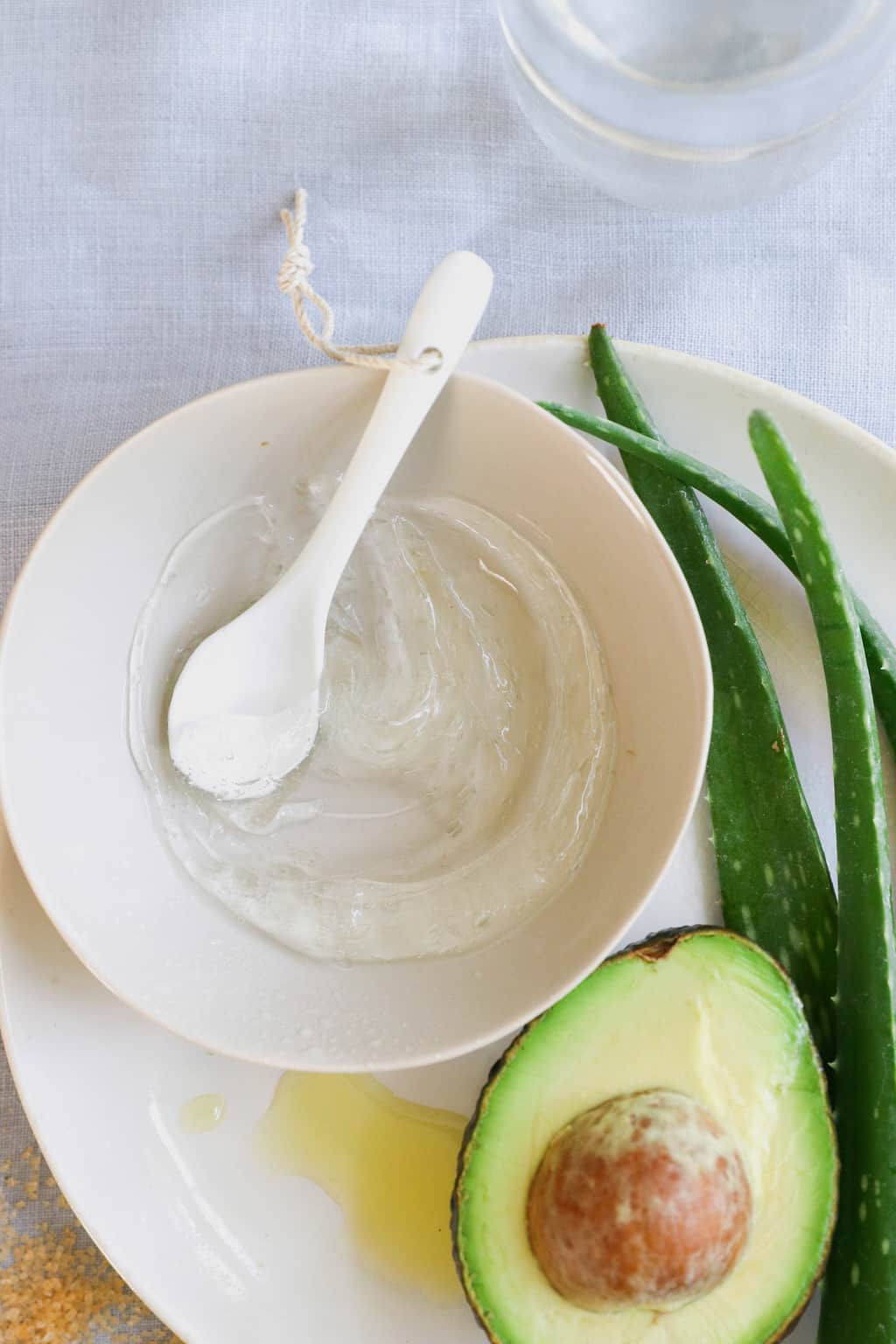 How to Make Aloe Hair Gel
Making a batch of hair gel takes a few minutes, but you might want to let it sit for an hour so it can come together before using it.
Ingredients
Instructions
Combine the water and sugar in a small bowl. Microwave for 30 seconds or until the sugar has dissolved. Let cool for several minutes.
Add the remaining ingredients and stir well. Transfer aloe hair gel to a glass jar or squeezable container.
Simply style your hair as you normally would. Your homemade hair gel can be used on wet or dry hair.
Because it contains water, you should store it in the refrigerator and use within 1–2 weeks. If you can't use it that quickly, halve or even quarter the recipe.
How to Customize the Hold of Homemade Hair Gel
I have thin, straight hair, so I don't need a ton of hold. But if you've got thick or wavy hair, you might need more oomph in your hair gel. This recipe can be customized to meet your needs by simply adding more sugar.
Here's a good rule of thumb for when it comes to getting the right hold in your hair gel:
Light hold: 1 tablespoon sugar per tablespoon of water
Medium hold: 1.5–2 tablespoons sugar per tablespoon of water
Heavy hold: 2.5–3 tablespoons sugar per tablespoon of water
It's best to start out with less sugar and test it out before adding more. You don't need to stick with the ratios here—you're free to add as little or as much sugar as needed to meet your needs.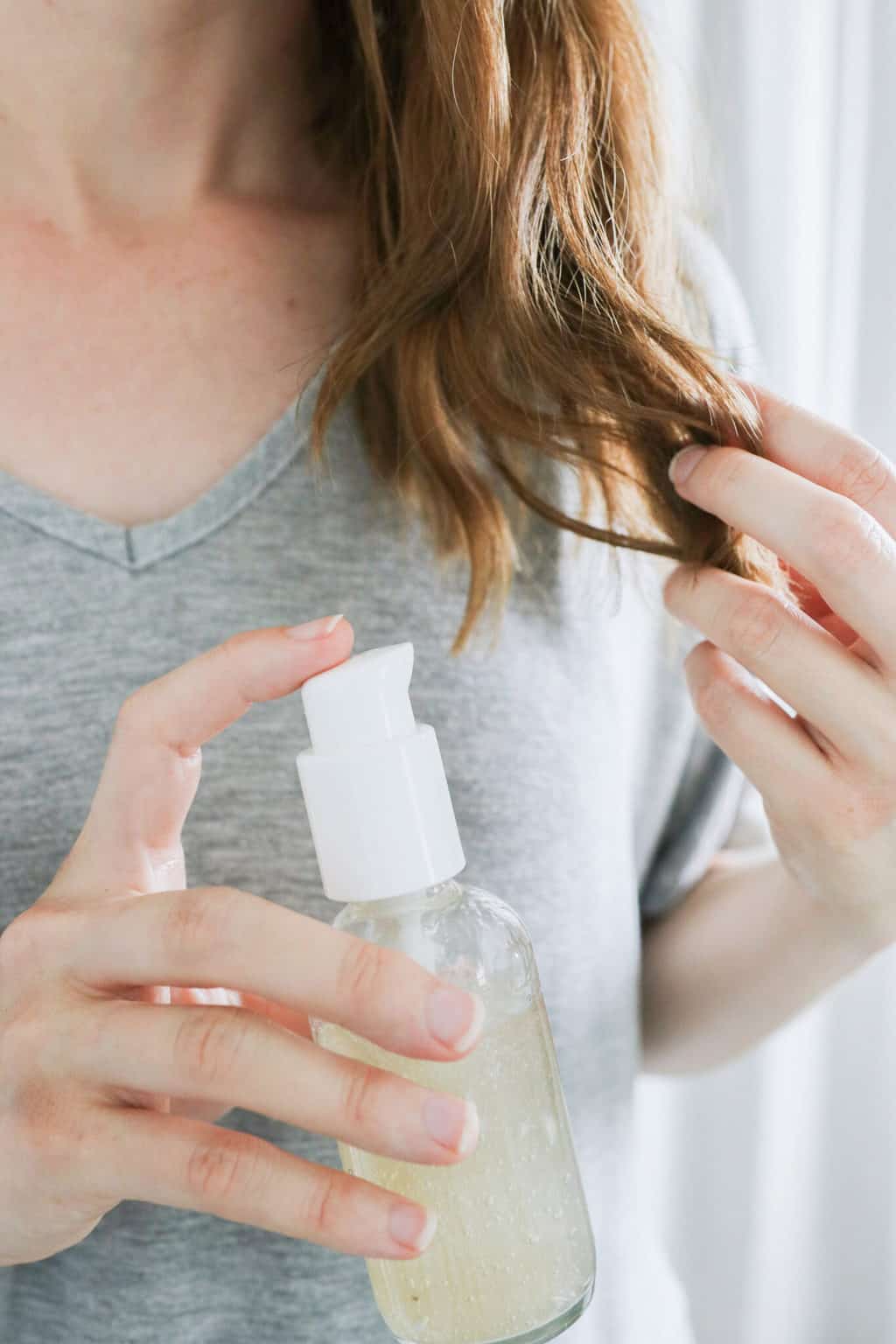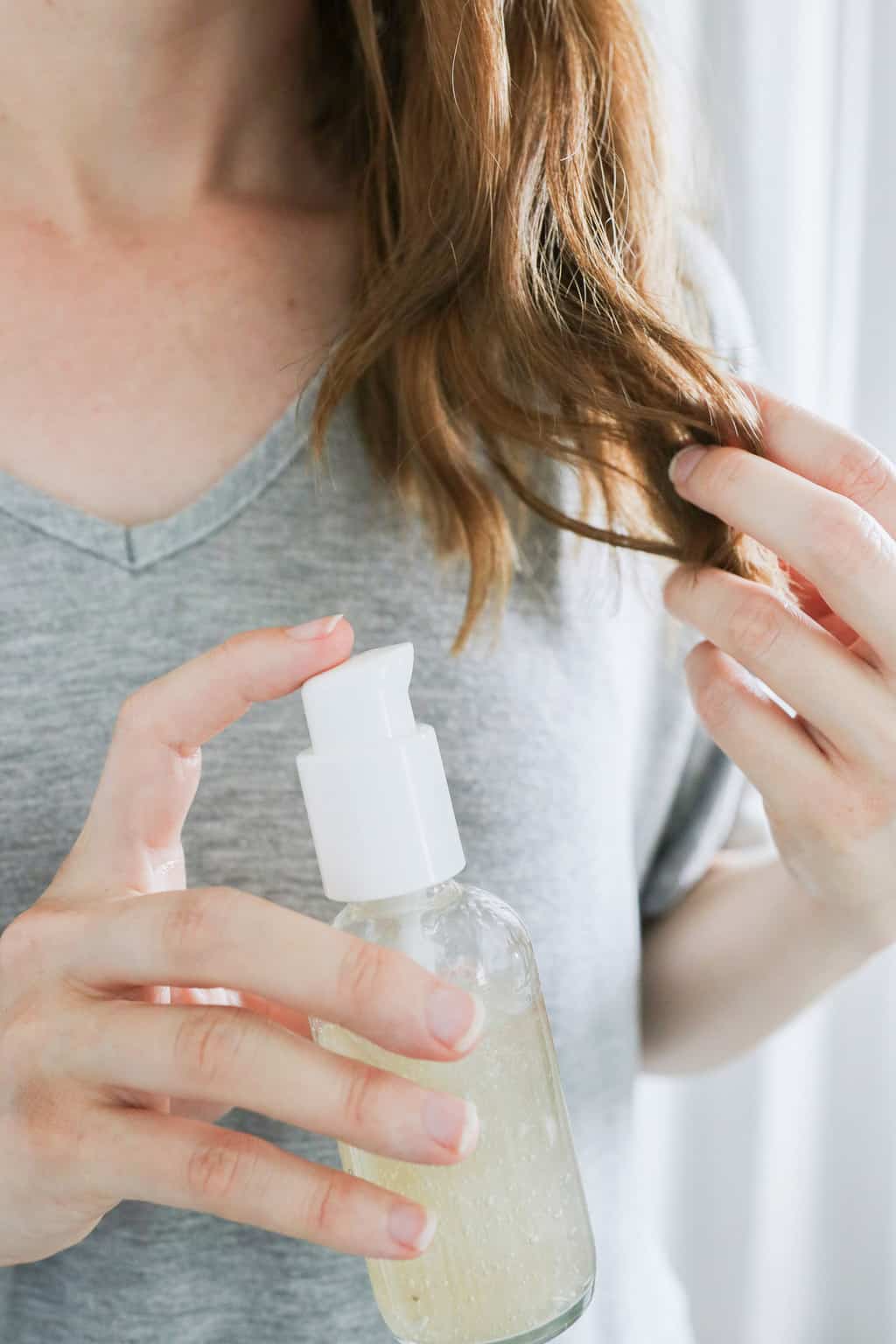 Hair Type Considerations
I hate to say it because I say this all the time, but you really need to tailor your homemade beauty products to meet your needs with a little trial and error.
Here's how to customize this hair gel for your particular hair type.
Fine or Limp Hair
If you find that your aloe hair gel recipe weighs down your locks, then cut down on the avocado oil or leave it out entirely.
Curly or Frizzy Hair
You might need a little more moisture and hold than most people. Try adding more sugar (I recommend up to 3 tablespoons, but you should add the sugar slowly and test it.) and avocado oil. Argan, coconut, and lavender oils are said to help soften the hair shaft and make frizzy hair look smoother and shinier.
Dry Hair
Avocado oil easily penetrates hair strands, helping to replenish moisture. If your hair is particularly dry, go ahead and add more avocado oil and a few extra drops of rosemary essential oil.
Thick Hair
Hair-soothing oils are key for thick hair, so try adding more avocado oil to boost shine and smooth dry ends.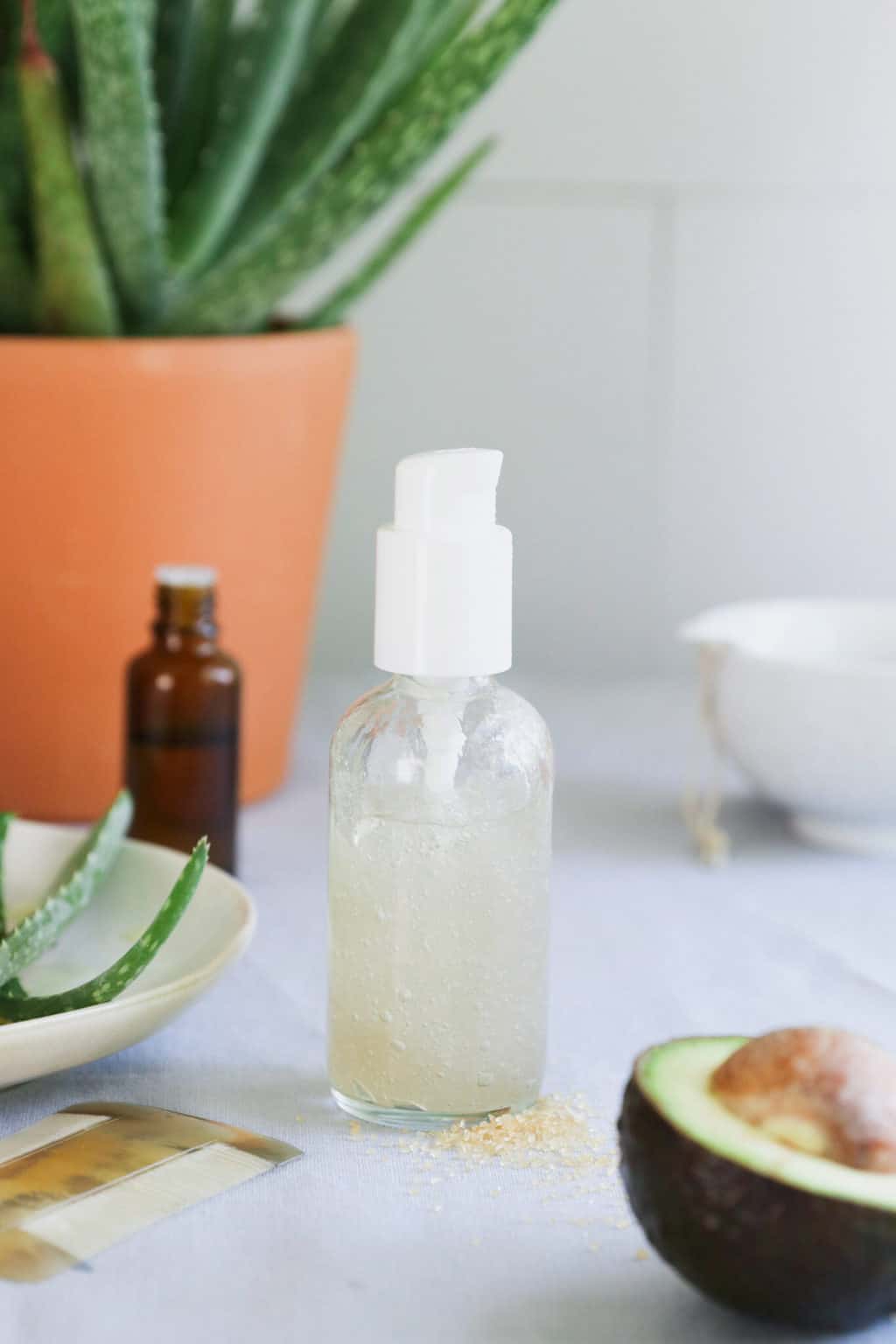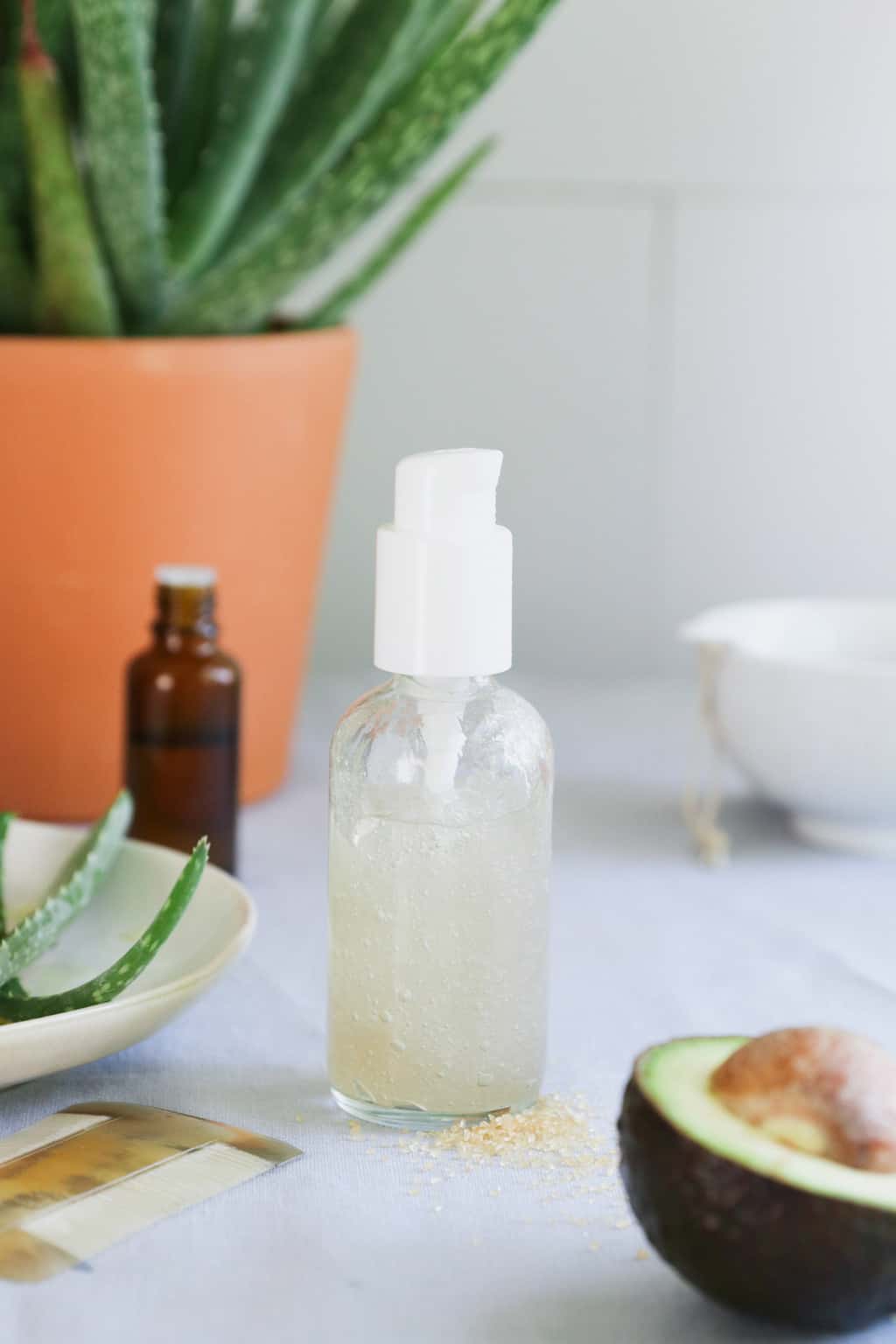 View this post on Instagram
This article was medically reviewed by Dr. Gina Jansheski, a licensed, board-certified physician who has been practicing for more than 20 years. Learn more about Hello Glow's medical reviewers here. As always, this is not personal medical advice and we recommend that you talk with your doctor.
6