When my husband and I moved into our first home, my mom gave us a Swiffer as a housewarming gift. Since our old apartment had grungy carpeting, I loved giving our wood floors a quick shine once or twice a week. I'd just stand back and marvel at how clean everything looked in our shiny, new house.
But it wasn't long before the solution made my eyes burn and I felt nauseous from the fake lemon-y scent. I even got so grossed out at one point that I'd crack a window and refuse to walk on wet floors right after I cleaned (in case the toxins might seep in through my feet). But even so, my love affair with sparkly floors continued until the day I ran out of cleaning pads. I just couldn't bring myself to buy more–so I tossed my Swiffer in the garage and quit mopping the floors altogether.
Then a year or so later, a friend mentioned that she'd started making her own Swiffer pads and solution. My ears perked up. Not only was it so much cheaper, but a mild scent and reusable cleaning pads? Definitely my cup of tea. I ventured into the garage, dusted off the ol' Swiffer, and whipped up some homemade solution.
And the rest is history.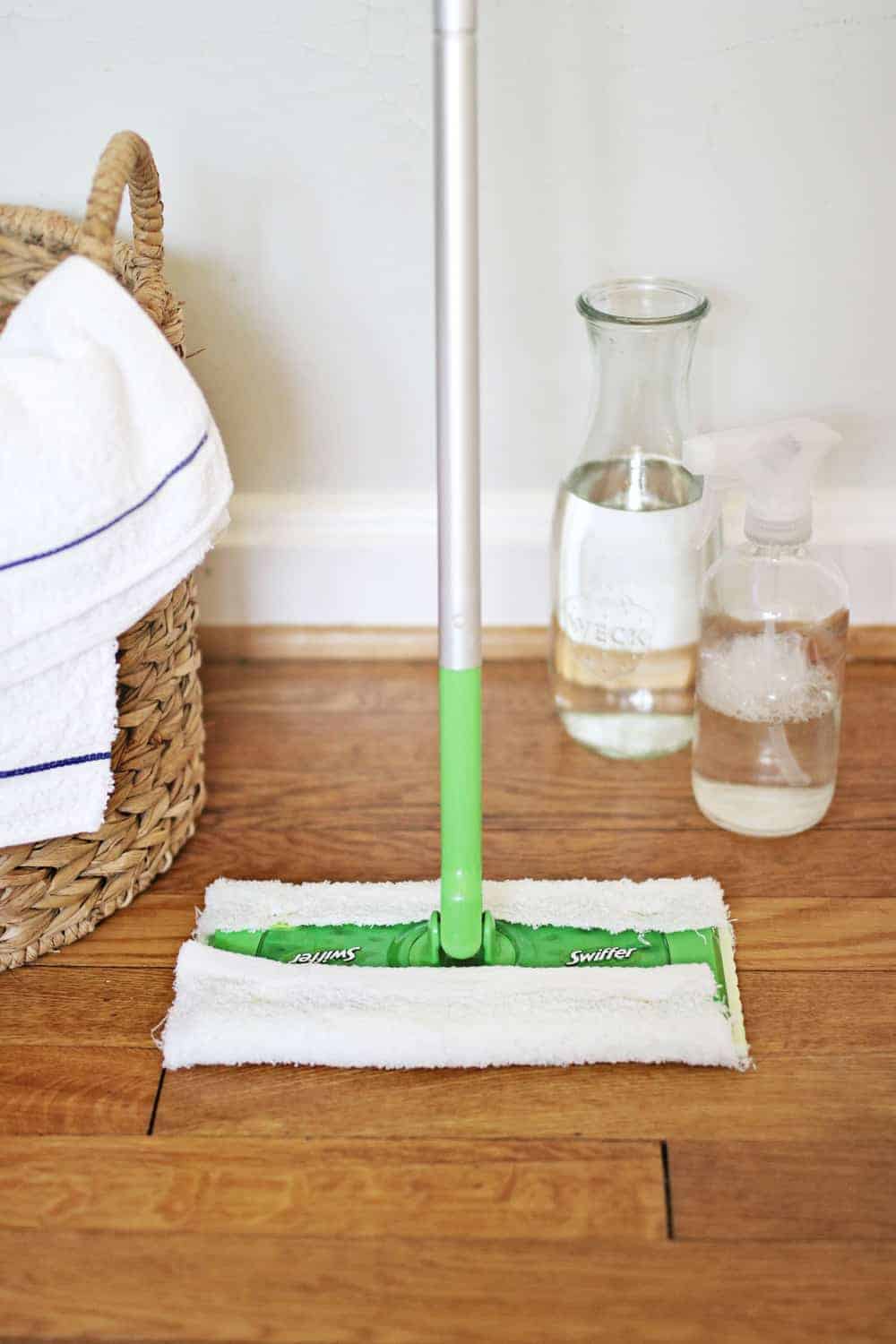 How to Make Your Own Swiffer Pads and Solution
I'm not sure this even really counts as a DIY, it's so simple, but you'll seriously wonder why you didn't start making your own refills sooner.
For the cleaner, all you really need is water and white vinegar. Add a dash of dish soap to de-grease the floors and some essential oils for scent and shine. Pour the solution over your reusable rags and go to town. When you're done, just toss the rag in the washing machine and use it again later.
Here's a video to show you exactly how to make it: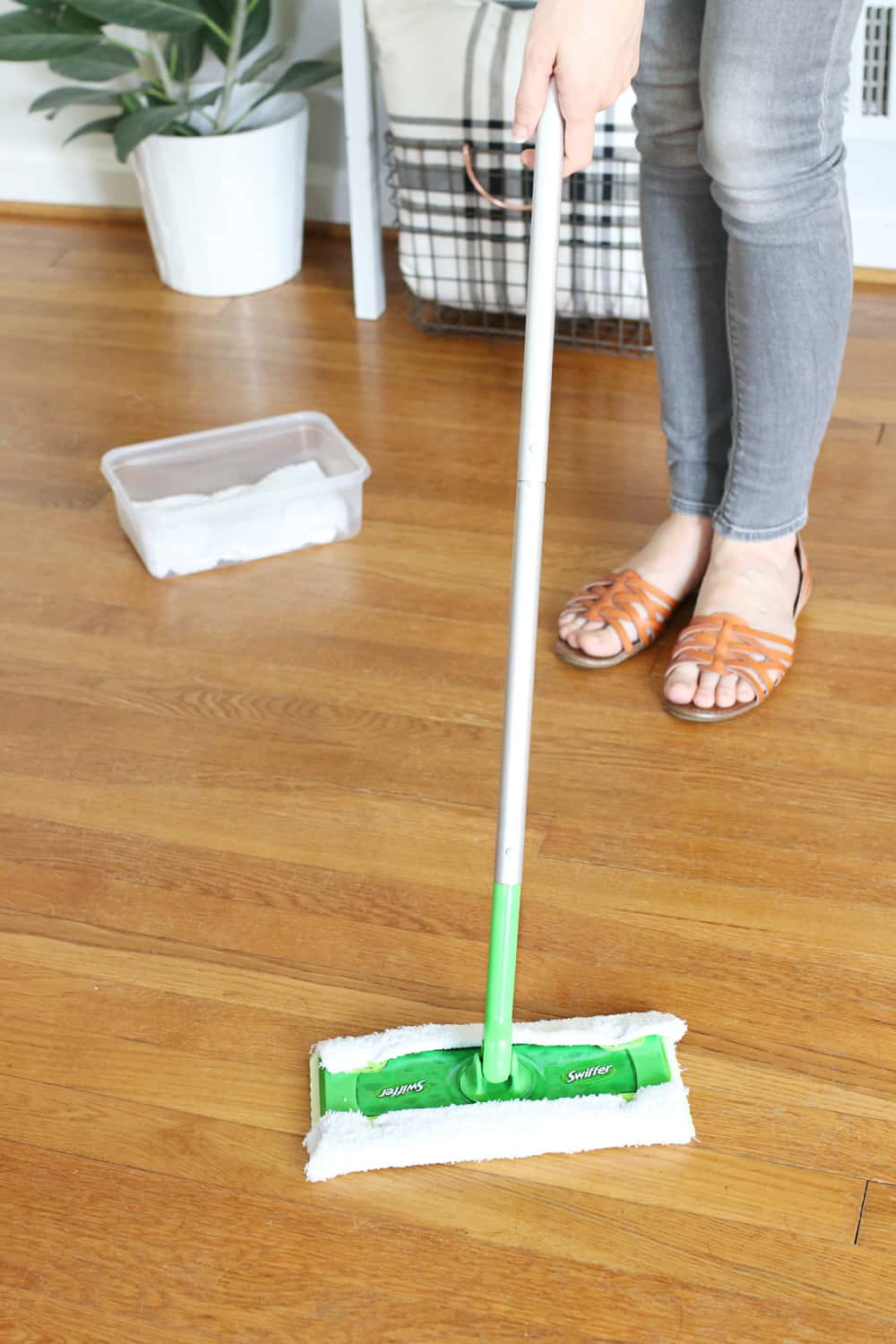 Since I have the Swiffer Sweeper, it's easy to just cut up a couple of old rags for the pads. But if you have the Wet Jet, I've heard of people using chenille socks instead of terry towels. Just slip one over the Swiffer's base and cut two small holes where the solution sprays out.
And speaking of solution, to refill the Wet Jet's bottle, submerge the cap in an inch of boiling water until the plastic softens (it should take about a minute). Then use your hands or a screw driver to gently pry off the cap. Refill the bottle with homemade solution and screw the cap back on. Voila!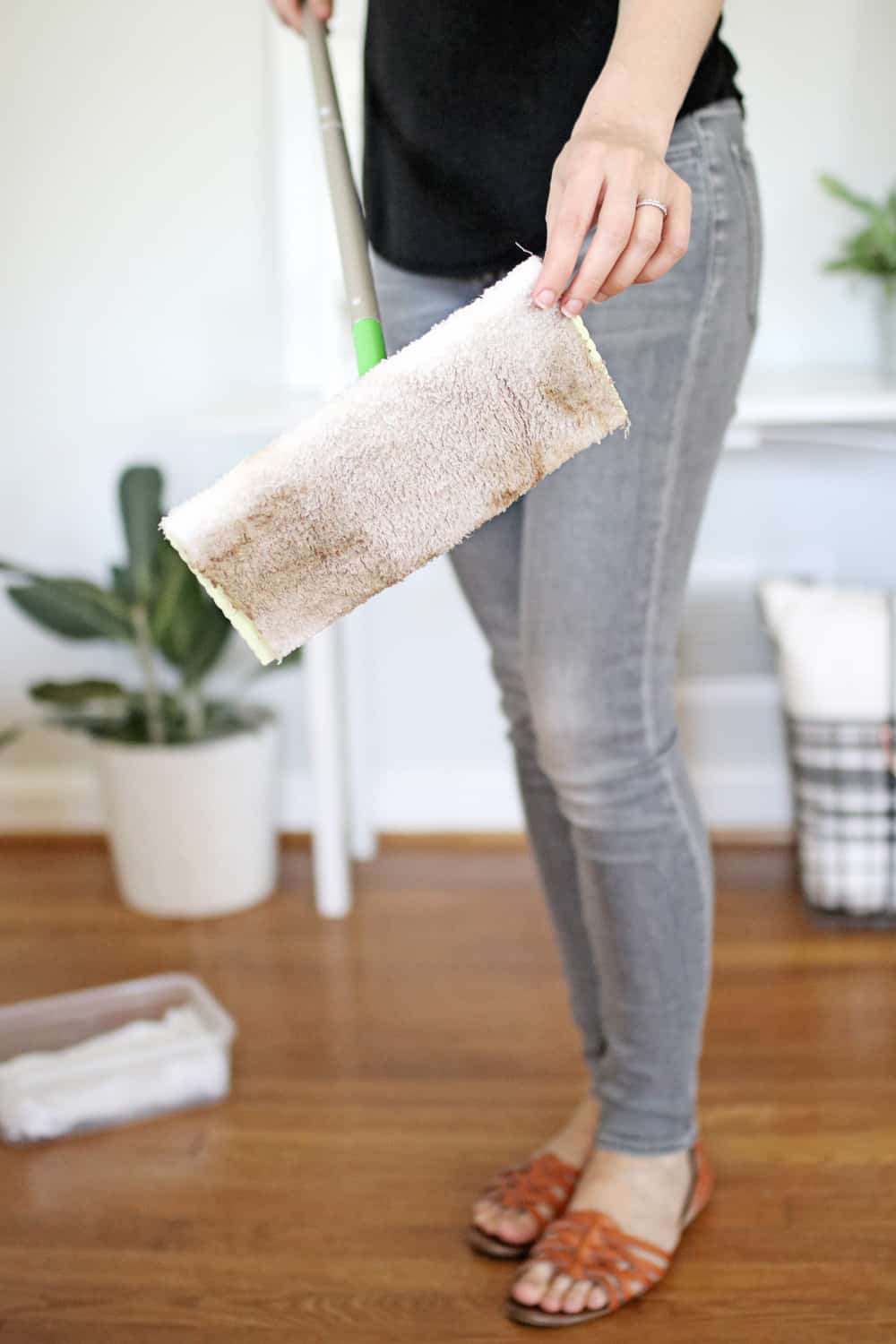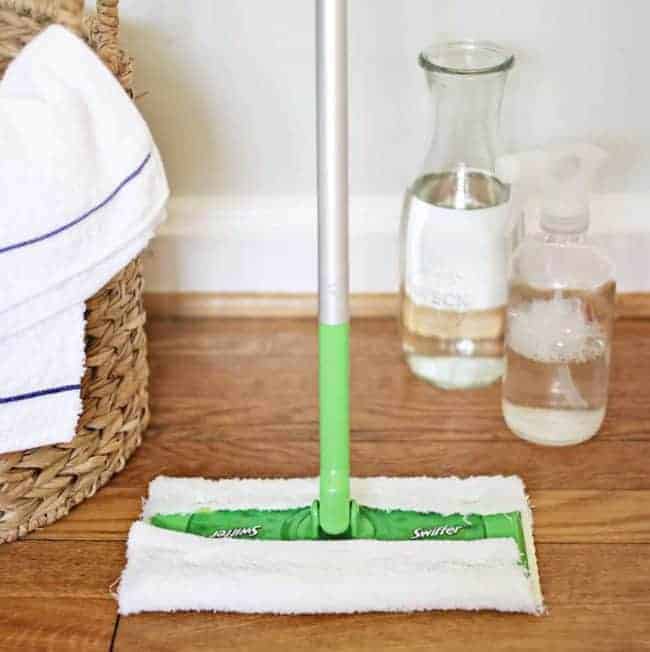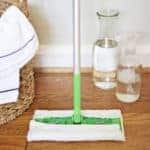 Print
DIY Swiffer Pads and Solution
We'll show you how to make your own reusable Swiffer pads for less than $10. Just wash 'em and reuse them when you're done.
Equipment
Plastic tupperware container

Scissors

Small bowl
Instructions
Trim dish towels to fit the base of your Swiffer. Fold towels and place in a plastic container.

In a small bowl, combine water, vinegar, dish soap and essential oils.

Pour solution over the towels.

Wash the floors as usual. When you're done, toss the cleaning pad into the washing machine and reuse.
Notes
Simply wash your Swiffer cloths after each use and put back in the solution until you're ready to use them again.
Make a fresh batch of solution every 1-2 months.
217