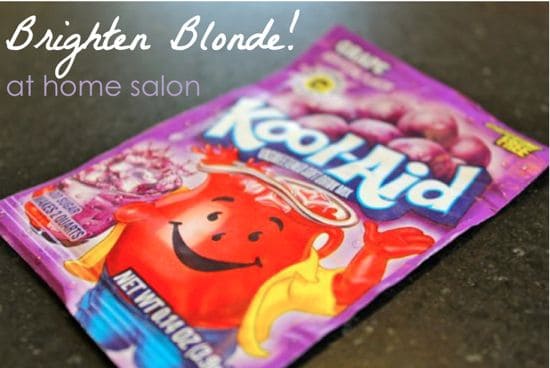 My hair took a beating at the beach. Salt, sand and sun add up to dry, dull hair. So I'm trying some cheap, easy at home tricks to brighten things up a bit.
My hair is very blonde – about as blonde as the poor color ladies can get it. (This seems to get harder and harder as I get older!)
I discovered in InStyle that products with purple tints keep it from turning brassy or fading too quickly. And guess what, you can brighten blonde with Kool Aid!
For an all-over boost: Add 1/4 tablespoon purple Kool-Aid powder to 4 tablespoons of shampoo. This is a ton of shampoo – way more than I'm guessing you usually use – so enjoy a big ol' lather. Rinse thoroughly. And rinse the tub too to make sure no purple remains
I am totally sold on this tip. Not a trace of purple remained and my hair looked nice and bright white!
277