My hair took a beating at the beach. Salt, sand, and sun add up to dry, dull hair. Blonde hair is especially prone to becoming dry, brittle, and brassy, thanks to the bleach—so I'm trying some cheap and easy at-home tricks to brighten things up a bit.
My hair is very blonde—about as blonde as the poor stylists at the salon can get it. This seems to get harder and harder as I get older! Did you know that gray hair is harder to color and bleach as it already has basically no pigment left in it? That's why it gets trickier and trickier to hide grays.
However, I don't have to let go of being blonde just yet—but sometimes, my hair definitely needs a brightening refresher between washes. I discovered in InStyle that products with purple tints keep blonde hair from turning brassy or fading too quickly. Sure, there are salon-brand purple shampoos and conditioners that you can buy, but there's always a DIY option.
And guess what? You can brighten blonde hair with Kool-Aid! Yes, that Kool-Aid—as in the Kool-Aid Man.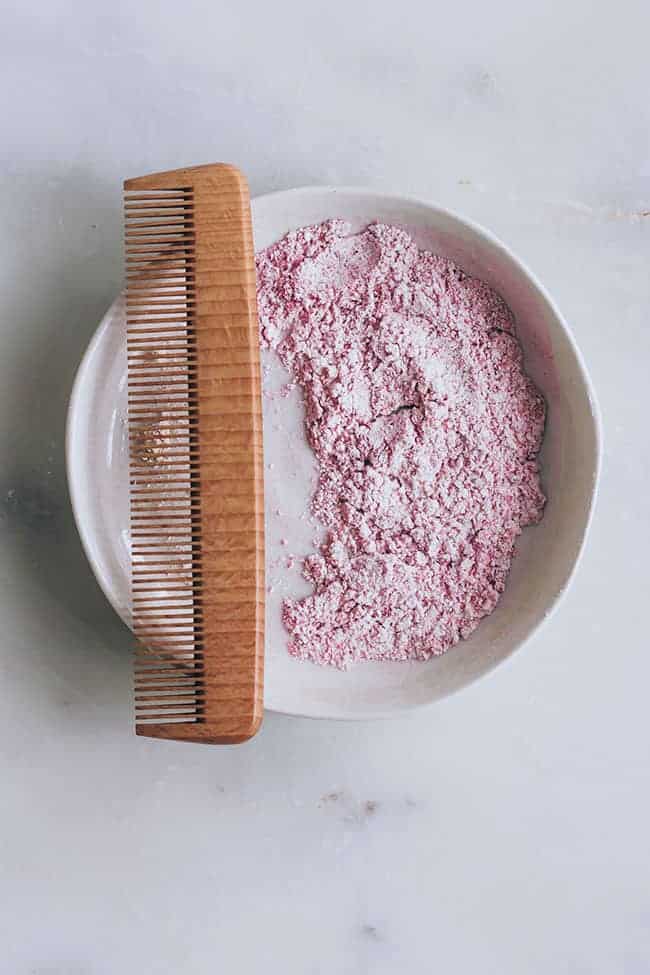 You can't just use any color Kool-Aid for obvious reasons, though. You need purple Kool-Aid (remember on the color wheel how yellow is directly across from purple?) to get the job done.
Using purple tones for hair that's perfectly icy blonde cancels out any brassiness that might be hanging around—just the way you want it! You might be thinking, "Well, then, why don't we use blue?" So let's go back to the color wheel.
Directly across from blue is orange—the kind of orange that basically only shows up on hair as flaming redhead hair. That's not the kind of color that we're looking to cancel out—if you are, then your hair stylist hasn't bleached your hair properly!
For an all-over boost:
Add ¼ tablespoon purple Kool-Aid powder to 4 tablespoons of shampoo. Make sure you mix it thoroughly so that the purple color affects your hair evenly.
Remember, we're not using Kool-Aid as hair dye here. It should be just purple enough to cancel out any super yellow tones but not enough to actually change your hair color.
This is a ton of shampoo—way more than I'm guessing you usually use—so enjoy a big ol' lather. Take time to massage it through all of your hair so that it's going to be evenly brighter and blonder.
Rinse thoroughly. And rinse the tub to make sure no purple stain remains!
I am totally sold on this tip. Not a trace of purple remained after I rinsed it out, and my hair looked nice and bright white! You can do this every month as needed—although you'll need appointments to do your roots in between unless you DIY those, too.
But it's a great way to keep your hair as blonde as possible without needing to head to the salon. Then, if your hair is still feeling dry from a little too much curling or salty air, you can always follow up with your favorite hair mask to make those locks super silky and sleek.
Not a blonde, but still looking for a color refresh? There are lots of ways you can get DIY natural highlights at home! You can also use an array of easy-to-find, natural ingredients like honey, lemon, and chamomile to get natural highlights.
Brightening Blonde with Kool-Aid FAQ
Will this shampoo turn my hair purple?
No, it shouldn't turn your hair purple. My bleached blonde hair is a bright, cool shade of platinum after using this DIY purple shampoo. Remember, you'll be mixing the Kool-Aid with a hefty measurement of shampoo—and you're using it to tone your blonde rather than to dye your hair. If you follow this recipe, the shampoo should be just purple enough to cancel out any super yellow tones without actually changing your hair color.
Will this purple shampoo work on gray hair?
This recipe is ideal for brightening up bleached or dyed blonde locks. As you may know (and I've struggled with this myself!), gray hair can be harder to color and bleach as it has basically no pigment left in it. That's why it gets trickier and trickier to hide grays.
That being said, this shampoo can still be useful in canceling out yellow tones if you have some gray mixed in with dyed or bleached blonde hair, so it's worth a try!
Will other flavors of Kool-Aid work in a pinch?
No, you'll definitely want to stick with purple (grape) Kool-Aid. Because the goal is to cancel out yellow tones in blonde hair—and it just so happens that yellow is directly across the color wheel from purple—your best choice is purple, which is why you'll find so many purple shampoos and conditioners at drugstores and salons.
View this post on Instagram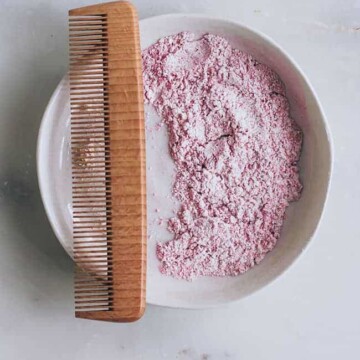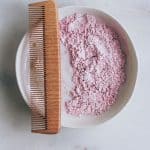 Print
How to Brighten Blonde with Kool-Aid
This DIY alternative to salon-brand purple shampoos helps brighten blonde hair and reduce brassiness with the help of Kool-Aid! 
Materials
¼

tablespoon

purple (grape) Kool-Aid

4

tablespoon

shampoo
Instructions
Combine Kool-Aid and shampoo in a bowl and stir to mix thoroughly.

Take time to massage the shampoo through your hair so that it's distributed evenly and is able to fully saturate hair for even toning.

Rinse thoroughly and style as usual—and rinse the tub to make sure no purple remains!
Notes
You can use this DIY purple shampoo every month as needed between appointments at the salon for root touch-ups. For extra conditioning after shampooing, follow up with your favorite hair mask to make your freshly toned locks extra silky and sleek.
389