One of the greatest pleasures in the summer is sinking your teeth into a ripe, red strawberry, or a tart and juicy peach. Summer fruits are terrific on their own, but taste amazing as a toast topping, too.
Have you ever tried it? This fresh fruit toast is a simple and satisfying way to give your breakfast a little bit of flair.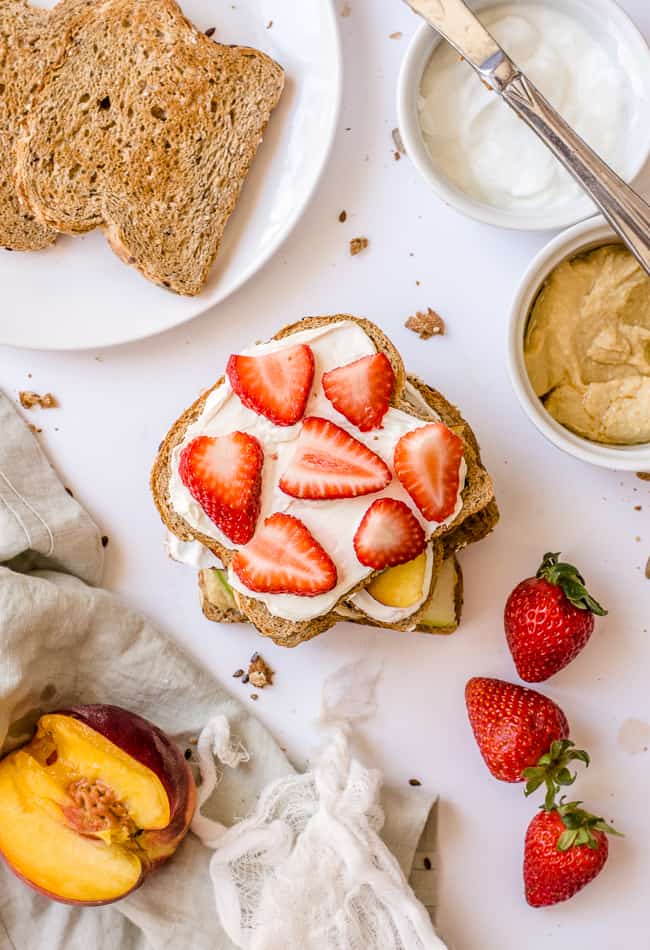 These four variations give you a balanced breakfast that will rev up your metabolism too. You might remember from previous posts that the perfect formula for keeping your metabolism humming is pairing whole grain carbs + protein or healthy fats + fruits or vegetables.
These 4 fruit toast recipes all stick to that formula and they are totally effortless to make–because we all need something easy in the morning… And you know what? Kids will love them, too. That's always a win if you ask me.
Metabolism-Boosting Fruit Toast Combos
Cream cheese and strawberries are rich with antioxidants and calcium, making it an excellent everyday staple. Sprinkle a little cinnamon over the top for even more metabolism-revving power and to add a little spice to your breakfast.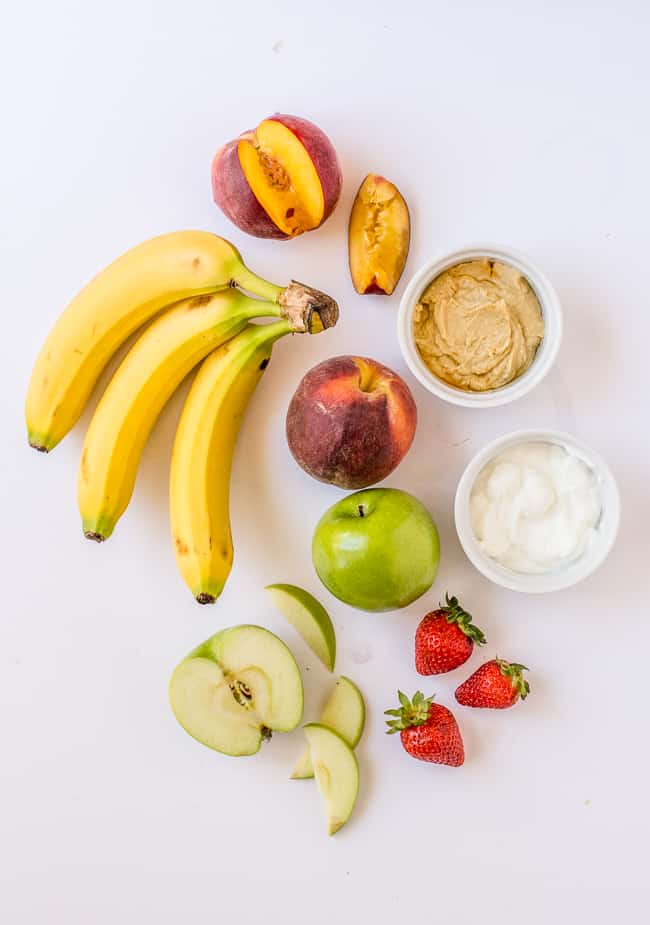 I personally love the almond butter and banana combination. The sweetness of the bananas balances with the nutty almond butter flavor, and it's a great source of potassium to keep your muscles strong and maintain your body's fluid balance on hot summer days.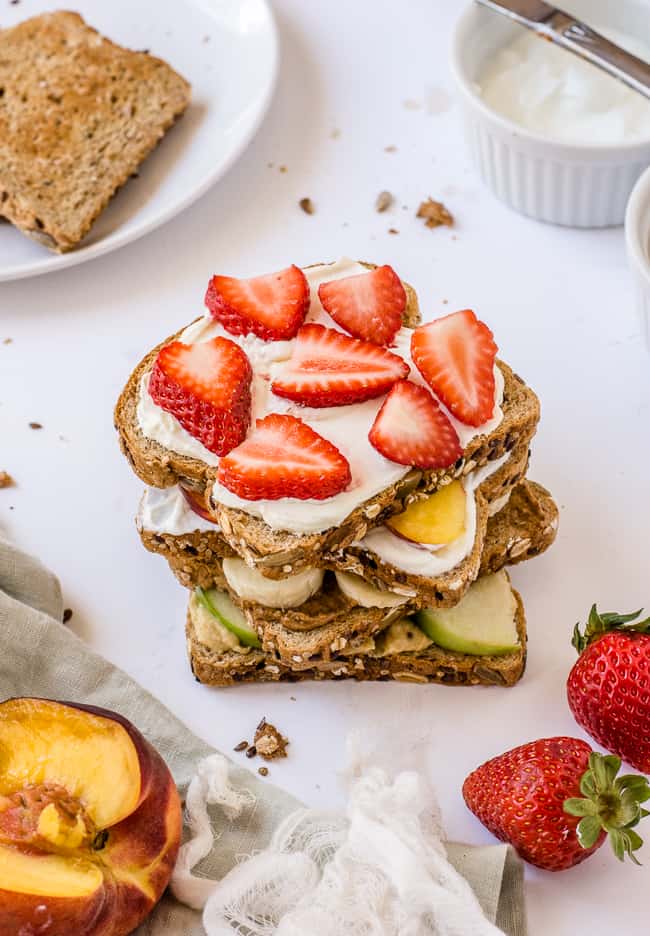 Did you know that green apples and hummus are actually a killer flavor combo? Don't knock it until you try it! And think about how much Vitamin C you get with every bite! (If you're making your hummus from scratch, don't be afraid to get a little heavy-handed with the lemon—it's the secret to delicious hummus! Trust me.)
Also, don't just keep your peaches and Greek yogurt limited to a bowl; smear that goodness on a crunchy piece of whole grain toast! The protein, fiber, and probiotics in each bite keep you satisfied all morning, and help maintain excellent gut health. Greek yogurt is my go-to breakfast staple because it keeps me full for hours. And serving it on toast is a great way to change it up.
Elevate your breakfast with these simple fresh fruit toast ideas that take under five minutes to make. You'll be so happy you did!
Want even more healthy toast combos? You'll find our favorites here and here.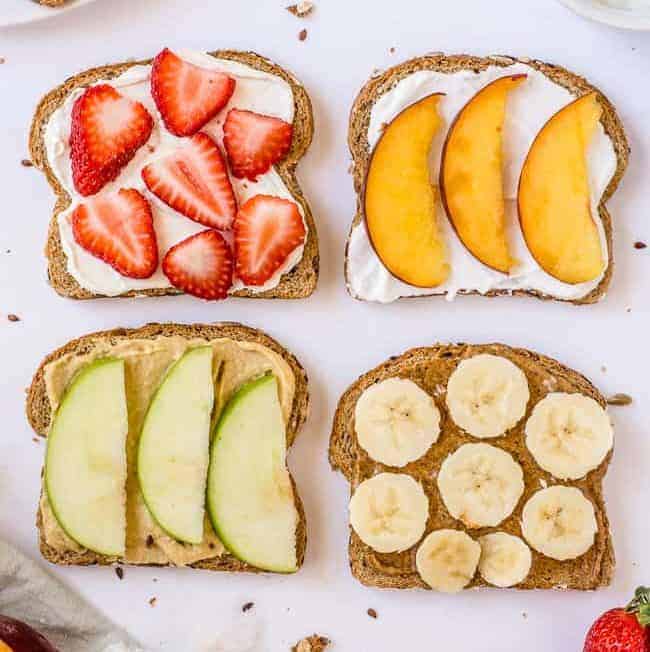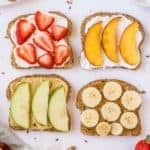 Print Recipe
4 Metabolism-Boosting Fruit Toast Recipes
The combination of whole grain bread, fat or protein, and fresh fruit gives your metabolism a jump-start.
Ingredients
Strawberry + Cream Cheese
1

slice

whole grain bread

2

tablespoons

cream cheese

2

strawberries

sliced
Peach + Yogurt
1

slice

whole grain bread

2

tablespoons

plain Greek yogurt

1/2

peach

sliced
Apple + Hummus
1

slice

whole grain bread

2

tablespoons

hummus

1/2

green apple sliced
Banana + Almond Butter
1

slice

whole grain bread

2

tablespoons

almond butter

1/2

banana

sliced
Instructions
Top toast with the spread and fresh fruit.
142