One of the greatest pleasures in the summer is sinking your teeth into a ripe, red strawberry, or a tart and juicy peach. Summer fruits are terrific on their own, but taste amazing as a toast topping, too.
Have you ever tried it? This fresh fruit toast is a simple and satisfying way to give your breakfast a little bit of flair.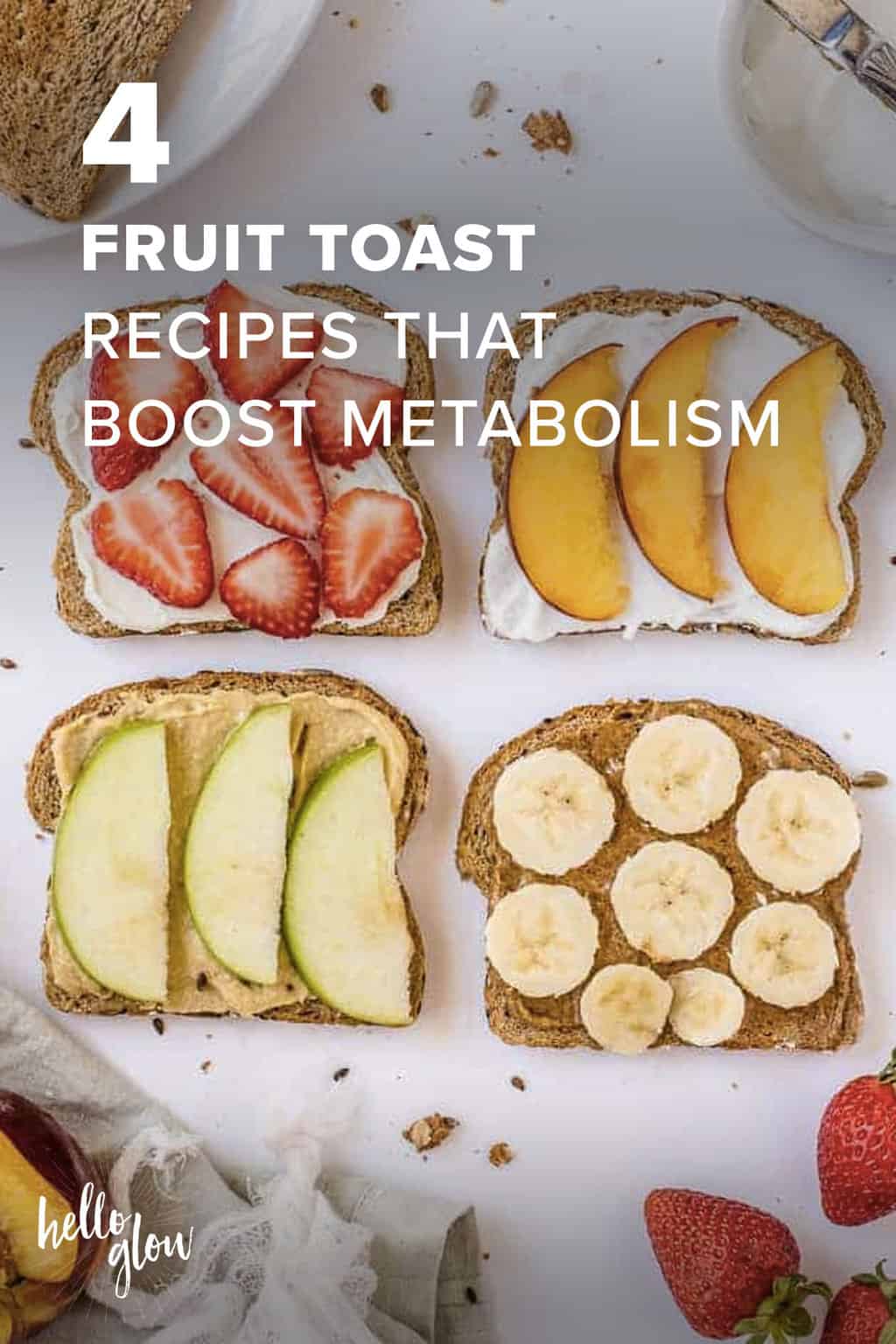 Metabolism-Boosting Fruit Toast Combos
These four variations give you a balanced breakfast that will rev up your metabolism too. You might remember from previous posts that the perfect formula for keeping your metabolism humming is pairing whole grain carbs + protein or healthy fats + fruits or vegetables.
These 4 fruit toast recipes all stick to that formula and they are totally effortless to make--because we all need something easy in the morning... And you know what? Kids will love them, too. That's always a win if you ask me.
Strawberries + cream cheese
Cream cheese and strawberries are rich with antioxidants and calcium, making it an excellent everyday staple. Sprinkle a little cinnamon over the top for even more metabolism-revving power and to add a little spice to your breakfast.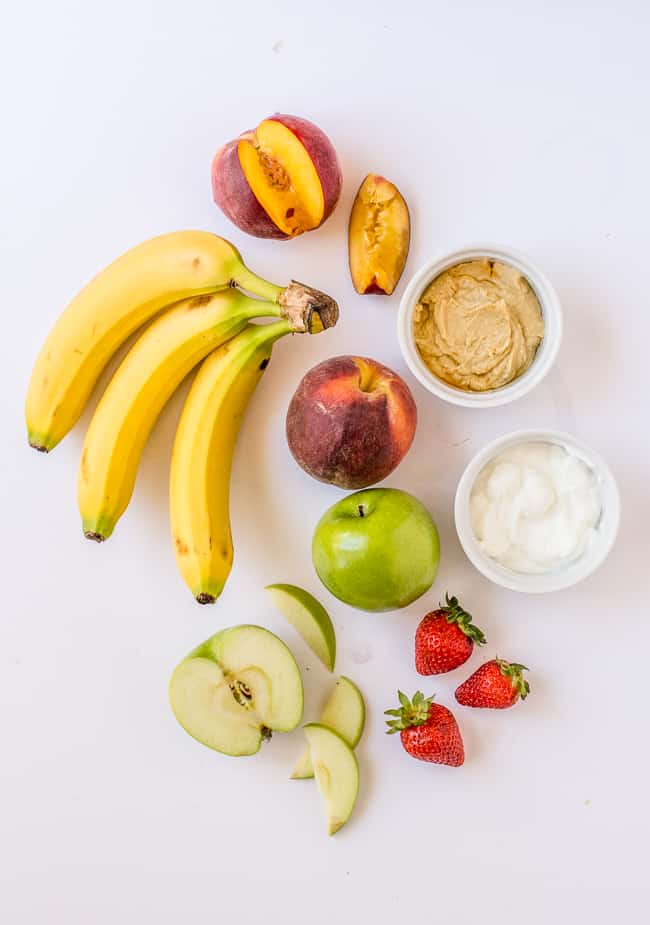 Almond Butter + Banana
I personally love the almond butter and banana combination. The sweetness of the bananas balances with the nutty almond butter flavor, and it's a great source of potassium to keep your muscles strong and maintain your body's fluid balance on hot summer days.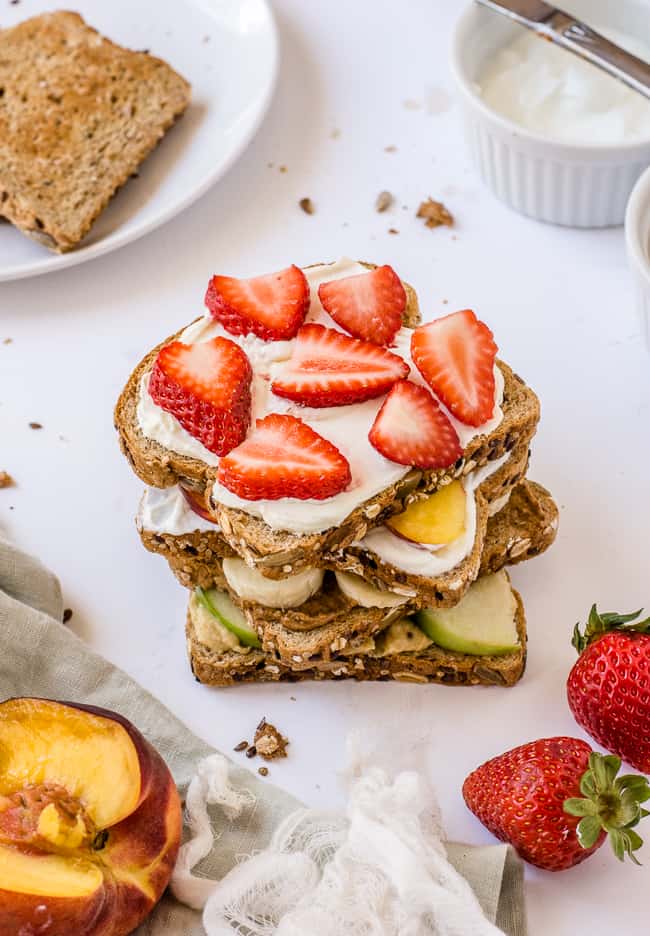 Green apple + hummus
Did you know that green apples and hummus are actually a killer flavor combo? Don't knock it until you try it! And think about how much Vitamin C you get with every bite!
(If you're making your hummus from scratch, don't be afraid to get a little heavy-handed with the lemon—it's the secret to delicious hummus! Trust me.)
Peaches + yogurt
Also, don't just keep your peaches and Greek yogurt limited to a bowl; smear that goodness on a crunchy piece of whole grain toast! The protein, fiber, and probiotics in each bite keep you satisfied all morning, and help maintain excellent gut health.
Greek yogurt is my go-to breakfast staple because it keeps me full for hours. And serving it on toast is a great way to change it up.
Elevate your breakfast with these simple fresh fruit toast ideas that take under five minutes to make. You'll be so happy you did!
10 More Easy Ingredient Combos to Upgrade Toast
Even though you can throw on whatever you please, sometimes you need a little inspiration and that's where this list comes in. Here are some of my favorites:
1. Banana + Almond Butter + Chia Seeds
Between the almond butter and chia seeds, this toast delivers the protein, fiber and healthy fats you need to fuel your morning.
2. Apples + Pecans + Gorgonzola + Honey
Salty cheese is balanced out by the sweetness of apples and honey--with chopped pecans added for a bit of crunch.
3. Brie + Strawberries + Balsamic Vinegar
Balsamic vinegar is so good when paired with berries. If you have the time, roast the strawberries first and sprinkle some freshly ground pepper over the toast before serving.
4. Butter + Radishes + Sea Salt
This combination has been everywhere lately, and with good reason: it's simple and delicious.
5. Pesto + Parmesan Cheese + Walnuts
If you're craving something savory, this toast is sure to please.
6. Ricotta Cheese + Blueberries + Almonds + Honey
While this toast might taste like dessert, it's full of protein, fiber and antioxidants, so you can snack on it guilt-free.
7. Mashed Peas + Chopped Mint
Leftover veggies from last night's dinner make a fantastic topping for toast, especially when paired with fresh herbs.
8. Tomato + Avocado + Basil
We couldn't leave out avocado toast, could we? Heirloom tomatoes are in season for just a little while longer and this simple ingredient combination really lets them shine.
9. Cream Cheese + Berries + Basil
Basil adds a little bit of sophistication to the classic combination of berries and cream cheese.
10. Hummus + Walnuts + Pomegranate
This Mediterranean-inspired toast is perfect for an afternoon snack--it's filling enough to keep you satisfied, but not so filling that you won't have an appetite for dinner.
Want even more healthy toast combos? You'll find our favorites here.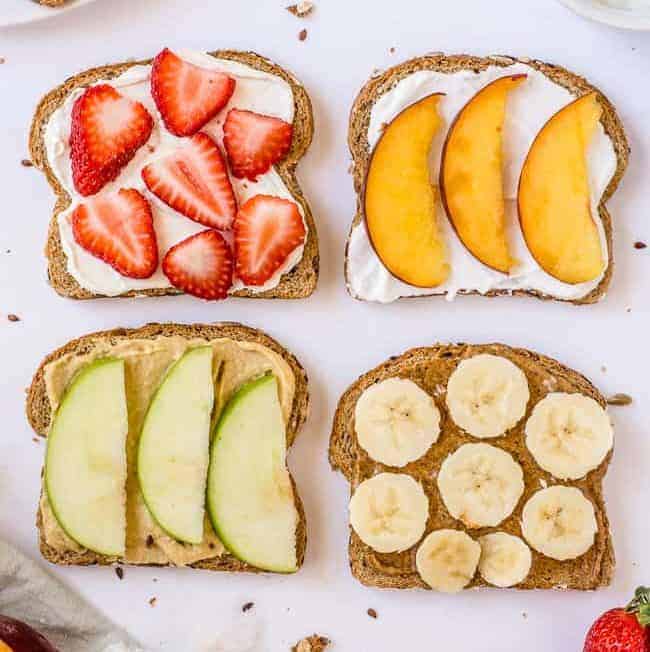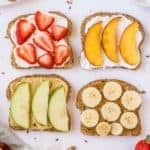 Print Recipe
4 Metabolism-Boosting Fruit Toast Recipes
The combination of whole grain bread, fat or protein, and fresh fruit gives your metabolism a jump-start.
Ingredients
Strawberry + Cream Cheese
1

slice

whole grain bread

2

tablespoons

cream cheese

2

strawberries

sliced
Peach + Yogurt
1

slice

whole grain bread

2

tablespoons

plain Greek yogurt

½

peach

sliced
Apple + Hummus
1

slice

whole grain bread

2

tablespoons

hummus

½

green apple sliced
Banana + Almond Butter
1

slice

whole grain bread

2

tablespoons

almond butter

½

banana

sliced
Instructions
Top toast with the spread and fresh fruit.
144