I have yet to find a mom who manages every morning with Zen-like calm. We all share the same complaint - mornings are hectic! Whether you're rushing out the door or helping get someone else out the door (or both!) having a healthy breakfast plan is a huge help.
Along with freezer smoothies, these frozen breakfast burritos are a fantastic way to start the day. And bonus! These burritos were made to eat on the go.

How to make a breakfast burrito
The beauty of breakfast burritos is that you can literally fill them with just about anything you want. Our family likes Southwest flavors, so here's the formula I used for each burrito:
Southwest style burritos
1 scrambled egg
¼ cup cheese
¼ to ½ cup filling (veggies, meat, etc)
a spoonful of salsa

More Burrito Filling Ideas
1. Sausage + potato + green chiles
2. Ham + tomato + cheddar
3. Bacon + swiss + spinach
4. Olives + veggies + mozzarella
5. Steak + peppers + onions
Lay out the fillings and each person can make their own, roll them up, wrap them, and store them in the freezer to pull out as needed. I layer the eggs first, followed by cheese, then the veggies/beans/meat, sauce, finishing with sprinkling of cilantro.

Tips + Tricks for Frozen Burritos
Don't add too much sauce or use ingredients that are too wet, or the burritos will be soggy.
Let all of the ingredients cool before assembling burritos.
Don't overfill the burrito.
Wrap it well to prevent freezer burn. I like waxed paper followed by aluminum foil or a resealable freezer bag.
Reheat in microwave or oven. Remove the waxed paper first if you use the oven. I tend to leave them wrapped in the waxed paper when microwaving so they don't dry out so much on the edges.
The paper also keeps them from going soggy. (Plastic wrap can lead to soggy burritos.) You could also use a pan on the stove to gently reheat, but there's a better chance of even reheating if you use the microwave or oven.
To make heartier burritos, start with ¼ cup cooked rice per tortilla, then layer with eggs and other fillings.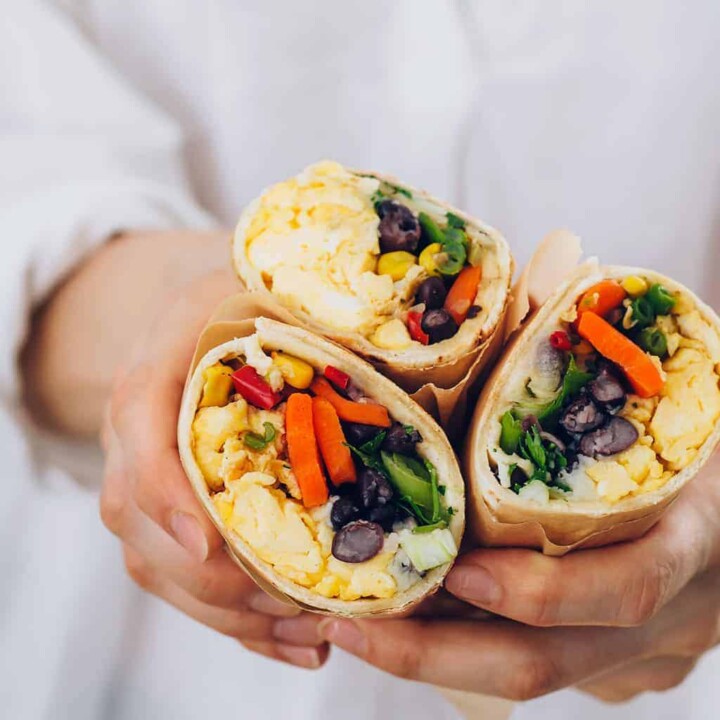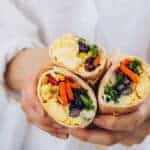 Print Recipe
Make Ahead Freezer Breakfast Burritos
Make these hearty burritos ahead of time for a week's worth of healthy breakfasts to eat on the go.
Ingredients
8

extra large flour tortillas

8

large eggs

scrambled

2

cups

shredded cheese

2 to 4

cups

sauteed diced veggies

sausage, ham, bacon, or a combination

½

cup

salsa

4

green onions

thinly sliced

Cilantro

optional
Instructions
Quickly warm each tortilla in the hot pan for about 30 seconds per side. Keep warm while assembling burritos.

Lay one burrito out on a flat surface. Place ⅛ of the eggs, followed by ¼ cup each cheese, desired amount of filling, ¼ to ½ cup, in the center of the tortilla, followed by a spoonful of salsa, sprinkling of green onions, and cilantro. Be sure to leave a border of empty space around the edge.

To roll, fold both right and left sides towards the middle, then fold over the edge closest to you. Tuck it in gently, but firmly, around the filling. Continue to roll, holding the tortilla firmly, but being careful not to tear it. Wrap securely with waxed paper (or plastic wrap).

Repeat with remaining tortillas and filling. Wrap the burritos in foil, if desired, or place in a resealable plastic bag, and place in freezer.

To reheat - remove foil and plastic wrap. If using a microwave oven, place burrito on a plate and heat for 1-2 minutes on full power, turning the burrito over halfway through for even heating. Can also be reheated in an toaster or traditional oven.
Notes
Other filling combos: (all with eggs)sausage + potato + green chilesham + tomato + cheddarbacon + swiss + spinachOlives + veggies + mozzarellasteak + peppers + onionsNote - can add ¼ cooked rice to each one for a heartier burrito
Photos by Ana-Maria Stanciu
83