The versatility of clay has made it a mainstay in DIY beauty recipes—both now and in ancient cultures [source]. Clay has been used for medicinal purposes such as detoxifying the body and easing digestive issues [source], but today we are going to focus on the therapeutic and cosmetic benefits for skin.
What is clay?
Clay is a naturally occurring substance rich in minerals like magnesium, calcium, iron, silica, and potassium [source], and it can be found in volcanic ash, sediment, and soil. Clay can be found in a number of products, from cleansers to face masks to athlete's foot treatments.
Homemade clay masks can be a great way to pamper your skin at home. Clay masks are especially beneficial for people with oily skin or those who are prone to acne. However, choosing the right clay for your skin type is crucial to avoid any skin irritation.
Clay has been used for centuries as a natural beauty ingredient due to its ability to absorb impurities and excess oil from the skin. Bentonite, French green, and kaolin clay are some of the most popular types of clay used in skincare, each with their unique properties suitable for different skin types.
Bentonite clay is a highly absorbent clay that's perfect for oily and acne-prone skin types. Its powerful absorption properties help to draw out impurities and excess oil, unclogging pores and preventing breakouts. It's also effective in reducing inflammation and soothing irritated skin.
French green clay, also known as sea clay, is suitable for all skin types, especially oily and combination skin types. It contains a high concentration of minerals and is rich in antioxidants, making it effective in purifying and detoxifying the skin. It also has a toning effect on the skin, helping to improve texture and minimize the appearance of pores.
Kaolin clay, on the other hand, is a gentle clay that's perfect for sensitive and dry skin types. It's rich in minerals and has a soft, fine texture, making it ideal for gently exfoliating the skin without causing any irritation. It also helps to soothe and nourish the skin, leaving it feeling soft and supple.
What are the benefits of clay for skin?
Depending on the type of clay you use, clay masks can help pull out impurities from inside pores to treat acne [source], heal allergic skin reactions, ease the effects of sunburn, boost elasticity, and balance oil production. Clay has been shown to increase collagen production, which strengthens the structure underlying the skin [source].
It also has detoxifying properties that draw out impurities such as bacteria, viruses, toxins, and fungi. Some clays contain over 50 minerals! Just be sure never to use metal containers, spoons, or lids when storing or using clay as the metal will interfere with the clay's efficacy. Instead, use glass or wooden bowls and spoons.
What's the right clay for my skin type?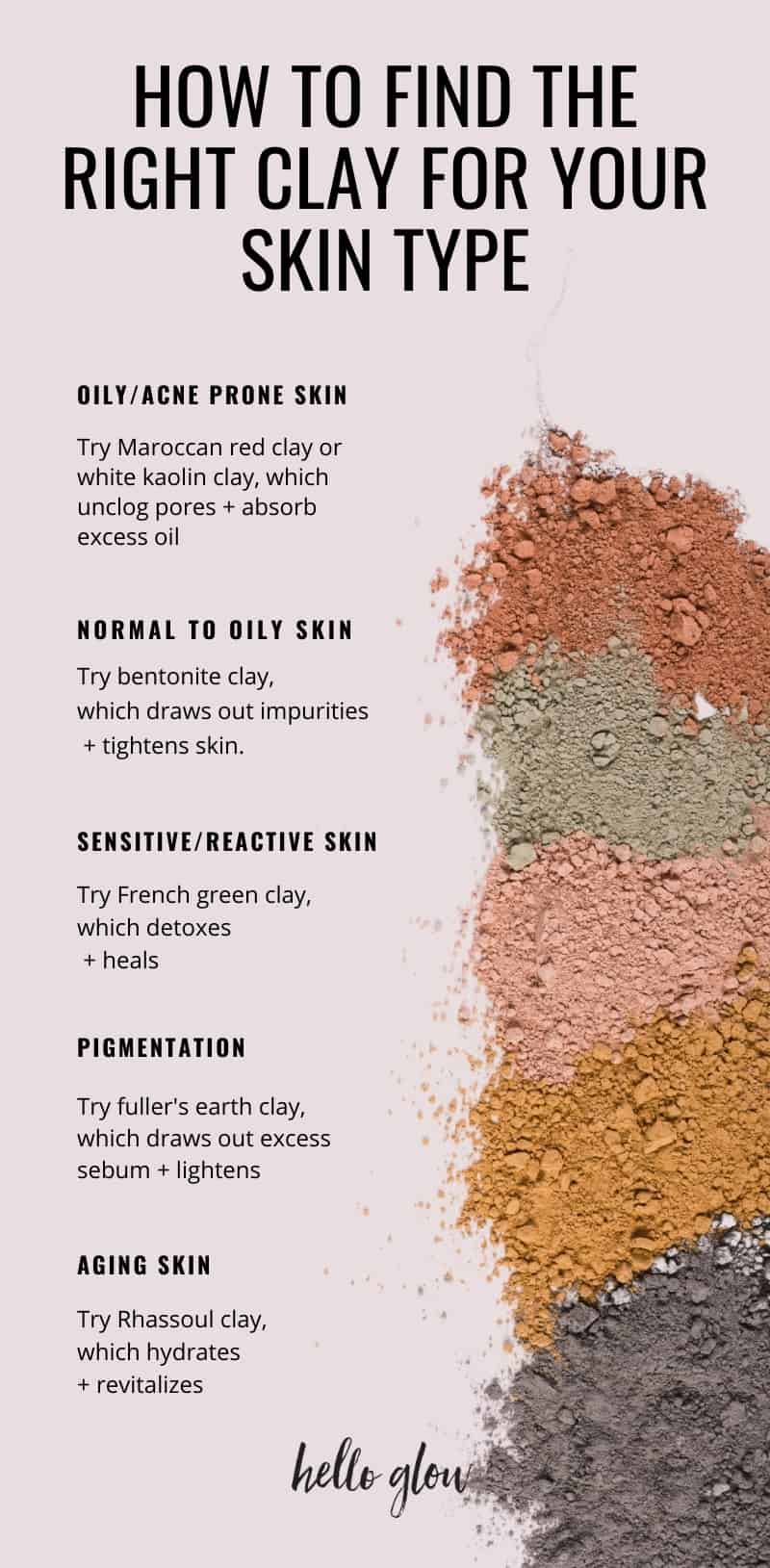 Oily or Acne Prone
Moroccan Red Clay and White Kaolin Clay are both ideal choices for balancing oily skin and unclogging pores. They absorb excess oil and are often used in recipes for deodorants and masks.
White Kaolin Clay is a very fine and light clay, mostly made up of the mineral kaolinite, and is common in many cosmetic products. Moroccan Red Clay is mined in the mountains of Morocco and deeply cleanses the pores while stimulating circulation, yet it's still gentle enough for sensitive skin.
Normal to Oily
Bentonite Clay, formed from volcanic ash, is the most widely used clay and perfect if you aren't quite sure which clay is right for you. It can absorb excess oil and tighten skin simultaneously.
Bentonite Clay also has healing properties internally and is often used to treat digestive issues [source]. Named from a large deposit found in Fort Benton, Wyoming [source], this clay can definitely serve double duty in your medicine cabinet. Bentonite clay's properties not only draw out the skin's impurities but also transfer the minerals to your skin in their place.
Sensitive or Reactive
French Green Clay, quarried originally in Southern France and then discovered elsewhere, is both detoxifying and healing. It's an illite clay that is known to remove metals, and it gets its green color from kelp and algae.
If your skin is suffering from a sunburn, allergic reaction, or a wound, this sea clay is the right choice due to its antibacterial [source] and anti-inflammatory properties believed to come from the plant matter in the clay [source].
Pigmentation
A sedimentary clay, Fuller's Earth has lightening properties for pigmented and aging skin. Due to its strength, Fuller's Earth can be combined with small amounts of Bentonite Clay.
Receiving its name from textile workers named "Fullers," who used this clay to remove oil from wool, this has become a choice clay for drawing out excess sebum and decolorizing (lightening) oil out of pores.
Aging
Rhassoul (or Ghassoul) Clay, not to be confused with Moroccan Red Clay, is rich in potassium, magnesium, calcium, and sodium. Mined in Eastern Morocco, Rhassoul Clay is found to have higher percentages of magnesium and silica, making it silky smooth and the first choice for luxury spa treatments.
For skin that is losing elasticity and needs deep exfoliation, Rhassoul Clay is the perfect ingredient to firm and revitalize. This clay is the most hydrating of the clays discussed here, as it swells when water is added, helping the skin retain moisture.
Irritated Skin
Moroccan rhassoul clay is the best clay. It has a slightly larger texture than most other clays, which makes it an excellent deep cleanser that can effectively remove impurities and dead skin cells. Rhassoul clay has amazing cleansing properties and can pull oil and excess oils from the skin. It also helps to restore balance to the skin tissue by improving blood circulation.
To make a clay mask using Moroccan rhassoul clay, mix one tablespoon of the clay with one tablespoon of apple cider vinegar. Add a few drops of Shea butter to the mixture, and apply it to your face. Leave the mask on for about 15 minutes before rinsing it off with warm water. The mask will have a light green color and a slightly gritty texture. If you have dark circles, add some iron oxide to the mixture to give the mask a pink shade. This homemade mask is a suitable additive for dull complexions, and other skin concerns. It is also ideal for people who use mineral makeup because it helps to unclog pores and absorb excess oils from the skin.
Easy Clay Mask Recipe for Any Skin Type
Once you've determined the right clay for your skin, you're halfway there. Mix equal parts clay with any of these options, typically 1–2 tablespoons is ideal for a one-time use mask:
Sensitive Skin - plain yogurt, water, or cooled chamomile tea. You can mix and match any or all of these into clay for a soothing mask.
Oily or Acne-Prone Skin - raw apple cider vinegar, witch hazel, or raw honey. Antibacterial and antimicrobial, these ingredients can help control oil and breakouts.
Dry or Aging Skin - rosehip seed oil, cooled green tea, or mashed avocado. These ingredient options nourish and hydrate, while still detoxifying.
Apply your clay mask for approximately 10 minutes, and then remove with warm water. Follow with your normal skincare routine.
No matter what your skin type, there is a clay for you! Have you discovered your favorite use for clay? We would love to hear about it in the comments.
This post was medically reviewed by Dr. Jennifer Haley, a board-certified dermatologist with extensive experience in medical, cosmetic, and surgical dermatology. Learn more about Hello Glow's medical review board here. As always, this is not personal medical advice, and we recommend that you talk with your doctor.
371