After reading that Jennifer Aniston starts her day with a smoothie with chocolate, cherries and collagen, my immediate thought was: I need that recipe! That woman seriously does.not.age, am I right? If it helps the world's most beauty woman (according to People magazine) glow from the inside out, then sign me up.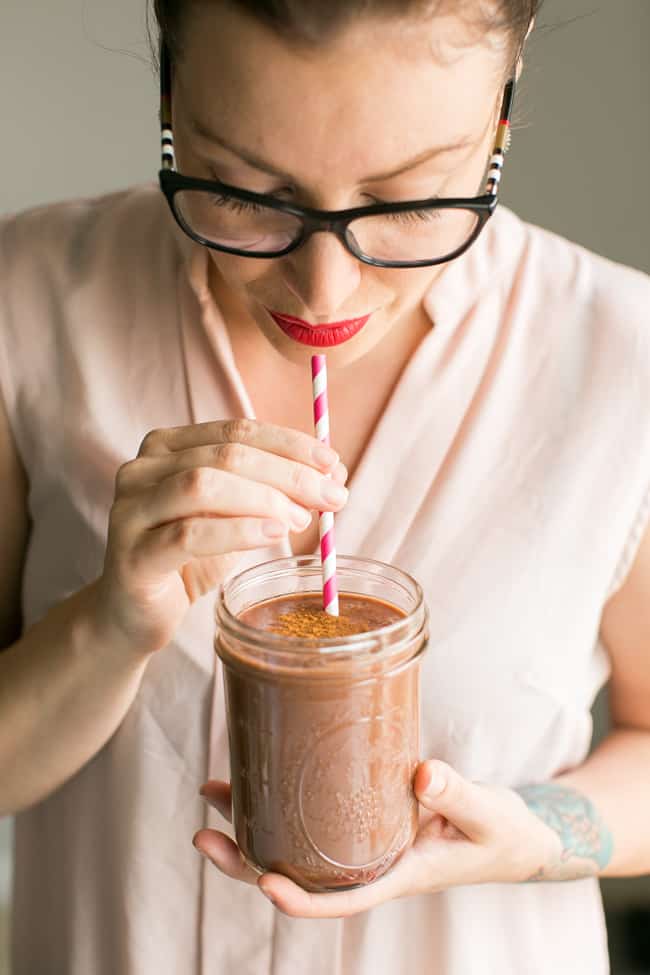 Along with a hefty dose of good-for-you fruits and veggies, this smoothie contains collagen, one of the latest trendy super foods. Collagen is a protein responsible for the cohesion, elasticity, and regeneration of skin and is great for your hair, skin and nails. My favorite part: Vital Proteins Collagen Peptides provides 9 grams of protein per scoop and is virtually tasteless. So even if you can't whip up a smoothie, you can just stir it into your coffee, how awesome is that?!
It's easy to make a skin-boosting smoothie that has a healthy balance of fat, protein and carbs. Here's the simple formula: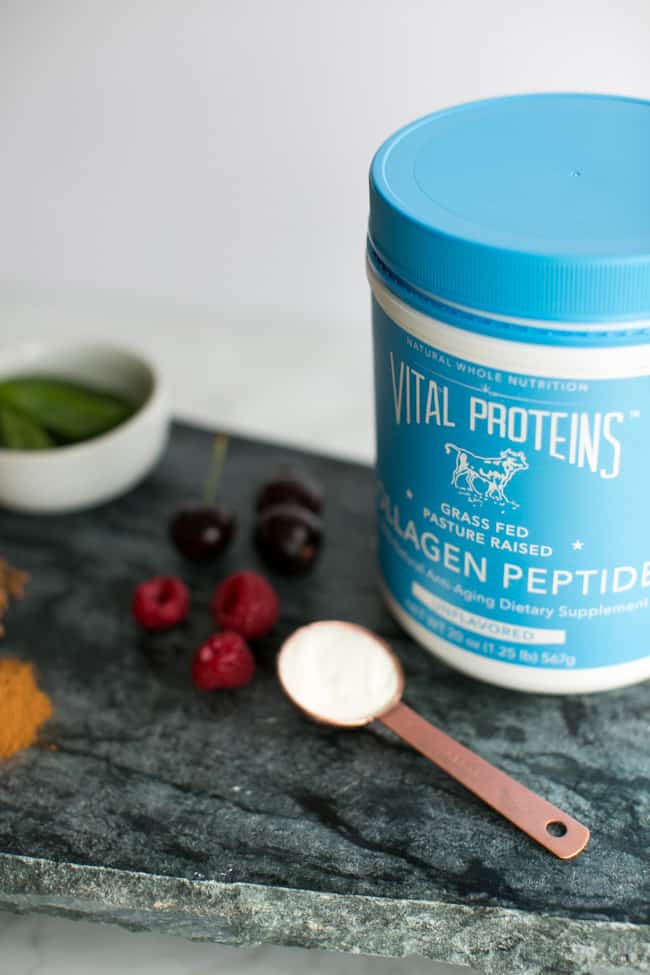 Cherries
Cherries are packed with antioxidants and can help with insomnia, joint pain and belly fat. And even though they can be super sweet, they have a glycemic index of 22, lower than fruits like blueberries and grapes.
Chia seeds
Chia seeds are tiny, texturizing powerhouses that are low in calories but loaded with health benefits. Chia seeds support bone health, curb appetite and improve exercise performance—and they're loaded with omega-3s and antioxidants.
MCT or coconut oil
I used to put coconut oil in smoothies, but recently switched the easier to measure and blend MCT oil. Medium-chain triglycerides (MCTs) support weight loss because they don't behave like other fats. MCT's are metabolized very quickly and used as fuel for the body, rather than being stored as fat.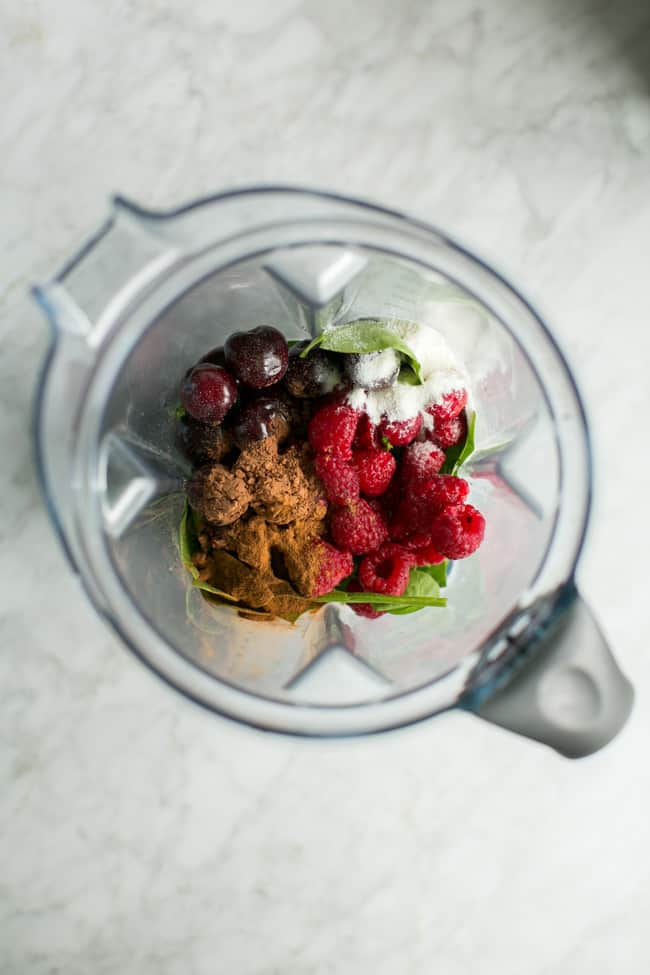 Collagen
Maintaining and building collagen not only improves the look of your skin, but it helps heal joint damage, improves bone health, and helps in weight management. Get collagen from grass-fed, pasture-raised cows from brands like Vital Proteins.
Cinnamon
Cinnamon is a sweet addition that can actually help balance your blood sugar levels, reducing the sugar spike and crash cycle that leaves you tired and craving carbs.
Cocoa powder
Cocoa powder is a great way to get the taste of chocolate without the added sugar. Plus you'll get a dose of minerals like iron, manganese, magnesium and zinc and the flavonoids catechin and epicatechin, which can help lower blood pressure.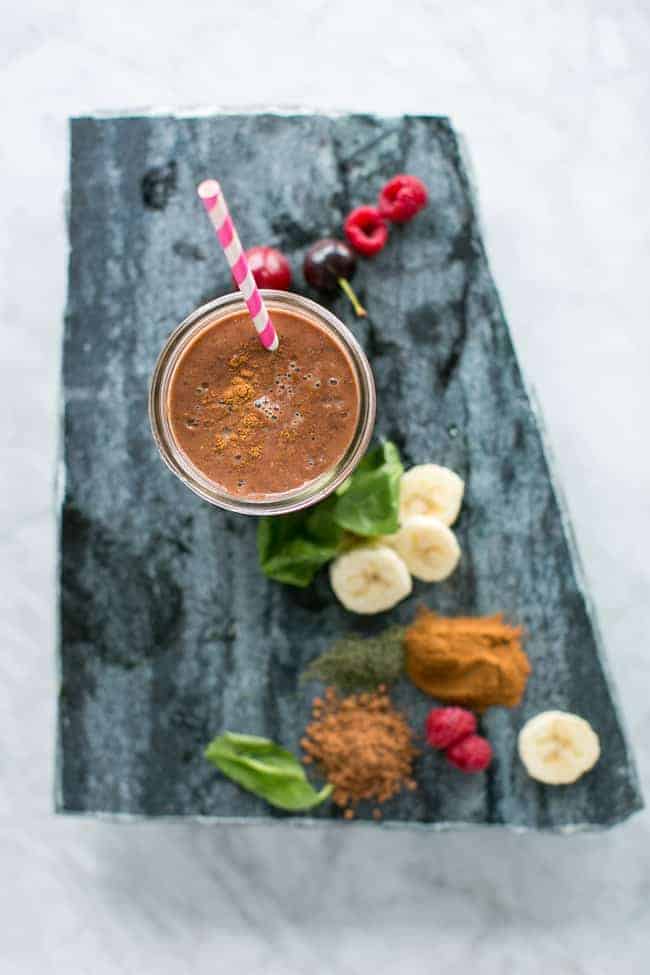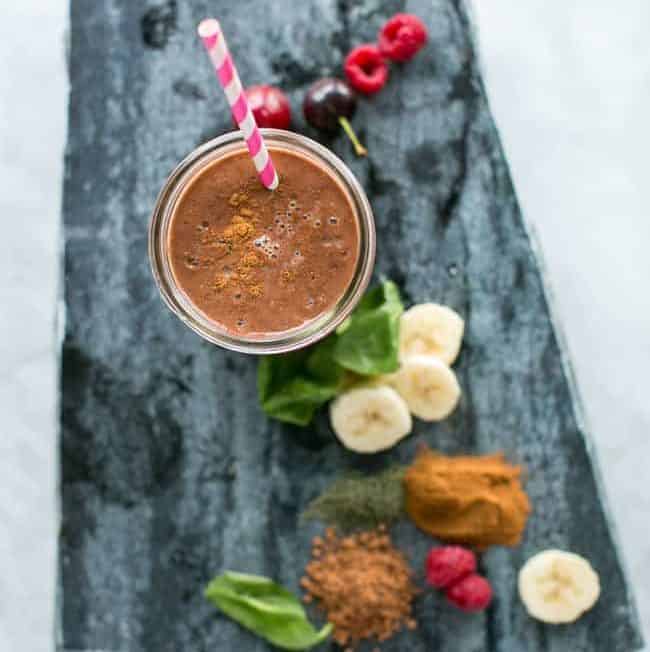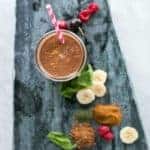 Print Recipe
Glowing Chocolate Cherry Smoothie
An easy-to-make smoothie that's well balanced with healthy fat, protein and carbs.
Ingredients
Large handful of greens

like spinach

1

cup

frozen cherries

or combine with blueberries or raspberries

1/2

banana

optional

1

cup

non-dairy milk

1

tablespoon

chia seeds

1

tablespoon

coconut oil or MCT oil

1

scoop of collagen protein

1

tablespoon

cocoa powder

1/2

teaspoon

cinnamon
Instructions
Blend all ingredients together and enjoy!
Photos by Susan Hudson
This post is sponsored by Vital Proteins. All opinions are, as always, our own. Thanks for supporting the brands that make this site possible!
11