It sounds strange, but a few years ago I got on a massive seed kick. Shortly before the 2016 Summer Olympics I read that world class swimmers swore by chia seeds to boost their energy and stamina. (Um, sign me up.) Not content to settle for just any old seeds, even those endorsed by Olympic athletes, I started looking into all sorts of superfood seeds I could add to my diet. One that kept popping up over and over again was flaxseed.
Not only is it packed with nutritional benefits when eaten regularly, but it also contains massive beauty benefits when applied directly to the skin. Whether added to your daily oatmeal or used as a toning and tightening eye mask, flaxseed increases your vitality. Here's how to use it inside and out.
7 Flaxseed Skin Benefits Inside + Out
Flaxseed is one of the world's oldest crops, having been eaten and used medicinally since the beginning of civilization. Nowadays, while it is primarily used as a source of fiber for paper and fabric (linen, to be exact), it's still considered a superfood that provides a plethora of health and beauty benefits.
Flax seeds are a good source of healthy fat, antioxidants and fiber as well as protein, lignans, and the essential fatty acid ALA (alpha-linolenic acid). As a matter of fact, flaxseed is the richest plant source of ALA in the world, with anywhere from 40-60% of its total fat profile being made up of ALA. It's also high in other valuable fatty acids such as palmitic, stearic, oleic and linoleic acids that are beneficial to the body.
Your skin loves flaxseeds!
When applied topically, the oils in flaxseed help nourish the skin, balance oil, improve the skin barrier, and provide much-needed nutrients that are often stripped by harsh cleansers and over-exfoliation. And the seeds themselves replenish vitamins and minerals in the skin so it looks radiantly healthy.
Here are a few ways applying flaxseed topically can improve skin health:
1. Acne
We know that acne is caused by inflammation, imbalanced hormones, and the plugging of skin cells in pores. Flax seeds are high in anti-inflammatory omega-3 fatty acids that help curb inflammation in the skin.
Second, flax is high in lignans, which have been shown to inhibit 5 alpha-reductase, an enzyme involved in the conversion of testosterone to DHT. In short, flaxseeds helps to balance the production of androgen hormones that can lead to acne.
And third, essential fatty acids strengthen the skin's cell membranes, helping to lock moisture in the skin and make it less susceptible to hormonal fluctuations and excessive oil production.
2. Soothe skin irritation
Highly concentrated antioxidants found in flaxseed help protect skin against free-radicals and UV rays. Its anti-inflammatory properties help reduce redness and irritation and encourage skin cells to heal more quickly.
3. Soften fine lines
The same antioxidant properties that soothe inflammation and irritation can also soften the look of fine lines and wrinkles. Applying flaxseed gel (which occurs naturally when ground flaxseeds are combined with water) or rubbing a few drops of flaxseed oil directly on skin can help make skin appear fuller and tighter. And the fatty acids in flaxseed help to tone, tighten, firm and plump the skin back to a more youthful appearance.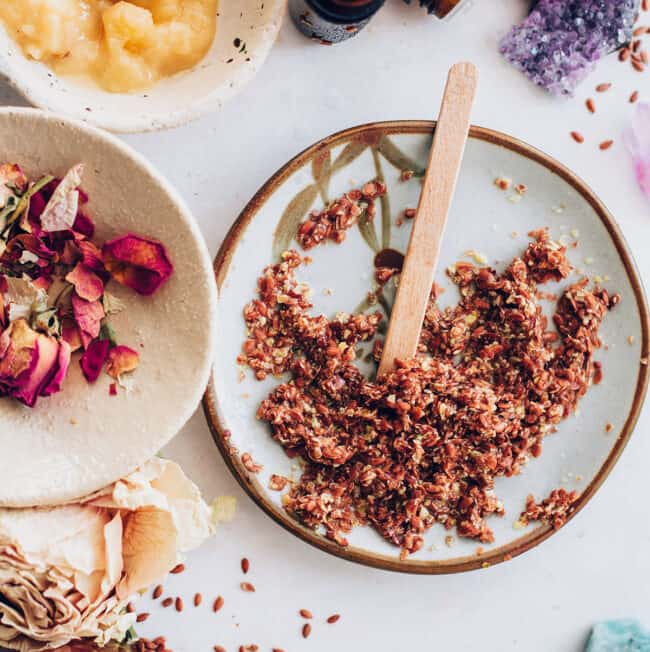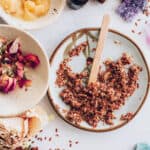 Print Recipe
Flaxseed Gel Eye Mask
Instructions
Combine all ingredients in a small bowl and stir well.

Allow the mixture to soak for about 10 minutes. Over time,the flax seeds will form a somewhat thick gel-like substance. If you find that the gel has thickened a little too much, add a teaspoon of filtered water to thin it just enough to spread evenly over your skin.

Apply the gel to under-eye skin and allow to sit for 15-20 minutes.

To remove, moisten mask with water and massage mask into your skin for two minutes. Rinse with lukewarm water.

Throw away any unused portion of eye mask.
Flaxseed Dietary Benefits
The nutrients found in flaxseed provide much-needed vitamins and minerals, which in turn fight fatigue and slow down the aging process. And because flaxseed is loaded with fiber, omega-3 fatty acids and phytochemicals called lignans, they're also said to help balance body weight, lower bad cholesterol and improve heart health.
But when it comes to beauty, flaxseed has a few tricks up its sleeve.
4. Gives skin a healthy glow
Just like when applied topically, eating flaxseed can help repair skin from the inside out. By curbing inflammation, balancing androgen production and strengthening the integrity of skin cells, flaxseeds can make skin look smoother and more radiant.
5. Improves digestion
Gorgeous skin starts in the gut. Luckily, flaxseed is loaded with both soluble and insoluble fiber, which can help improve digestion (one of the body's main detox pathways) and promote regularity. It also helps promote digestive health by feeding the good bacteria in the gut.
6. Balances hormones
Flax seeds contain high amounts of antioxidant compounds called lignans. Lignans are a group of phytochemicals that have weakly estrogenic and anti-estrogenic properties, which means that, when eaten regularly, they can help balance the ratio of progesterone and estrogen in the body.
7. Improves hair health
Flaxseed is a good source of B-complex vitamins, which are known for making hair grow strong, healthy and fast. And vitamin E helps reduce the effects of free radicals on your scalp, thereby promoting hair growth.
Freshly ground flaxseeds may be easier to digest than their whole counterparts, which tend to pass through the digestive tract undigested. But even eating them whole may provide some benefit. Here are a few ways to add more flax seeds to your diet:
Add a teaspoon of ground flaxseed to salad dressings or smoothies.
Mix a tablespoon of ground flaxseed into 8 ounces yogurt or oatmeal.
Bake ground flaxseed into bread, muffins or other baked goods.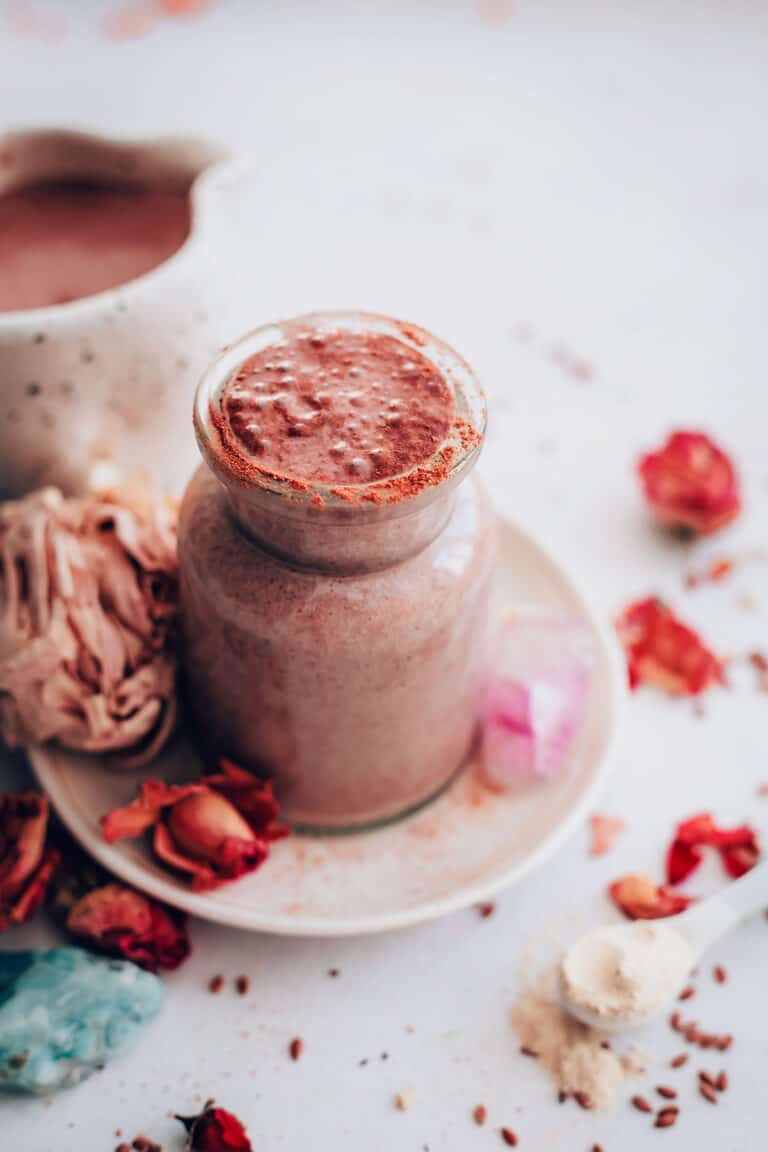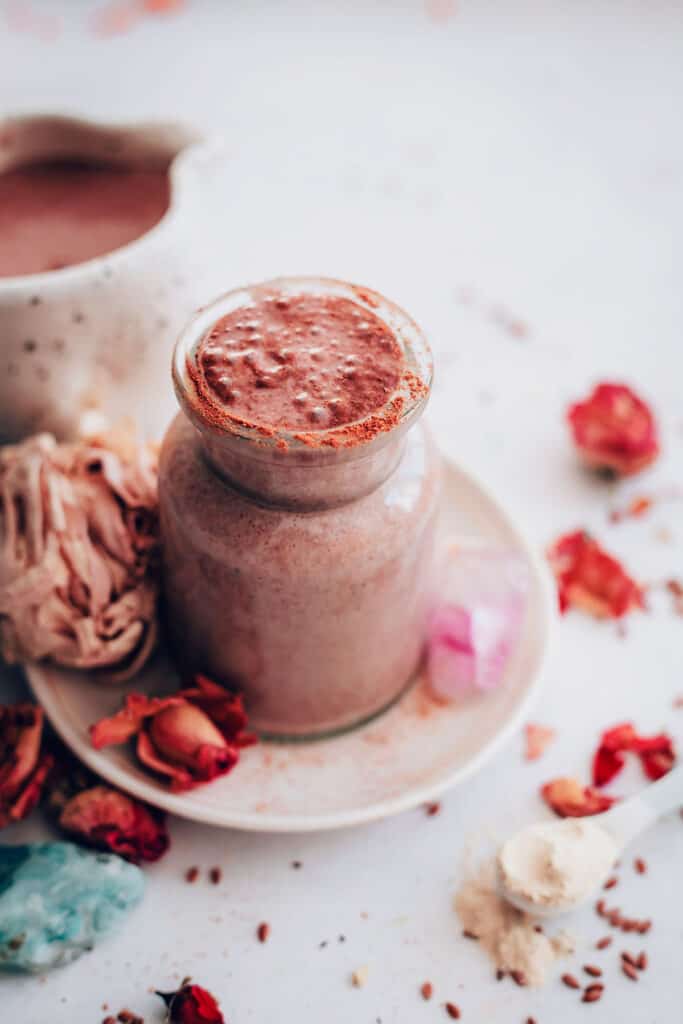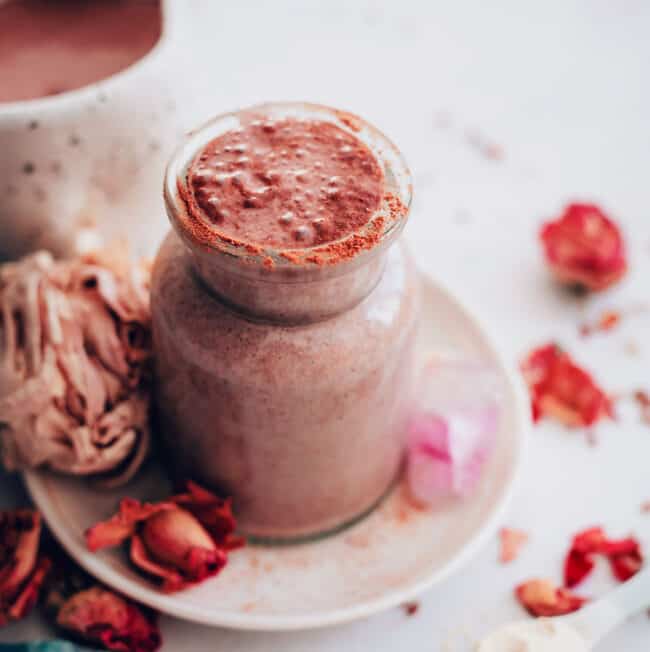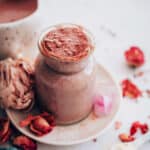 Print Recipe
Chocolate Milk with Flax Seeds and Maca for Hormone Balance
A velvety vegan chocolate milk recipe, made with ground flax and maca powder, for a balanced hormone production, especially for women in their 40s.
Ingredients
3

cups

unsweetened almond milk

1

tbsp

raw cacao powder

1

tbsp

freshly ground flax seeds

2 tsp

maca powder

1

tsp

vanilla extract

2

tsp

coconut oil

1/2

ripe banana

1/4

tsp

salt

1

tsp

cinnamon
Instructions
Add all the ingredients in the blender and process to obtain a creamy liquid.
Photos by Ana Stanciu
29