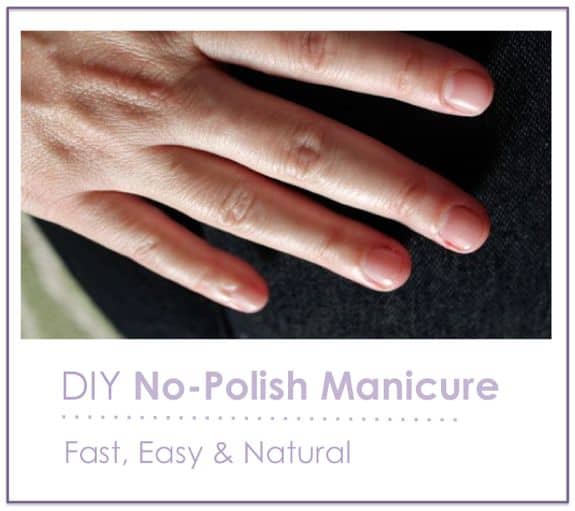 While I love having bright polish on my toes, I can't remember the last time I painted my fingernails. It was probably back in Caroline's budding nail technician days when she slathered 8 different colors all over my hands. Yeah, that was fun.

After reading that Sarah Jessica Parker gets her nails buffed instead of polished I started asking for that on the rare occasion I get a manicure. It was perfect – my nails stayed shiny way longer than I expected and I wasn't picking at polish in two days.
Then I had another epiphany after my last manicure. A week after having my cuticles trimmed my nails were a total wreck. The cuticles were a jagged mess as they grew back. Less definitely seems like more (I also keep my nails crazy short) so I developed a simple at-home nail maintenance plan that has kept my nails happy.

Supplies needed:
Hand lotion. Again, coconut oil is awesome!

Orange cuticle stick or wooden one (see above) wrapped in cotton

Nail file

Clippers

5 Steps to a No-Polish Manicure:
This is totally easy to do while catching up on your favorite shows (I just discovered Mad Men on demand, hurrah!).

1. Soften with lotion.
Slather on a healthy amount of hand lotion. More is better. Let it sit for a few minutes to soften everything. And if you don't have coconut oil, you can add a bit of olive oil to your regular lotion. To me, this is way easier – and more effective – than soaking my hands in warm water or milk.
2. Push back cuticles.

Use the cuticle stick to gently push back your cuticles. Go easy here – no need to get aggressive! And I don't attempt to cut my own cuticles. I find that they stay in better shape and don't grow as fast if I leave them alone.
3. Shape nails.
Snip any hangnails and shape nails with nail file. A rounded shape looks good on short nails.
4. Buff nails.
My buffing block is my new favorite thing. Your smooth and shiny nails will last for days.
5. Brush on cuticle oil.

End by dabbing on cuticle oil and massaging it in.
How do you take care of your nails? Are you a polish or a natural girl?
132