Have you ever heard that you can tell someone's age by looking at their hands? Well, hands can be a definite indicator of your age if you have sun damage and the pigmentation that goes along with it.
The best way to prevent age spots on hands is by using sunscreen every single day. Never skip your hands, neck, and décolletage!
But if your hands are starting to age you, we've got a great at home age spot remover prescription for you. It hydrates and lightens, while exfoliating the top layers of the skin.
Rice and rice water are popular in many parts of Asian for this small, unassuming grain's ability to nurture skin, but especially for how it deals with age spots and pigmentation. Combined with lemon juice for exfoliation, these two super common ingredients go a long way to brightening and evening out skin tone.
Agave nectar binds all the ingredients together, plus it has its own benefits for skin. It calms down irritation and can have exfoliating effects, basically soothing skin against irritation while still encouraging cell turnover for younger-looking hands.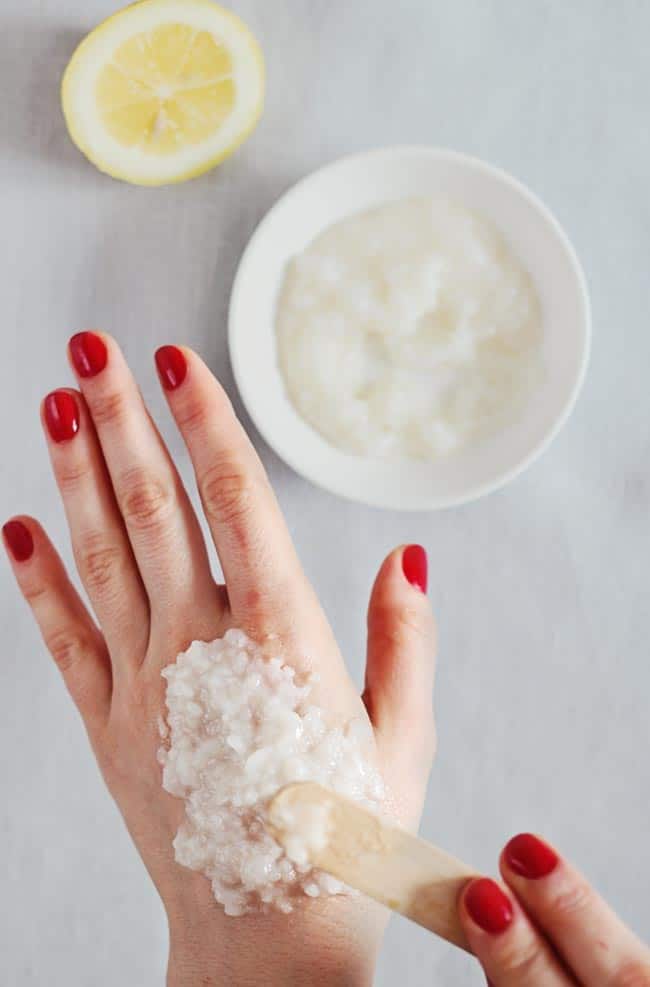 Natural Age Spot Remover for Hands
¼ cup cooked rice
½ tablespoon agave nectar
½ tablespoon lemon juice
In a blender, combine all the ingredients. Use the scrub by rubbing it in small circular motions all over the backs of your hands. Really get in there and give yourself a nice hand massage too—you'd be surprised how much tension we can carry in our palms! Use light pressure for 1-2 minutes and then rinse with warm water.
Follow with sunscreen, if using in the daytime. It's worth carrying a little tube of sunscreen in your bag for reapplication, too—while it can be tempting to keep some in the glovebox, soaring summer temperatures can affect the sunscreen's ability to protect your skin.
A purse-sized bottle is the way to go! Especially with all of the hand washing we do all day long, reapplying sunscreen is key to preventing further damage.
Right after using this scrub, your hands will feel unbelievably smooth, and over time the age spots will fade. At night, following this up with your favorite hand moisturizer will work wonders towards speeding up the pigmentation fading process.
If you have any extra scrub left, I like to use it on my feet to soften my heels a little—it's not necessary, but a great way to use up any that you've got leftover and don't want to waste by throwing it away.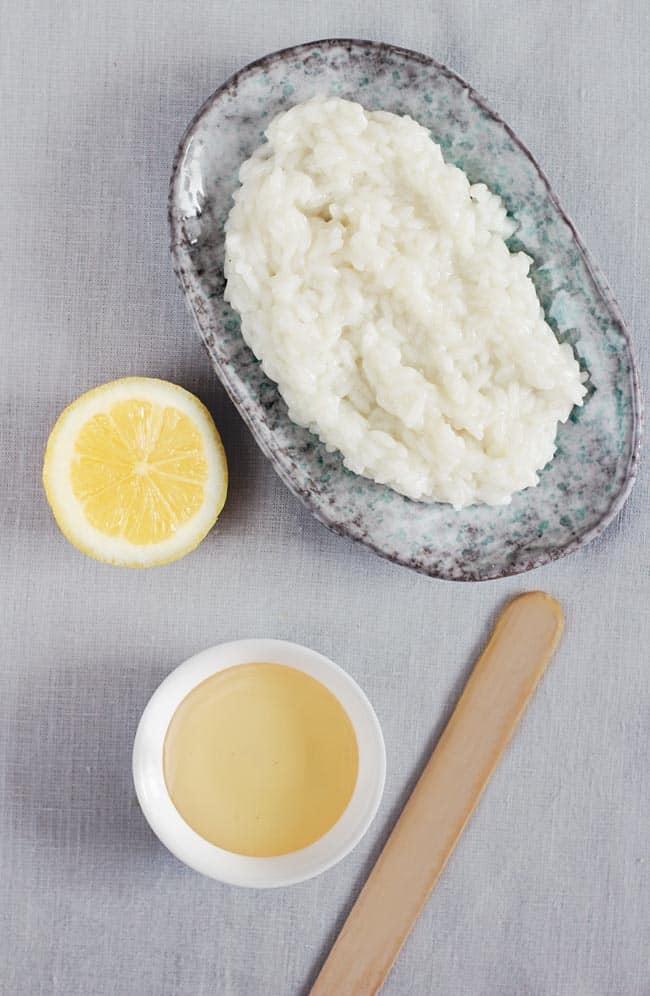 You can use a similar treatment for the face, but if the lemon juice feels a bit strong you can dilute it with water. Apply to clean skin, avoid the eye area, and then rinse with warm water.
Follow with moisturizer. Ideally, this treatment should be done at nighttime as the lemon juice can make you photo sensitive to sunlight.
FAQs on Age Spot Treatments for Hands
What other things should I be aware of when it comes to sun damage on my hands?
UV lights can damage our hands, so if you get gel nails and place your hands under a UV light, apply sunscreen to protect your skin.
My hands are so veiny, anything I can do about that?
Often times post exercise you will notice your veins more prominent, and as we age the elasticity in our hands thins, causing veins to protrude more. Also beyond our control is genetics. However one of the things you can control is temperature. Hot weather causes our veins to enlarge, so keeping our homes at a comfortable temperature can lessen protruding veins.
How often can I use this age spot treatment on my hands?
Once or twice a week.
How else can I prevent age spots?
Have you ever worn a pair of white driving gloves? As I get older, I definitely think they are in the 'would've should've' category for me! Driving gloves, sunglasses and a bottle of sunscreen always on hand are my new must-haves, especially for a road trip!
646