With an old pair of ugly jeans, first I turned them into cuffed jean shorts. And guess what we're using the leftover scraps for? Yes, DIY bell bottom jeans!
Even if you're not a fan of bell bottoms, the flair trend keeps coming back into style for a couple of reasons. First, it's great for us pear shapes because it balances the hip width and tricks the eye into thinking you have more of an hourglass appearance. And second, it forces me to wear heels for desperately needed height!
And after nearly a decade riding the skinny jean fan bus, I must say, I'm really excited for this change of pace.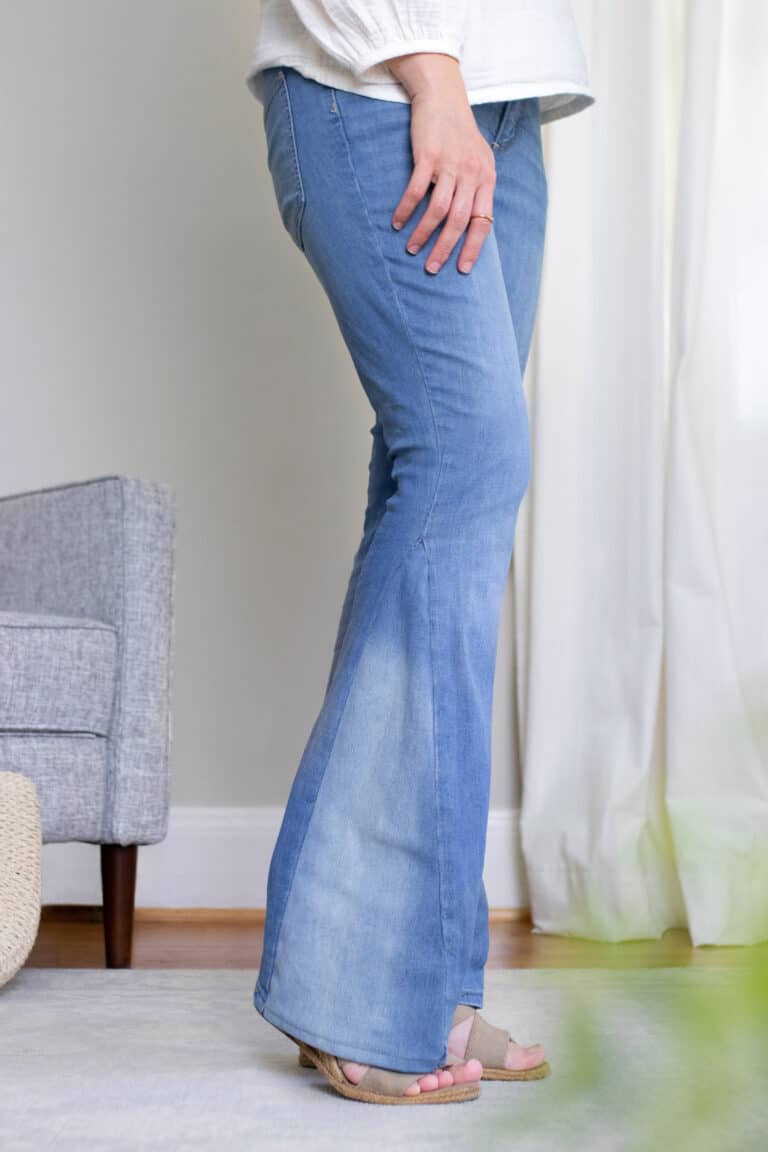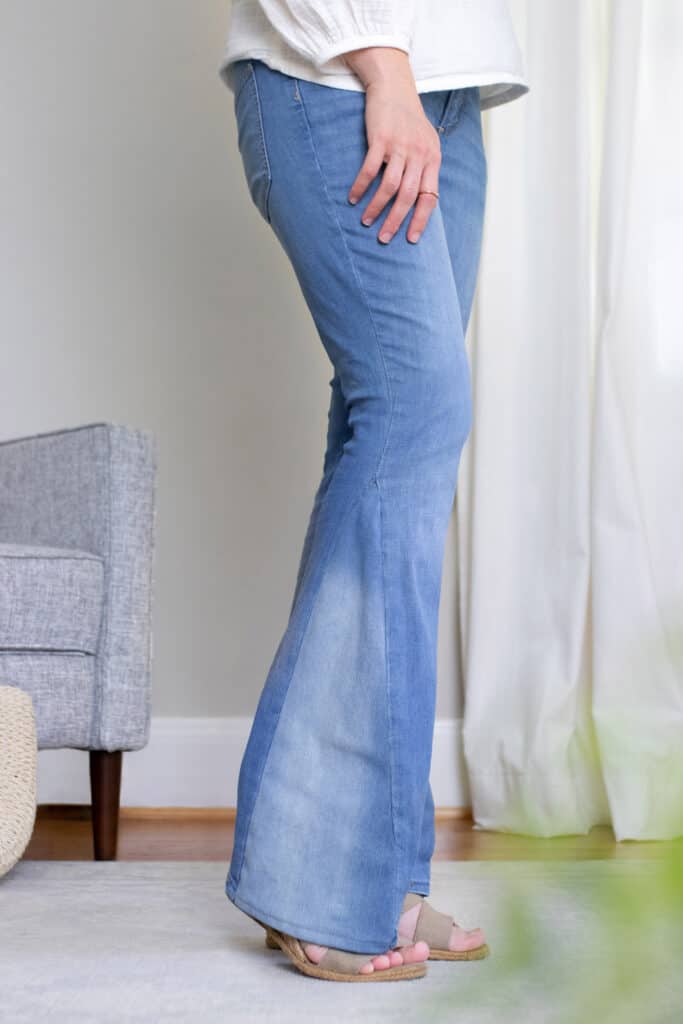 How to Make DIY Bell Bottom Jeans
Enough rambling, ready for the how to? This one is a bit more complex than the shorts so stay with me.
You will need: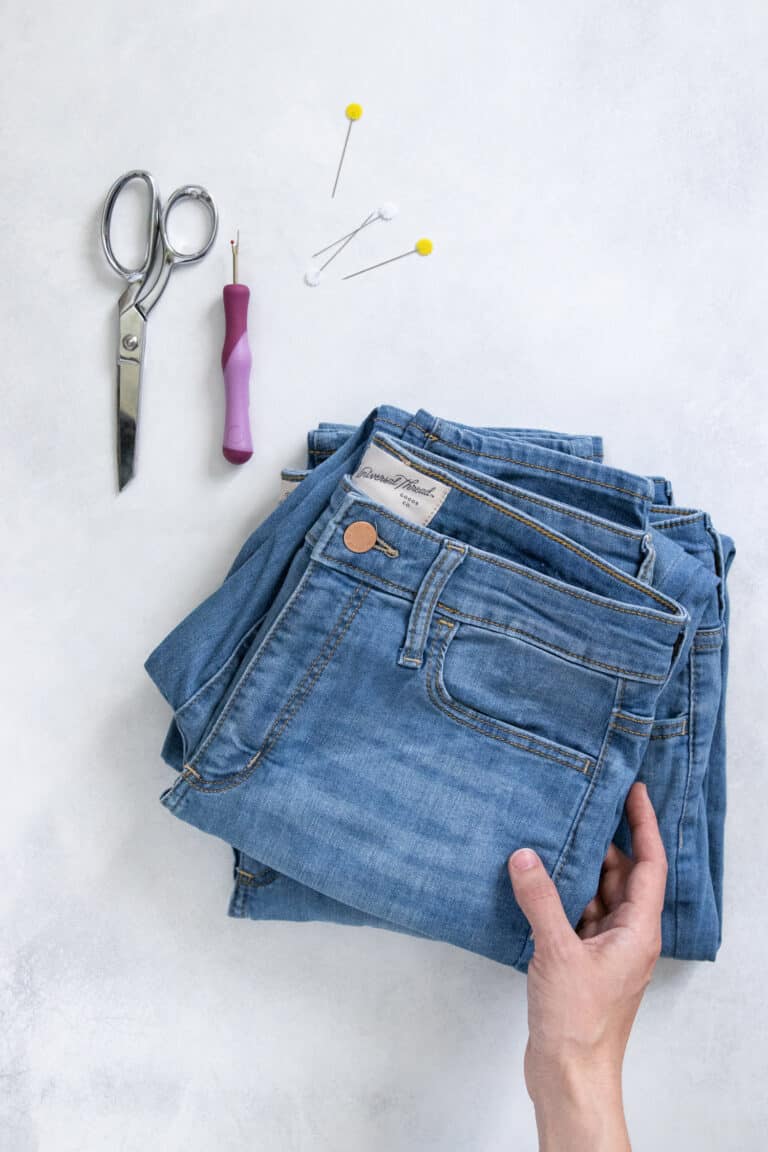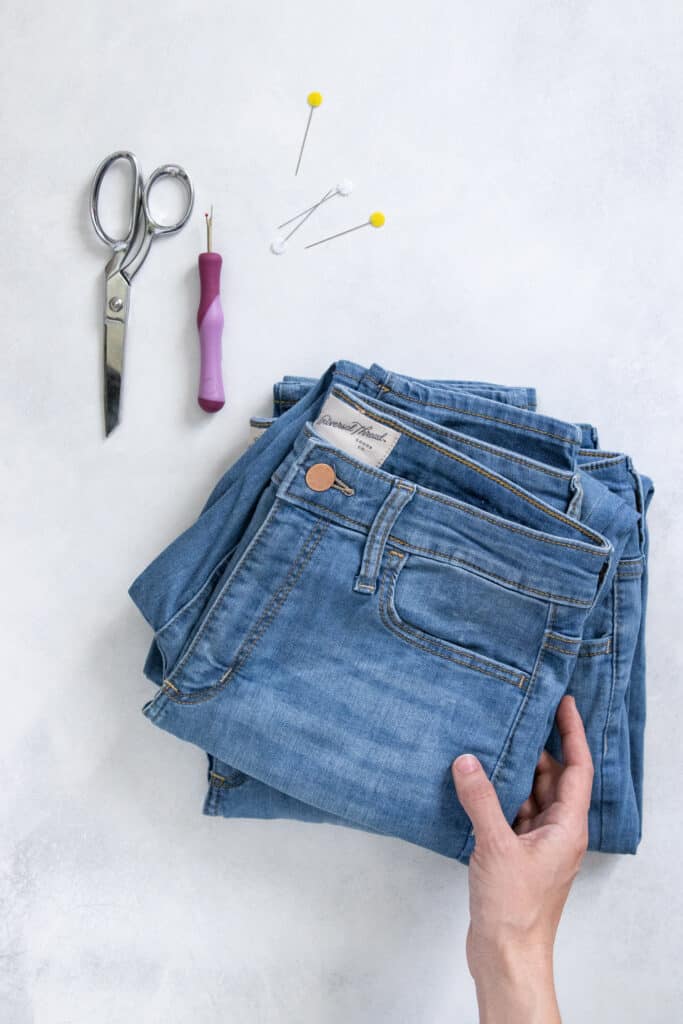 -A pair of fitted jeans (I find that bootcut jeans work for this, but anything that's somewhat loose will work)
-A second pair of old jeans or denim scraps from making shorts
-Seam ripper (scissors will also work)
-Scissors or fabric cutter
-Pins
-Sewing machine with a heavy duty sewing needle
A note about choosing the right jeans for this project: the wider the legs on the fitted jeans (the ones you're turning into bell bottoms), the wider your flare will be when you're done. I started with a pair of jeans that were semi-skinny because that's all I really had (bootcut jeans aren't as popular as they used to be). Since my jeans weren't very wide-leg to begin with, the flare wasn't as pronounced as it could have been.
Also, since you can't really add length later, you want to choose jeans that are the right length at the start. Skinny jeans tend to hit around the ankle, so unless you want your bell bottoms to hit at the ankle, make sure to choose wider, longer jeans.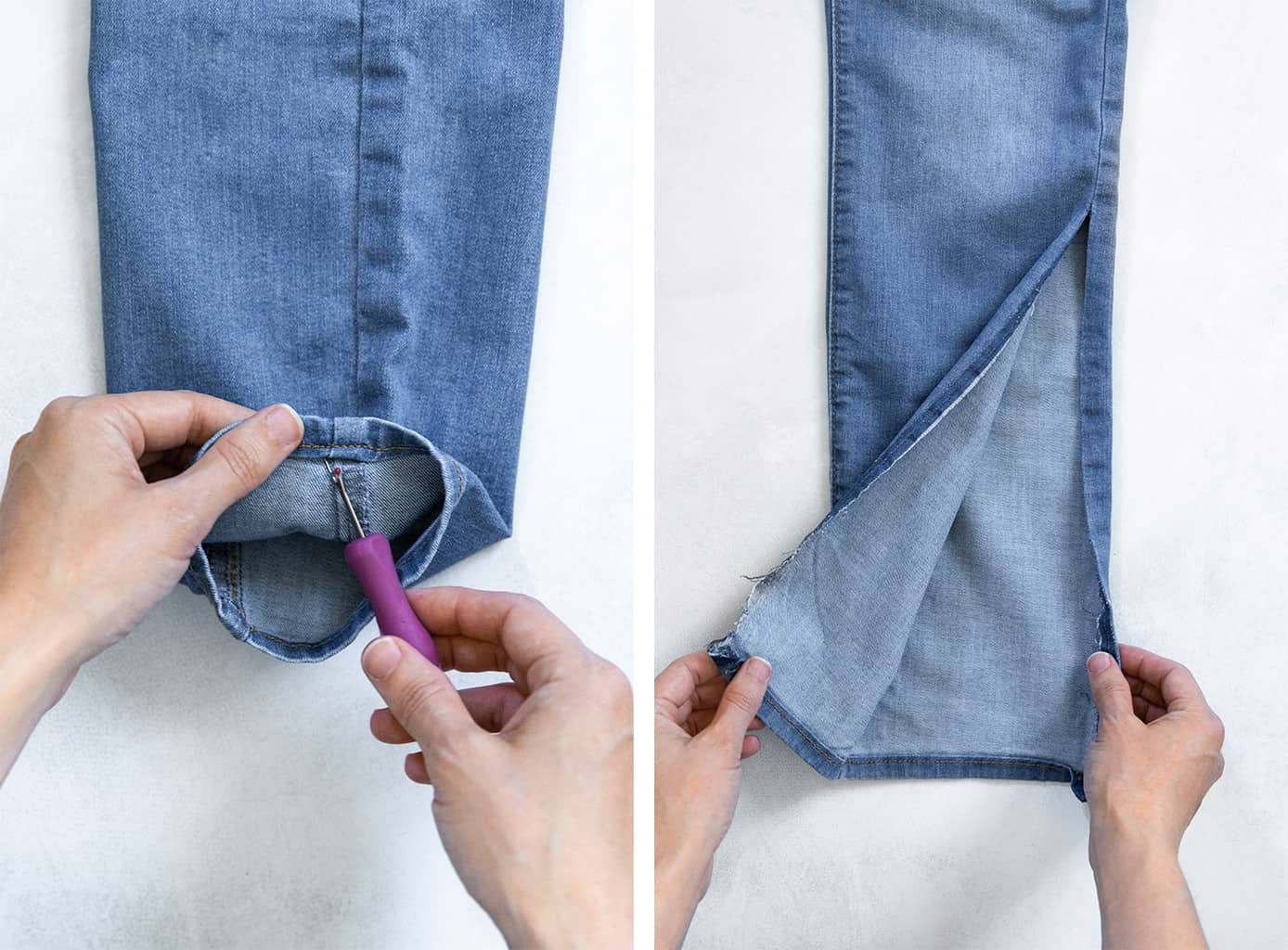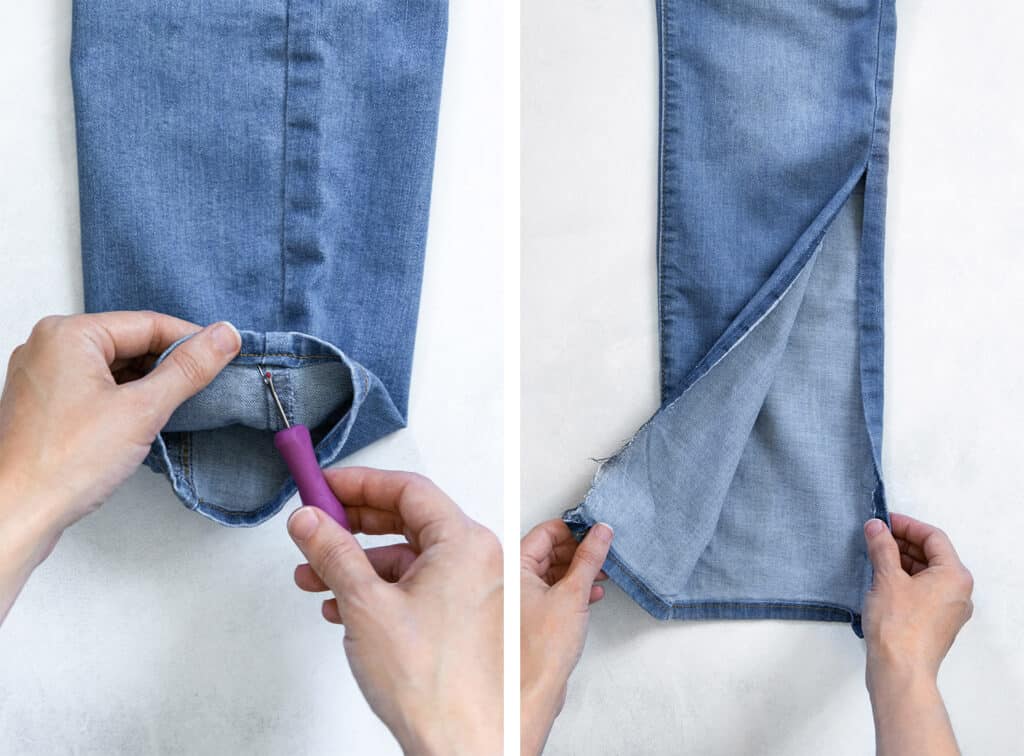 First, open the outer leg seam of the fitted jeans. I went up about 18 inches, which was not quite knee height. I used a seam ripper to get started and then just ripped it to where I had marked. I also opened about an inch of the hem on each side of the seam. You can open the entire hem if you don't want to re-hem at the end. This will just add about an inch to the length but leave you with a rattier looking hem.
Clean up the open seam and pull out the loose threads.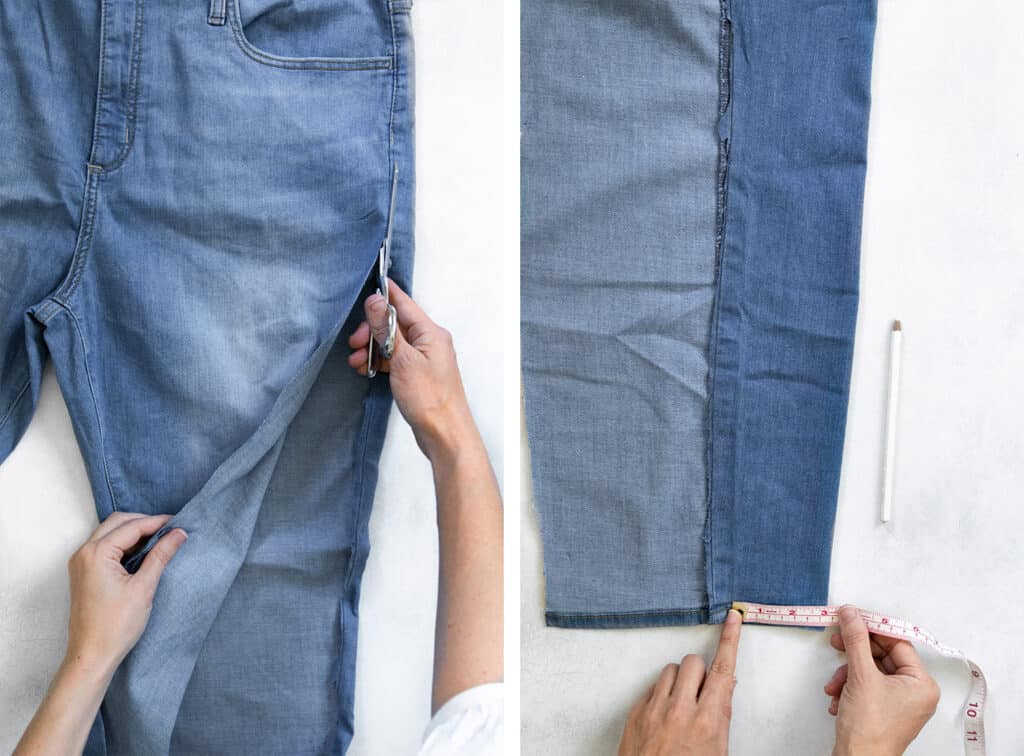 Next, we want to cut out the fabric to make the flare.
Take your old jeans or bottom denim pieces from making the shorts and cut down the side seam to open up the fabric into one flat piece. If you're using an old pair of jeans for this, I find it easiest to also cut straight up through the fabric at the crotch to create two separate panels. But it's up to you.
This is the slightly tricky part for me. You are basically cutting a triangle piece that's 6 inches wide at the bottom, 18 inches tall, and 2 inches wide at the top to sew into the leg seam.
Start by folding the panel over length-wise. Starting at the bottom (that way you can keep the bottom hem), measure 3 inches from the folded edge of fabric (when unfolded, this will give you a 6-inch base of the triangle). Make a mark.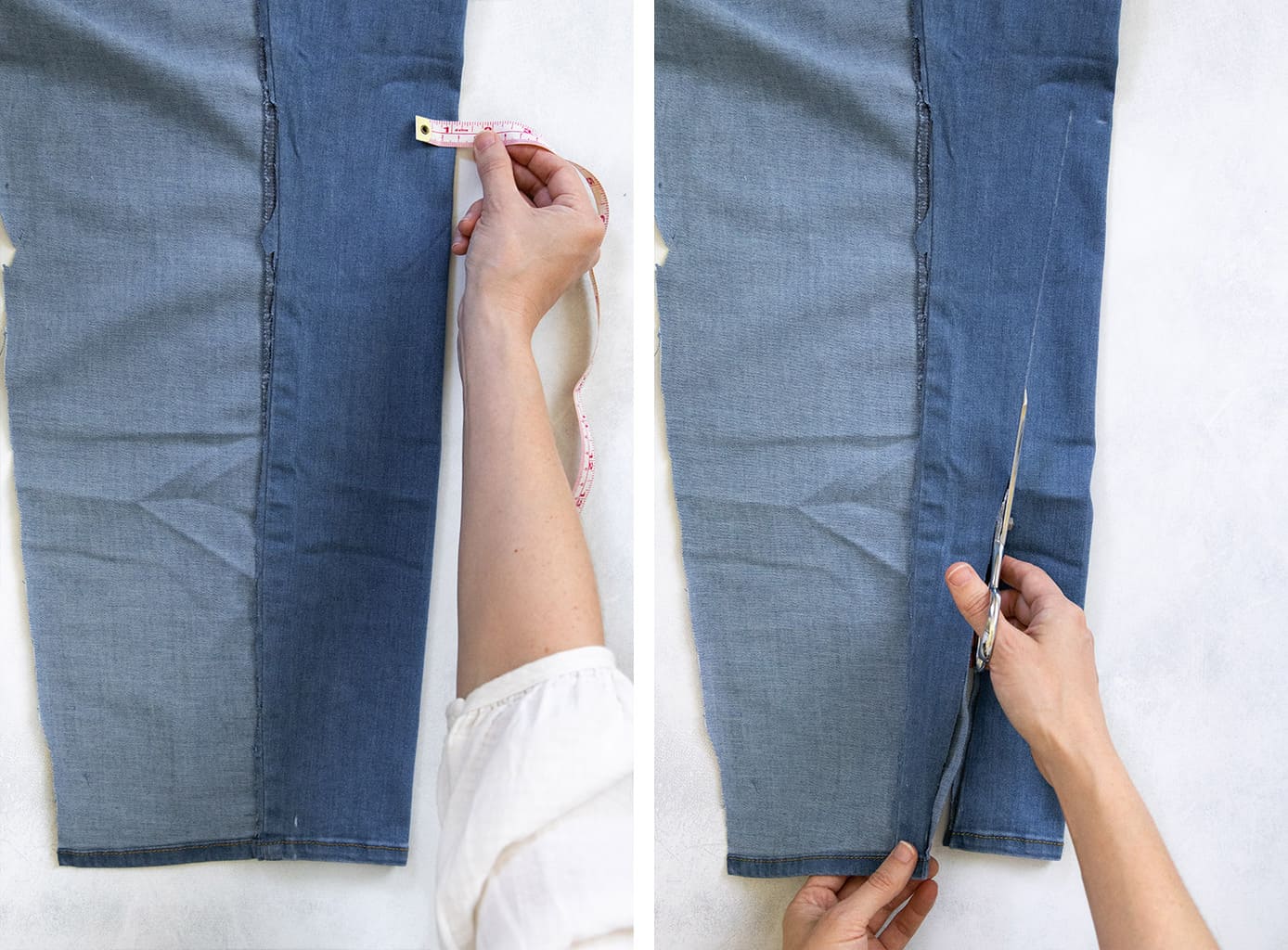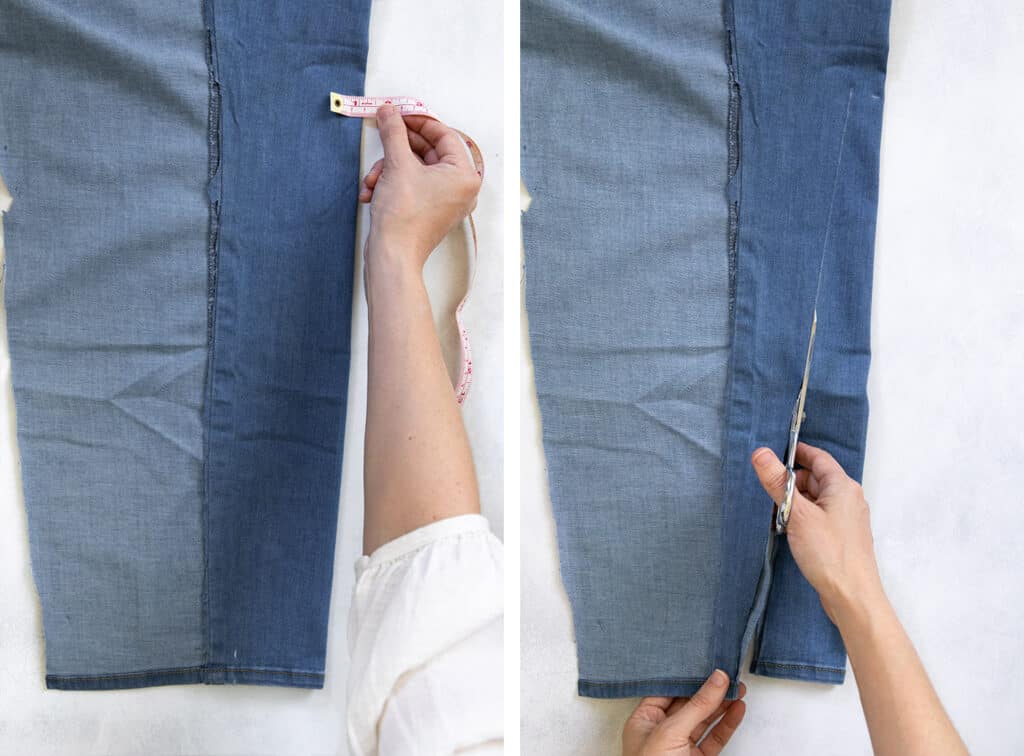 Go up 18 inches and measure 1-inch from the folded edge if fabric (when unfolded, this will give you a 2-inch top of the triangle). Make another mark.
Draw a line to connect the two marks. Using scissors or a fabric cutter, cut out the triangle.
Repeat to create a second triangle (feel free to use the first triangle as a template).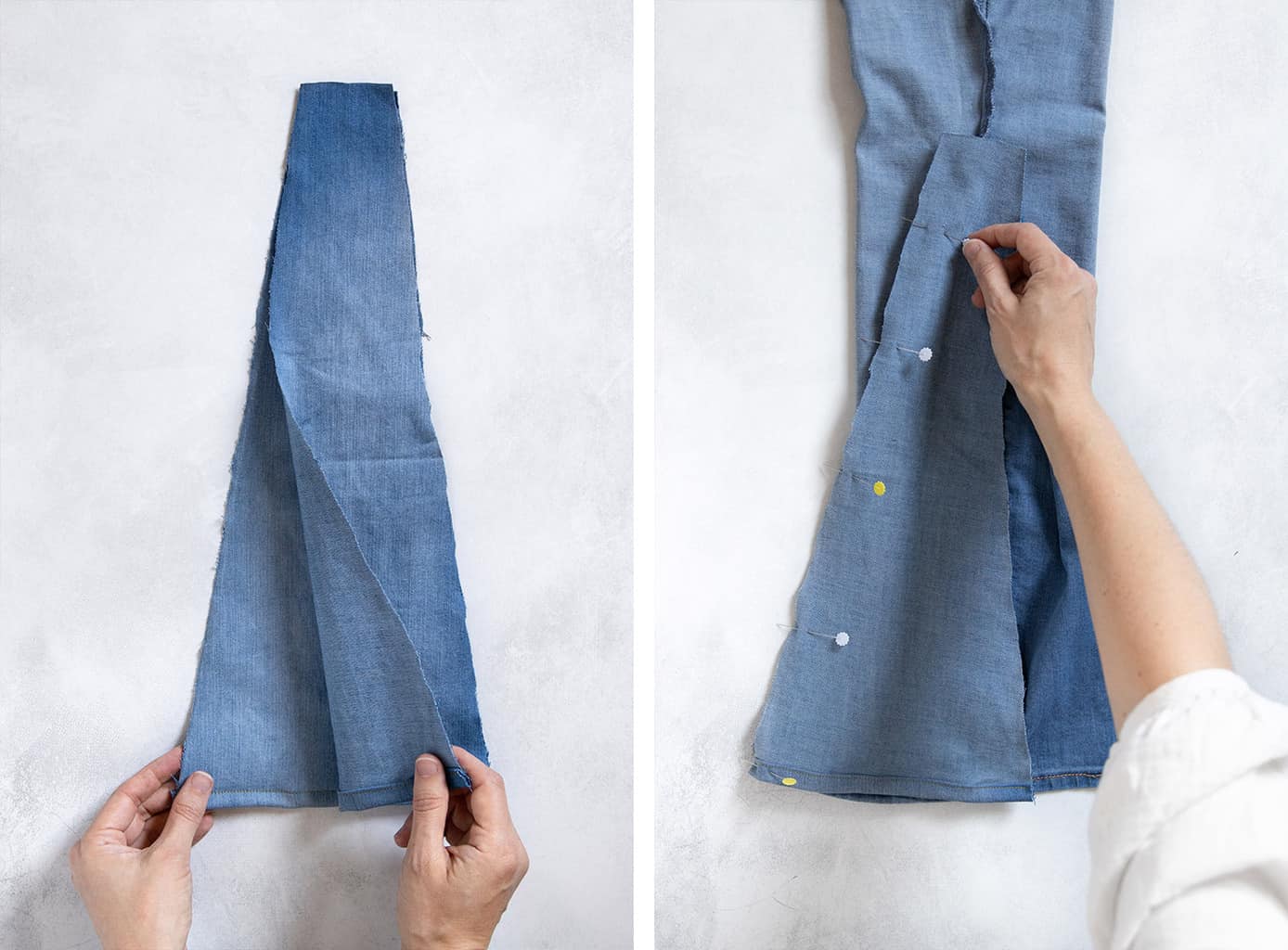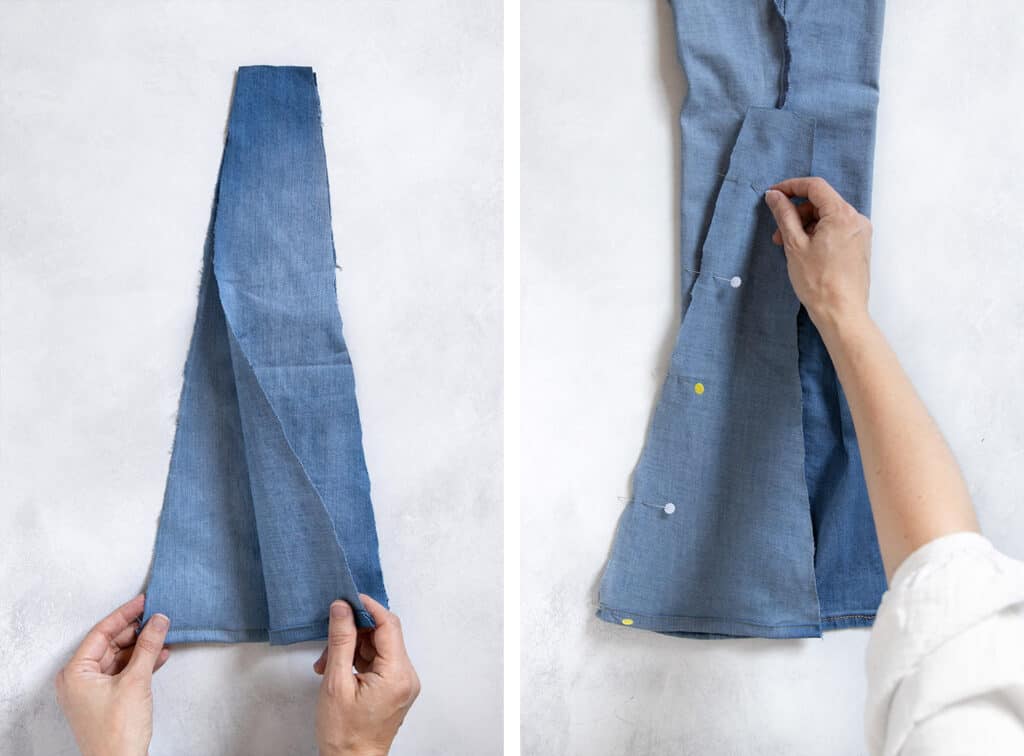 Put the two triangles together to see if they match up (right side facing in) and trim up an errors.
Now turn your jeans inside out and pin in the fabric triangle in place, making sure you match up the hems at the bottom.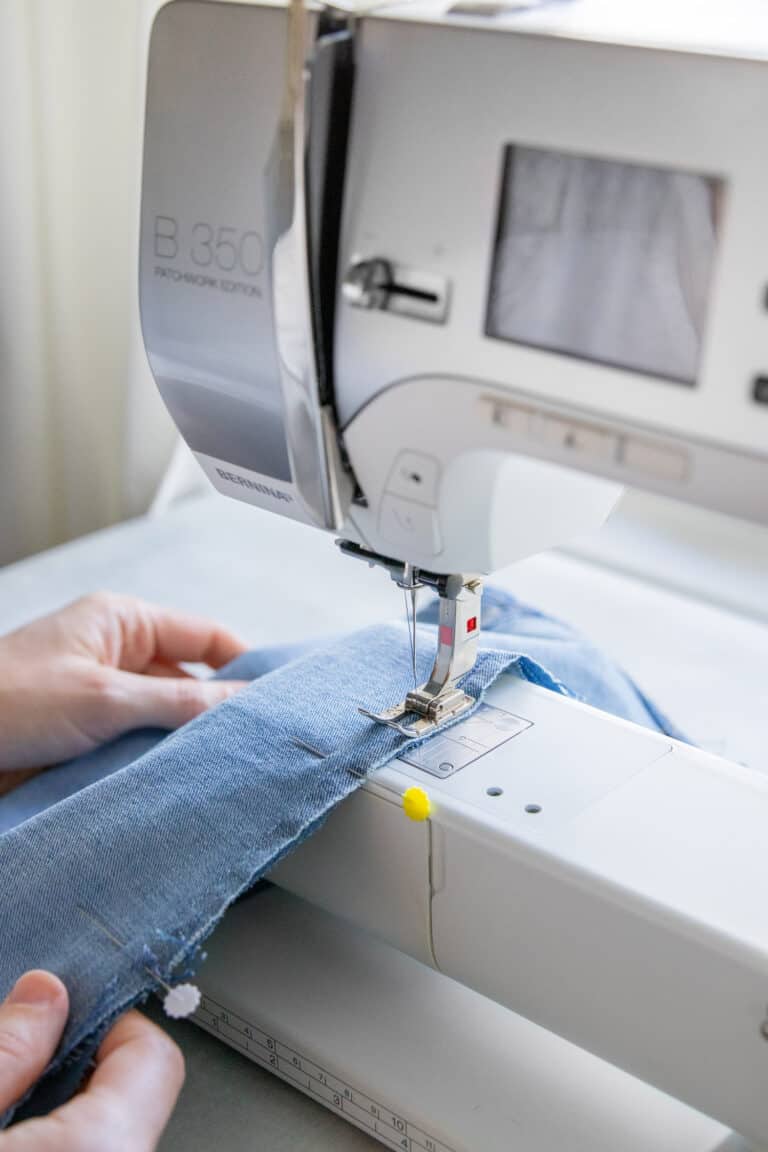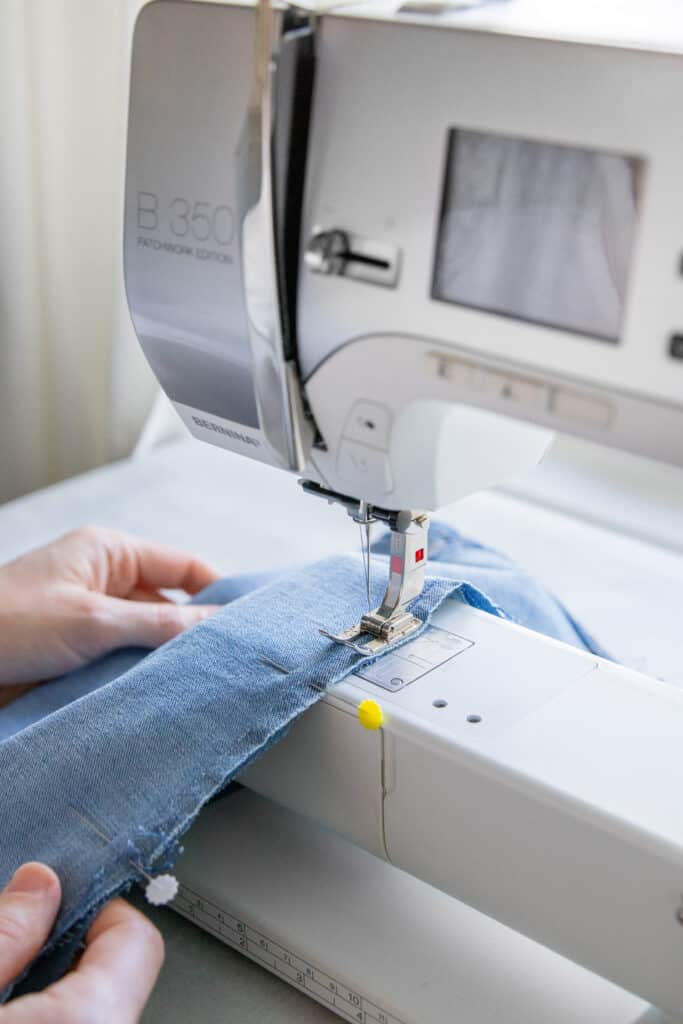 Sew the triangles in place.
Finally re-hem. You may have to do this by hand if your sewing machine won't go through the denim layers.
Voila! Super cute DIY bell bottom jeans! I kinda wish I had gone even wider though I'm not quite ready to try any crazy fabric quite yet.
What do you guys think of this trend? Is it something you would wear?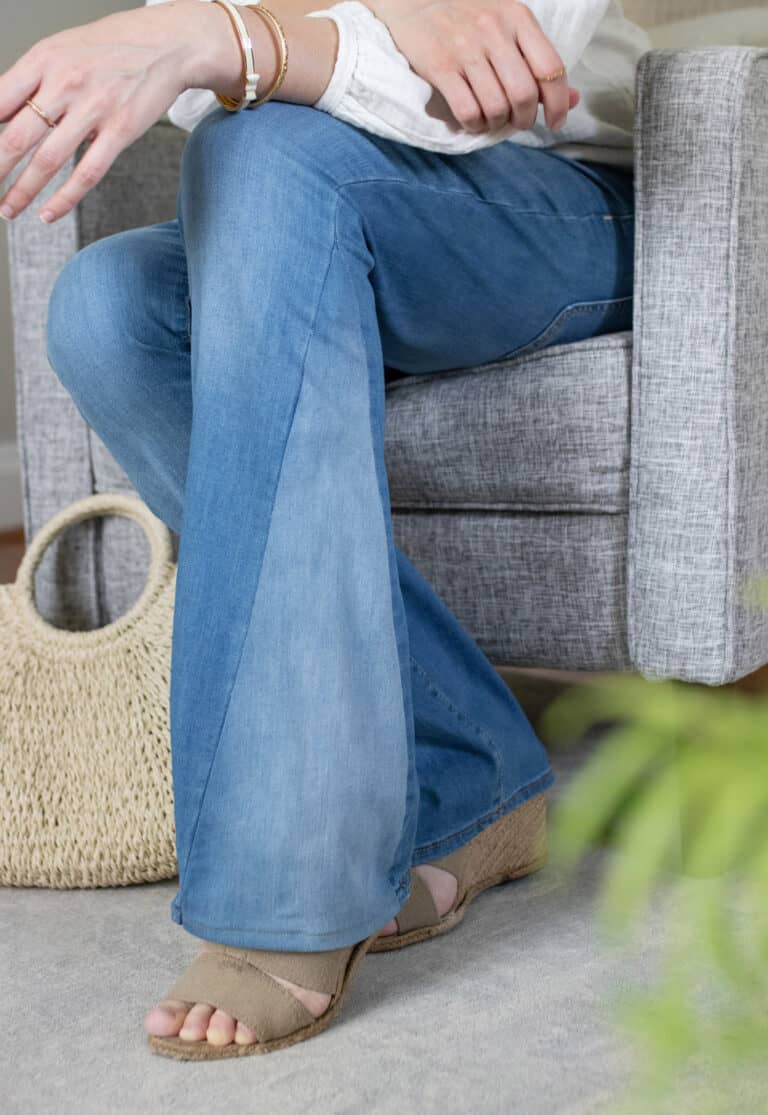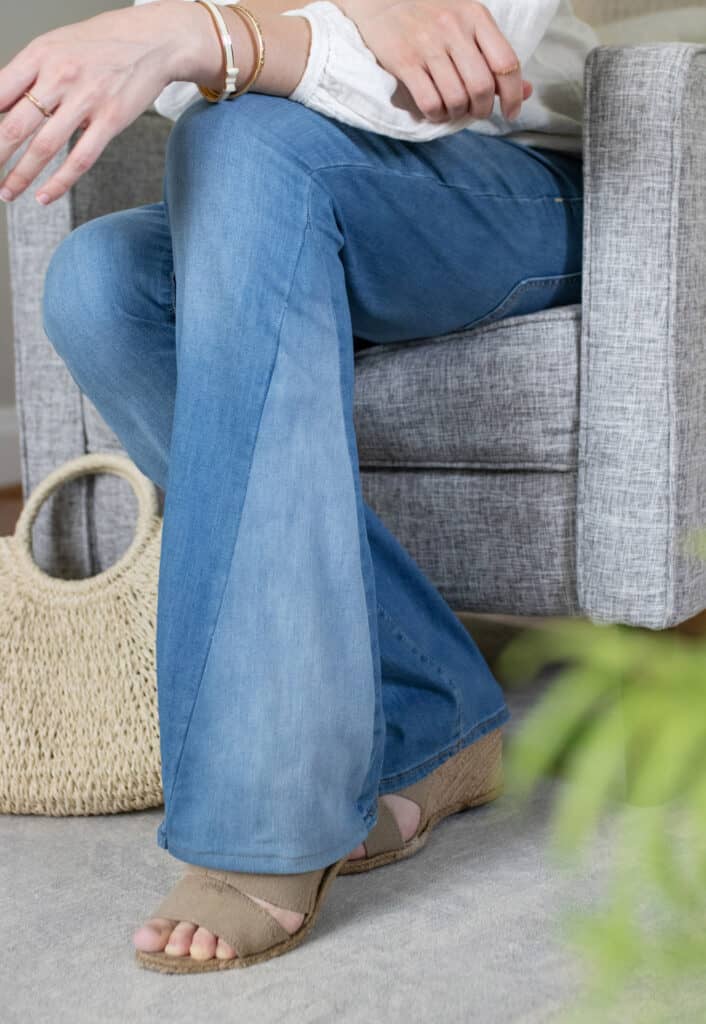 423