Have you read the somewhat controversial book Lean In by Sheryl Sandberg? I just finished it and can't stop talking about it. As someone who used to work in the corporate world and is now raising a daughter, the lessons on women and success profoundly resonated. Her question to readers, "What would you do if you weren't afraid?" stopped me in my tracks. What would I do? What would you do? It's freeing - and scary! - to think about the possibilities. And then to realize the often self-imposed limits that keep women from really going after big ideas. Ten seconds into dreaming I'm already worrying about childcare, paying the bills and getting dinner ready.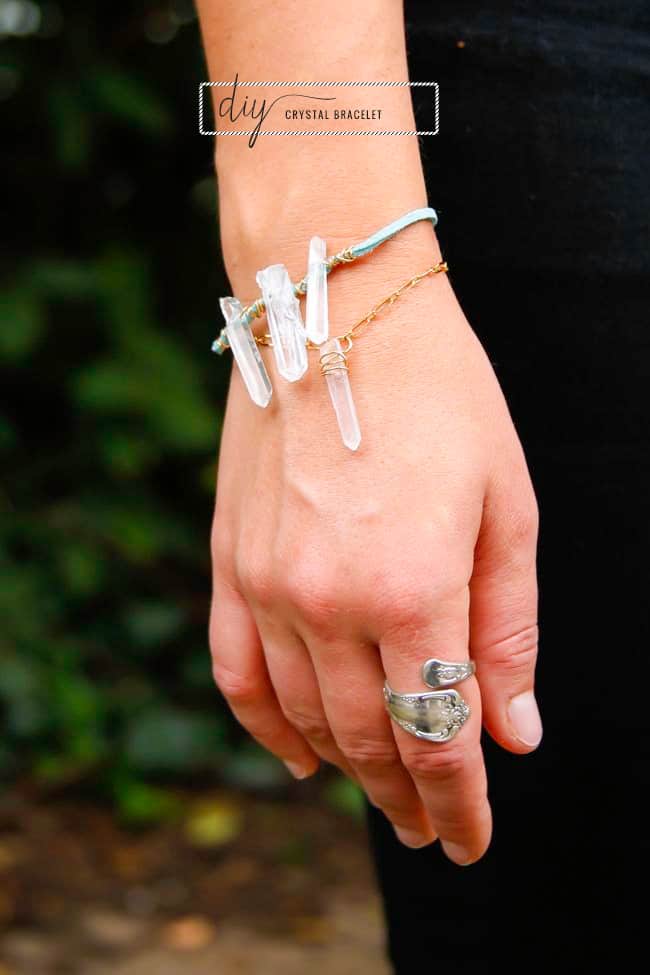 What does that have to do with this tutorial? Probably not much. But it makes me realize that doing a DIY and putting it out there for the world (ok, pretty much just my sister!) to see is scary. Especially since fashion and style can be uber intimidating.
Growing up I was always in awe of the 'cool girls' who put outfits together just right while I languished in garish colors and ill-fitting pants. When do we lose the confidence to wear hot pink with abandon? I see that lack of self consciousness in my daughter. I cherish that in her. Encourage it. And wish I could get it back.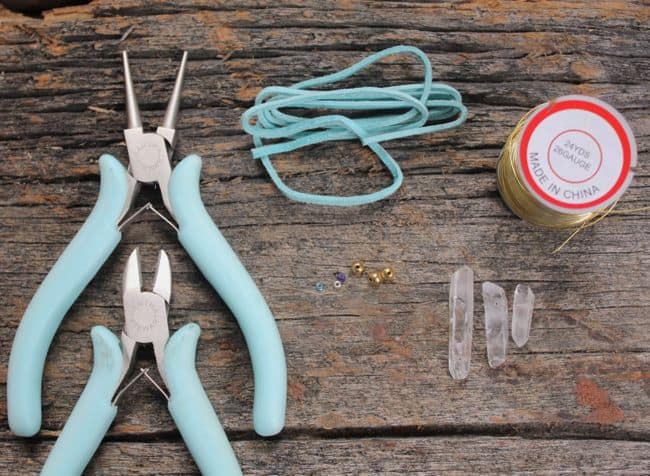 So I have no idea if crystals are cool or trendy. But I think they're pretty! Want to make one too? Here's how:
DIY Crystal Bracelet Instructions
Supplies needed -
3-4 top drilled rough cut crystals (you can find them on Amazon or Etsy)
26 gauge gold wire
Suede cord
2-4 gold beads
2-4 seed beads
Jewelry pliers
Wire clippers
Steps:
Cut a piece of suede cord the length of your wrist, leaving an extra 2 inches on each end to knot for a closure.
Find the center of the cord and start a ½ inch to the left. Cut a long piece of wire and wrap the cord a few times at your starting point.
Slide the crystal onto the wire and follow the photos above to attach it securely to the cord.
Wrap wire around the cord a couple of times and add the next crystal. Repeat with third crystal.
Finish by wrapping a couple of times and cutting the excess wire. Bend the wire ends into the cord with jewelry pliers so that it doesn't poke into your wrist.
Wrap the last 2 inches of each cord end with wire, adding in the small gold beads and seed beads as you go.
Finish by cutting excess wire and bending the wire in the cord.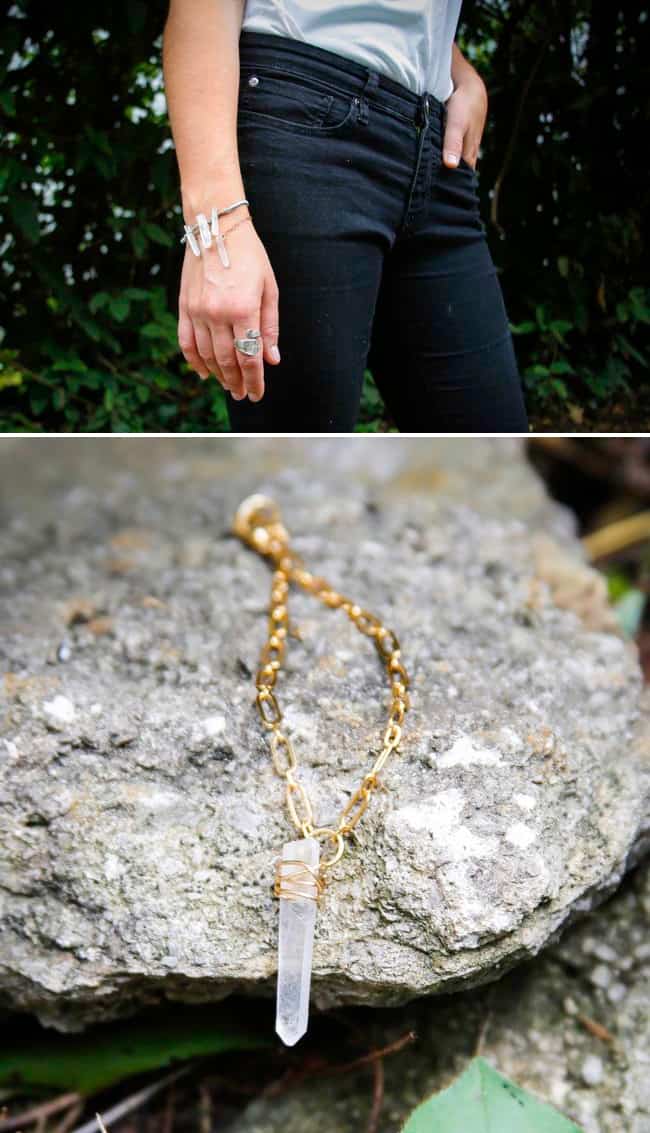 If three crystals is too much bling, go for a simpler look with just one crystal. Thread wire through the top drilled hole and wrap the crystal a few times. Then attach it to chain with a jump ring.
What would you do if you weren't afraid?
39