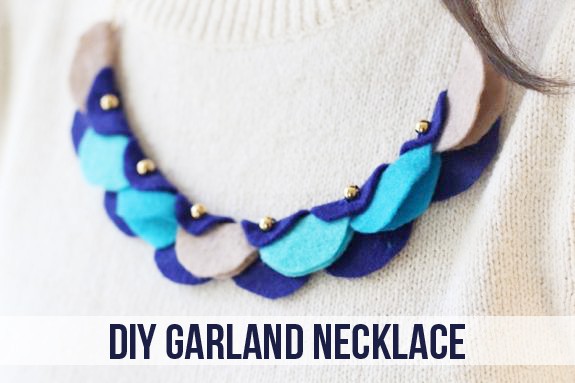 Bloggers are a funny group. We all seem to be addicted to a few of the same things - wearing striped shirts, stealing paint chips, wasting time on Pinterest and celebrating every holiday with a garland.
I've seen so many amazing garlands (bonus point for making it out of paint chips!) but never really had the desire to make one. Until I decided that I could WEAR a garland. Why should a fireplace have all the fun? So I made a garland necklace. Way more my style.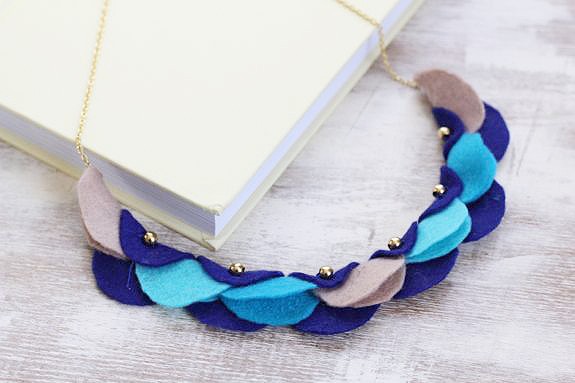 And I have to admit, I kinda love it. Yep, you're probably going to see more garland necklaces. It instantly makes things more festive! Read on to learn how to make your own necklace!
DIY Felt Garland Necklace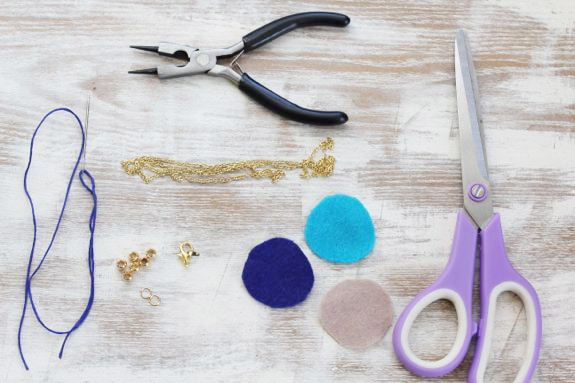 What you'll need:
13 felt circles - I used 6 dark blue, 3 tan, 2 aqua and 2 teal
6 gold beads
embroidery floss and needle
length of chain
two small jump rings
lobster clasp
scissors
needle nose pliers also helpful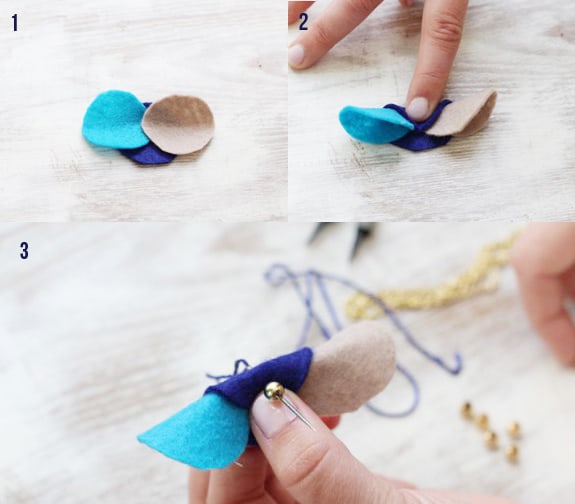 Step 1: Cut your circles. I used the base of a small glass for the shape. And I've discovered that it's impossible to cut a perfect circle with scissors. Fortunately, when you fold them over, it nicely hides the imperfections. So don't stress.
Step 2: Put the 3 circles together and fold them over. Make sure the dark blue circle covers part of both of the other circles.
Step 3: Knot the embroidery floss at the end and thread the needle. Bring the needle through the felt from the back and put the gold bead on.

Step 4: Take the needle back through the circles - making sure you go through all three circles - and tie off the thread in the back. This will hold the circles together. Continue the pattern with the outer circle and repeat.
Step 5: Poke a small hole in the corner of the last circle with your needle and attach a small jump ring. Repeat on the other side. Measure the length of chain you want and cut with scissors. If the chain is not long enough to go over your head, cut it in the middle and attach a lobster clasp.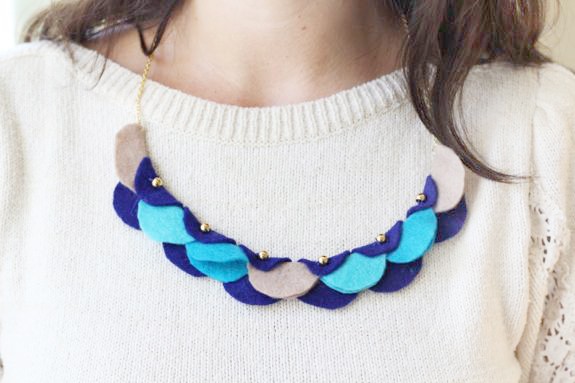 Are you a garland fan? What's your favorite kind to make?
18