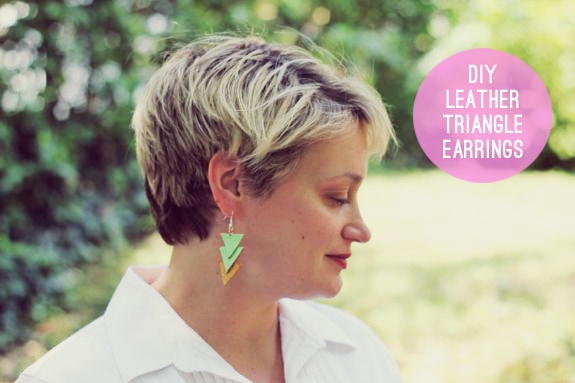 Hello! I'm back from a no Internet hiatus. I'd like to say it was refreshing & freeing to be offline but frankly I was about to start twitching. :)
Have you noticed that triangles are having a fashion moment? Tribal prints and shapes are everywhere! Earrings are my favorite accessory - a funky pair plus red lipstick are all I need to feel dressed up - so I made a simple pair of stacked triangles. But painting leather is so easy you can experiment with all kinds of shapes and colors. I went with mint and neon pink to combine trends (clever, huh?). And the price is right too. A $3 piece of craft leather from Hobby Lobby could easily make a dozen earrings. Or use a piece of scrap leather for free.
DIY Leather Triangle Earrings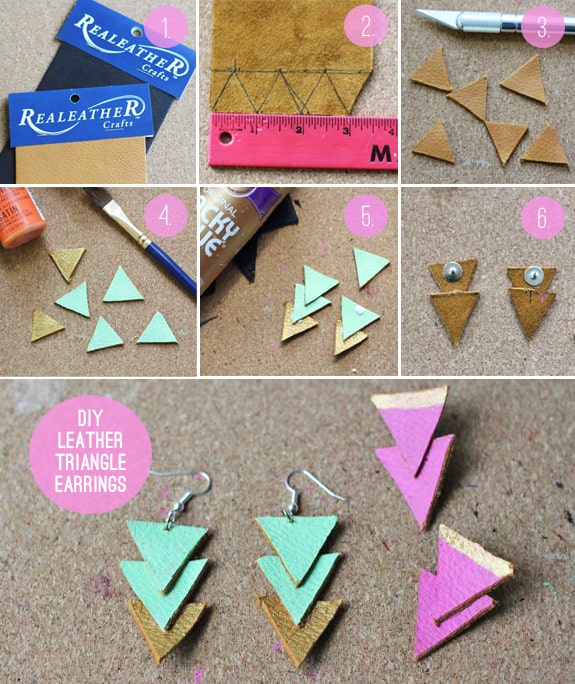 Step 1: You'll need a piece of scrap leather or a piece like the one above (from Hobby Lobby).
Step 2: On the back of the leather measure 1 inch triangles.
Step 3: Cut out your triangles with an exacto knife.
Step 4: Paint your leather with a couple of coats of paint. I used Martha Stewart's craft paint because it works on all surfaces (love that!).
Step 5: Glue your triangles together and let dry.
Step 6: Attach an earring post with glue. Or use your exacto knife to poke a small hole at the top and attach an earring wire with a jump ring.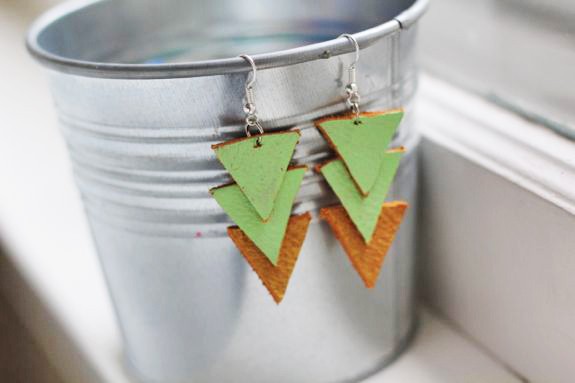 I recommend at least two coats of paint. The above is just with one coat and it needs a bit more coverage.
And I'm excited to be in Nashville where I can get family members to model for me. Soon you won't have to endure my under eye circles!
29