If you are looking for a new simple recipe to add to your meal prep routine, you're in the right place - these egg bake recipes have them all - they're packed with vegetables, loaded with protein, and make great option for breakfast or a pack-to-go lunch at the office.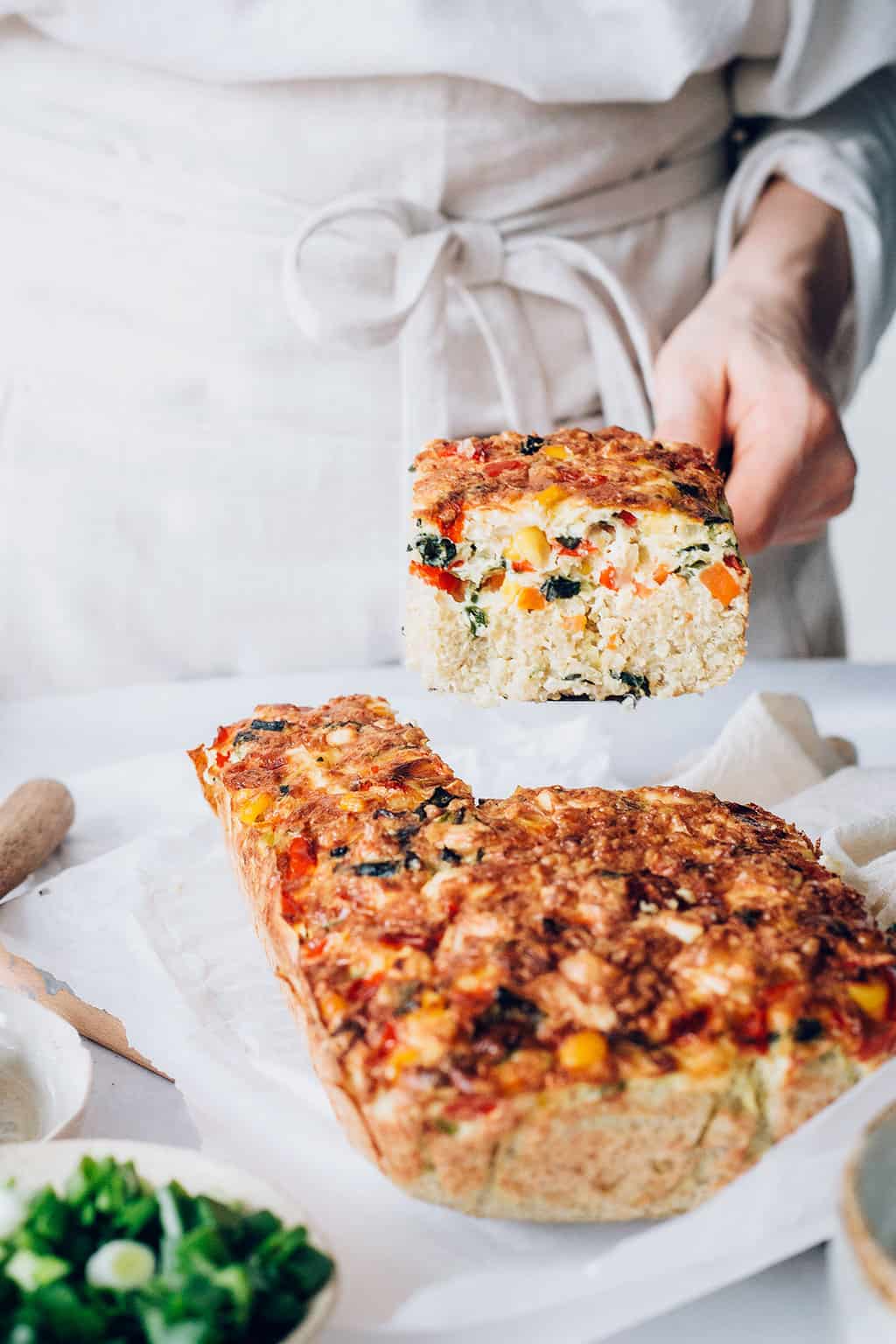 Why we love egg bake recipes
Normally the slow cooker gets all the glory when it comes to make-ahead meals, but bakes and casseroles are just as handy. Egg bakes are extra handy in that they provide a ton of protein to fill you up, are super customizable, and they can be eaten for breakfast, lunch or dinner—or all 3! Here are 3 easy ways to make your own egg bake recipe:
1. Make-Ahead Quinoa Egg Bake Casserole
The downfall of egg bakes is that they're so easy to make unhealthy. I've seen my fair share of recipes that are loaded with heavy cream, 5 cheeses, bacon and nary a vegetable in sight.
Don't get me wrong: I'm all for a decadent, bacon-filled strata or breakfast casserole. But if you're going to eat it throughout the week, might as well make it something that will include some nutrients. Adding in lots of veggies is a great place to start.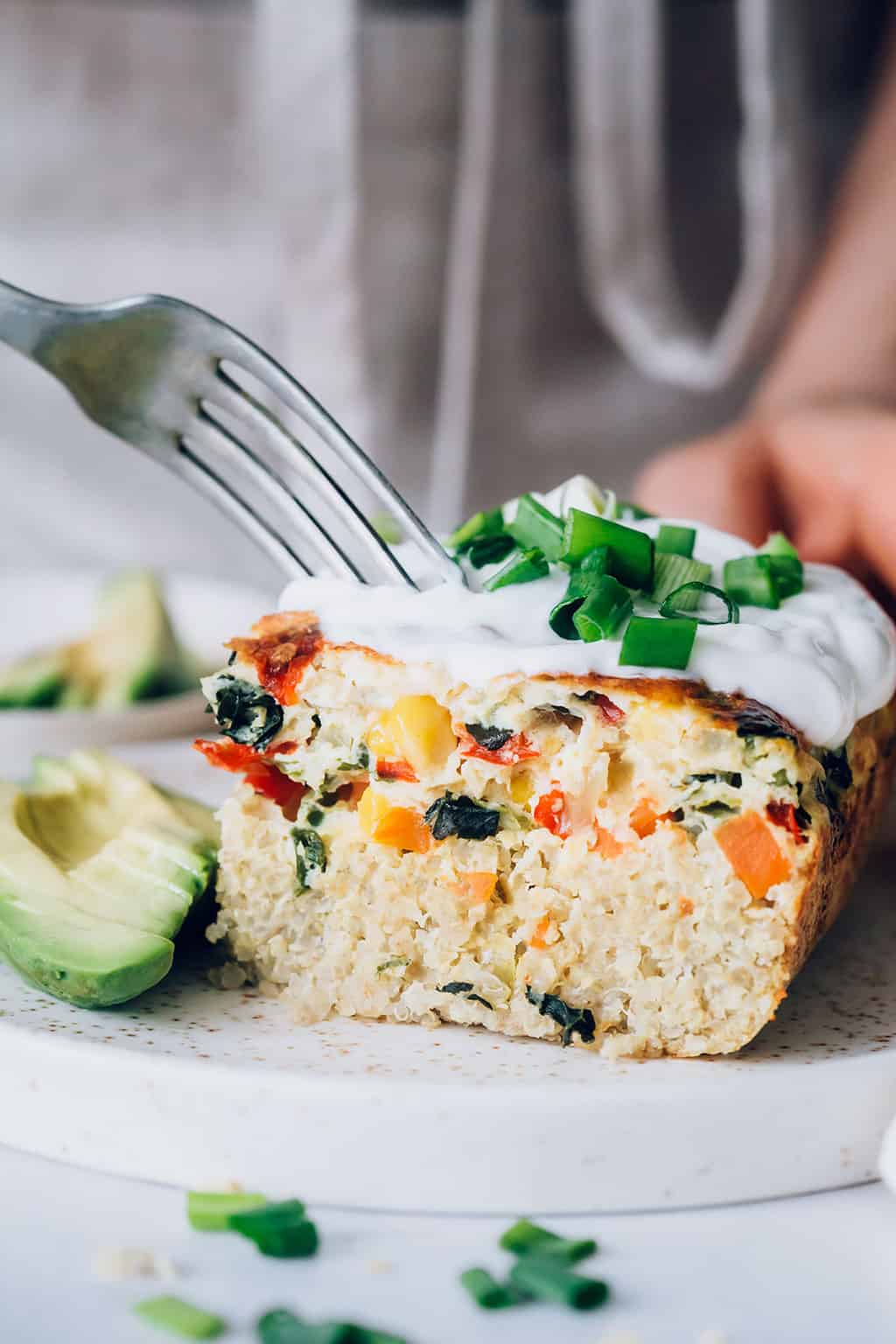 How to make an egg bake casserole
Since this is a Southwestern flavor profile, avocado (a good fat) is a perfect add-on. If you don't do dairy or you're trying to reduce saturated fats, omit the cheese and you won't even notice with the creaminess of the avocado. You can also substitute eggs for tofu for an easy vegetarian option.
Add protein with a quinoa 'crust'
When I'm reheating an egg bake for lunch or dinner, I usually serve it with quinoa and a salad, but this time I figured I'd try putting the quinoa right in the actual bake.
I was skeptical of this method, but it totally works! Putting the quinoa in the baking dish first helps it form a nice crust—similar to quiche, but not as heavy. The quinoa also adds protein and fiber, so the bake is more substantial and filling—meaning you can squeeze even more meals out of it.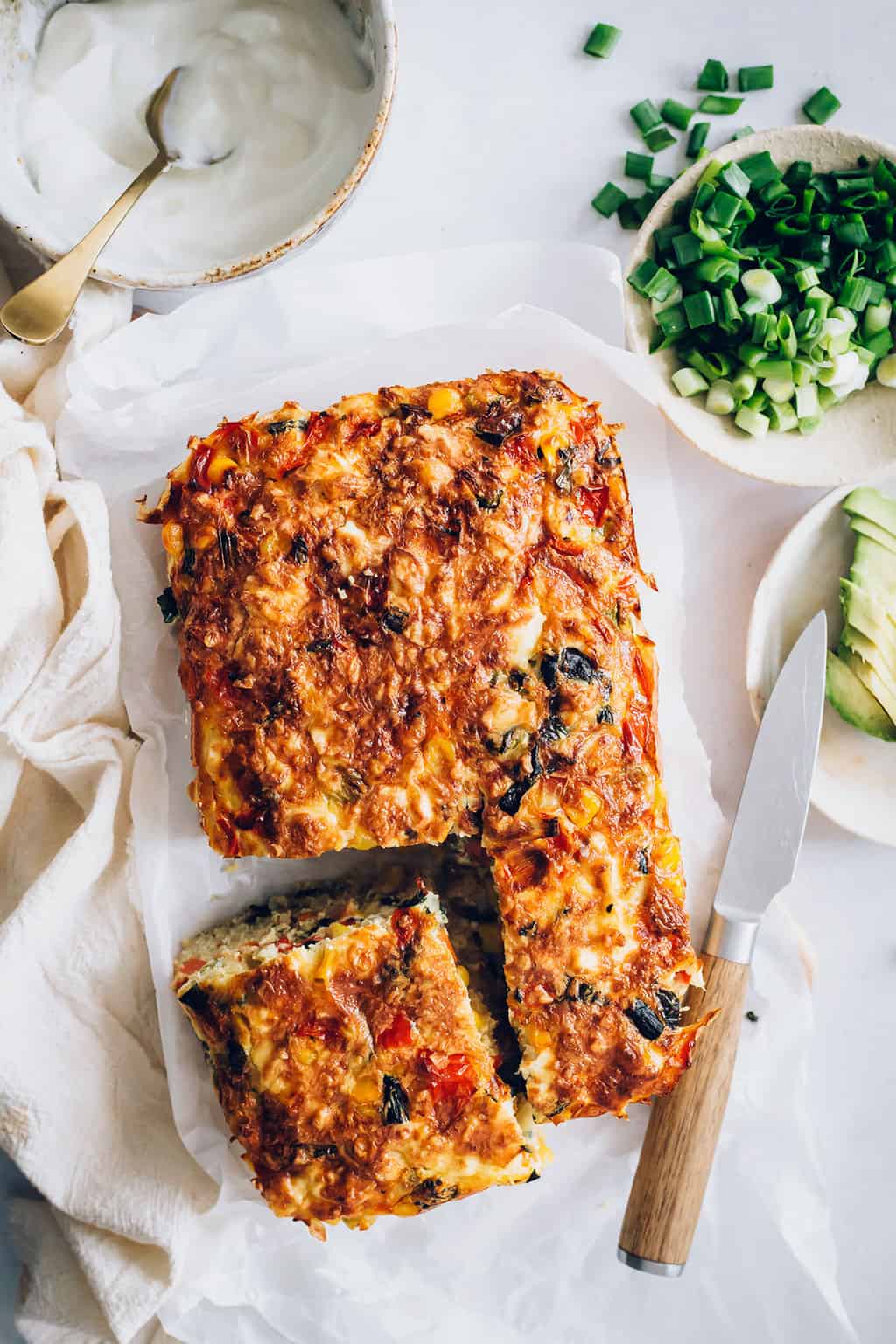 How to save egg bake leftovers
To package up the leftovers, wrap individual slices in foil (a layer of plastic wrap inside keeps it from drying out), or in containers in the fridge. Keep refrigerated 5 days, then reheat for 10 to 15 minutes in the oven, or microwave for a couple minutes.
It will also keep in the freezer, but I recommend going the plastic wrap + foil route if you do that.
2. Baked Autumn Veggie + Goat Cheese Frittata
Do you want to take your omelettes to the next level? Egg frittatas are a great alternative for a hearty, nourishing dish that doesn't require special kitchen skills. They make a tasty way to hide some nutritious vegetables from picky taste buds.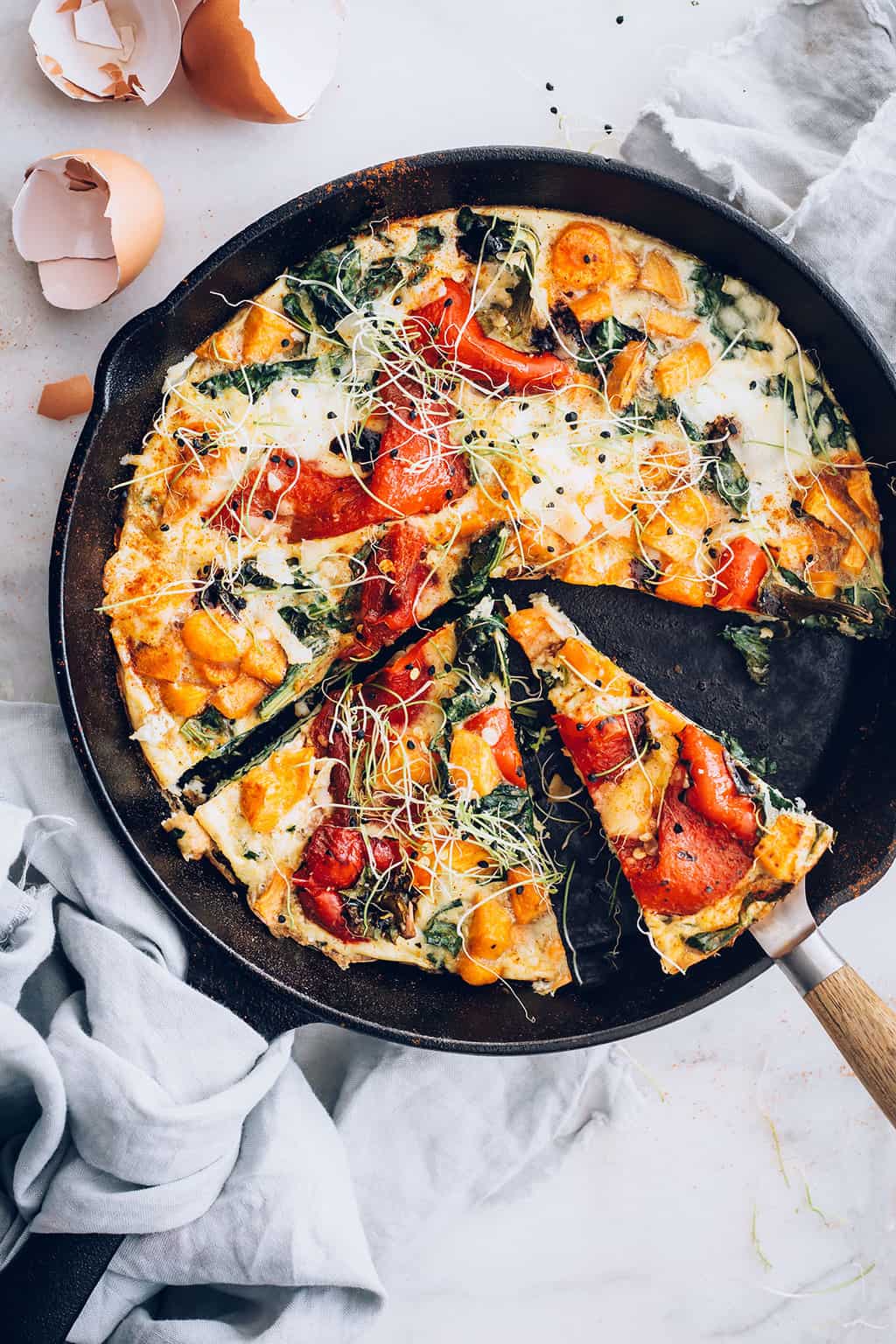 How to make a veggie + egg frittata

This baked egg frittata is our go-to autumn meal prep recipe because it's packed with fiber, vitamin A, minerals and of course, protein. We used carrots, sweet potato, red bell peppers, kale, onions and garlic to create a tasty and colorful combo.
To make this egg bake recipe more satisfying we added crumbled goat cheese, but you can skip this step for a skinnier version, or replace it with your favorite cheese (even tofu would make a good choice).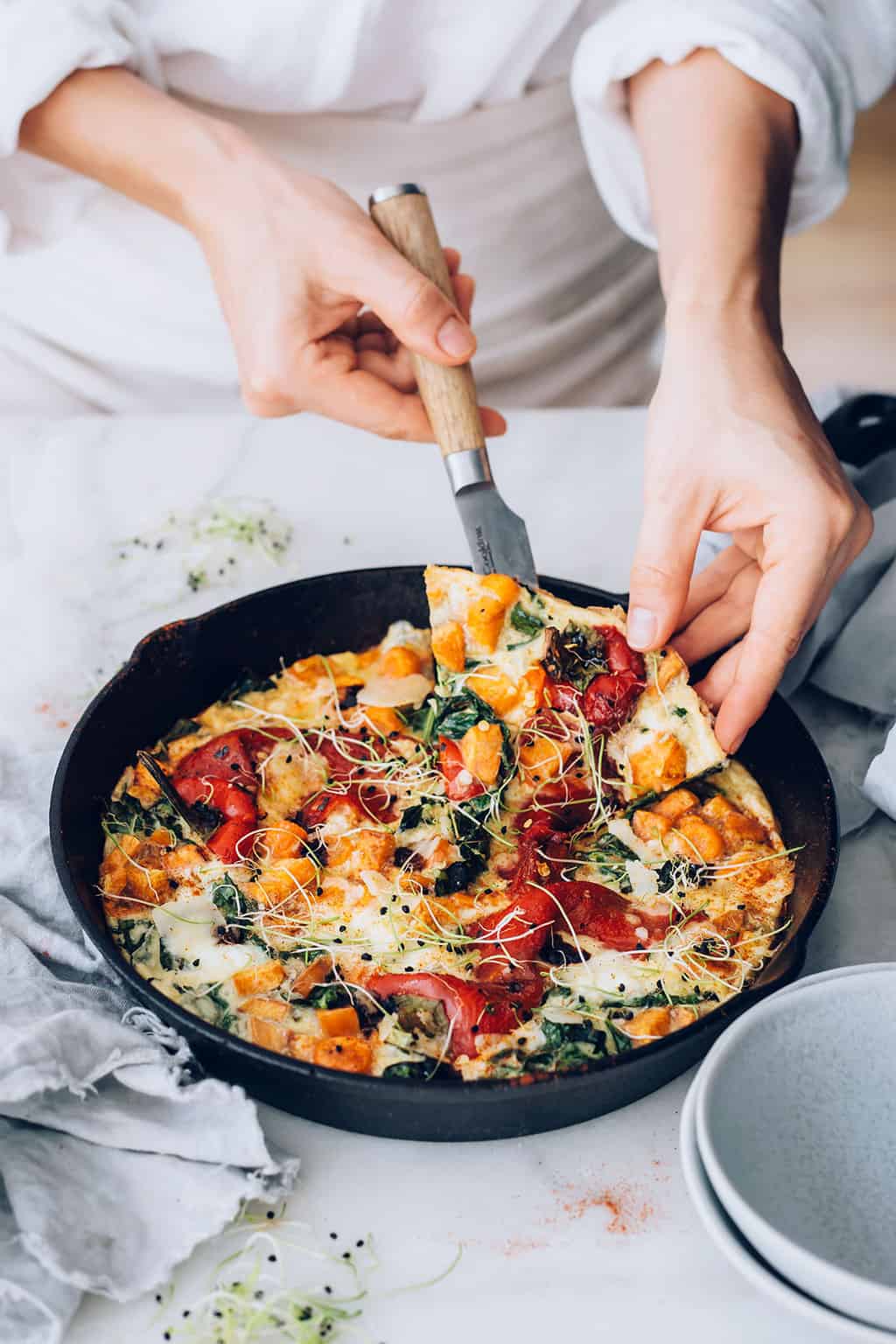 The steps are pretty easy:
1. Prepare your ingredients - rinse, chop and roast or sauté the veggies, crumble the cheese, choose your spices.
2. Transfer the veggies into the baking pan.
3. Beat the eggs with milk or plant milk.
4. Add the extras - spices and salt.
5. Pour the eggs over the vegetables.
6. Top with crumbled cheese (optional).
7. Bake.
8. Cut and serve or transfer into grab-and-go containers.
9. Keep in the refrigerator for up to four days.
You can use your favorite vegetables - broccoli, mushrooms, chard, spinach, beets, pumpkin - any would work!
3. Baked BLT Egg Cups
Breakfast egg cups are brilliant for many reasons: They literally take 5 minutes or less to put together, you can pop them in the oven while you're getting ready in the morning, you can make as few or as many as you want, and they're totally customizable. I like to think of them as personal-size breakfast casseroles.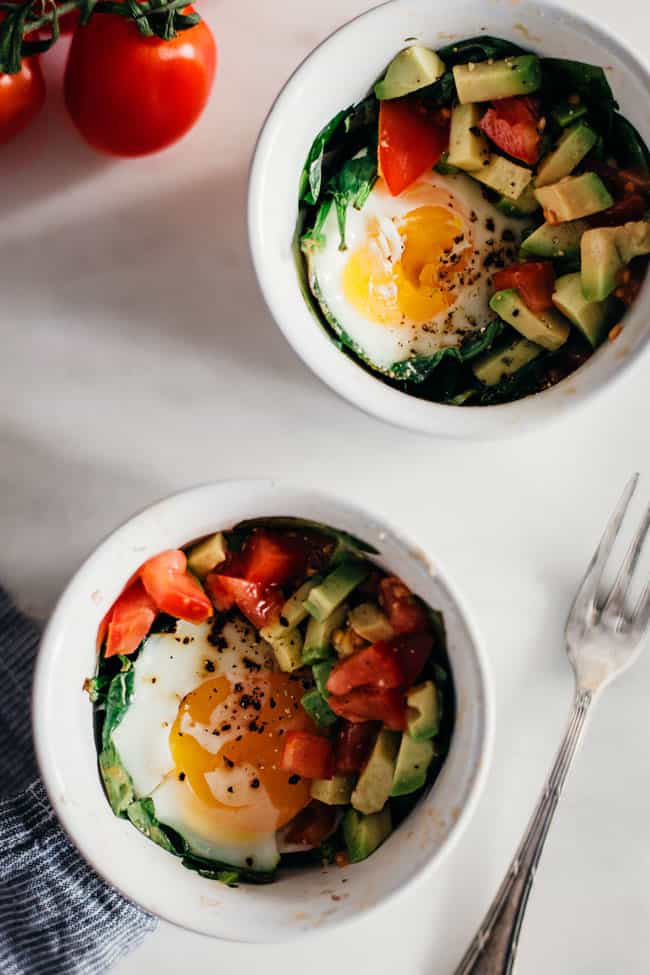 How to make baked egg cups
The key is to layer everything correctly: You need something solid on the bottom to hold the egg up—this could be anything, really: hardy raw greens, or cooked rice, quinoa, veggies, tempeh, hash browns or breakfast sausage (veggie or meat).
In this recipe I used spinach, which is sturdy enough to hold up to the heat, and gets nicely steamed underneath the egg. You could use more delicate greens, but they may wilt away in the oven. Another twist I've seen is to use prosciutto on the bottom. It gets nice and crispy and makes a sort of "nest" for the egg.
Next is the eggs, which you literally just plop on top of the base. Throw it in the oven, then top with tomatoes, avocado and cooked bacon. You can definitely omit the bacon, but I like the umami flavor it gives. To get a similar flavor, you could use coconut bacon, sautéed mushrooms, your favorite cheese or cashew cheese, or even a dollop of kimchi.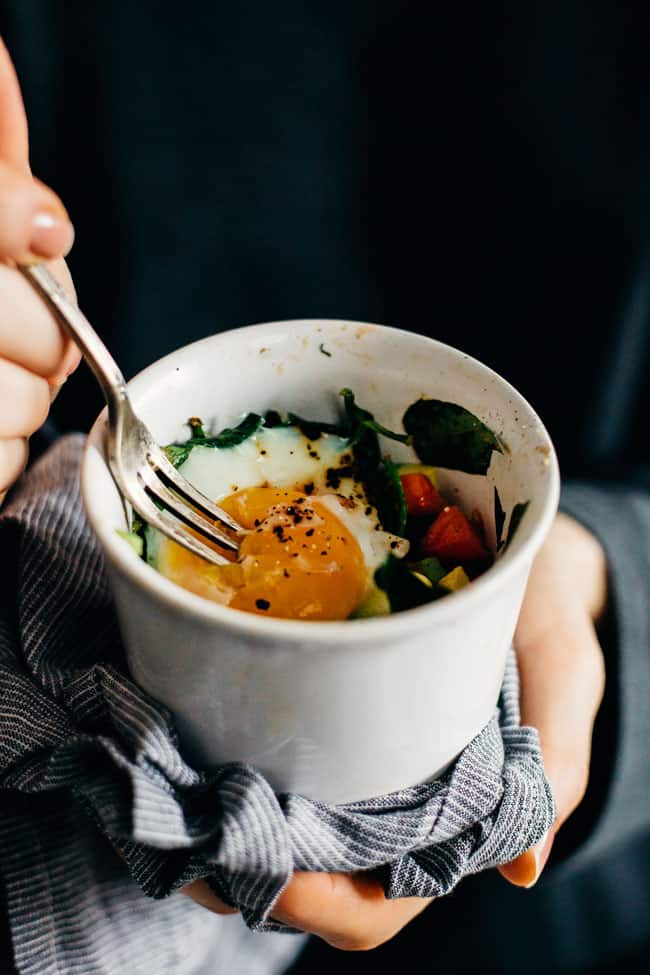 Big batch egg cups
If you're making egg cups for a brunch bunch, use a large muffin tin instead of ramekins (hollowed-out tomatoes, bell peppers or avocados would also work). The eggs cook evenly in the oven—good news for people who always burn theirs on the stove!
You'll know they're ready when the white is completely white, not clear in any spots. The yolk will also be firm to the touch. Just add some toast, coffee and fruit, and your perfect little savory breakfast or brunch is served.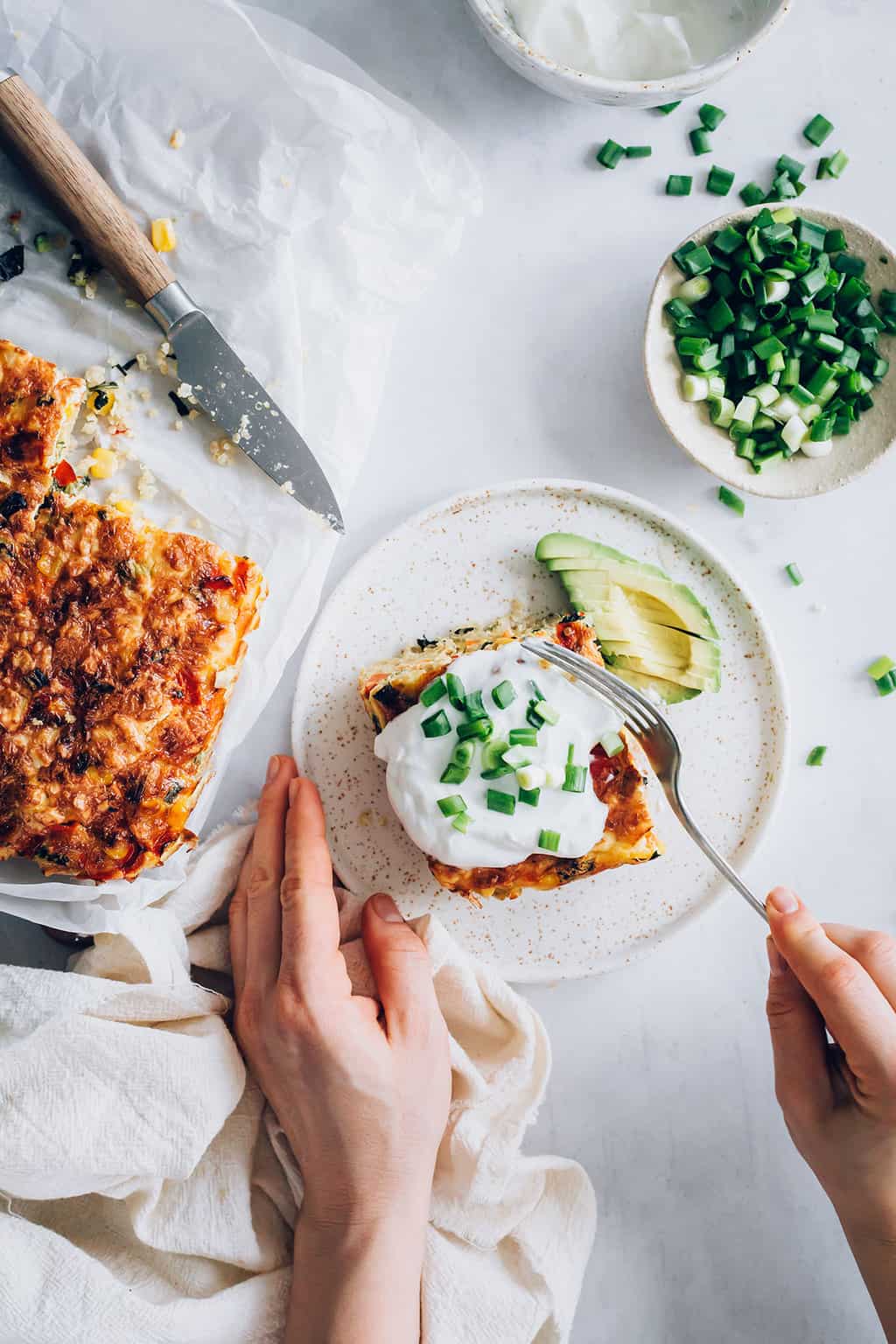 How to serve an egg bake

These egg bake recipes work best as a hearty lunch to-go. However, you can have it for breakfast or even serve it at dinnertime, next to a salad.
Looking for more healthy egg recipes? Try our Fried Egg Breakfast Tacos or our Quick Chilaquiles Verdes.
Did you make this recipe? Tag us #helloglowblog on Instagram, and we will share your photo with our community!
Southwestern Quinoa Egg Bake
Egg bake gets a protein boost from quinoa—and some spice from cumin and chili powder. Garnish with avocado, plain Greek yogurt or salsa.
Equipment
8"x8" baking dish

Skillet

Large mixing bowl

Spatula
Ingredients
For egg bake:
1

tablespoon

butter + 1 teaspoon olive oil

1 ½

cups

cooked quinoa

warm, or cooled leftovers

1 ½

cups

chopped kale

1

cup

chopped bell peppers

any color

½

cup

fresh or frozen corn

½

cup

chopped onion

1

clove

garlic

chopped

½

jalapeño pepper

chopped (optional)

6

eggs

1

tablespoon

milk or unsweetened plain nondairy milk

optional

1

teaspoon

chili powder

2

teaspoon

cumin

½

teaspoon

black pepper

¼

teaspoon

salt

⅓

cup

cheddar cheese or queso fresco
For garnish:
Avocado slices

Chopped green onions

Plain Greek yogurt

Salsa and/or hot sauce

Sprigs of cilantro
Instructions
Preheat oven to 350°.

Grease 8"x8" baking dish with 1 teaspoon oil or butter. Place quinoa evenly in bottom of dish. Set aside.

In large skillet, heat/melt remaining 1 tablespoon of oil or butter.

Add onions, garlic and peppers to skillet and saute about 3 minutes, until just tender. Add in kale and cook another 2 to 3 minutes, just until kale starts to wilt. Set mixture aside.

In a large bowl, whisk eggs, salt and pepper, cumin and chili powder. Add in 1 tablespoon milk or nondairy milk if desired.

Layer cooked vegetables on top of quinoa, then pour egg mixture over the vegetables. Some of the egg mixture will sink, but there should be a relatively even layer on the top.

If desired, layer cheese on top of egg mixture.

Bake 30-35 minutes, checking after 20. When cooked through, eggs should be solid.

Cool 2 to 3 minutes before slicing. Edges will pull back from pan after the bake cools.

Serve immediately, or package in foil or containers for later. Can be refrigerated for up to 5 days.
Notes
If you don't do dairy or you're trying to reduce saturated fats, omit the cheese and you won't even notice with the creaminess of the avocado.  You can also substitute eggs for tofu for an easy vegetarian option.
Nutrition
Calories:
149
kcal
|
Carbohydrates:
15
g
|
Protein:
8
g
|
Fat:
7
g
|
Saturated Fat:
2
g
|
Cholesterol:
114
mg
|
Sodium:
145
mg
|
Potassium:
255
mg
|
Fiber:
2
g
|
Sugar:
1.5
g
|
Calcium:
78
mg
|
Iron:
2
mg
Easy Egg Bake Recipe with Roasted Autumn Veggies
Packed with the best autumn vegetables, loaded with protein, tasty and satiating, this egg bake recipe is a great recipe to add to your meal prep routine!
Ingredients
8

eggs

3

sweet potatoes

cubed

2

carrots

diced

4

kale leaves

chopped

4

red bell peppers

1

yellow onion

diced

2

garlic cloves

minced

½

cup

goat cheese

crumbled

½

cup

unsweetened almond milk

1

teaspoon

turmeric powder

½

tsp

sweet paprika

1 /2

teaspoon

salt

freshly ground black pepper

micro-greens, to garnish

1

tablespoon

extra virgin olive oil
Instructions
Preheat the oven to 175C/350F.

Line a baking sheet with parchment paper, and add the vegetables.

Drizzle with olive oil, season with salt, pepper, turmeric and paprika, and toss to coat evenly.

Remove from the oven and transfer into a non-stick large skillet or casserole. Add the chopped kale and mix to combine.

In a large bowl beat the eggs with the almond milk, and pour over the vegetables.

Top with crumbled cheese.

Bake for 30 mins, then remove, cut and serve warm. Pack in airtight glass containers and keep in the refrigerator for up to 4 days for later use.
Baked BLT Egg Cups
These egg cups are hearty and perfect for a weekday breakfast or a big weekend brunch. You can easily make them vegetarian, too!
Ingredients
Cooking spray

2

large handfuls of spinach

4

eggs

¼

cup

finely diced tomato

divided

½

avocado

finely diced and divided

1

strip of bacon

cooked, crumbled and divided (optional)

Salt and pepper to taste
Instructions
Preheat oven to 375°F.

Lightly spray two oven-safe ramekins (or two cups of a large muffin tin) with cooking spray.

Place a large handful of spinach in each ramekin, pressing down gently to make as even as possible.

Crack two eggs in each ramekin over the spinach, and place in the oven. Bake 14-18 minutes, or until eggs are cooked to desired doneness. (I like my eggs firmer and usually leave them in 18-20 minutes.)

Remove ramekins from the oven and set on the counter. Top with the tomato, avocado and bacon, if using. Salt and pepper to taste and serve!
Notes
Make these egg cups veg-friendly by omitting the bacon, or using veggie bacon or sautéed mushrooms (or another sautéed veggie).
Photos by Ana Stanciu
20