Inflammation is the body's natural response to protect itself from infection or injury. The swelling and pain it can cause is your body's healing action kicking in by bringing increased blood circulation and heat to the area, along with immune mediators that specialize in fighting infections.
Inflammation can also happen when there's an immune response but no injury or illness, like with arthritis. This is a type of inflammation where the body treats its own components as foreign and attacks them.
But there is hope! Besides making sure to relieve yourself of the negative lifestyle choices you are making that contribute to inflammation, nature has some medicines that support the healing process. Many essential oils have anti-inflammatory properties, and they can help with achiness or discomfort.
Anti-Inflammatory Essential Oils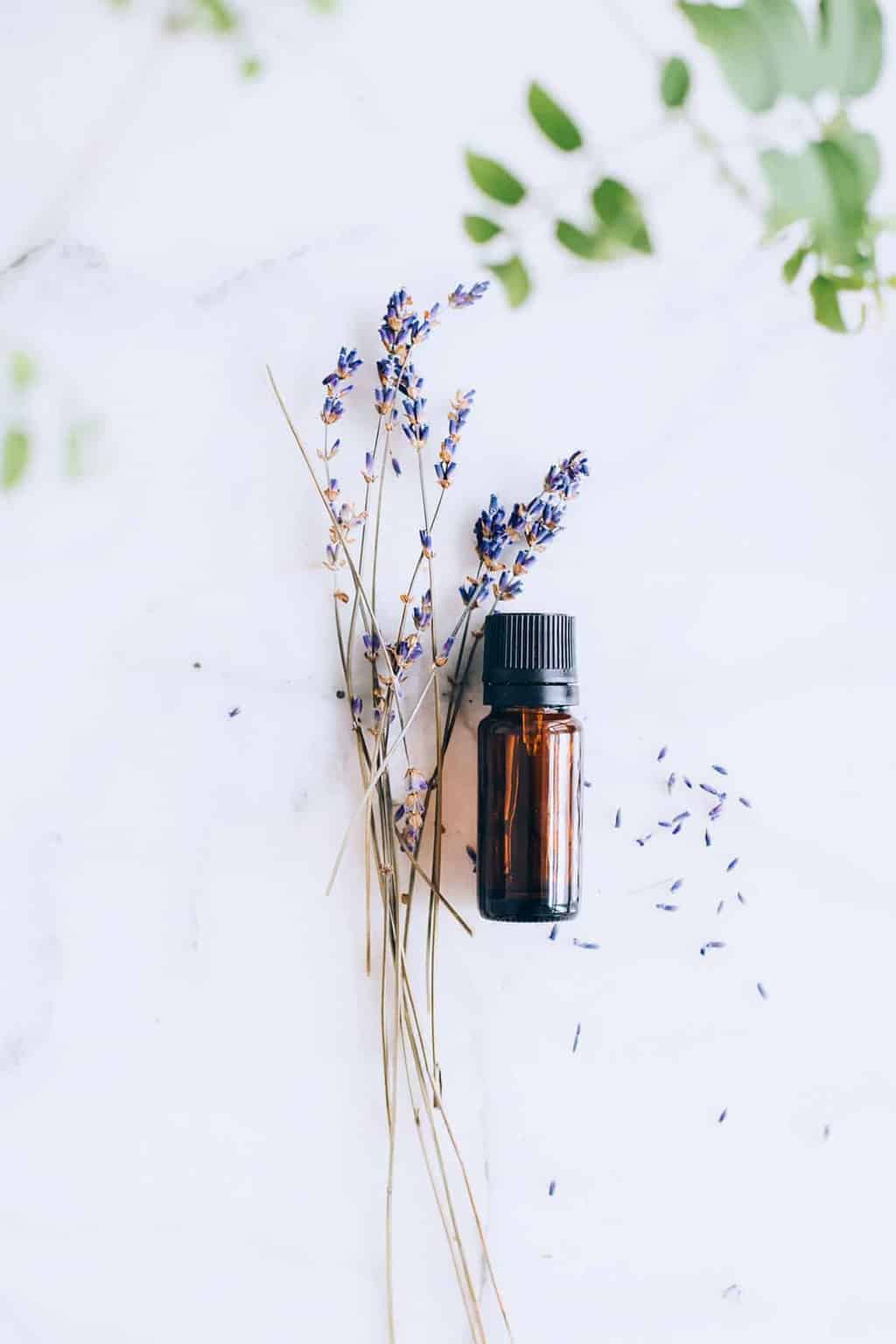 There are lots of options when it comes to essential oils for inflammation. Thyme is high in carvacrol, which is a type of phenol that works as a natural anti-inflammatory [source].
Some varieties of frankincense can inhibit the production of inflammatory proteins [source], and rosemary even contains analgesic properties [source]. German chamomile is particularly suited to skin irritations [source], and of course, lavender is good for just about anything.

Some essential oils that have exhibited anti-inflammatory actions include:
All-Purpose Anti-Inflammatory Essential Oil Blend
For general use, this is a good all-purpose anti-inflammatory oil blend that's okay to use on the whole family.
Mix the essential oils together in a 5 mL amber glass bottle.
Do not apply directly to the skin—essential oils should be diluted in a carrier oil first.
To use, here are a few ways to apply it:
Massage: Add 6 drops of the essential oil blend to 2 teaspoons of grapeseed or sweet almond oil. Mix well and massage into the affected area.
Compress: Add 1 cup cold water to a bowl. Mix 6 drops of the anti-inflammatory blend with 1 teaspoon grapeseed oil and add to the water. Stir the oil. Soak a cloth in the water, wring out the excess, and apply to the affected area.
Roll-on: Add 10–12 drops of the essential oil blend to a 10 ml glass bottle with a roller ball. Fill the rest of the bottle with the carrier oil, and replace the roller ball cap. Shake to blend and apply to the affected area.
Salve: Melt ¼ cup of jojoba oil with ¼ ounce of beeswax. When the beeswax is melted and the oils are combined, remove from heat, and pour into a 1–2 oz jar. Add 30 drops of the essential oil blend. Replace the cap, give the jar a shake to blend, and then let it stand until hardened.

For tired or stiff joints & muscles after a hard workout
You know that aching feeling when you can barely move after a hard workout? Stimulating essential oils are a great choice because they can help boost circulation when you're feeling tired and stiff.
Add essential oils to 2 tablespoons of grapeseed oil and massage into the affected areas.
For inflammation with pain (sprains
,
strains
,
tension headache)
Inflammation often causes pain or discomfort. Peppermint, rosemary, marjoram, thyme, rose, eucalyptus, clove, bergamot, and fennel essential oils are all believed to have analgesic properties that may help with aches and pains.
Add essential oil drops to a 10 mL glass bottle with a roller ball. Fill the rest of the bottle with the carrier oil, and replace the roller ball cap. Shake to blend and apply to the affected area.
For skin inflammation (acne
,
sunburn
,
eczema)
Roman chamomile, geranium, and patchouli essential oils can be especially helpful when dealing with skin conditions that come with inflammation or itching. Try this soothing gel if your skin is feeling inflamed or itchy.
Add the essential oils and rose hydrosol to 2 ounces of aloe vera gel or an unscented cream base. Stir together and store in a glass container. Apply as needed.
Got an insect bite? Try a compress with lavender or Roman chamomile essential oils to get relief.
For respiratory inflammation (bronchitis
,
laryngitis)
Essential oils like eucalyptus, peppermint, rosemary, and cypress can be beneficial if you're experiencing nagging respiratory inflammation. Use this blend when coughs, colds, and sinus congestion have you feeling stuffy and sluggish.
Make a 2-ounce salve with ¼ cup carrier oil and ¼ ounce beeswax, and add 50 drops of essential oil blend. Apply to the upper chest area to soothe a cough and congestion.
References:
1. Lima MDS, et al. Anti-inflammatory effects of carvacrol: evidence for a key role of interleukin-10. Eur J Pharmacol. 2013.
2. Al-Yasiry ARM, et al. Frankincense – therapeutic properties. Postepy Hig Med Dosw (Online). 2016.
3. Raskovic A, et al. Analgesic effects of rosemary essential oil and its interactions with codeine and paracetamol in mice. Eur Rev Med Pharmacol Sci. 2015.
4. Lee SH, et al. Effect of German chamomile oil application on alleviating atopic dermatitis-like immune alterations in mice. J Vet Sci. 2010.
5. Srivastava JK, et al. Chamomile: a herbal medicine of the past with bright future. Mol Med Report. 2010.
6. Dias DS, et al. Copaiba oil suppressess inflammatory cytokines in splenocytes of C57B⅙ mice induced with experimental autoimmune encephalomyelitis (EAE). Molecules. 2014.
7. Kostić M, et al. Anti-inflammatory effect of the Salvia sclarea L. ethanolic extract on lipopolysaccharide-induced periodontitis in rats. J Ethnopharmacol. 2017.
8. Juergens UR. Anti-inflammatory properties of the monoterpene 1.8-cineole: current evidence for co-medication in inflammatory airway diseases. Drug Res (Stuttg). 2014.
9. Boukhatem MN, et al. Rose geranium essential oil as a source of new and safe anti-inflammatory drugs. Libyan J Med. 2013.
10. Sala A, et al. Anti-inflammatory and antioxidant properties of Helichrysum italicum. J Pharm Pharmacol. 2002.
11. Esteves Cardia GF, et al. Effect of lavender (Lavandula angustifolia) essential oil on acute inflammatory response. Evid Based Complement Alternat Med. 2018.
12. Bina F. Sweet marjoram. J Evid Based Complementary Altern Med. 2017.
13. Su S, et al. Frankincense and myrrh suppress inflammation via regulation of the metabolic profiling and the MAPK signaling pathway. Sci Rep. 2015.
14. Liang JL, et al. Patchoulene epoxide isolated from patchouli oil suppresses acute inflammation through inhibition of NF-kB and downregulation of COX-2/iNOS. Mediators Inflamm. 2017.
15. Mileva M, et al. Rose flowers—a delicate perfume or a natural healer? Biomolecules. 2021.
16. Moy RL, et al. Sandalwood album oil as a botanical therapeutic in dermatology. J Clin Aesthet Dermatol. 2017.
17. Ocaña A, et al. Effects of thyme extract oils (from Thymus vulgaris, Thymus zygis, and Thymus hyemalis) on cytokine production and gene expression of oxLDL-stimulated THP-1-macrophages. J Obes. 2012.
18. Chou ST, et al. Achillea millefolium L. essential oil inhibits LPS-induced oxidative stress and nitric oxide production in RAW 264.7 macrophages. Int J Mol Sci. 2013.
This post was medically reviewed by Dr. Holly Smith, a board-certified physician in nephrology and internal medicine with a background in nutrition. Learn more about Hello Glow's medical reviewers here. As always, this is not personal medical advice, and we recommend that you talk with your doctor.
639