Aromatherapy can play a powerful role in relationships—in fact, some essential oils are so good at sparking passionate feelings that they're believed to be aphrodisiacs. This Valentine's Day, or for your next special anniversary, spice things up with one of these essential oils for love and romance.
10 Essential Oils for Love + How to Use Them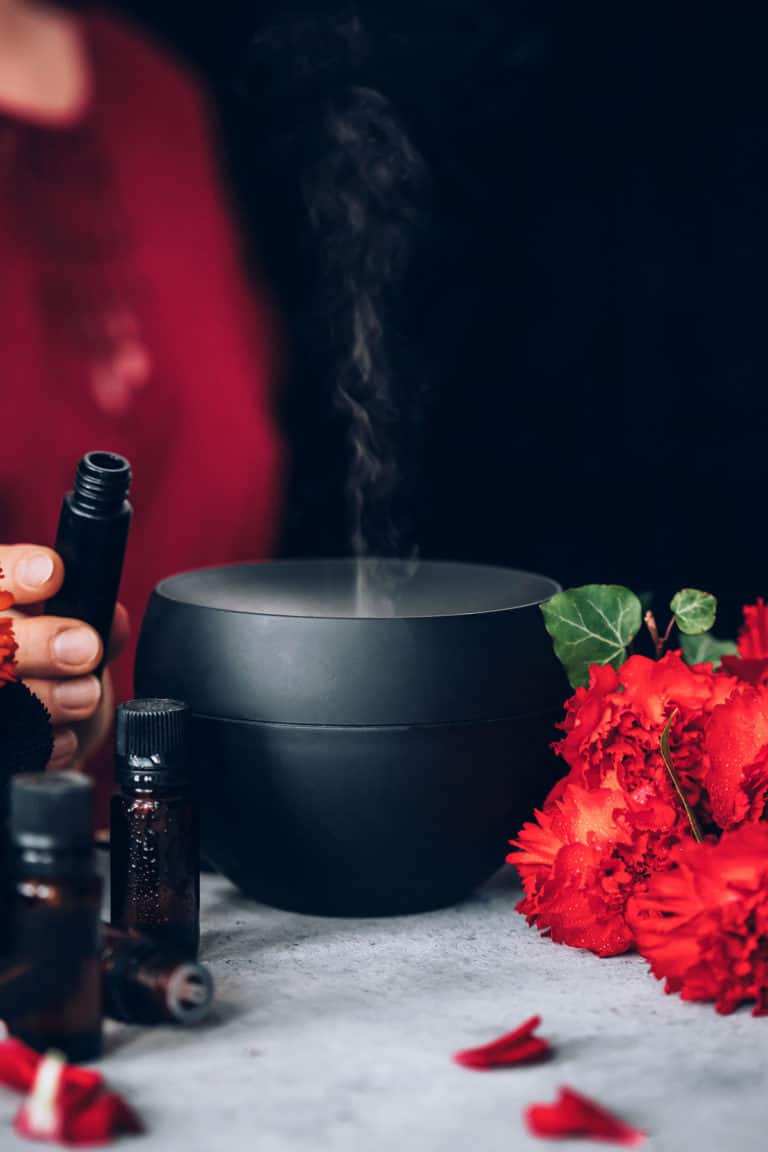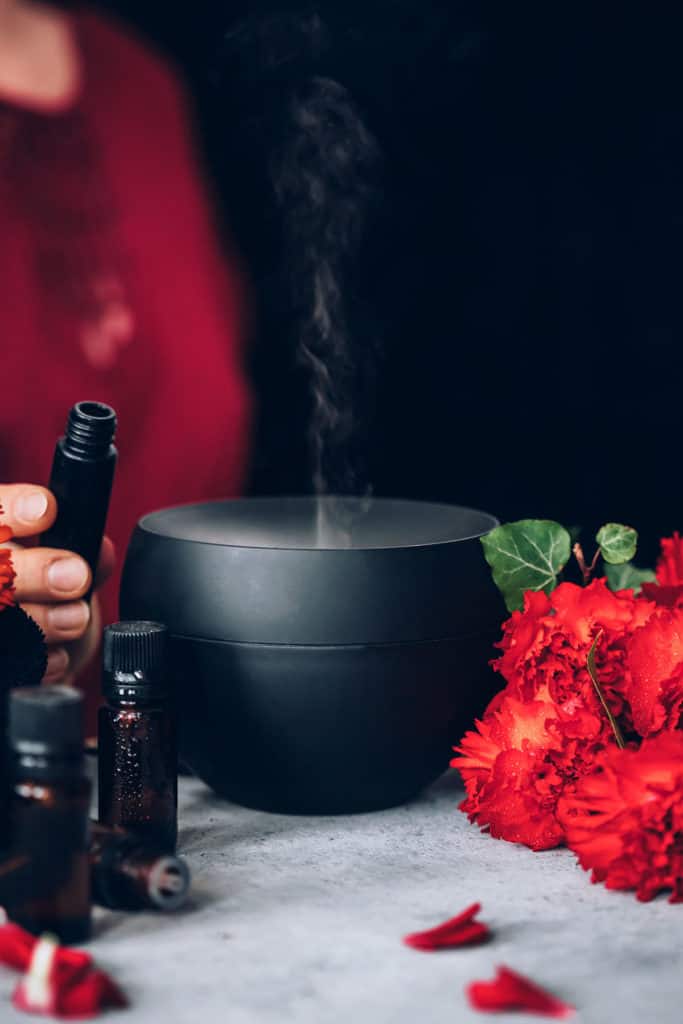 1. Ylang Ylang
The sweet floral aroma of ylang ylang has a relaxing effect that makes it popular for romance [source]. The exotic scent calms anxiety [source] and is believed to help release inhibitions. In fact, petals of the ylang ylang flower have traditionally been scattered on the beds of newlyweds.
Ylang ylang has a strong scent, which can become overwhelming, but it pairs well with bright citrus oils. Put some love in the air with this blend of sweet ylang ylang and uplifting orange and clary sage.
Honeymoon Night Diffusion
—3 drops ylang ylang EO
—3 drops sweet orange EO
—2 drops clary sage EO
Just drop these essential oils into an electric diffuser, adjusting the ratio as needed for your machine, and set it up in your bedroom.
2. Ginger
When it comes to essential oils for love, the musky, earthy aroma of ginger is said to be very arousing. A warming oil that has traditionally been used to get the blood flowing [source], ginger is believed to help with building feelings of courage and confidence.
—5 drops ginger EO
—3 drops black pepper EO
—4 drops cardamom EO
—1 drop cedarwood atlas EO
In a mixing bowl, combine the essential oils with 2 tablespoons carrier oil and 4 tablespoons granulated sugar. To use, apply to the skin using gentle, circular buffing motions, rinse with warm water, and pat dry.
3. Rose
The blooming floral fragrance of pure rose essential oil is thought to bring about feelings of love, care, and comfort. Not only does rose EO support women's reproductive health, but its aroma has also been shown to have a calming effect [source], which creates an environment of relaxation [source] that can help foster intimacy.
—1 teaspoon honey
—2 teaspoons brown sugar
—2 drops rose absolute EO
Stir all ingredients together until you have a smooth paste. Apply a small amount to your lips using your fingertips, then rinse with warm water.
4. Nutmeg
Nutmeg is a spicy, stimulating essential oil that may help create feelings of connection. It's no surprise, since the herb has been shown to have aphrodisiac effects [source], that it has traditionally been used as a treatment for sexual disorders.
For a relaxing bath that you can enjoy together, combine warming nutmeg and the comforting yet romantic fragrances of rose and vanilla EOs. Throw in some rose petals while you're at it!
Sensual Milk Bath
—3 drops rose absolute EO
—2 drops nutmeg EO
—2 drops vanilla EO
Combine these essential oils with 1 ounce of carrier oil and 1 can of full-fat coconut milk. Stir together to blend. Pour into a tub of warm water, and use your hands to disperse the mixture.
5. Sandalwood
Sandalwood might not be your first pick of essential oils for love, but its warm, woody aroma soothes nerves [source] and is often used to help promote sexual feelings, especially in men. Spritz your linens to set the scene with this exotic aroma.
"I Love You" Linen Spray
—35 drops sandalwood EO
—35 drops spruce EO
—30 drops lavender EO
Fill a 4-ounce spray bottle with ⅛ cup vodka (the higher the proof, the better), and add the essential oils. Let sit for 5 minutes, then fill the bottle with distilled water and mist your linens.
6. Black Pepper
Stimulating black pepper combines well with sandalwood and peppermint to create a sensual massage blend that will warm you right up! Turn down the lights and take turns massaging each other's shoulders, neck, and back.
Love Potion Massage Oil
—6 drops sandalwood EO
—4 drops black pepper EO
—3 drops peppermint EO
—1 drop cinnamon lear EO
Add the essential oils to 2 ounces of carrier oil, like grapeseed or sweet almond oil. Mix well before applying to your skin.

7. Neroli
A great oil for anxiety, neroli is a delicate citrus oil that can set the mood by helping to calm the nerves [source]. You can even wear it by itself as a light perfume.
Steamy Synergy
—2 drops neroli EO
—1 drop rose EO
—3 drops rosewood EO
This is a lovely blend for diffusing or adding to your bath. Add the essential oils to 1 ounce of carrier oil, then dissolve into 1 cup Epsom salt and add to a warm bath.
8. Clary Sage
Clary sage essential oil is known for its usefulness in women's menstrual issues [source], but this unique musky, herbal-scented EO is also frequently used as an aphrodisiac due to its ability to promote feelings of relaxation [source].
Love-at-First-Scent Sachets
—3 drops geranium EO
—4 drops clary sage EO
—6 drops sweet orange EO
You can scent dried rosebuds with this pretty blend to create a passion-inspiring potpourri mix. Just pour it into small cotton sachet bags, then store them in your lingerie drawer. Or transfer the potpourri to a decorative bowl on your nightstand or dresser.
9. Patchouli
An intimate evening doesn't require heavy floral musks! Patchouli has a long history of use as an aphrodisiac [source] due to the belief that its scent can help rekindle desire.
Additionally, many find the rich, earthy aroma to be deeply relaxing before bedtime. Adding patchouli to your diffuser, along with ylang ylang, bergamot, and frankincense, will create a sweet space to become uplifted and adored.
Romantic Body Spray
—7 drops bergamot EO
—7 drops lemon EO
—7 drops patchouli EO
—3 drops rose otto EO
Add essential oils to a 2-ounce mist bottle and fill with distilled water. Replace the cap and shake vigorously until well blended. To use, shake the bottle and apply 2–3 sprays to the body.
10. Jasmine
One of our favorite essential oils for love, the sultry scent of jasmine has long been used as an aphrodisiac for both men and women. The heady floral aroma can help boost your mood [source] and promote feelings of confidence.
Try a bit of this evocative scent on the inside of your wrists, behind your ears, and on other pulse points.
Enchantress Perfume
—4 drops jasmine EO
—3 drops frankincense EO
—3 drops sweet orange EO
Add the essential oils into a 10 mL roll-on applicator, then fill the tube with a carrier oil. Shake well before each use.
FAQ: Essential Oils for Love + Romance
Does aromatherapy have any benefits?
Aromatherapy can be used to relieve anxiety and stress. It can boost your mood and make you feel happier. In some cases, it is used to spice things up for couples, as some scents are aphrodisiacs.
What scents can attract love?
Certain scents can act as aphrodisiacs. Nutmeg, clary sage, patchouli, and jasmine are known as aphrodisiac scents. However, you can also use lavender, cinnamon, peppermint, ginger, and pumpkin for the same effect.
How do you use essential oils for love?
If you want to use essential oils for love, you just need to add them to a diffuser. However, if you want to spice things up quickly, you can also use some essential oil drops on a tissue, then smell it to let the scent fill up your senses.
Can essential oils benefit your health?
Some essential oils have calming effects, making them ideal for people who experience frequent stress. Meanwhile, other EOs, such as rose oil, can support reproductive health in women [source]. Also, nutmeg has traditionally been used as a treatment for sexual disorders [source].

References:
1. Tan LTH, et al. Traditional uses, phytochemistry, and bioactivities of Cananga odorata (ylang-ylang). Evid Based Complement Alternat Med. 2015.
2. Hongratanaworakit T, et al. Relaxing effect of ylang ylang oil on humans after transdermal absorption. Phytother Res. 2006.
3. Mao QQ, et al. Bioactive compounds and bioactivities of ginger (Zingiber officinale Roscoe). Foods. 2019.
4. Mohebitabar S, et al. Therapeutic efficacy of rose oil: a comprehensive review of clinical evidence. Avicenna J Phytomed. 2017.
5. Hongratanaworakit T. Relaxing effect of rose oil on humans. Nat Prod Commun. 2009.
6. Tajuddin, et al. An experimental study of sexual function improving effect of Myristica fragrans Houtt. (nutmeg). BMC Complement Altern Med. 2005.
7. Höferl M, et al. A pilot study on the physiological effects of three essential oils in humans. Nat Prod Commun. 2016.
8. Namazi M, et al. Aromatherapy with Citrus aurantium oil and anxiety during the first stage of labor. Iran Red Crescent Med J. 2014.
9. Ou MC, et al. Pain relief assessment by aromatic essential oil massage on outpatients with primary dysmenorrhea: a randomized, double-blind clinical trial. J Obstet Gynaecol Res. 2012.
10. Seol GH, et al. Randomized controlled trial for Slavia sclarea or Lavandula angustifolia: differential effects on blood pressure in female patients with urinary incontinence undergoing urodynamic examination. J Altern Complement Med. 2013.
11. Swamy MK, et al. A comprehensive review on the phytochemical constituents and pharmacological activities of Pogostemon cablin Benth.: an aromatic medicinal plant of industrial importance. Molecules. 2015.
12. Hongratanaworakit T. Stimulating effect of aromatherapy massage with jasmine oil. Nat Prod Commun. 2010.
13. Motaharinezhad M, et al. The effect of soft oral capsule of rose oil on sexual dysfunction in women of reproductive age: a randomised clinical trial. Eur J Integr Med. 2021.
This post was medically reviewed by Dr. Kimberly Langdon, M.D., a university-trained obstetrician/gynecologist with 19 years of clinical experience. Learn more about Hello Glow's medical reviewers here. As always, this is not personal medical advice, and we recommend that you talk with your doctor.
172