One of the best ways to use essential oils is to help promote a calm and relaxed environment. There's just something so tranquil about deliberately stopping what you're doing to inhale deeply the calming aroma of essential oils. This alone can help us pause and "reset," but it's good to know that several essential oils have beneficial properties to help when we need to be calm.
While any essential oil aroma that you find pleasant has the potential to bring you comfort and help you feel at peace, a number of them have a long history of use for promoting a relaxed atmosphere.
Essential oils can certainly be used individually, but they also work exceptionally well when combined. They work in harmony, often enhancing each other's benefits. So feel free to grab a single bottle and sniff away or consider trying one of these calming blends the next time you need to relax!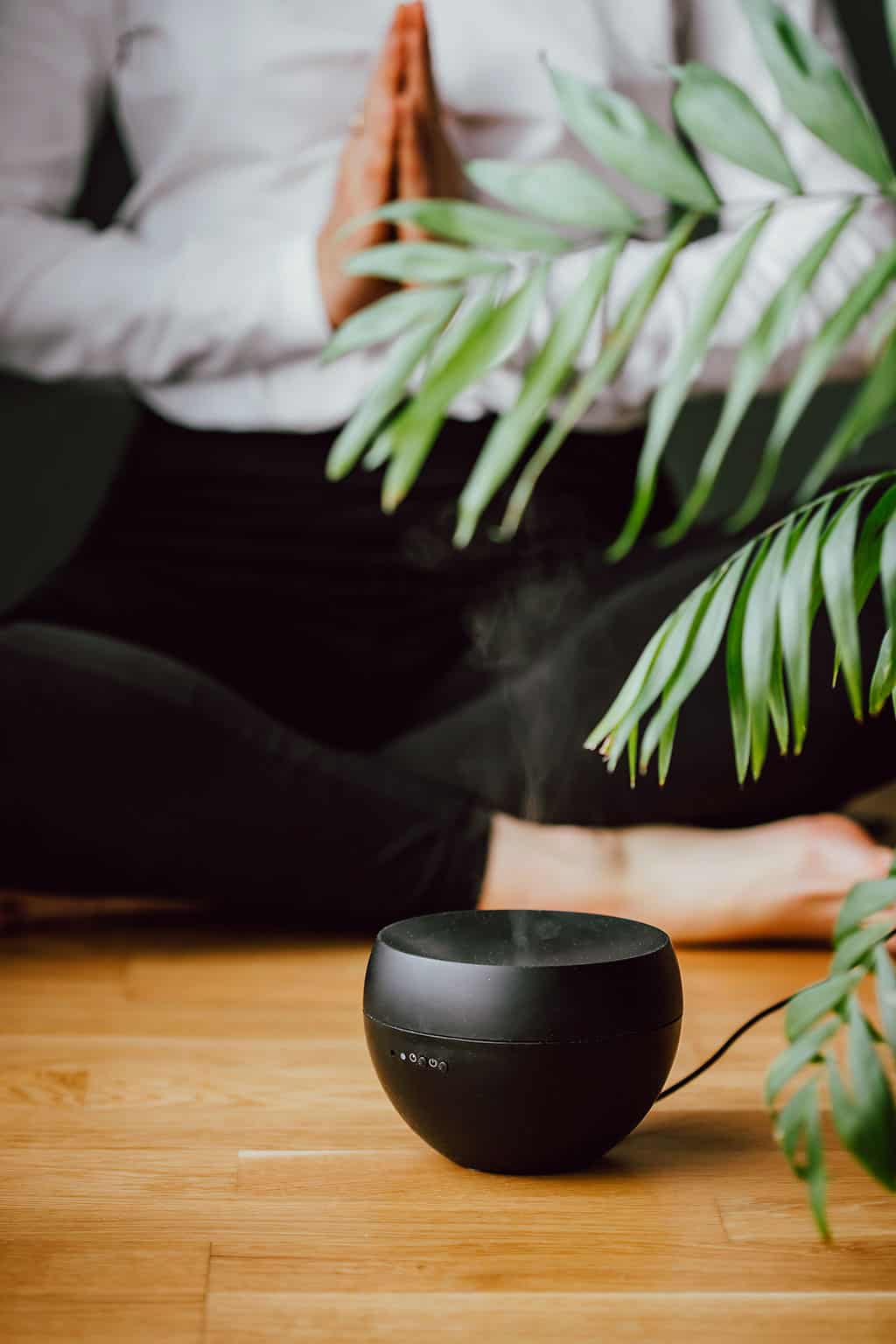 10 Calming Essential Oil Blends
Use these blends in your diffuser, and feel free to adjust the recipes based on your diffuser's specifications and your personal preference.
1
.
Lavender Be Calm Blend
I am frequently using some variation of this blend. This is a great recipe as-is, or it can even be used as a base if you want to add another oil or two.
It's no secret that lavender is one of the best essential oils to help calm you when you're feeling overwhelmed. In fact, a study published in 2016 found that when postpartum women inhaled lavender essential oil repeatedly, it helped with stress, anxiety, and depression [source].
-5 drops lavender
-5 drops orange
-1 drop ylang ylang
2. Vetiver Grounding Blend
The combination of these three oils produces not only an incredibly lovely aroma, but it's also excellent for helping you chill out. The grounding aroma of vetiver combines exceptionally well with the relaxing, sweet aroma of chamomile and lavender.
-2 drops lavender
-3 drops vetiver
-5 drops chamomile
3. Patchouli No-Stress Blend
Personally, I'm not a huge fan of patchouli by itself, but I absolutely adore it in small amounts combined with other essential oils. Plus, it has a long history of use as a calming aroma, and a recent study found that emergency nurses that inhaled patchouli reported lower levels of stress [source].
So if you've had a rough day, try this blend—it's not only deeply relaxing, but it also makes a wonderful cologne!
-1–2 drops patchouli
-4 drops cedarwood
-5 drops lime
4. Bergamot & Mandarin Mellow Out Blend
I personally find any citrus oil to be relaxing when I need to mellow out, so I frequently use them in my anti-stress blends. However, bergamot and mandarin are especially well-known for promoting a calm environment.
Research has found that bergamot is beneficial for reducing anxiety and stress [source], which explains why it's one of the most popular essential oils for serenity.
-1 drop lavender or chamomile
-4 drops mandarin
-5 drops bergamot
5. Clary Sage At Peace Blend
I have a confession to make: I am completely mesmerized by the smell of clary sage. I can't quite pinpoint why, but there is something about the aroma that is completely magnetic to me. This works out well for me since clary sage is one of the most frequently used essential oils to help with relaxation and depression [source].
Honestly, if you enjoy the aroma of clary sage, it can even be used on its own. However, when combined with bergamot and frankincense, you have a well-balanced blend that is fantastic to use after a long, stressful day.
-1 drop frankincense
-4 drops bergamot
-5 drops clary sage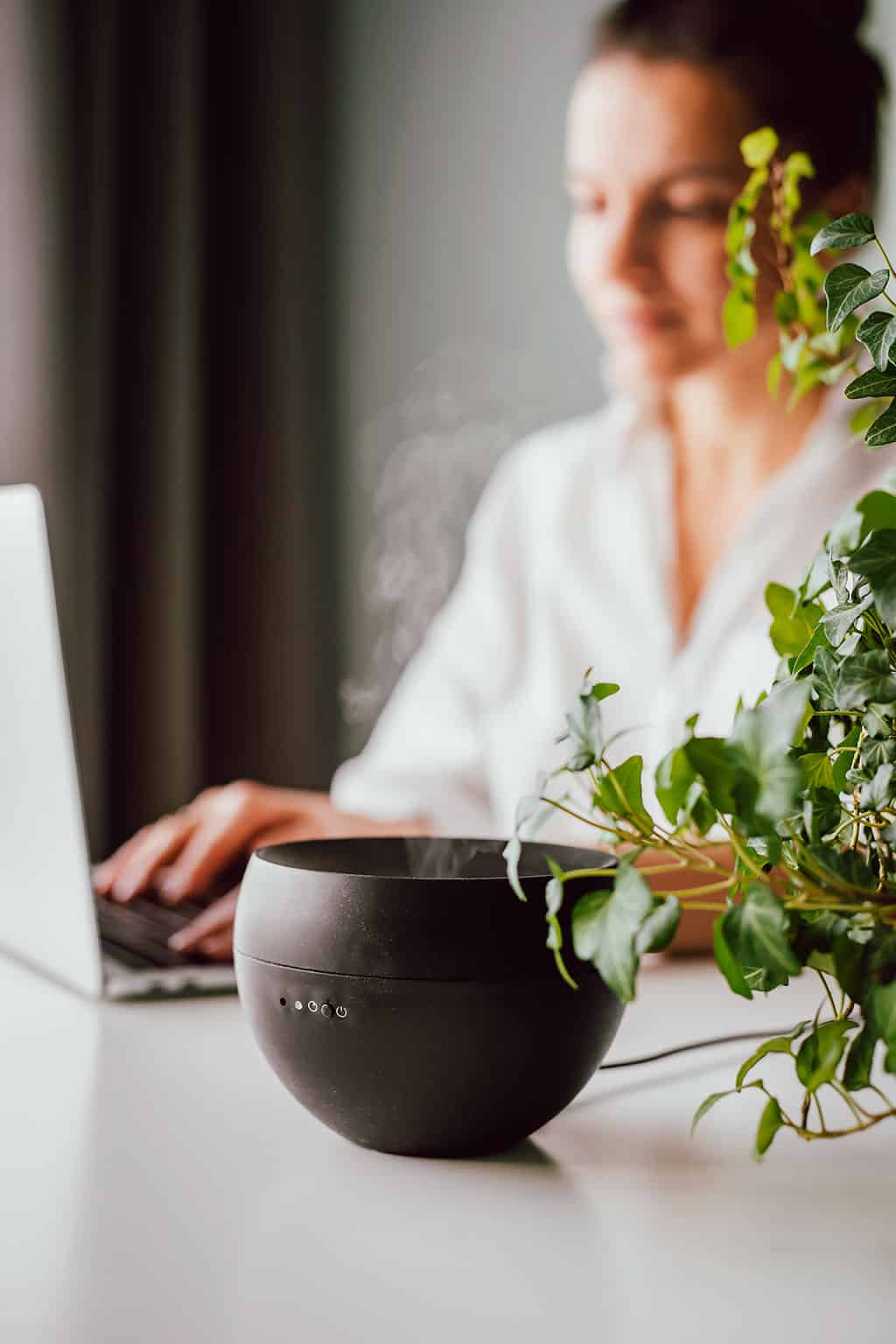 6. Rose Tranquil Blend
Even though rose is a pretty pricey essential oil, it's still a great one to have in your repertoire. Many find the aroma of rose to be incredibly relaxing, and when it's combined with other florals or citrus oils, you can create a truly enchanting aroma.
Try this blend to help you feel calmer, and use it as a perfume!
-1 drop chamomile
-4 drops rose
-5 drops bergamot
7. Jasmine Serenity Blend
Jasmine is another oil that can get pretty pricey, but if you can splurge, it's totally worth it. The exotic aroma of jasmine is pure magic and helps me relax instantly. It's used extensively in perfumery, and the flower has a long history as an aphrodisiac.
One scientific study found that the aroma of jasmine helped boost participants' mood without leaving them feeling sleepy [source]. So if you're looking for something that can help you look on the bright side without making you feel drowsy, you might give jasmine a shot!
-1 drop ylang ylang
-2 drops vetiver
-4 drops jasmine
-3 drops cedarwood
8
.
Frankincense Unwind Blend
Frankincense is the star of the show in this blend. Even though research is lacking, a couple of scientific studies have found frankincense to be beneficial in reducing anxiety during labor [source].
Frankincense is an incredibly popular essential oil with a variety of uses, and many individuals find it to be beneficial when needing to unwind. Additionally, it blends really well with most other essential oils, which makes it a great one to add to just about any blend!
-1 drop lavender
-4 drops lime
-5 drops frankincense
9
.
Ylang Ylang Chill Pill Blend
The combination of ylang ylang, patchouli, and lavender in this blend is absolutely divine. Ylang ylang is considered to be a harmonizing oil that can help lower blood pressure while simultaneously increasing alertness [source].
The luxurious floral aroma of ylang ylang is lovely, but a little goes a long way. I recommend only using 1–2 drops max since it can quickly overpower a blend.
-2 drops ylang ylang
-3 drops patchouli
-5 drops lavender
10
.
Orange Relax Blend
Like I mentioned above, citrus oils can be very relaxing, and orange essential oil is no exception. In fact, a study published in 2013 reported that children undergoing dental procedures had lower salivary cortisol levels and pulse rates when they inhaled orange essential oil [source].
The aroma of orange is less sharp than lemon or lime, and when combined with other oils, it can add a nice sweet note to the blend.
-2 drops chamomile
-3 drops clary sage
-5 drops orange
This article was medically reviewed by Dr. Gina Jansheski, a licensed, board-certified physician who has been practicing for more than 20 years. Learn more about Hello Glow's medical reviewers here. As always, this is not personal medical advice and we recommend that you talk with your doctor.


32