When it's cold outside, I love a big bowl for hearty vegetable soup for dinner, served with crusty bread. Soup recipes are easy to pull together, make a ton, and are a very comforting way to end the day. Plus, and this is a big plus, it's something everyone in my family seems to enjoy. It's another way I can fill my kids' bellies with veggies.
White bean soup is a delicious and nutritious dish that is enjoyed all around the world. Made with white beans, vegetables, and seasonings, this soup is not only satisfying but also packed with health benefits. White bean soup is high in fiber, protein, and essential nutrients like iron, zinc, and folate. It is a great choice for vegetarians and vegans who are looking to boost their protein intake. Additionally, the high fiber content in white bean soup can help promote digestive health and lower the risk of heart disease and certain types of cancer. You can used canned beans or dry beans, whichever option is the most convenient.
White bean soup has a rich history and is a staple in many cultures. It is a traditional dish in Italy, where it is known as "zuppa di fagioli bianchi." In Greece, it is called "fasolada" and is often served with bread and feta cheese. White bean soup is also a popular dish in the American South, where it is often made with ham hocks or bacon for added flavor. In some cultures, white bean soup is even considered a comfort food, and is often served during the colder months to warm up the body and soul. Whether you're looking for a healthy and nutritious meal or a hearty comfort food, white bean soup is a delicious and versatile choice.

How To Make Veggie-Rich White Bean Soup
This hearty vegetable soup is particularly easy to throw together. Chances are you probably already have all or most of the ingredients in your fridge or pantry already. But if you don't there's a handy shopping list at the bottom of this post for your convenience.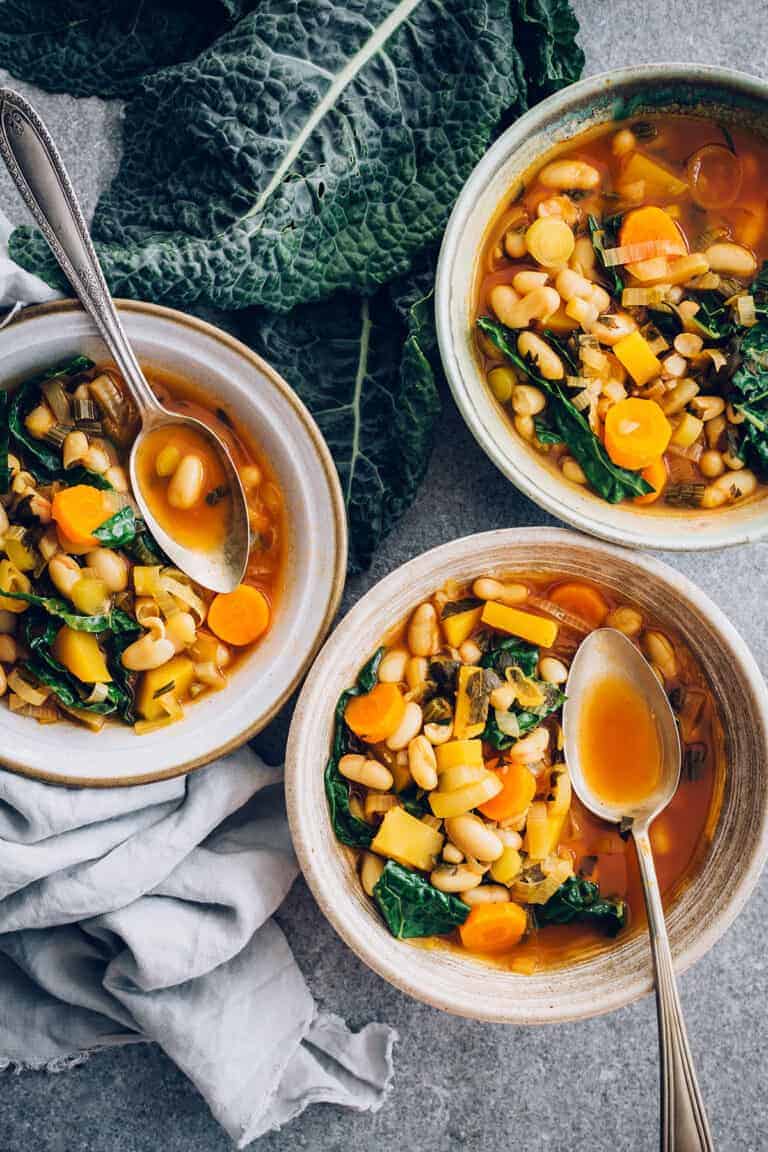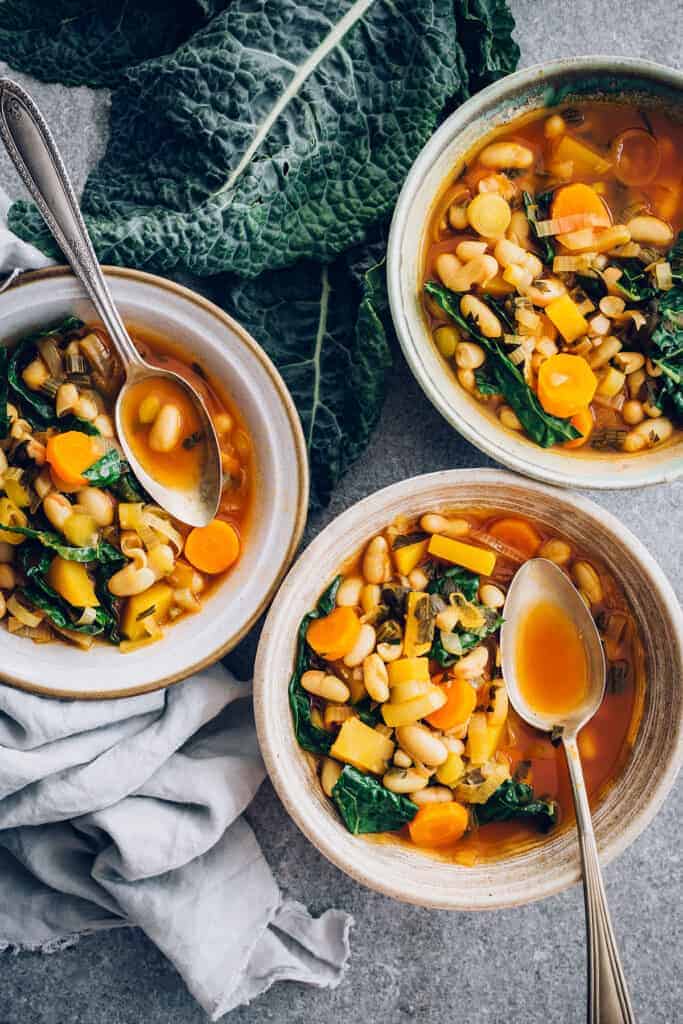 As with most soups, this one is easy to make your own. By that I mean that there is a lot of room for you to experiment and turn it into a soup full of your favorite veggies. If you aren't a big fan of butternut, no biggie. Leave it out and use a different kind of squash or veggie. The kale is interchangeable with spinach, chard or even beet greens. We lovingly refer to this soup as "clean out the fridge" soup.
Bonus if you have leftovers from Sunday dinner you can turn those ingredients into a great soup to start the week. This soup is great on its own, ladled over hot rice or quinoa or with a big slice of homemade bread or a grilled cheese sandwich on the side.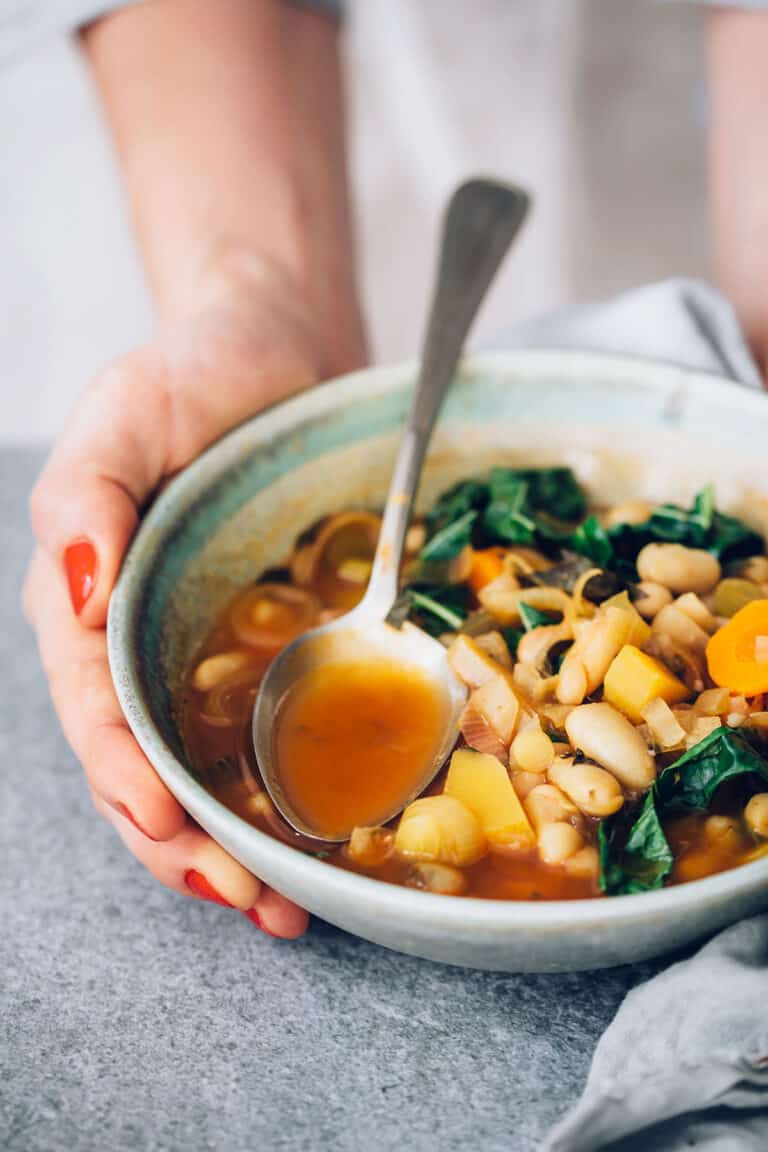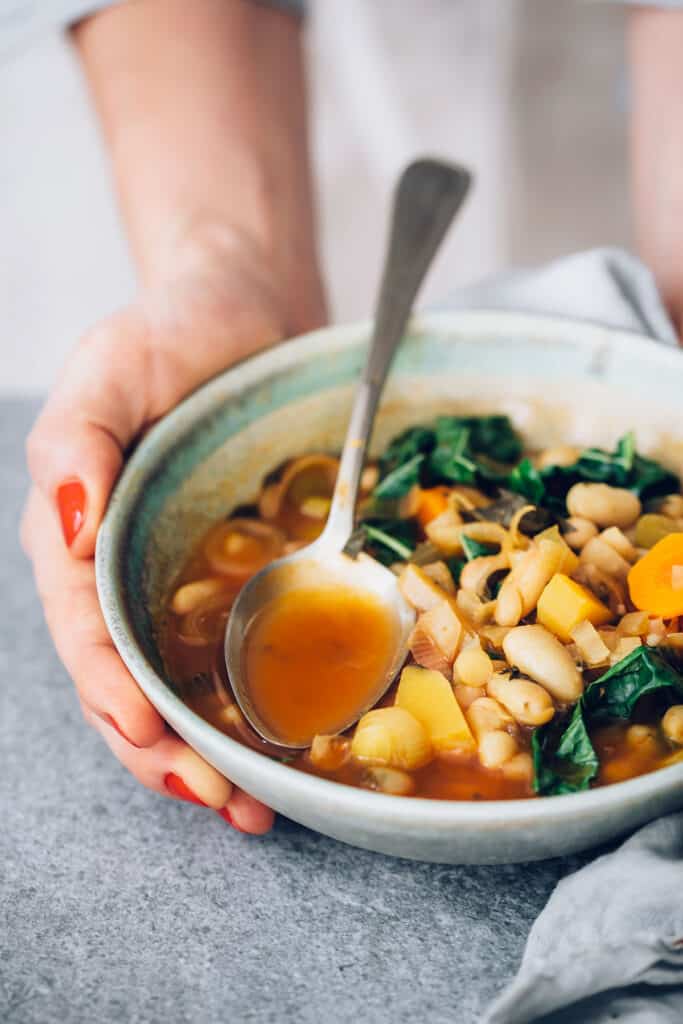 Photos by Ana Stanciu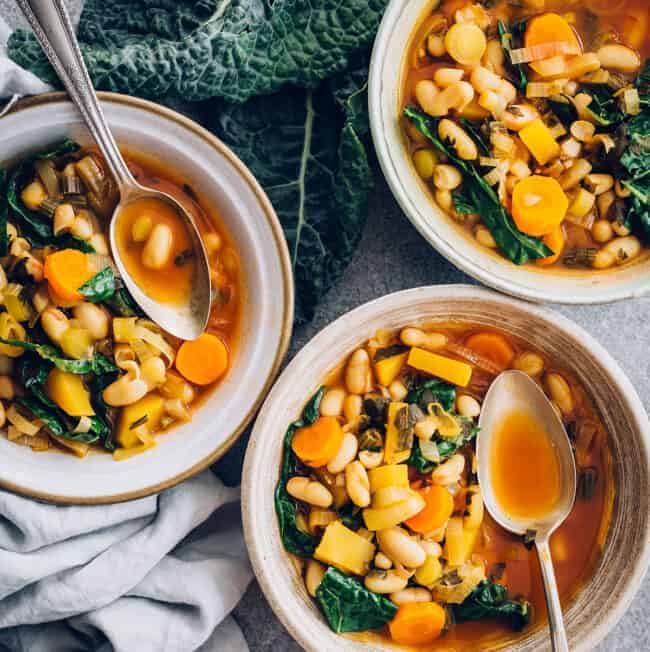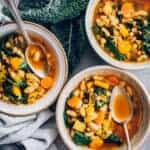 Print Recipe
Hearty White Bean Vegetable Soup
This hearty, healthy soup is comforting on a chilly night. Serve with warm bread or rolls.
Ingredients
1

Tablespoon

olive oil

1

medium onion

diced

2

medium carrots

diced

2

celery ribs

diced

1

large leek

sliced into ½″ rings, washed well to remove any sand and drained in a colander

2

cloves

garlic

chopped

3

Tablespoons

tomato paste

1 ½

cups

cooked white beans

rinsed (one 15 ounce can or homemade from dry beans)

1

28 ounce can diced tomatoes

6-8

cups

vegetable or chicken broth

or water

2

sprigs fresh thyme

2

cups

diced butternut squash

4-5

kale leaves

ribs removed, roughly chopped

salt and freshly ground black pepper

to taste
Instructions
Heat oil in a large soup pot. Add the onion and cook, stirring often, until the onions starts to soften. Add the carrots, celery, and leeks. Continue cooking, stirring often, for about 5 minutes. Add the garlic and cook for another 30 seconds, being careful not to let it burn.

Next add the tomato paste and stir well. Let cook for 30 seconds then add beans, diced tomatoes, broth, thyme, and butternut squash. Add salt and fresh ground black pepper, to taste. (It might not need much salt if the broth is salted.) Bring to a simmer and let cook for about 15-20 minutes, or until the squash is tender.

Add the chopped kale and let cook for another 5-10 minutes. Taste and add more salt and pepper, if needed.

Ladle into bowls and serve hot with warm rolls or bread on the side.
Bonus Recipe: Cannellini Bean Soup
Bean soup is a hearty and comforting dish that's perfect for any season. You can make a few variations to the recipe above depending on whatever you have in your pantry. One of my favorite variations is white bean soup made with cannellini beans. It's easy to make and can be customized to suit your taste preferences. In this recipe, I'll be using canned beans, vegetable broth, and a few other ingredients to create a delicious and nutritious soup. Feel free to add any additional vegetables or spices you like to make it your own. I've included parmesan cheese; vegans can obviously omit or substitute the parmesan cheese. This recipe yields a large pot of soup, so you can enjoy leftovers throughout the week. Let's get started!
2 cans of cannellini beans, drained and rinsed
3-5 cups of vegetable broth (depending on how thick you want the soup to be)
3-6 carrots, peeled and diced
3-6 celery stalks, diced
1 medium onion, diced
3-6 cloves of garlic, minced
1-2 tablespoons of extra virgin olive oil
1-2 teaspoons of tomato paste
1-2 teaspoons of fresh rosemary, chopped
Salt and pepper, to taste
1-3 cups of frozen spinach
2-3 tablespoons of freshly grated parmesan cheese
Crushed red pepper flakes, to taste (optional)
Instructions:
Heat 1-2 tablespoons of olive oil in a large soup pot over medium heat.
Add the diced onion, carrots, and celery. Sauté for 5-7 minutes in the olive oil or until the vegetables are softened.
Add the minced garlic and sauté for an additional 1-2 minutes, or until fragrant.
Add the tomato paste, fresh rosemary, and a pinch of salt and pepper. Stir to combine.
Add the drained and rinsed cannellini beans to the pot, along with 3-5 cups of vegetable broth (depending on how thick you want the soup to be). You can use ready or homemade vegetable broth.
Bring the soup to a simmer and let it cook for 20-30 minutes, or until the vegetables are tender and the flavors have melded together.
Using an immersion blender, blend the soup until it's mostly smooth but still has some texture.
Stir in the frozen spinach and let it cook for an additional 5-10 minutes, or until heated through.
Taste the soup and adjust the seasoning as needed with salt and pepper.
Serve the soup hot, topped with freshly grated parmesan cheese and a sprinkle of crushed red pepper flakes, if desired.
Enjoy your absolutely delicious white bean soup with a slice of crusty bread.
Thanks so much for reading!
407