Bone broth is all the rage right now, but if you don't eat meat, take heart: vegetarians need not miss out on the nutritional benefits of bone broth. Some of the same nutrients can be duplicated in a nutrient-dense, delicious vegetarian bone broth substitute made from a combination of organic vegetables, wakame, water, herbs, and spices.
Warm, comforting, and healing, this broth is also easy to make, not to mention flavorful—and it makes the perfect base for vegetarian pho.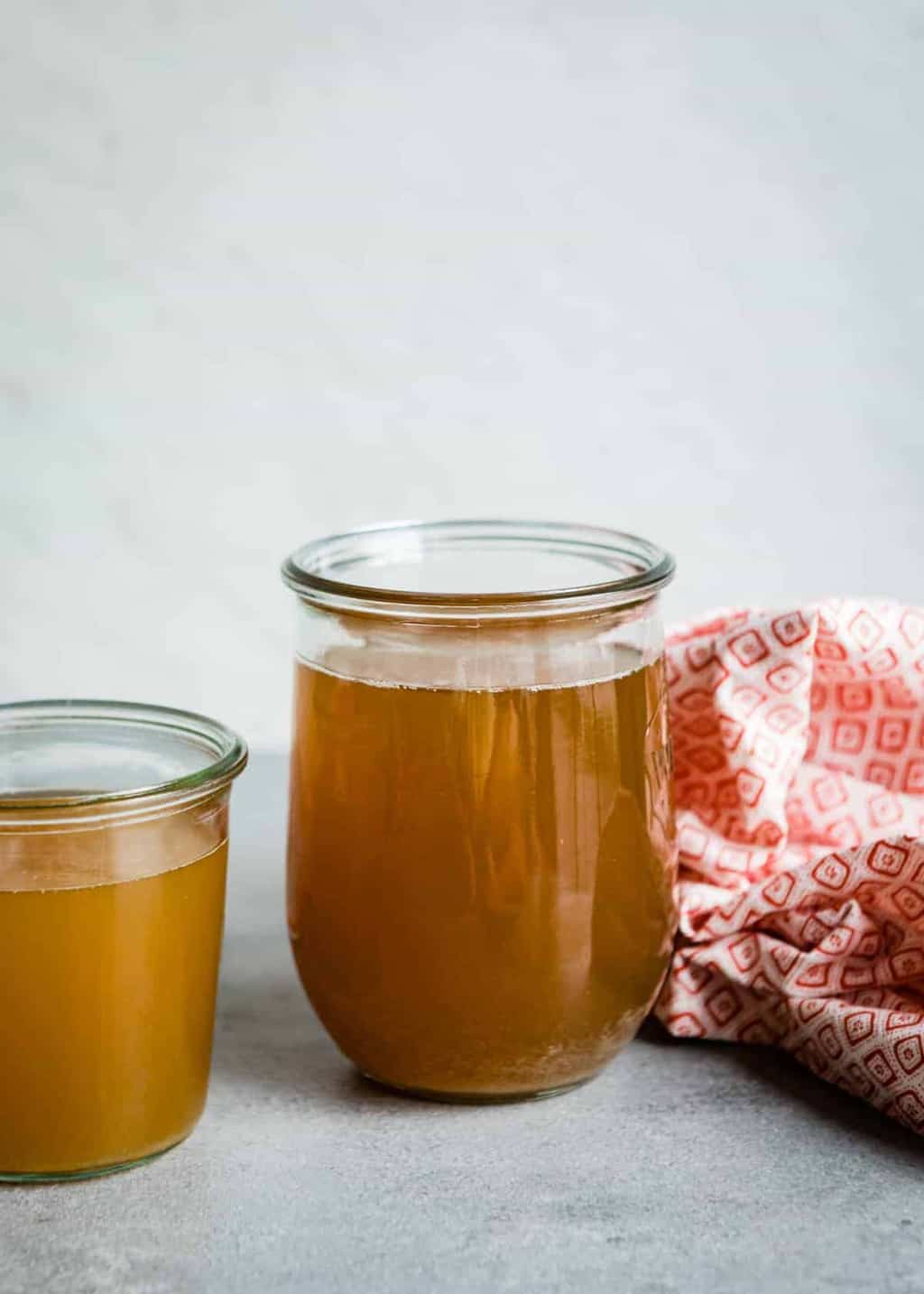 How to make vegetarian broth
It could be tempting just to buy veggie broth and call it good. But really, a lot of store-bought broths are full of salt and not much else. And making broth from scratch is so easy to do!
I find that I make it most often when I think ahead to save a bunch of veggie scraps and odds and ends. It's easy to tuck them away in the fridge or freezer as you go along until you have enough to make a big batch of broth.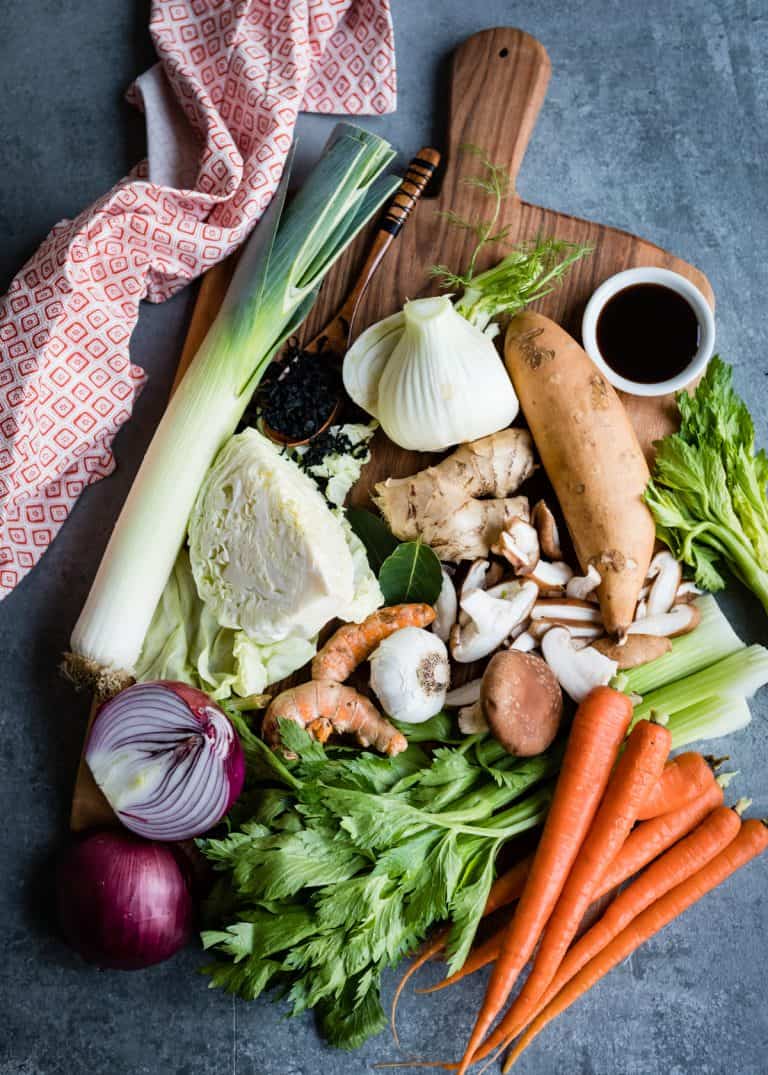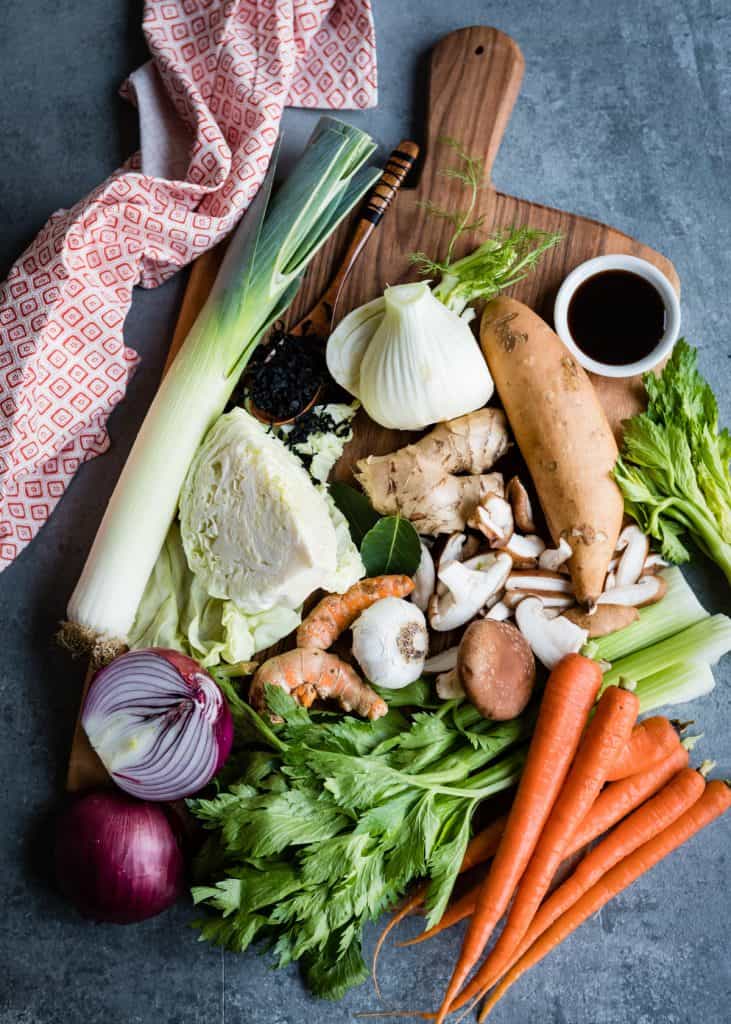 You may remember hearing that nutrients are leached out of vegetables into their cooking water. Well, it's true! And this recipe capitalizes on that.
Vitamins and minerals are released into the water as the broth simmers. Straining it removes the solids, leaving behind all of those nutrients that are easily digested by the body.
In addition to the nutrients, vitamins, and minerals, the flavor of this broth is fantastic. The recipe's long cooking time yields mega flavor and allows the flavors to blend and mellow.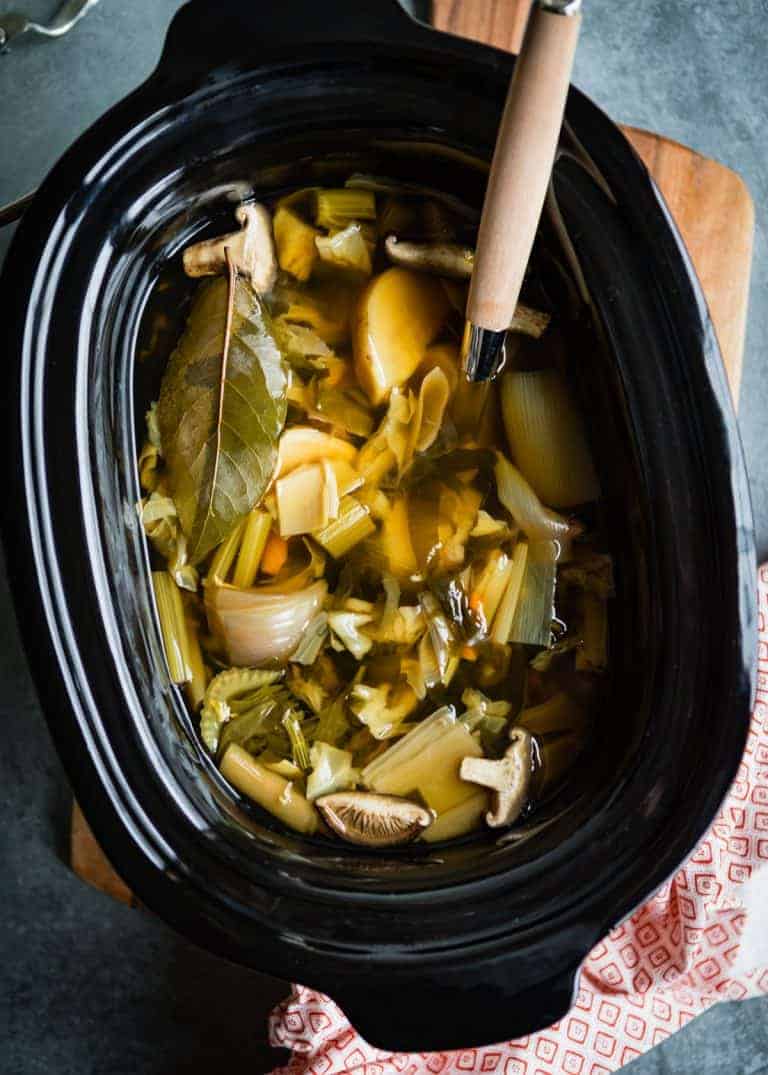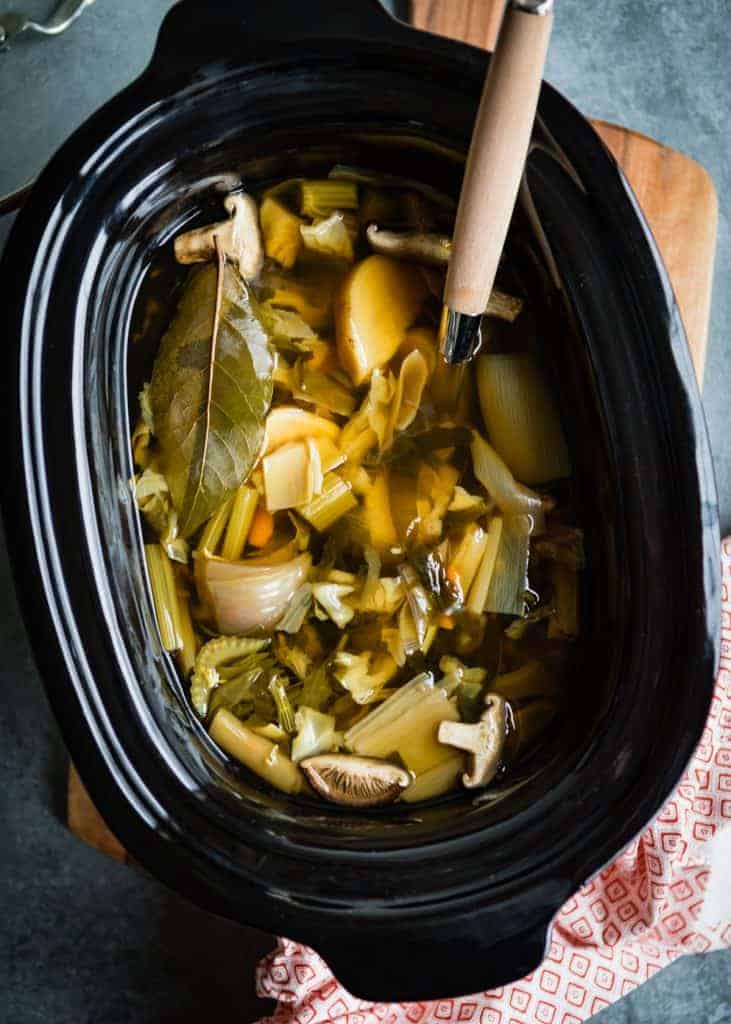 You can certainly use any vegetables you like in this broth. The sky's the limit! I tend to go with easy-to-find veggies and then add aromatics for a richer tasting broth.
For additional minerals and other nutrients, I use wakame (seaweed), coconut aminos (you could use soy sauce instead), mushrooms (for umami flavor), ginger and turmeric (fresh if possible!), along with plenty of leafy greens. You can also add in those veggie trimmings and peelings I mentioned—a great way to eliminate kitchen waste!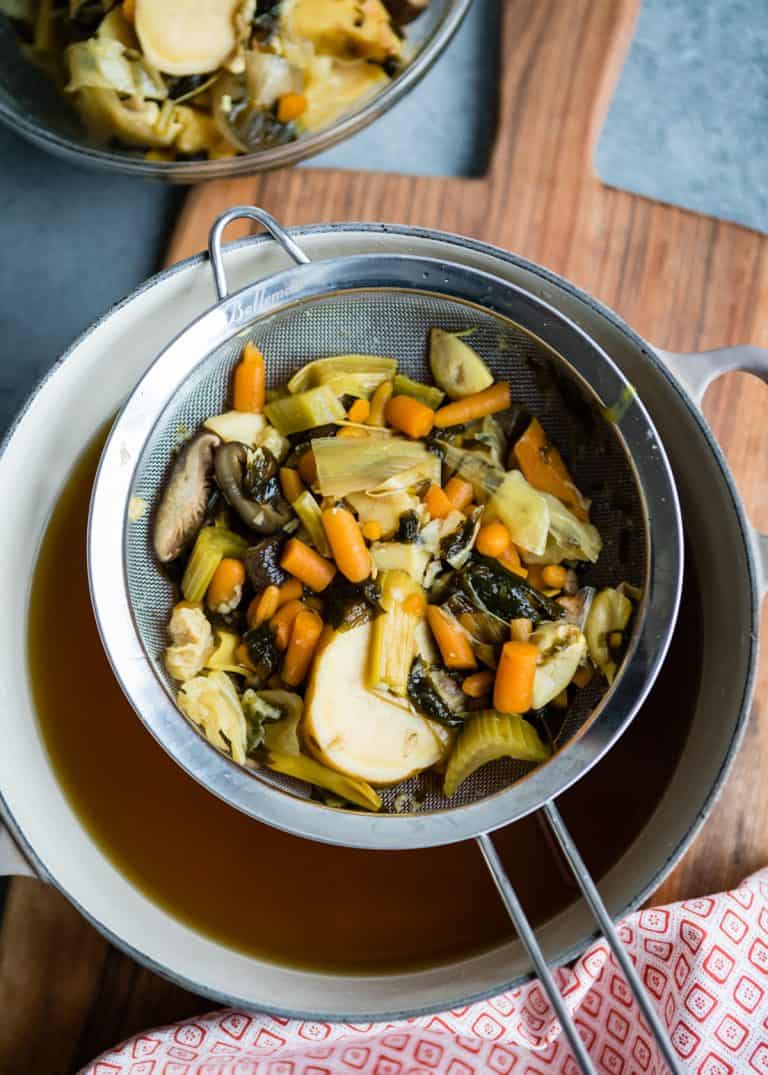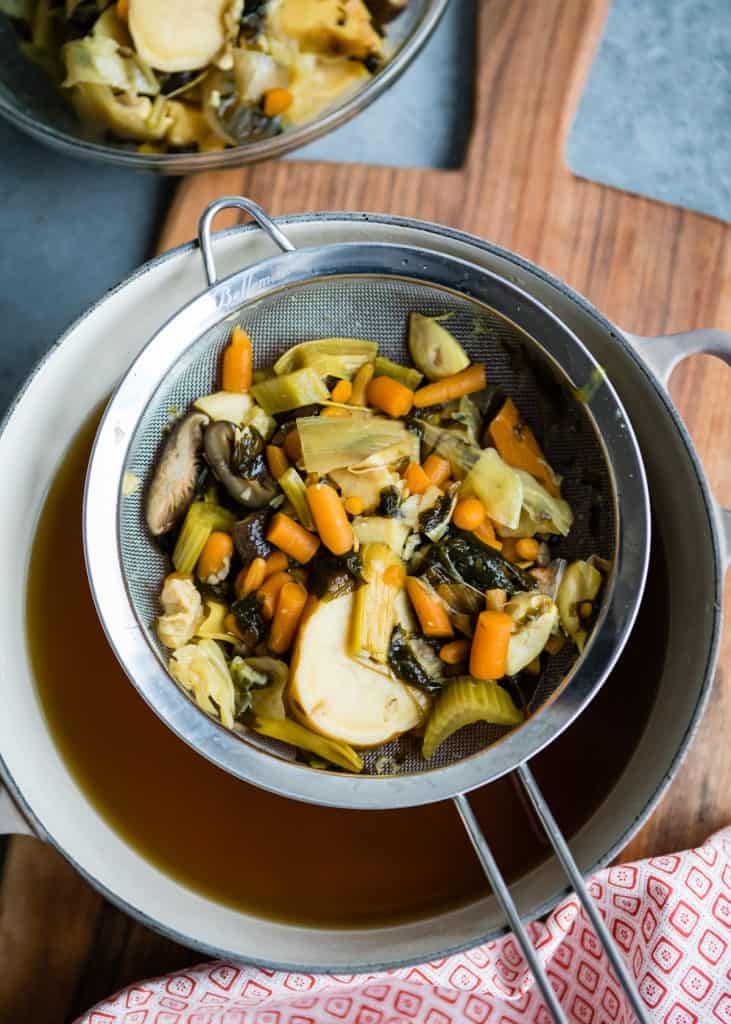 Shiitake mushrooms contain 18 amino acids plus over 30 enzymes. And whether they are used dried or fresh, shiitakes add B vitamins, copper, manganese, selenium, zinc, and vitamin D.
It's definitely worth including these mushrooms in any veggie broth you make. They also add an earthy, meaty umami flavor.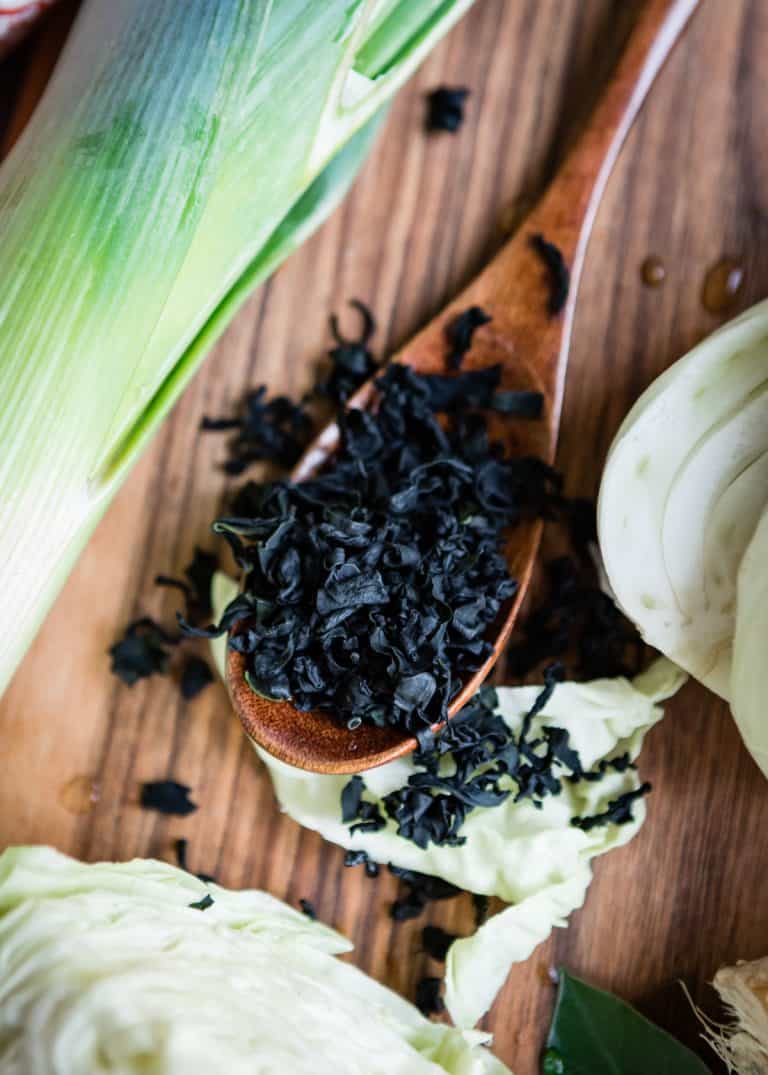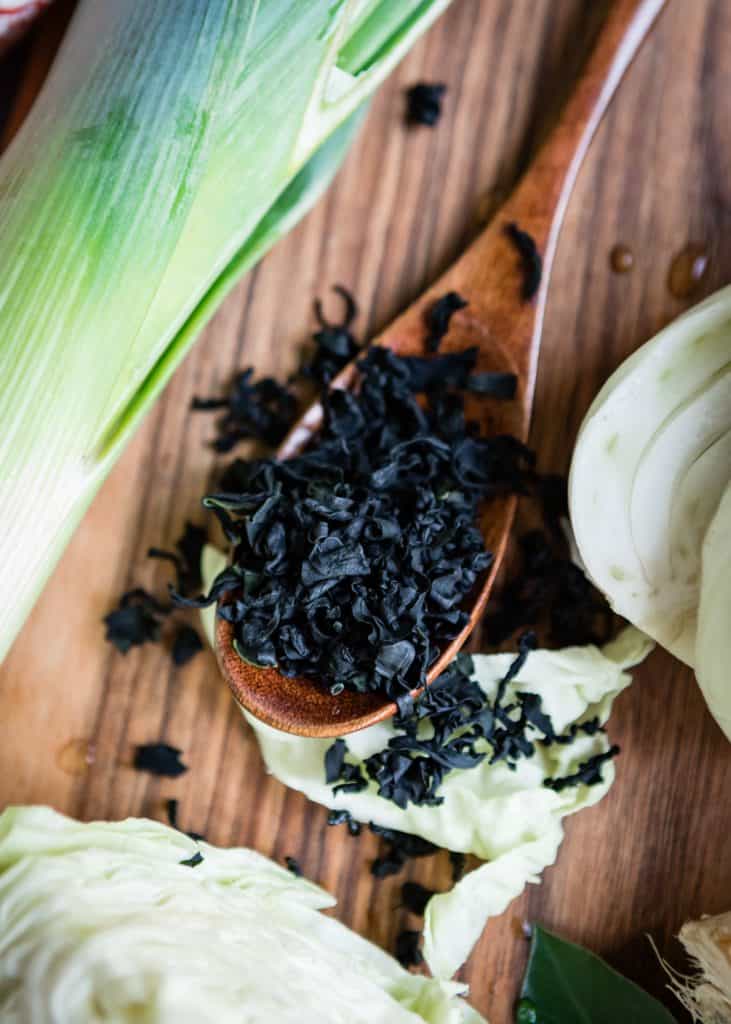 A quick note about wakame seaweed—you can find it dried in packages in the Asian section of well-stocked grocery stores, health food stores, and online. And if you still can't find it, nori is a great substitute.
Using it brings minerals and other collagen-boosting nutrients to the broth along with a distinct flavor that works particularly well for Asian dishes, such as pho. It kind of helps replace the flavor of the fish sauce that would normally have been added in. Seaweed is high in potassium, iron, calcium, iodine, and magnesium.
The other veggies and aromatics add even more vitamins and minerals. While this broth doesn't contain collagen, adding these items can help boost the body's natural collagen production. Vitamins A, C, and E are particularly important for collagen production, and this broth contains all three.
Consuming the broth alone is perfectly delicious, but we also like to use it as a base for vegetarian pho. I've included a basic recipe for the broth as well as a recipe for pho. Be sure to check out the notes for a few shortcuts if you want to make the broth specifically to use for pho.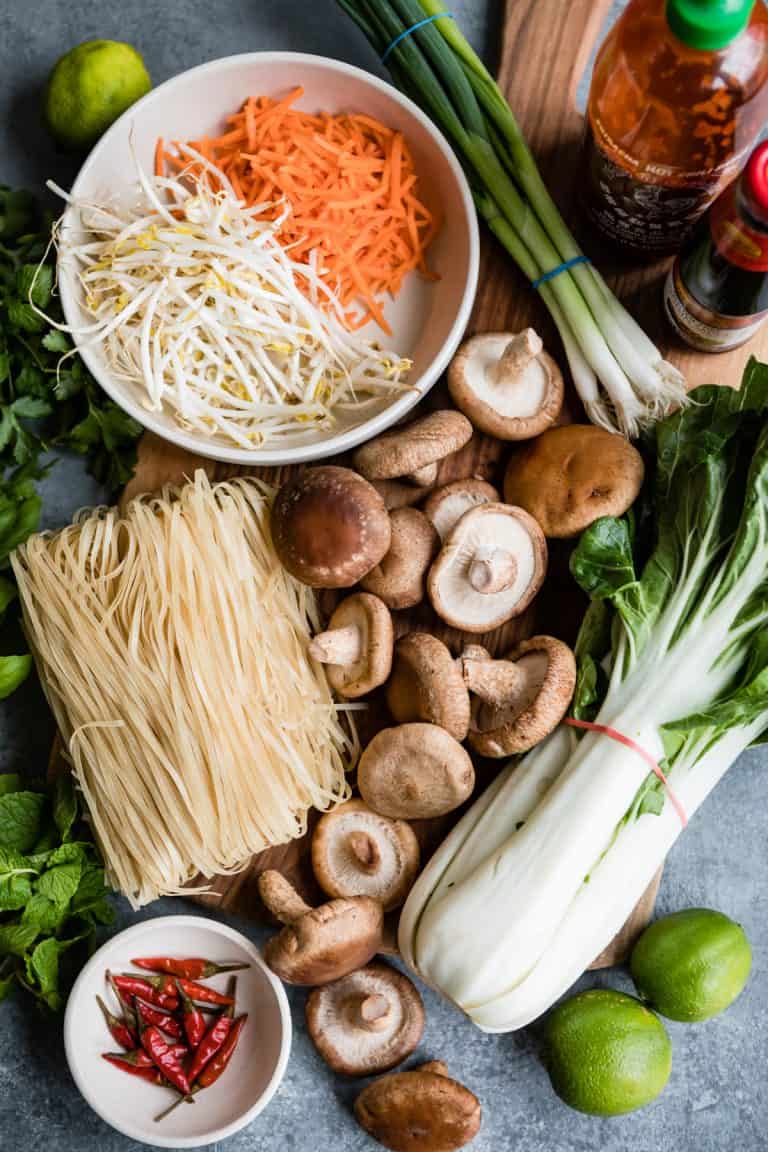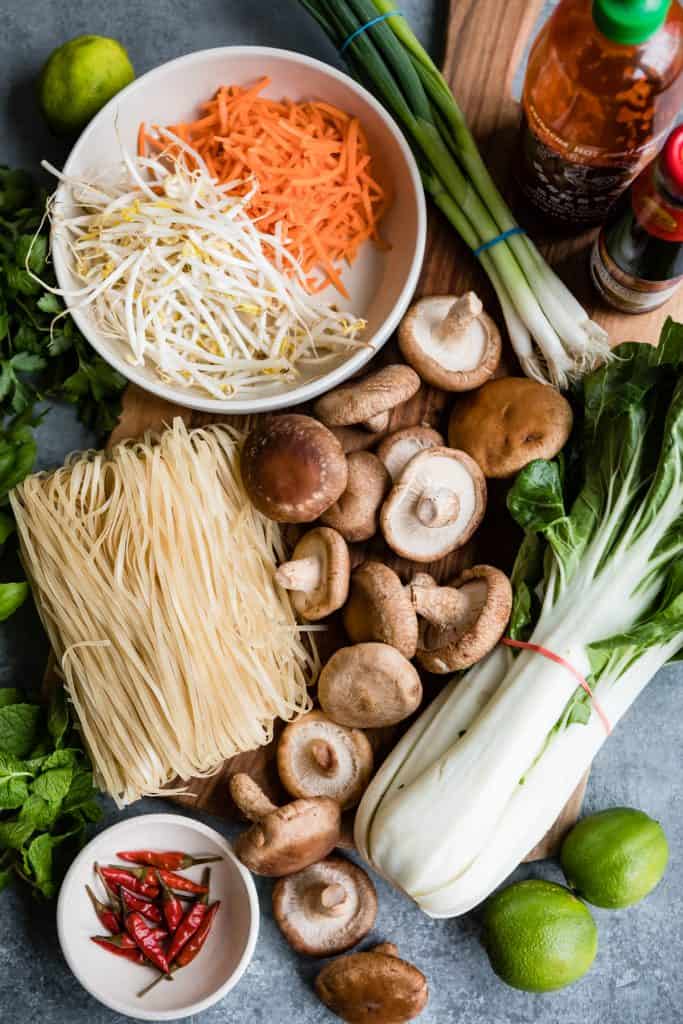 The integral part of any pho recipe is its aromatic, deeply flavored broth. When serving, the piping hot broth is ladled over cooked rice noodles, veggies, and a protein or meat—in this instance, I've used meaty shiitake mushrooms.
And to top it off, a handful of bean sprouts, fresh herbs, green onions, a squeeze of fresh lime juice, and hot chiles. Traditionally pho is served with a side of hoisin sauce and Sriracha, but you can also drizzle them on top if you like.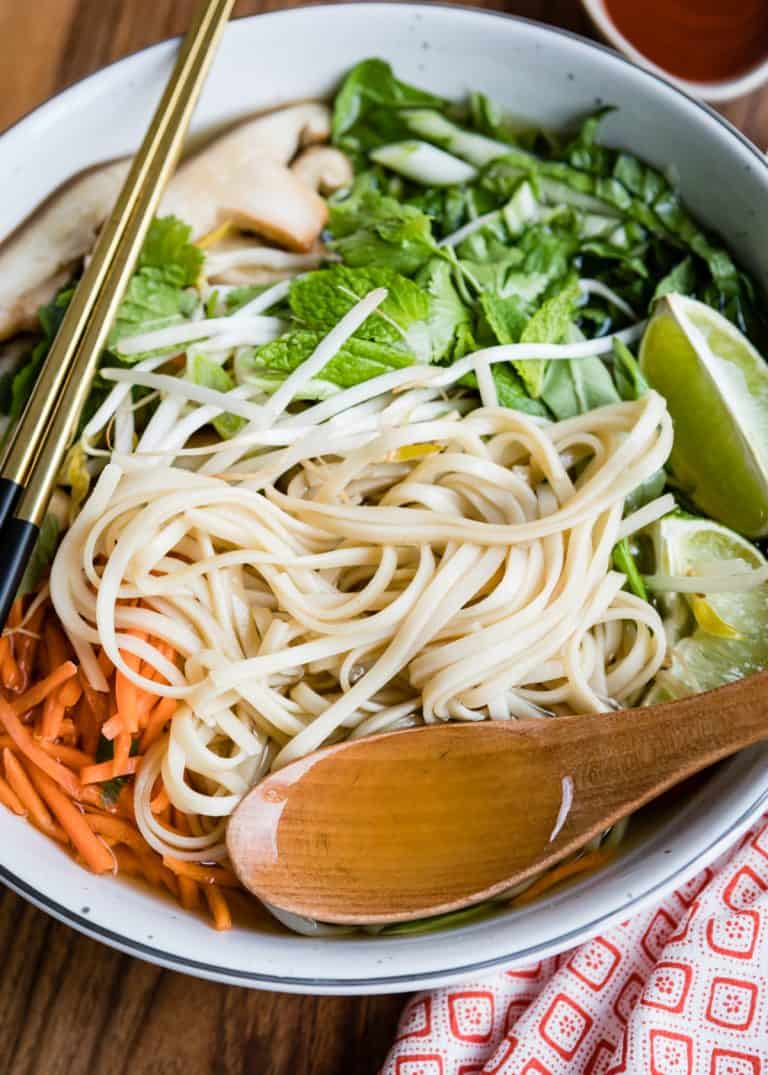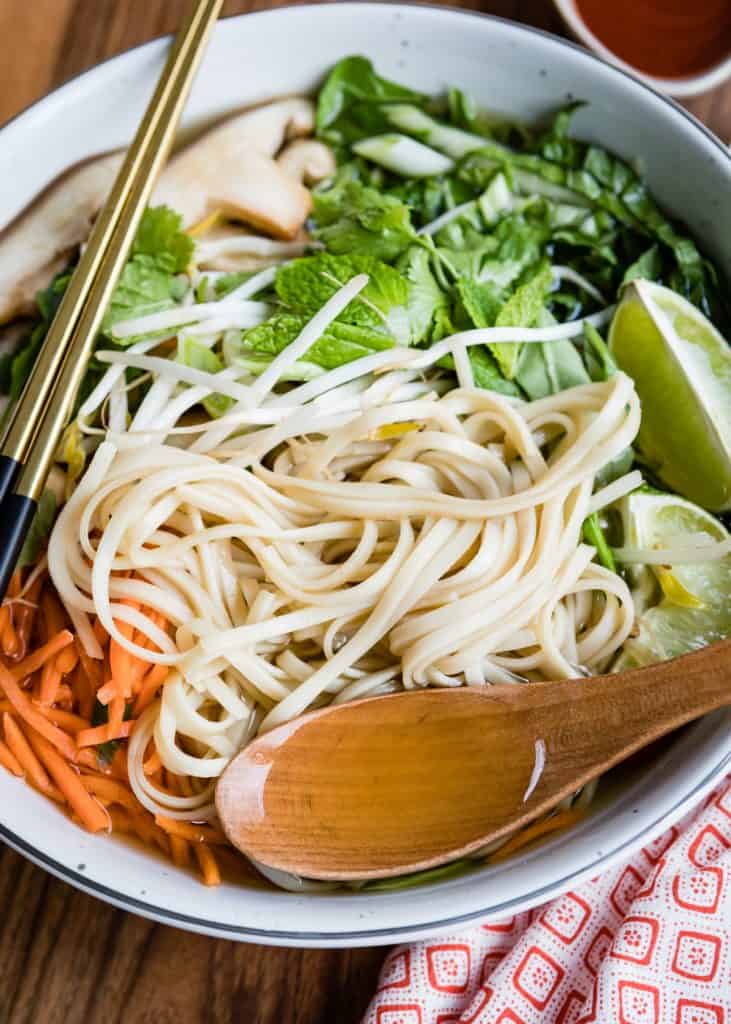 As I mentioned, the vegetable "bone" broth is a great base for pho. To add some authentic flavor, I simmer a sauce packet (or whole spices tied in cheesecloth) while cooking. I include dried coriander berries, whole fennel seeds, whole cloves, star anise, cinnamon sticks, and fresh slices of ginger root.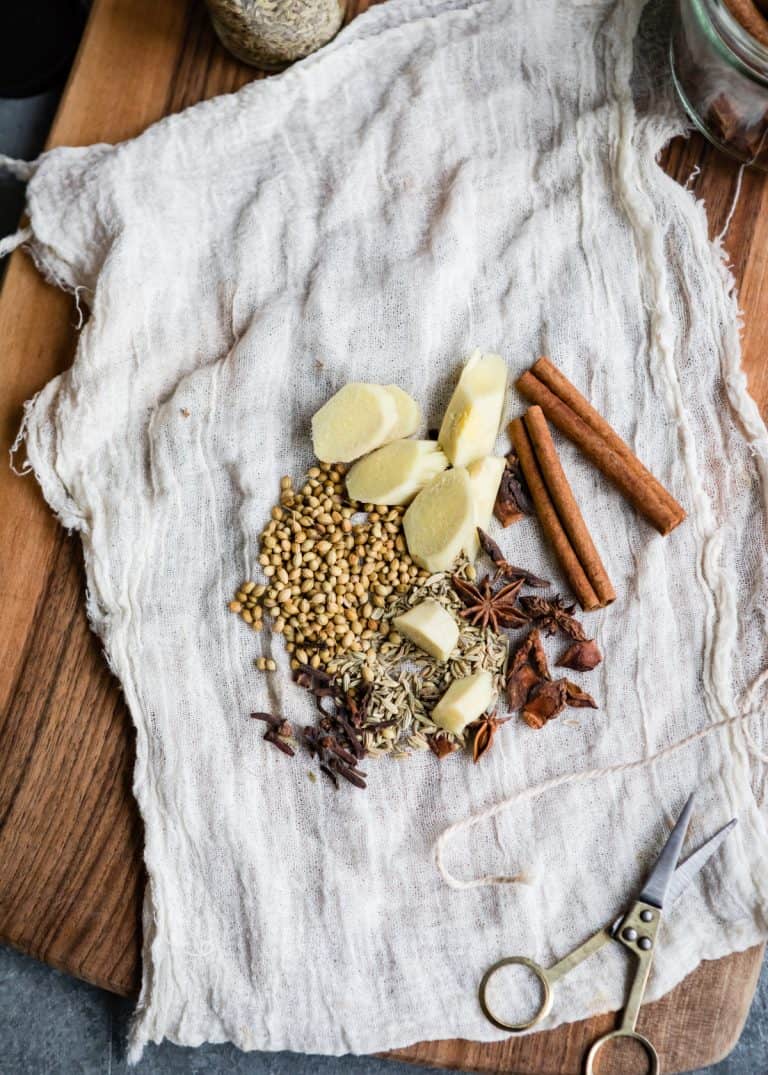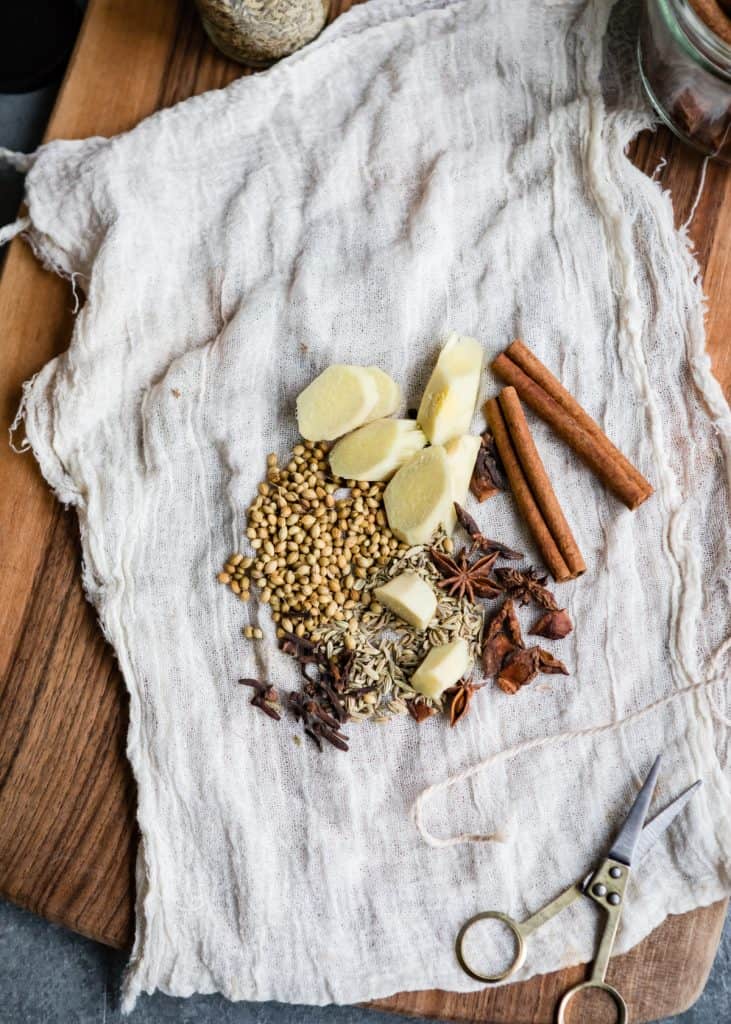 If you plan ahead of time to make pho with the veggie broth, you can add these into the broth during the initial cooking time, and then the broth will be ready to go without the extra step.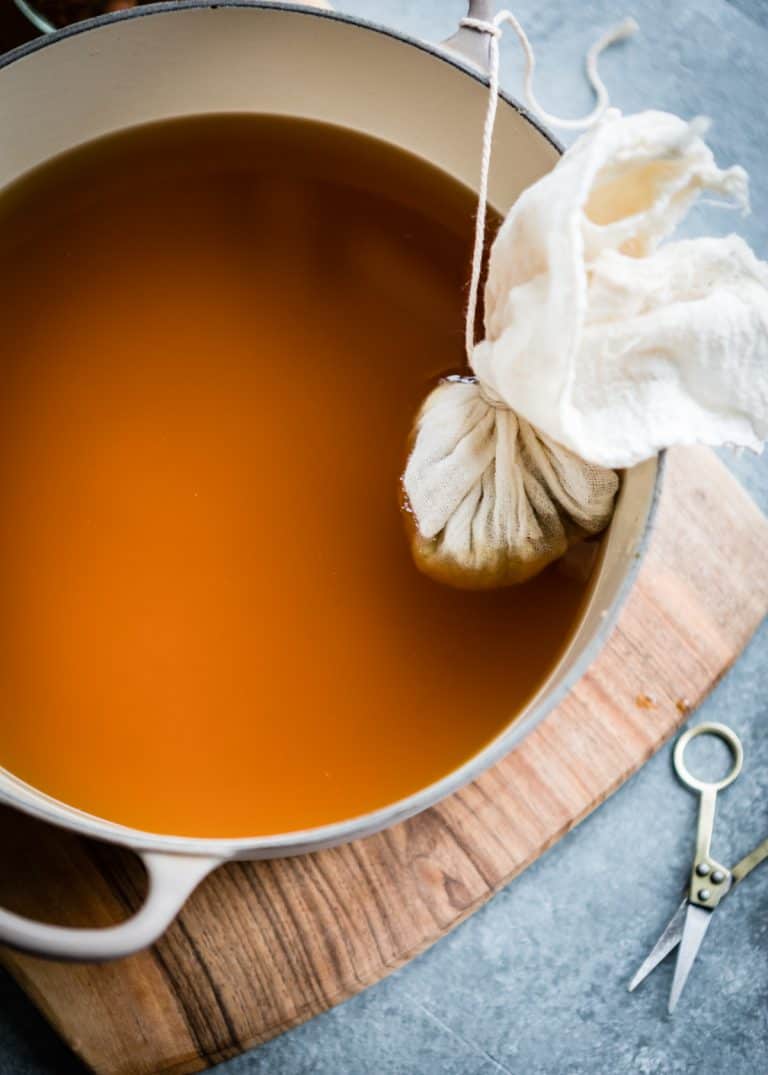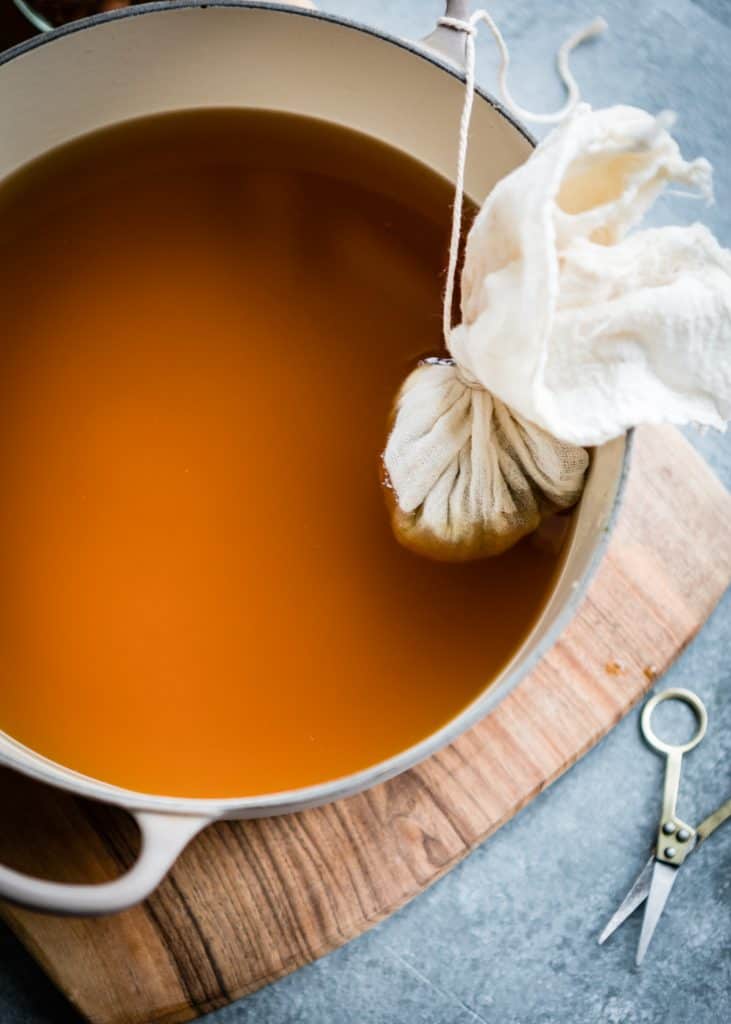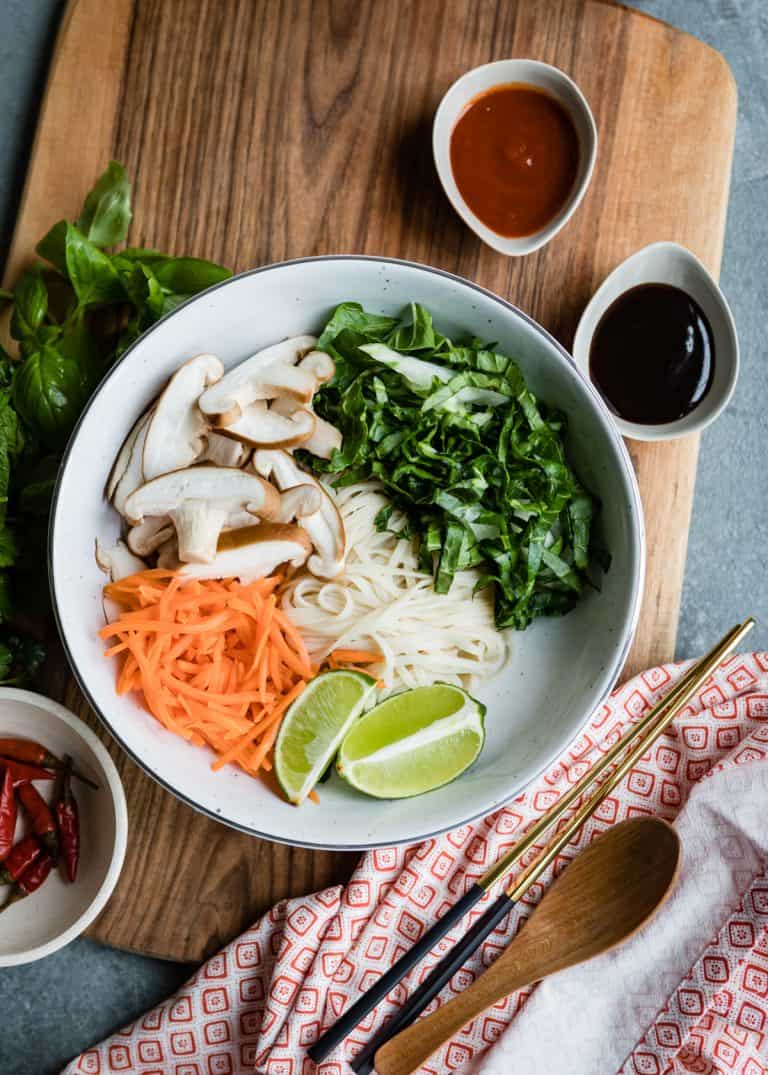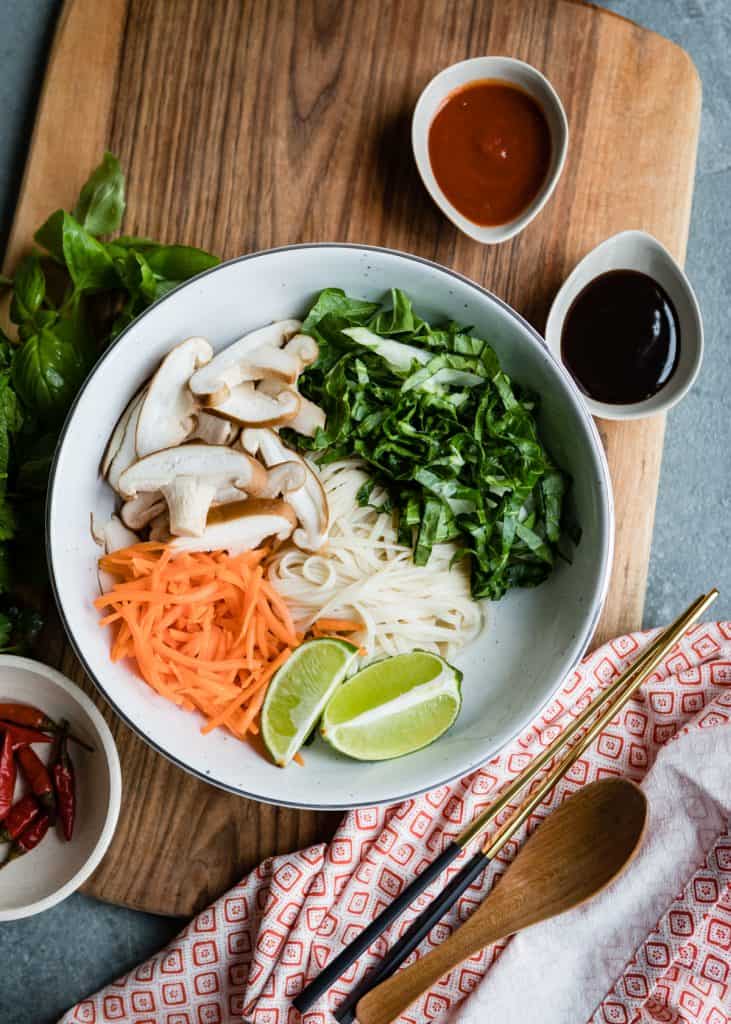 Gut Healing Vegan Broth
Yes, it's possible to make a vegan bone broth. Vegan bone broth is a nutritious and delicious alternative to traditional bone broth, and is perfect for those following a plant-based diet. It's made with a variety of vegetables, herbs, and spices, which are simmered in water for several hours to create a flavorful and nourishing broth. Vegan bone broth is also rich in minerals and nutrients, making it an excellent choice for those looking to support their gut health.
To make vegan bone broth, start by gathering your ingredients. You'll need a variety of vegetables, such as carrots, celery, onions, and garlic, as well as fresh or dried herbs like thyme, rosemary, and bay leaves. Shiitake mushrooms are a great addition, as they add a savory flavor and are also believed to have immune-boosting properties. You can also add fresh mushrooms for additional flavor.
Place all of your ingredients in a large pot and cover with water. Bring to a boil, then reduce heat and let simmer for several hours, until the broth has become rich and flavorful. Strain the vegetables and herbs, then allow the broth to cool. You can use vegan bone broth as a base for soups, stews, or even as a warming beverage on its own. Enjoy the many benefits of this gut-healing vegan broth!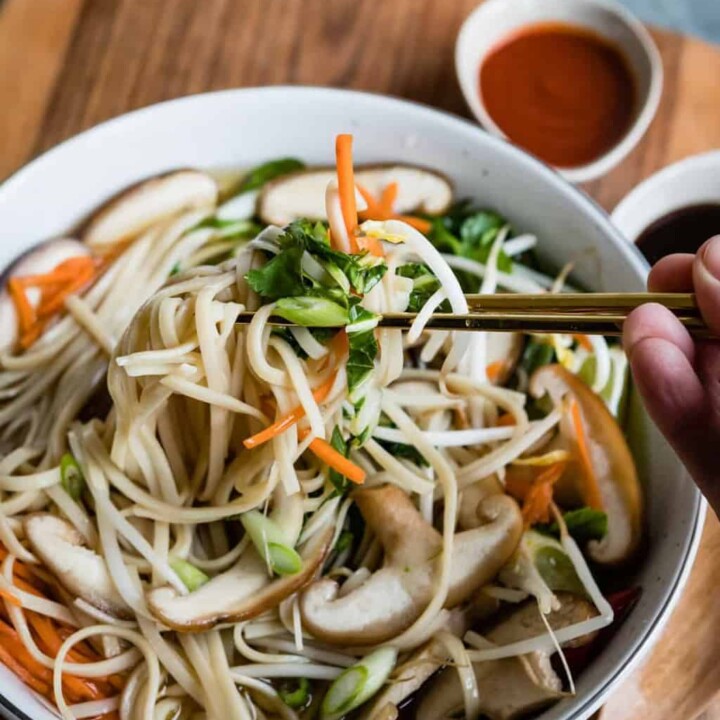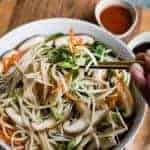 Print Recipe
Vegetarian "Bone" Broth + a Pho Recipe
This vegetarian bone broth alternative has the collagen-boosting benefits of bone broth—but without the bones! We love it as a base for meatless pho.
Equipment
Large stock pot

Mesh strainer
Ingredients
Vegetarian "Bone" Broth
2

cups

fresh leafy greens

(kale, collards, etc., chopped and with stems too if desired)

1

bunch carrots with tops if desired

4

celery stalks

(roughly chopped)

1

medium sweet potato

(scrubbed well and cut into thick slices)

1

large fennel bulb, halved

1–2

medium onions, halved

1

large leek root, end trimmed

(halved lengthwise and rinsed well)

6–8

fresh shiitake mushrooms sliced

or a small package dried

2

inches

fresh ginger

(peeled and cut into thick slices)

2

inches

fresh turmeric peeled and cut into thick slices

(or 2 teaspoons ground turmeric)

5–6

garlic cloves

2

bay leaves

3

tablespoons

wakame

3

tablespoons

coconut aminos

Herbs and spices optional

12–16

cups

filtered water
Vegetarian Pho
Vegetarian Pho

2

quarts

vegetarian "bone" broth

2

tablespoons

tamari or liquid aminos

2

cinnamon sticks

1

teaspoon

whole cloves

2

star anise

2

teaspoons

coriander berries

1

teaspoon

whole fennel seeds

4-

inch

piece fresh ginger peeled and roughly chopped

Sea salt to taste
Vegetarian Pho, for serving
8

ounces

dried brown or white rice noodles or "sticks" any width

8

ounces

shiitake mushrooms cut into thick strips

1

medium bok choy trimmed and thinly sliced

1

cup

shredded carrots

1

cup

bean sprouts washed well

1

bunch scallions thinly sliced

(green and white parts)

Fresh cilantro, basil, and mint for garnish

2

limes cut into quarters

Thai bird chilies fresh

(dried, or frozen)

Hoisin sauce

Sriracha
Instructions
Vegetarian "Bone" Broth
Wash and rinse all veggies well before slicing or chopping. Place in a large stockpot or slow cooker. Add the ginger, turmeric, garlic cloves, bay leaves, wakame, coconut aminos, and any other herbs or spices. Cover with the water.

If using the stove and a stockpot, bring to a boil, and then lower the heat to a simmer. Cover pot and cook for 2–3 hours. If using a slow cooker, cover with lid and turn on to HIGH for 6–8 hours or overnight. (Note: I don't like using LOW heat when using my slow cooker for broth. It should be simmering, and I've only had that happen when I've used HIGH heat.)

With a slotted spoon, remove the solids from the pot or slow cooker. Set a large fine mesh strainer over a big bowl or another pot and strain the broth. If not using immediately, transfer the broth to jars or other airtight containers. Let cool slightly before placing in fridge or freezer. Broth should keep well for about 3–5 days in the fridge and several months in the freezer.

This broth has very little salt (except for the aminos), so add salt to taste according to how it will be used in recipes.
Vegetarian Pho
Place the vegetable broth and tamari in a pot and bring to a simmer. Prepare spice packet by placing spices into several layers of cheesecloth, tying it closed with kitchen twine, and then placing it in the simmering broth. Simmer for at least 15–20 minutes, preferably longer, to allow its aromatic flavors to infuse the broth. Remove the spice packet and discard.

Meanwhile, cook the rice noodles according to package directions and rinse well under cold water. Set aside until ready to assemble.

To assemble the pho, have ready four shallow, wide bowls. Divide the noodles between the bowls. Top with the thinly sliced mushrooms, bok choy, and carrots. Ladle the hot broth over the top. (It should wilt and soften the veggies. If you prefer more tender veggies, lightly saute them in oil before assembling bowls.) Top each with bean sprouts, a handful of scallions, fresh herbs, lime wedges, and Thai bird chiles. Serve with shallow dishes of hoisin and Sriracha on the side along with chopsticks and broth spoons.
Notes
Bone Broth Notes Feel free to substitute or add any vegetables you have on hand or prefer over the ones listed above.
 Variation: for a tomato-based broth, add in 2–3 large tomatoes, halved or chopped.
 Add in various spices and herbs, depending on how the broth will be used in recipes or according to preference.  Example: thyme, parsley, sage, and rosemary for savory recipes or cilantro, cumin seeds, and chili peppers for Mexican or Indian recipes, etc. Pho Notes If preferred, sauté the bok choy, shiitake mushrooms, and carrots in a little oil before adding to the noodles. 
 Other leafy greens, such as thinly sliced kale, napa cabbage, or collard greens, can be used in place of the bok choy. 
 Feel free to add or omit other vegetables according to preference. 
 Rice noodles can be found in the Asian section of most grocery stores or online. 
 For a low-carb version, substitute spiralized vegetables for the rice noodles.
94