I may be in the minority here, but I'm kind of obsessed with apple cider vinegar. The health benefits of ACV are pretty impressive (even if it does taste like pungent old socks), and it's an awesome addition to homemade cleaning, bath, and beauty products.
Most days, I just add a tablespoon to a large glass of water and slowly sip away. But it's, admittedly, not everyone's cup of tea. That's why I give major kudos to whoever invented those fancy vinegar-based drinks like shrubs, switchel, and my most recent discovery, fire cider.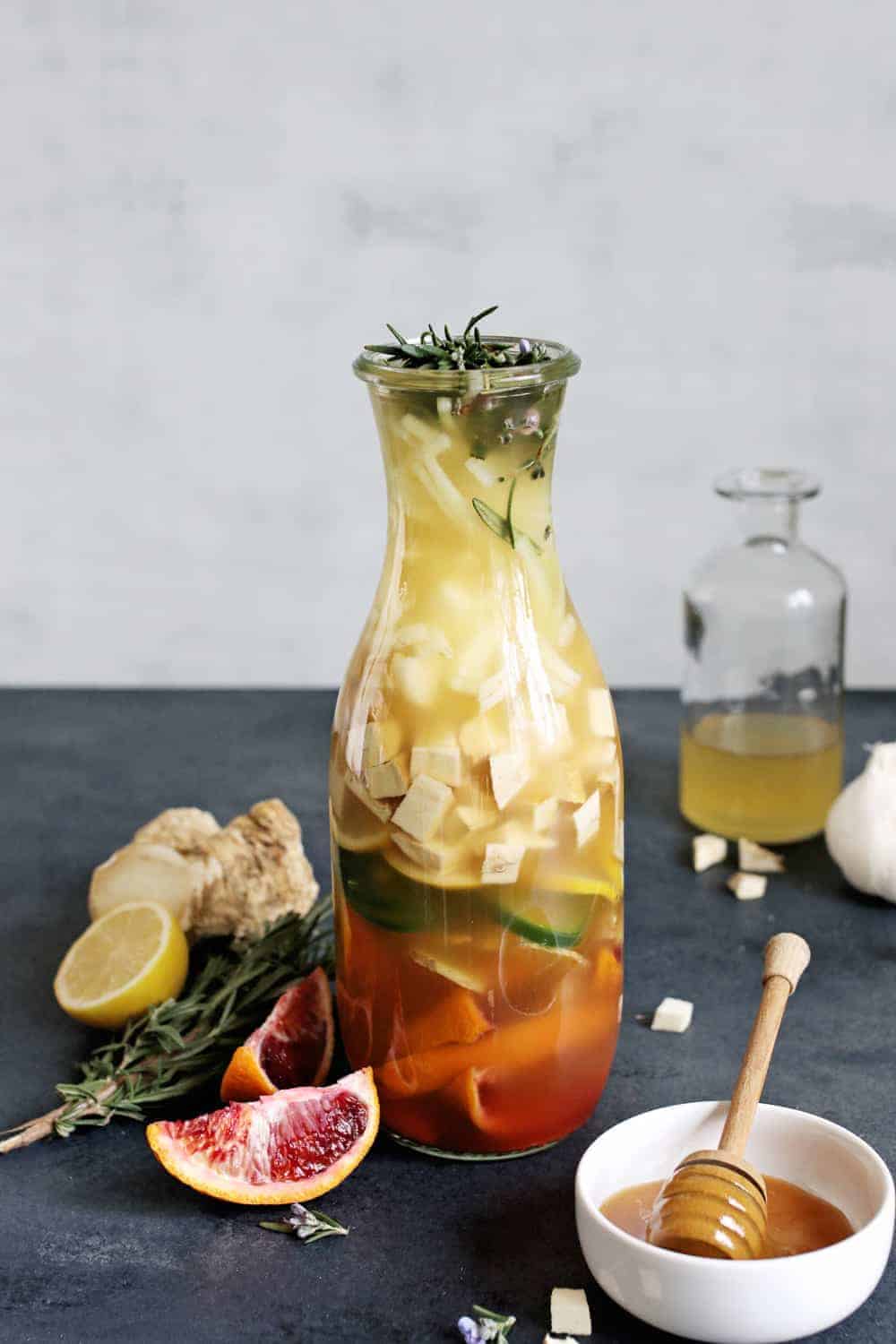 Fire cider recipes have been floating around the herbal world for years, thanks to wise women and their tales of miraculous healing. But if you're not familiar with it, fire cider is simply an infused apple cider vinegar said to support the immune system, calm inflammation, and improve circulation in the body. Swallow it by the spoonful, or create a fire cider mocktail (my favorite) and sip your way to good health.
How to Make Fire Cider
While not at all difficult to make, fire cider does require quite a few ingredients. Most traditional recipes call for fresh horseradish, hot peppers, and ginger, which give the cider its spice. Next comes the garlic, a potent antiviral [source], and onions, which are anti-inflammatory and rich in antioxidants [source].
I also like adding lemons and oranges to provide an extra dose of vitamin C and a sweet, fruity flavor. Last but not least, raw honey helps mask any bitterness and gives it immune-boosting nutrients [source].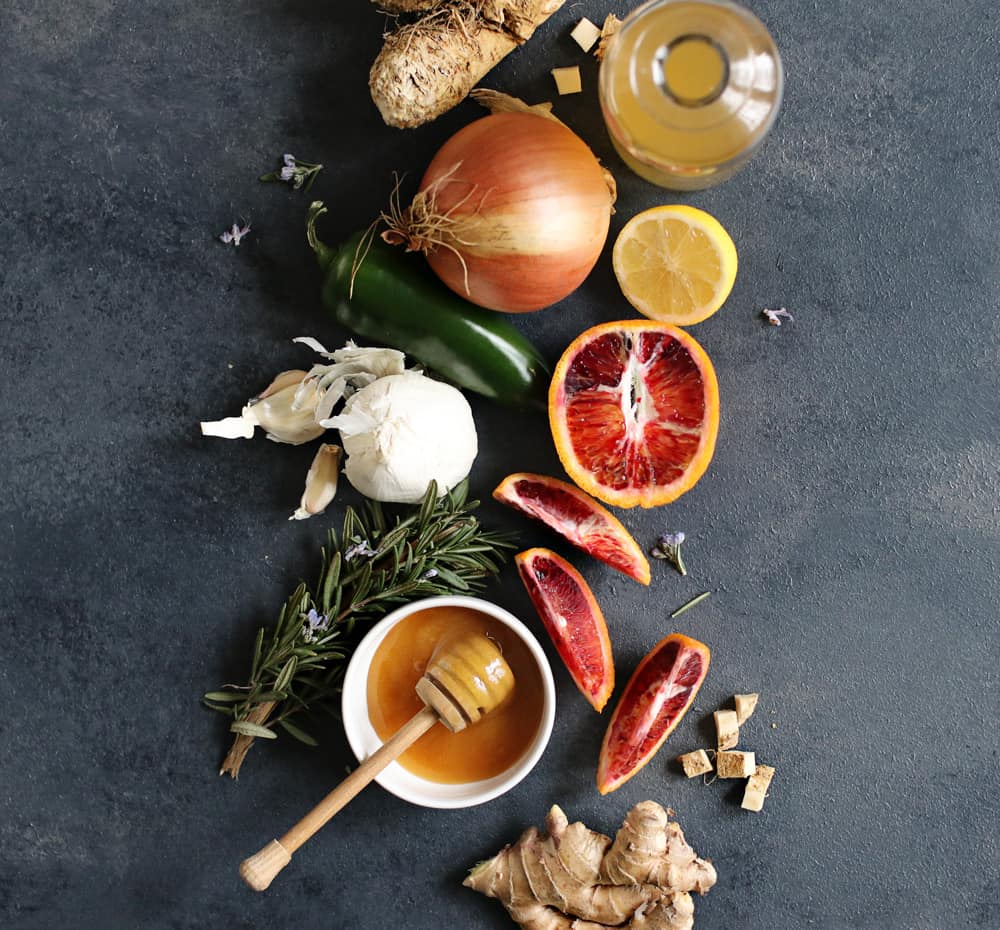 Simply chop up your ingredients, add your raw, organic, unfiltered apple cider vinegar, and let it steep. I wasn't lying when I said it was easy, but for more detailed instructions, check out this quick video: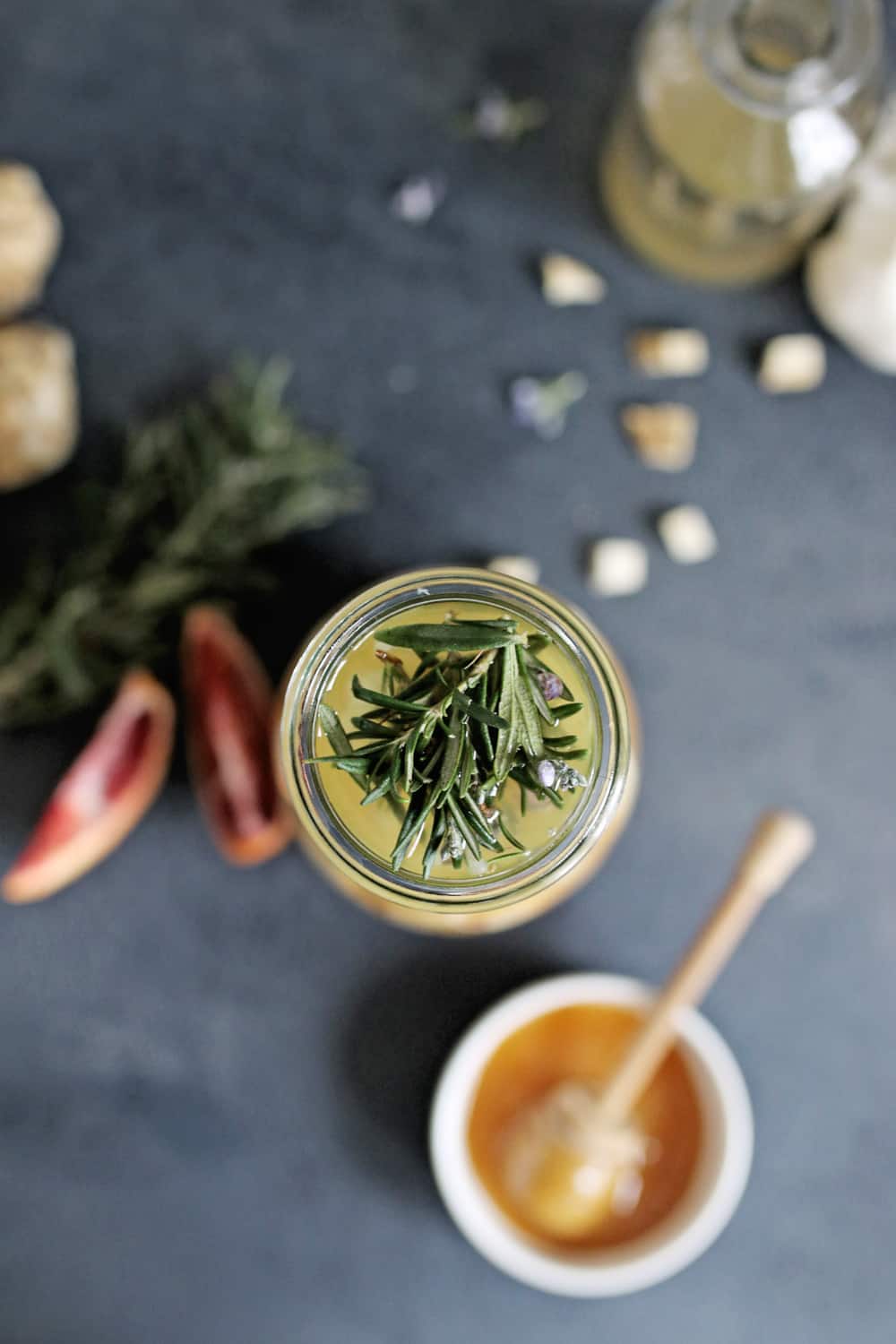 It takes about a month to mature, meaning it's best to make a large batch ahead of time (typically in the fall if you want to get ahead of the seasonal viruses) and sip it throughout the colder months. But if you're running behind like me, making it in the spring works too.
In a pinch, you can even start drinking it a little early. Simply make a double batch and open one of the jars early, leaving the ingredients in the jar to steep while you skim vinegar from the top.
To use, take 1 or 2 tablespoons daily throughout cold and flu season. If you're currently feeling sick, try taking it every 3 to 4 hours.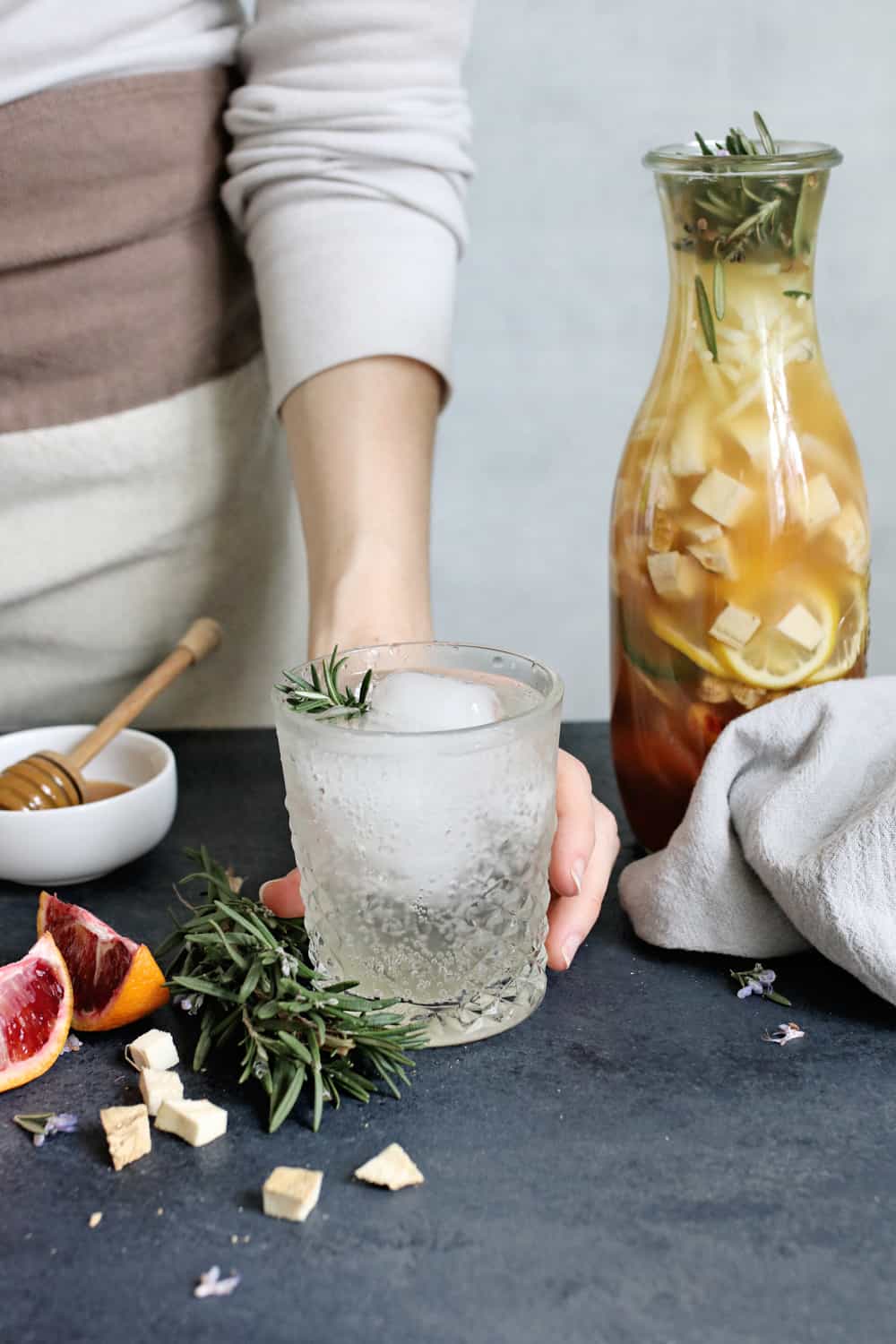 Here are some of my favorite ways to drink it:
In seltzer water or juice – I like to mix about an ounce of cider with 8 ounces of seltzer water, a drizzle of raw honey, lemon juice, and a sprig of rosemary. It's like a wellness mocktail that you can sip in the evening or whenever you're feeling run down. Or you can add a tablespoon of cider to fresh juice, which is especially helpful for sick children (or husbands).
As a "wellness shot" – If straight vinegar doesn't make you gag, pour some fire cider into a shot glass and drink it straight up.
As a marinade or salad dressing – Mix 1 tablespoon with some olive oil and drizzle over leafy greens or meat.
As a tea – Add cider to a cup of warm water and breathe in the steam as you sip.
Enjoy!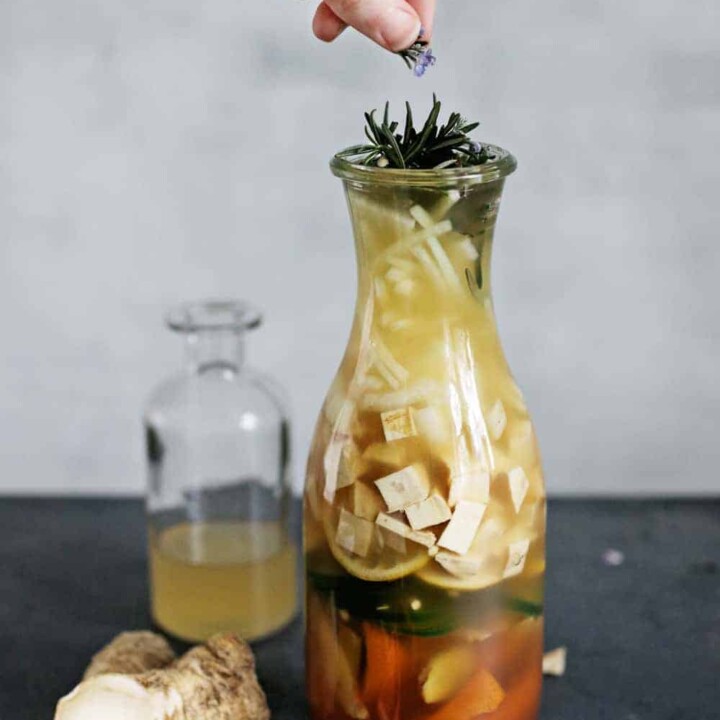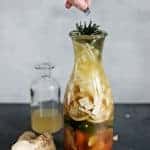 Print Recipe
Fire Cider
Support the immune system, calm inflammation, and improve circulation with this fiery infused vinegar.
Instructions
Wash and chop all of the fruits and vegetables

Add all the ingredients except the vinegar to your mason jar, and pack down lightly so the jar is about ¾ full. Use a stone fermentation weight or place heavy roots at the top to weigh down the herbs and jalapeños, which tend to float.

Pour apple cider vinegar into the jar so that it covers everything, and your vegetables stay submerged (to prevent them from spoiling).

If you're using a metal lid, line it with wax paper to prevent the vinegar from corroding it, then put the lid on. Place in a dark, room-temperature cabinet for 2–4 weeks (the longer, the better). Gently shake the jar every few days to circulate the ACV.

When the cider is ready, strain it using a mesh sieve.

To make a fire cider mocktail, combine 1 ounce fire cider with 8 ounces seltzer water. Add a squeeze of fresh lemon juice, a sprig of rosemary, and raw honey to taste.
Notes
If all solid material has been thoroughly strained, you can store fire cider in the fridge for up to a month.
65