Last year, I started using elderberry syrup for cold and flu prevention. Although skeptical at first, now I'm convinced! After looking to purchase it, I started reading up on how to make it at home because I realized it can get a little (actually very) pricey. Homemade elderberry syrup can be made quite easily for a fraction of the cost, and you also get to control which ingredients go into it. You'll be able to make more syrup for less money, ensuring that you have enough to last all season long.
I saw quite a few recipes online and settled on one that works for us. The recipe below makes enough syrup that we can take a spoonful every day to help boost our immune systems. That way, when cold and flu season hits, we'll be prepared.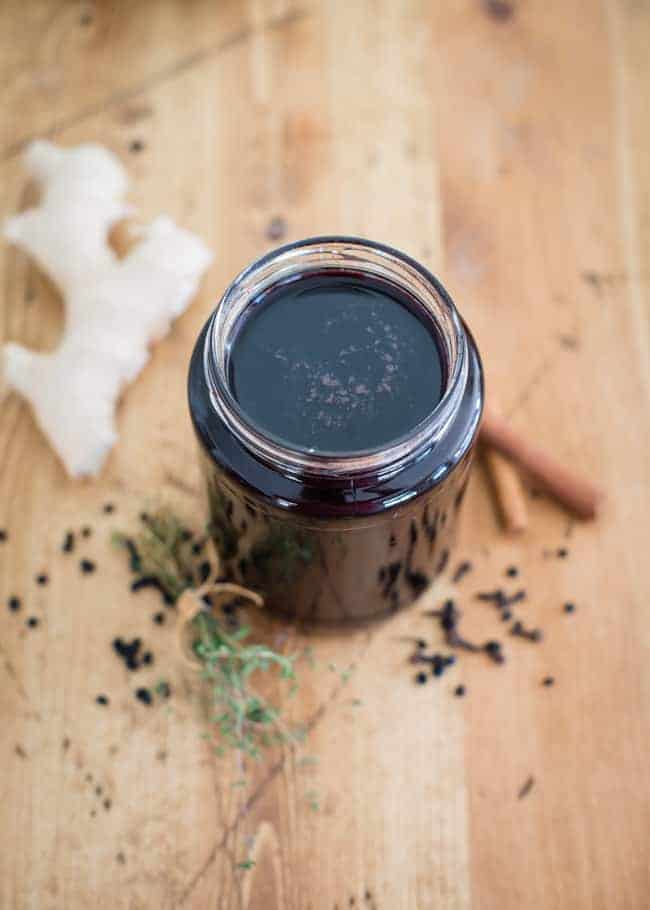 Benefits of Elderberries
Elderberries and thyme are age-old remedies for colds, flu, and sinus infections. They're a go-to remedy for herbalists and those who practice natural living [source]. In many an herbalist's home, I have no doubt you'll find either dried or fresh elderberries specifically for making a bottle (or two) of elderberry syrup.
High in vitamin C, beta-carotene, vitamin E, and other antioxidants [source], elderberries are important for healthy immune function. They are known to have antiviral properties [source], particularly against influenza [source]. These action-packed little fruits contain components that talk to the immune system, sending messages to fight infection.
A study of elderberry extract used four times a day in 60 patients with the flu demonstrated a startling improvement in their symptoms compared to controls [source]. In 2016, a clinical trial with air-travelers showed a reduced duration of cold symptoms [source]. A more recent meta-analysis covering a total of 180 participants showed that supplementing with elderberry reduced the symptoms of viral upper respiratory illness [source].
Benefits of Thymol
Thymol, a substance found in abundance in thyme, has antiseptic properties and works particularly well as an antifungal and antimicrobial agent [source]. For colds and the flu, thyme can be helpful because it has expectorant properties that make it a good cough medicine.
I also decided to include ginger, cinnamon, and cloves in my syrup for taste and all the beneficial properties they contribute, but the great thing about this recipe is that it's so versatile. Feel free to include other immune-boosting ingredients and tailor it to suit your needs. You can also keep it really simple and just use elderberries—whatever works for you!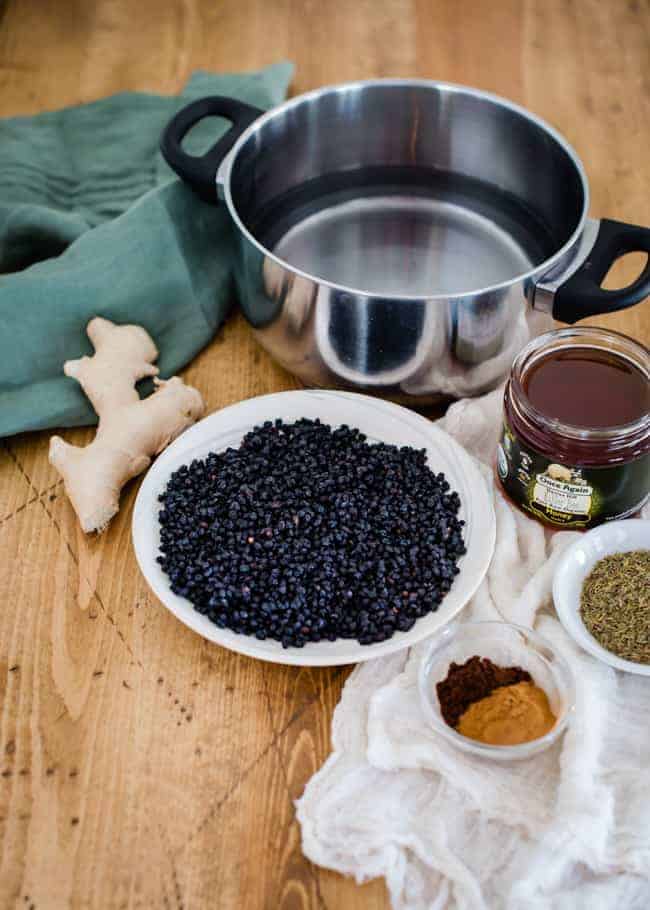 How to Make Elderberry Syrup
Fresh berries and herbs can be used in this recipe, but I used dried berries and thyme because they were more readily available. It's imperative to note that fresh elderberries should not be consumed, as they may be poisonous [source].
If you're using fresh berries, they must be cooked with water first. Also, just to be safe, discuss with a healthcare clinician before giving homemade thyme-elderberry syrup to children or using it in pregnancy. It may interact with some medications, so it's a good idea to check first. We haven't had any issues, but just be sure to take note!
Although there are a number of ways that you can utilize the benefits of elderberries and thyme, this syrup is a kid-friendly (and husband-friendly!) way to get the whole family to willingly take a concentrated dose of the immune-boosting properties. Simply put, this syrup tastes delicious. As I mentioned above, we usually take it by the spoonful, but sometimes I drizzle it on pancakes and oatmeal because it tastes so good! Feel free to get creative with it!
This recipe is great because it's so simple to make, it's delicious, and you'll use it every day. If you've never made elderberry syrup before, I promise you'll feel a major sense of accomplishment and relief after making this amazing immune-boosting recipe—as well you should!
Place 1 cup of dried elderberries in 1 quart of filtered water. Bring to a simmer.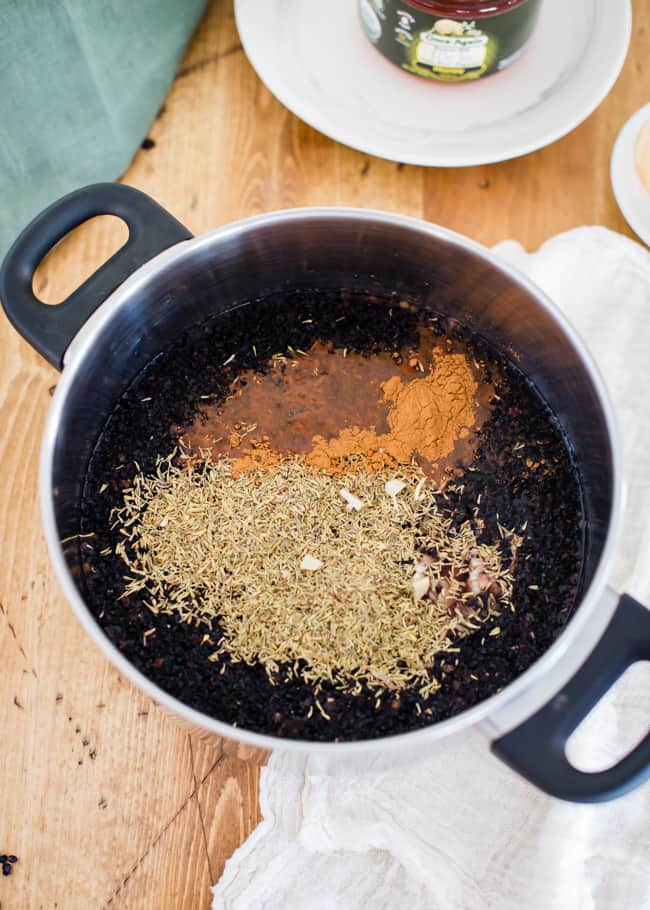 Add the thyme, ginger, cinnamon, and cloves (NOT the honey—yet). Cook over low heat for about 20–30 minutes, or until the liquid has reduced by half.
If you have access to fresh elderberries, just double the recipe and proceed with the process as instructed.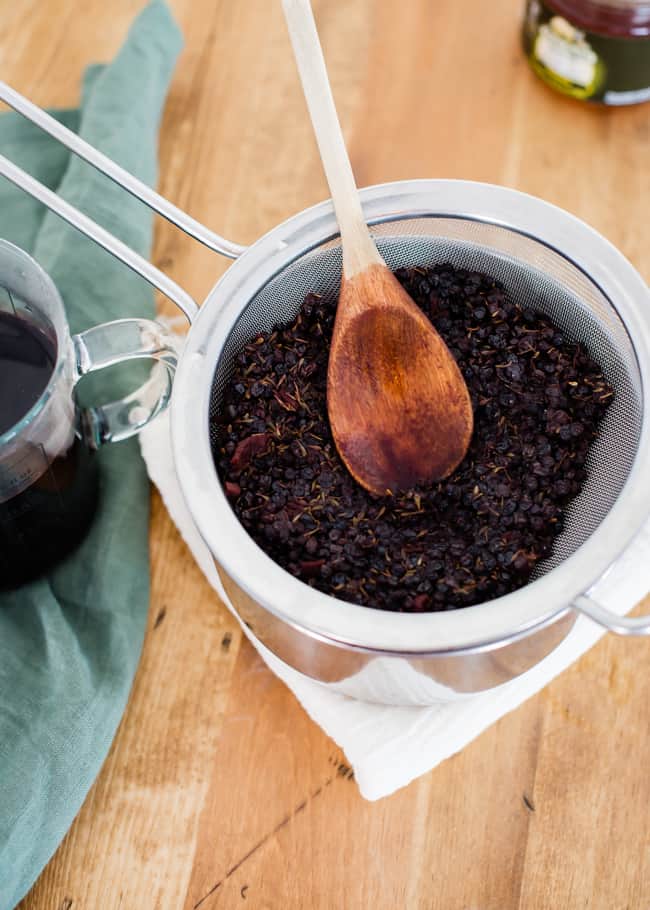 Strain the mixture through a fine-mesh sieve, pressing on the solids to release as much of the liquid as possible. Discard the solids.
Let the liquid cool completely. Mix in the raw honey and stir to combine. If you don't have honey, you can use sugar instead. Transfer to a jar and keep refrigerated. The sweetener in this recipe acts as a mild preservative, but it should be stored in the refrigerator.
How I Take Elderberry Syrup
During cold and flu season, we like to take this once a day for maintenance. I usually take 1 tablespoon daily when well and 2–3 doses per day when I'm sick. The effects of elderberry on the immune system have not yet been studied in COVID-19 infections [source].
Ask your pediatrician about this recipe and correct dosing for children. Do not take this when pregnant or give it to infants under 1 year of age.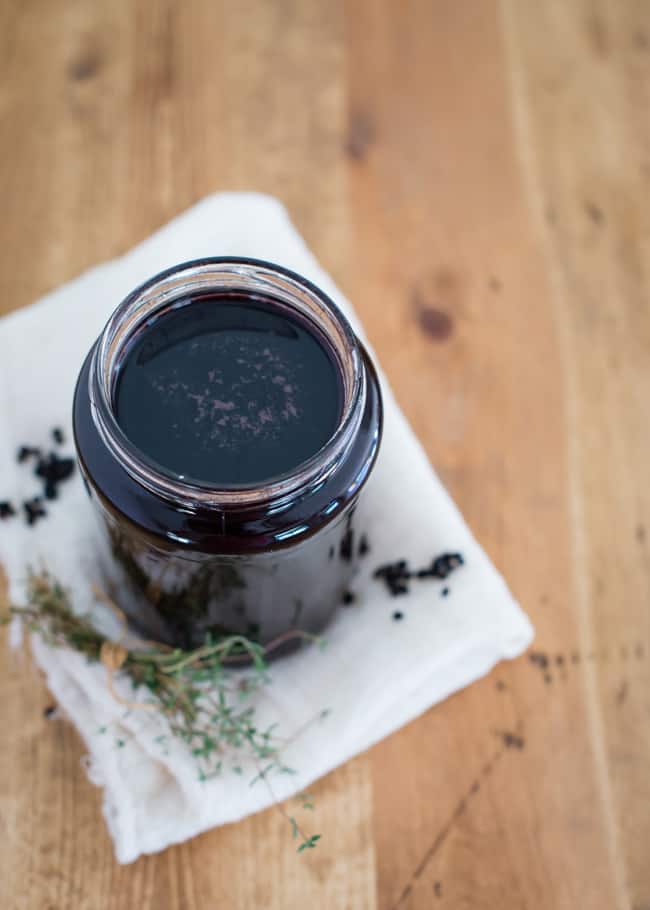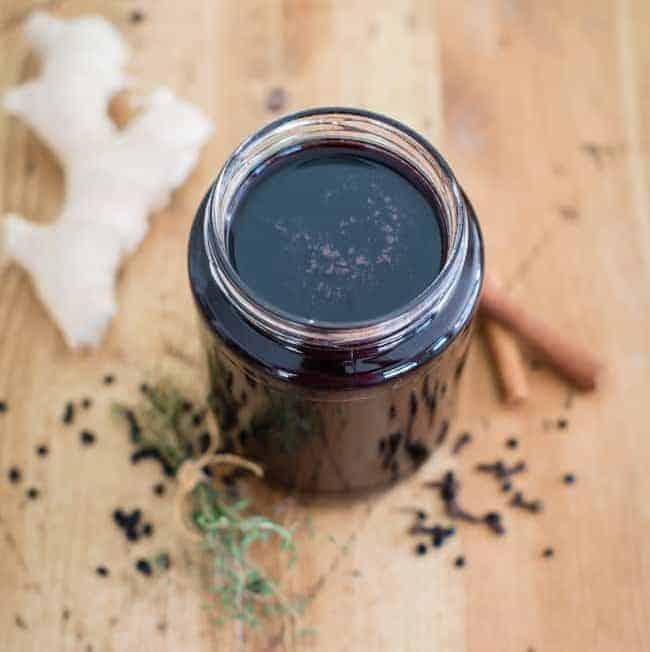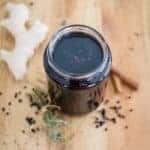 Print Recipe
DIY Make Your Own Elderberry Syrup
This homemade elderberry syrup with thyme is great for colds and flu and is much cheaper than buying it!
Ingredients
1

quart

filtered water

1

cup

dried elderberries

2

tablespoons

dried thyme leaves

2

tablespoons

fresh grated ginger

2

teaspoons

ground cinnamon

½

teaspoon

ground cloves

1-½

cups

organic raw honey
Instructions
Place water in a saucepan and add dried elderberries. Bring to a simmer and add thyme, ginger, cinnamon, and cloves. (Do not add honey yet.)

Cook until reduced by about half. Strain through a fine-mesh sieve or cheesecloth and let cool completely.

Stir in raw honey and place in a jar in the fridge. Will keep for several months.
Nutrition
Serving:
1
tablespoon
|
Calories:
54
kcal
|
Carbohydrates:
14
g
|
Sodium:
2
mg
|
Potassium:
28
mg
|
Fiber:
0.5
g
|
Sugar:
13
g
|
Calcium:
9
mg
This article was medically reviewed by Dr. Gina Jansheski, a licensed, board-certified pediatrician with over 20 years of experience in practice. Learn more about Hello Glow's medical reviewers here. As always, this is not personal medical advice, and we recommend that you talk with your doctor before using this recipe to determine what's best for you.
45