Last year I started using elderberry syrup for cold and flu prevention. I was skeptical at first, but this natural remedy works! I started reading up on how to make it at home because it can get a little (actually very) pricey. Homemade elderberry syrup can be made for the fraction of the cost, and you also get to control what goes into it. I saw quite a few recipes online, and settled on one that works for us. It makes enough that we can take a spoonful every day to help boost our immune systems. And when cold and flu season hits, we'll be prepared.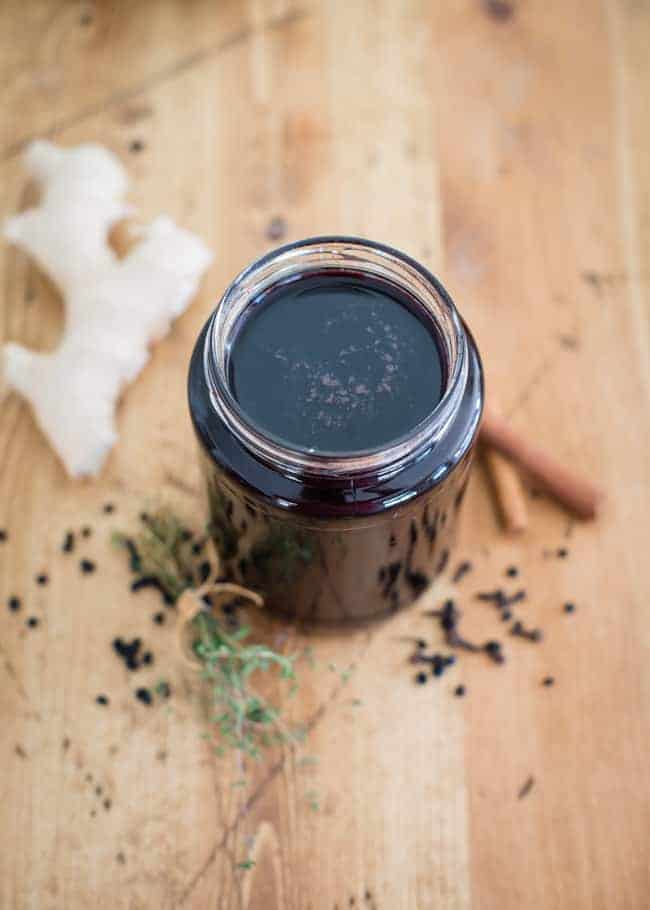 Elderberries and thyme are age-old remedies for colds, flu and sinus infections. Elderberries are high in vitamin C, which is important for a strong immune system; it may also have anti-inflammatory benefits and reduce the swelling of the mucous membranes associated with illnesses (source). Thymol, a substance found in abundance in thyme, has antiseptic properties, particularly as an anti-fungal and anti-microbial. It can also help stimulate the immune system and shorten the duration of illnesses.
Cooked, fresh berries and herbs can be used, but I've used dried berries and thyme because that was available to me. It's very important to note that fresh elderberries should not be consumed, as they may be poisonous. If you're using fresh berries, they must be cooked with water first. Also, just to be safe, discuss with a healthcare provider before giving the homemade thyme elderberry syrup to children. It may interact with some medications, so it's a good idea to check first. We haven't had any issues, but take note!
How to Make Elderberry Syrup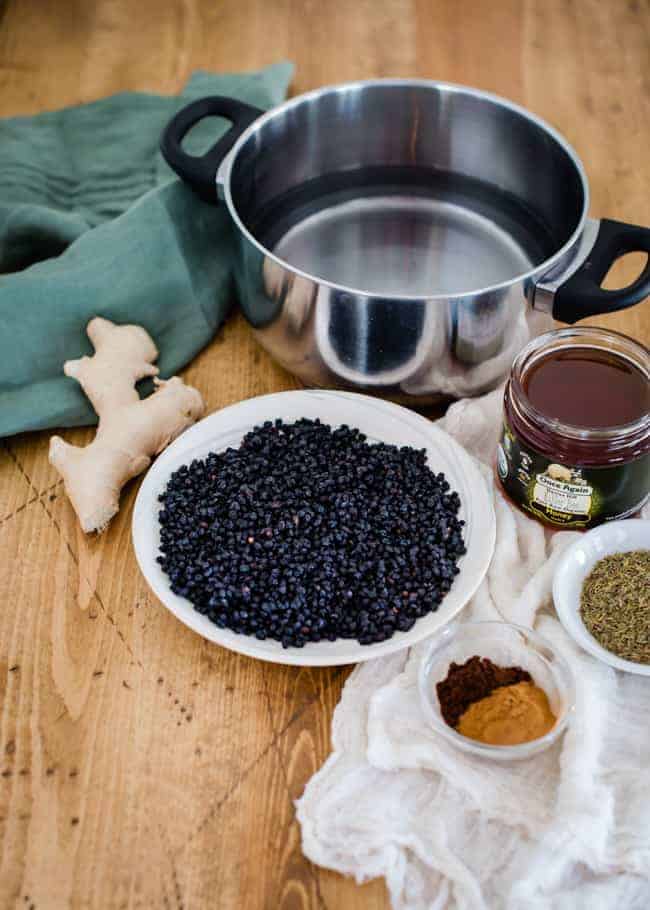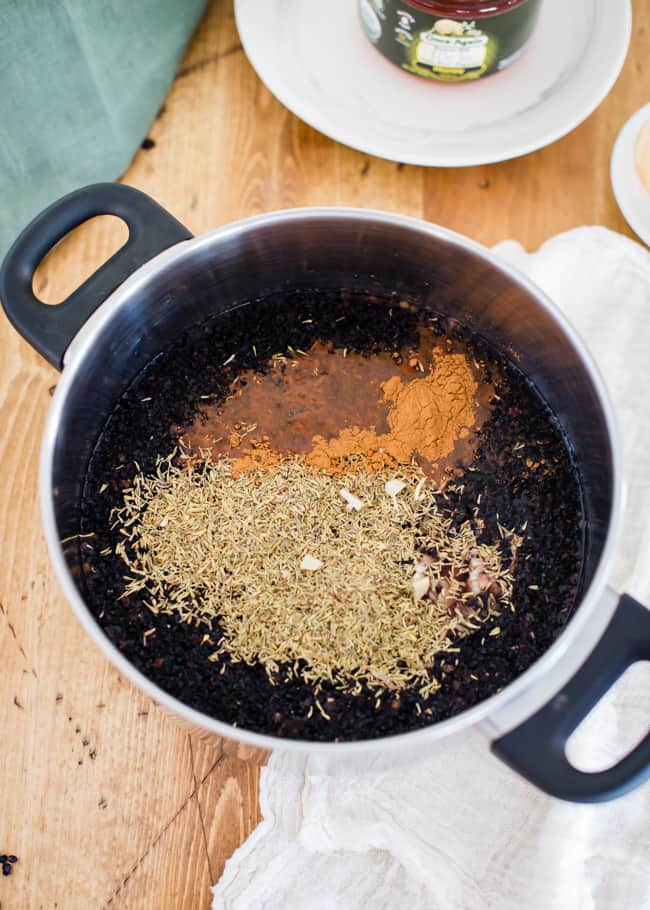 Place 1 cup dried elderberries in 1 quart of filtered water. Bring to a simmer. Add the thyme, ginger, cinnamon and cloves (NOT the honey!). Cook over low heat for about 20-30 minutes, or until the liquid has reduced by half. If you have access to fresh elderberries, use double the amount, and proceed with the directions as instructed.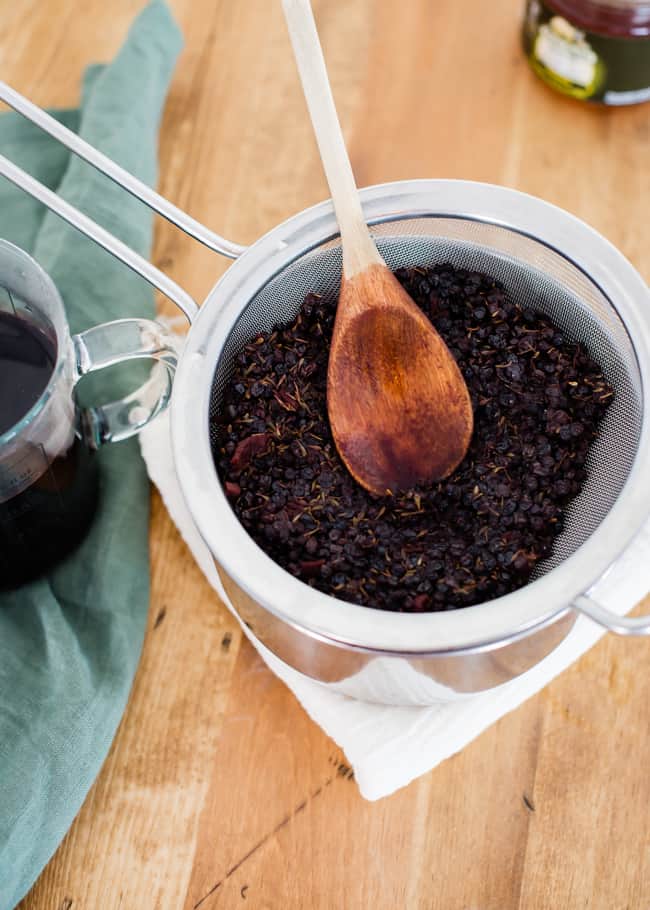 Strain the mixture through a fine mesh sieve, pressing on the solids to release as much of the liquid as possible. Discard solids. Let the liquid cool completely. Mix in the raw honey and stir to combine. Transfer to a jar and keep refrigerated.
How to take Elderberry Syrup
To use preventatively, take once a day. One tablespoon for adults; 1 teaspoon for older kids; 1/2 teaspoon for toddlers. Do not give to infants under 1. Take 2-3 doses per day when sick.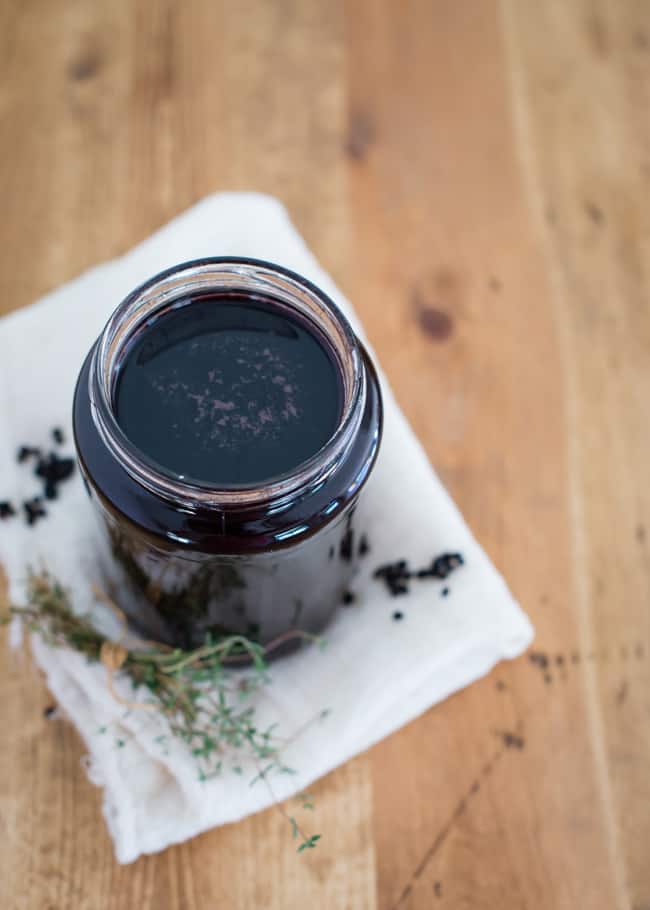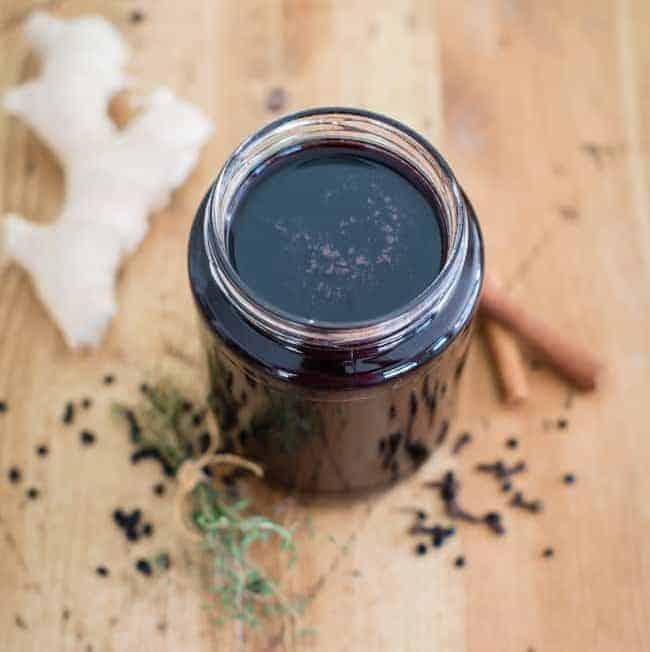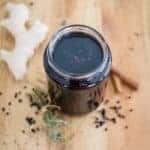 Print Recipe
DIY Make Your Own Elderberry Syrup
This homemade elderberry syrup with thyme is great for colds and flu and is much cheaper than buying it!
Ingredients
1

quart

filtered water

1

cup

dried elderberries

2

tablespoons

dried thyme leaves

2

tablespoons

fresh grated ginger

2

teaspoons

ground cinnamon

1/2

teaspoon

ground cloves

1 1/2

cups

organic raw honey
Instructions
Place water in a saucepan and add dried elderberries. Bring to a simmer and add thyme, ginger, cinnamon, and cloves. (Do not add honey yet.)

Cook until reduced by about half. Strain through a fine mesh sieve or cheesecloth and let cool completely.

Stir in raw honey and place in a jar in the fridge. Will keep for several months.

To use - take once a day; 1 Tablespoon for adults; 1 teaspoon for older kids; 1/2 teaspoon toddlers (Do not give to infants under 1). Take 2-3 per day when sick.
Disclaimer: All information presented on this website is for informational purposes only. These statements have not been evaluated by the Food and Drug Administration. This website is not intended to diagnose, treat, cure or prevent any disease and is not intended to be a substitute or replacement for any medical treatment. Please seek the advice of a healthcare professional for your specific health concerns. Individual results may vary.
10