At some point or another this fall or winter you're bound to feel it coming on–a dry, scratchy sore throat that signifies the start of a cold (or heaven forbid the flu). While a sore throat is annoying and a complete and utter pain in the neck, it's not usually something you need to call your doctor over. Instead, you can turn to one of the many sore throat remedies you already have lying around your kitchen to find relief.
Here are 8 kitchen staples that are inexpensive and highly effective at soothing even the most stubborn of sore throats.
1. Ginger Echinacea Herbal Throat Spray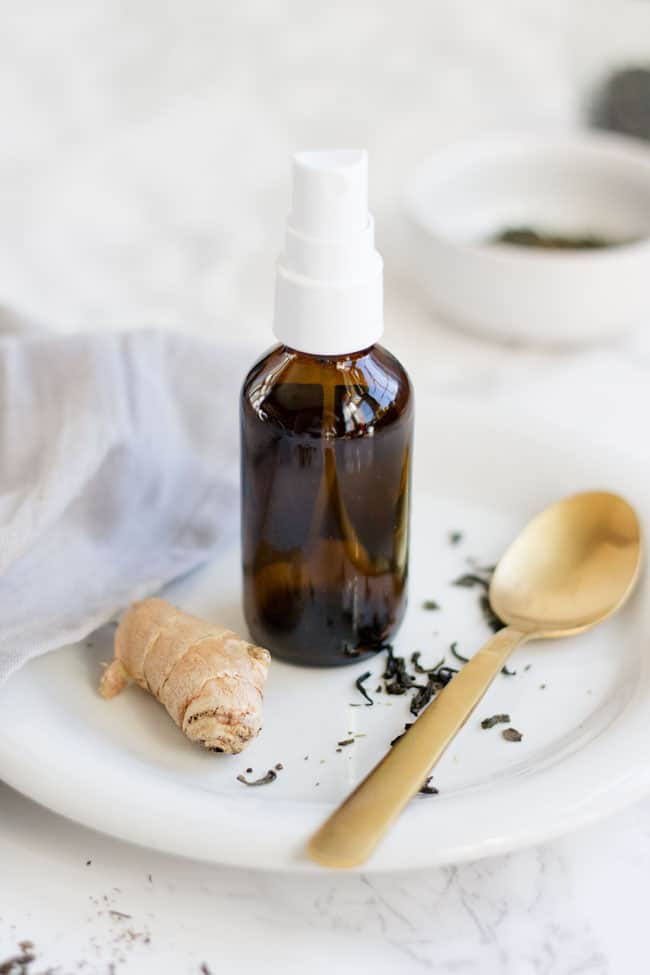 Instead of buying an over-the-counter throat spray that's loaded with chemicals, try making an herbal spray to instantly soothe your sore throat and decrease inflammation. Echinacea has been shown to reduce symptoms and shorten the duration of the common cold thanks to its anti-inflammatory and antibacterial properties. It's also helpful in healing wounds and soothing raw skin when applied topically. When combined with ginger, thyme and mint, all powerful anti-inflammatory herbs, it makes for an effective throat-soothing spray.
Echinacea Throat Spray
Ingredients
1

tablespoon

each dried echinacea

ginger, thyme and mint

1/4

cup

boiling water

Food-grade alcohol like vodka or rum

Pint-size mason jar with lid

Glass spray bottle
Instructions
Combine the echinacea, ginger, thyme and mint in a mason jar.

Add ¼ cup boiling water and let steep for 10 minutes.

Fill the rest of the jar with a food grade alcohol and let sit for at least two weeks to achieve maximum potency.

Transfer the mixture to a glass spray bottle and spray the tincture directly on the back of your throat regularly for as long as you have a sore throat.

For a speedier option, combine the herbs in a mason jar and add enough boiling water to cover the herbs. Let steep for 20 minutes then strain out the herbs and mix the tea with an equal amount of food-grade alcohol. Transfer to a glass spray bottle and spray as usual.
2. Warm Salt Water Gargle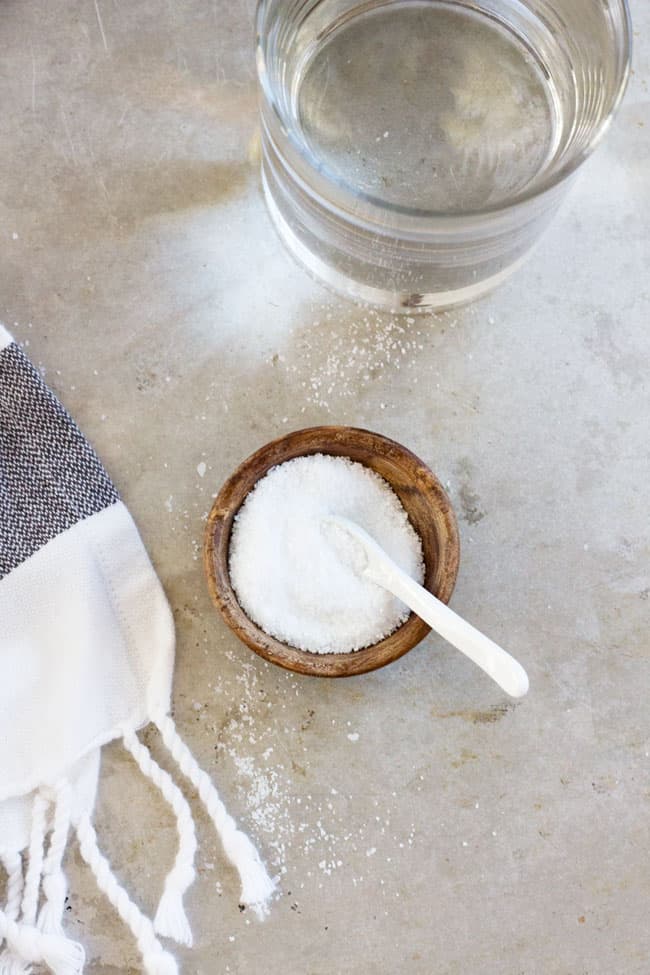 A sore throat, whether caused by dry air or illness, is a result of the mucous membranes lining the throat becoming swollen and inflamed. Because salt naturally draws water out of cells, it can help to decrease the swelling and ease pain when used as a gargle. Salt water also helps to loosen mucus and flush out bad bacteria, further helping to clear the illness from the body.
Combine 1 cup warm water with ½ teaspoon table salt and stir until the salt is dissolved. Gargle every three hours until pain subsides.
3. Lemon Baking Soda "Tea"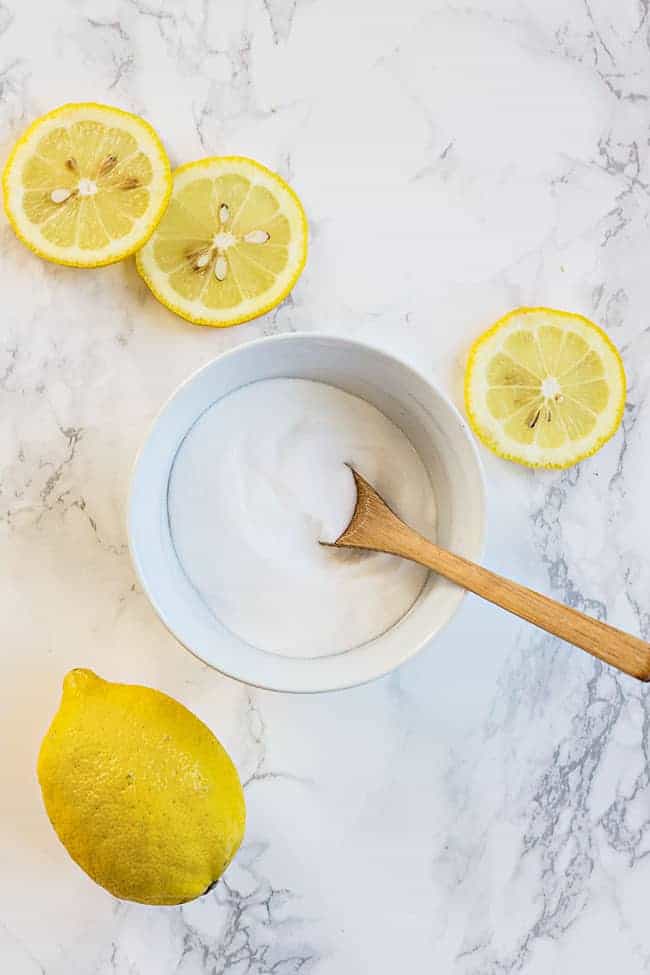 Baking soda is great for sore throats because it has a slightly alkaline pH that soothes irritated skin and calms inflammation. When combined with lemon, which is chock full of vitamin C and anti-bacterial properties, it's a bug-killing elixir that will reduce throat pain and shorten the duration of the illness.
Lemon Baking Soda Tea
Ingredients
1

cup

hot water

½

teaspoon

baking soda If possible, choose a brand that doesn't contain heavy metals like Bob's Red Mill

1

lemon

juiced
Instructions
Combine all the ingredients in a mug and stir until baking soda is dissolved.

Sip like you would an herbal tea throughout the day.
4. Apple Cider Vinegar and Raw Honey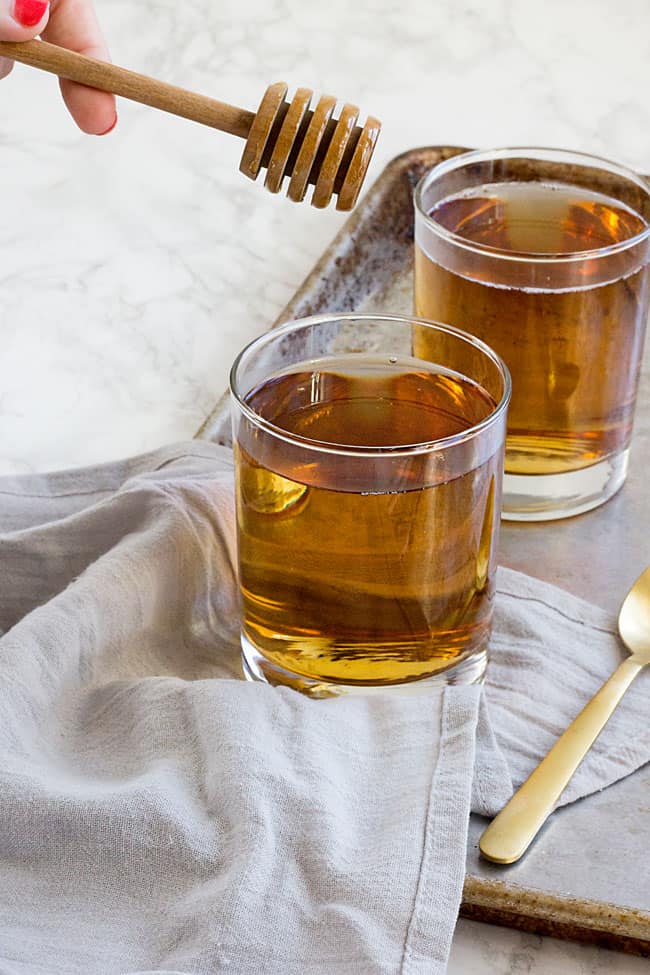 Because apple cider vinegar is a potent anti-bacterial and anti-viral, it helps to kill the infection-causing bacteria taking up residence in your throat. Vinegar works by lowering the pH of the throat tissue which prevents further growth of bacteria and limits the infection. When combined with raw honey, another natural anti-bacterial agent, it further helps to bring the infection under control and decreases the associated pain and swelling.
Mix 1/3 cup apple cider vinegar with 2 teaspoons raw honey in 8 ounces water. Drink every two hours throughout the day until symptoms disappear.
5. Herbal Steam
Steam is especially helpful for sore throats caused by cold, dry weather. It works by warming the respiratory tract, relaxing throat muscles and clearing away excess mucus in the lungs and throat. Add a few drops of peppermint or eucalyptus essential oils to further kill bacteria and soothe inflamed throat tissue. And as an added bonus, it doubles as a skin-clearing facial so you can look radiant, even if you don't exactly feel radiant.
Pour 6 cups boiling water in a large bowl and add 2 drops eucalyptus or peppermint essential oil. Lean over the bowl with your face several inches from the top. Place a large bath towel over your head and shoulders to help trap in the steam. Breathe through your nose and mouth for 10 minutes. Repeat as necessary to ease discomfort and reduce swelling.
6. Hot Toddy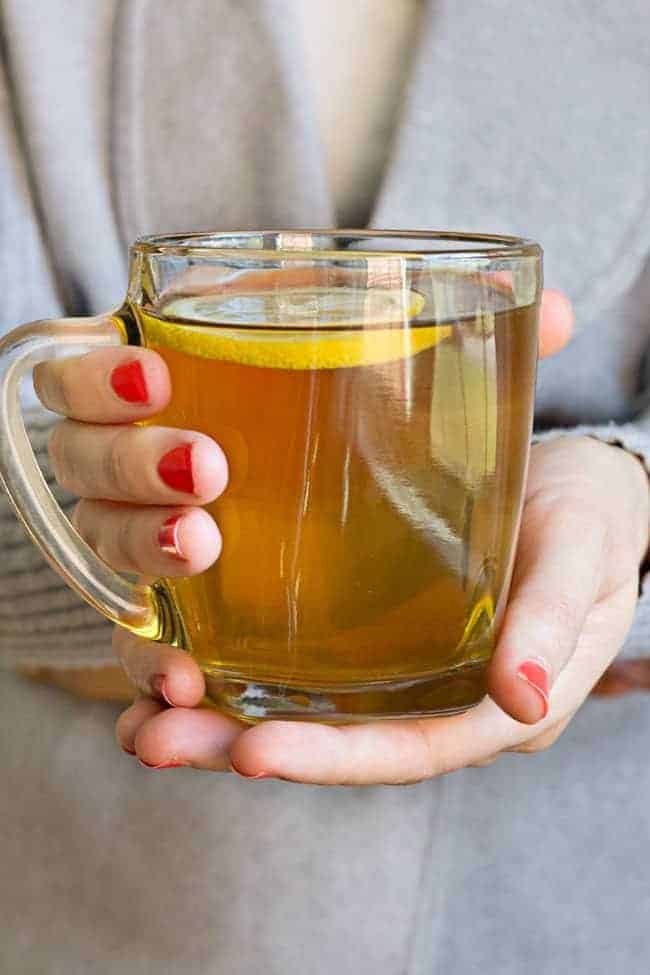 Lucky for you, your grandma may have been right about this one! Studies show that a hot toddy (when sipped in moderation, of course) can help shorten the duration of a cold and ease sore throat pain. Just like over the counter cold medicine, the alcohol in a hot toddy eases congestion and helps us fall asleep so we can heal a little more quickly.
Hot Toddy
Ingredients
1

tablespoon

honey

1

herbal tea bag

8

ounces

hot water

1/4

lemon

juiced

1

ounce

Bourbon or Whiskey
Instructions
Pour hot water into a mug and steep tea for 2 minutes.

Add honey, lemon juice and bourbon and stir until honey is completely dissolved.
7. Licorice Root Tea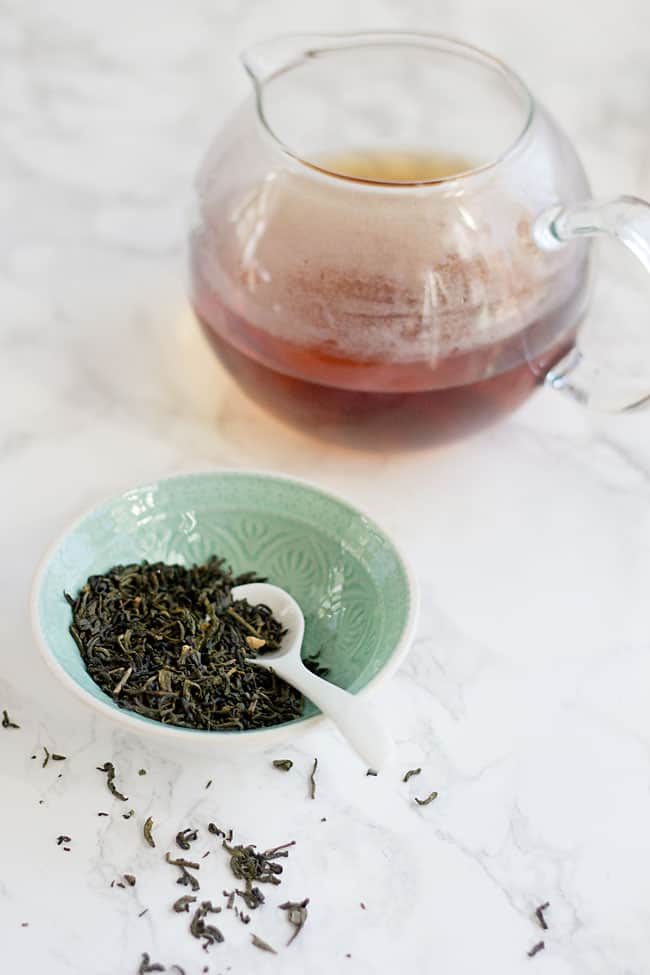 Among herb enthusiasts, licorice root is known most commonly as a demulcent–a soothing herb used mainly to protect and heal damaged and inflamed tissue. Not only is it effective in healing a sore throat, but it can also help prevent a sore throat from occurring in the first place if sipped at the first sign of dryness, coughing, or irritation.
You can either buy pre-made licorice root tea bags or you can make your own tea by boiling ¼ cup dry, chopped licorice root in 1 quart water for 10 minutes. Pour the tea through a mesh strainer prior to serving and sip throughout the day.
8. Raw Garlic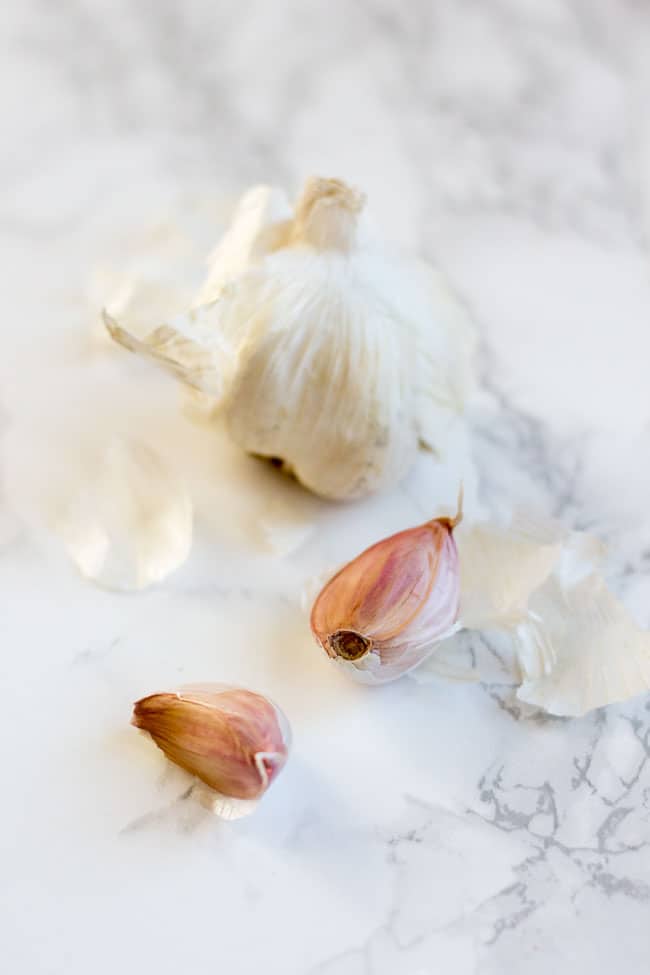 Garlic contains allicin, a strong anti-bacterial compound which actively kills the bacteria that causes a sore throat. There are many different ways to benefit from garlic, whether in the form of a tea, tincture, or simply by adding a few extra cloves to dinner. But the easiest way is to take two small cloves and place one on either side of your mouth in between your cheek and teeth. Suck on it like a cough drop, occasionally crunching on it to release the allicin.
44