This post was originally sponsored by Introstem. All opinions are my own.
It dawned on me the other day that it'd been a while since I got carded for buying wine. And by "a while", I mean, like months. Maybe years? While I don't think I look old, per se, clearly I'm well enough over 21 that nobody bothers to question it anymore.
And as a woman in America, I'm not sure how to feel about this. Do I plant myself firmly in the "age gracefully" camp and go with the flow (maybe even live a little!), or do I do what my perennially smooth-skinned friends do and head straight for the skin doc?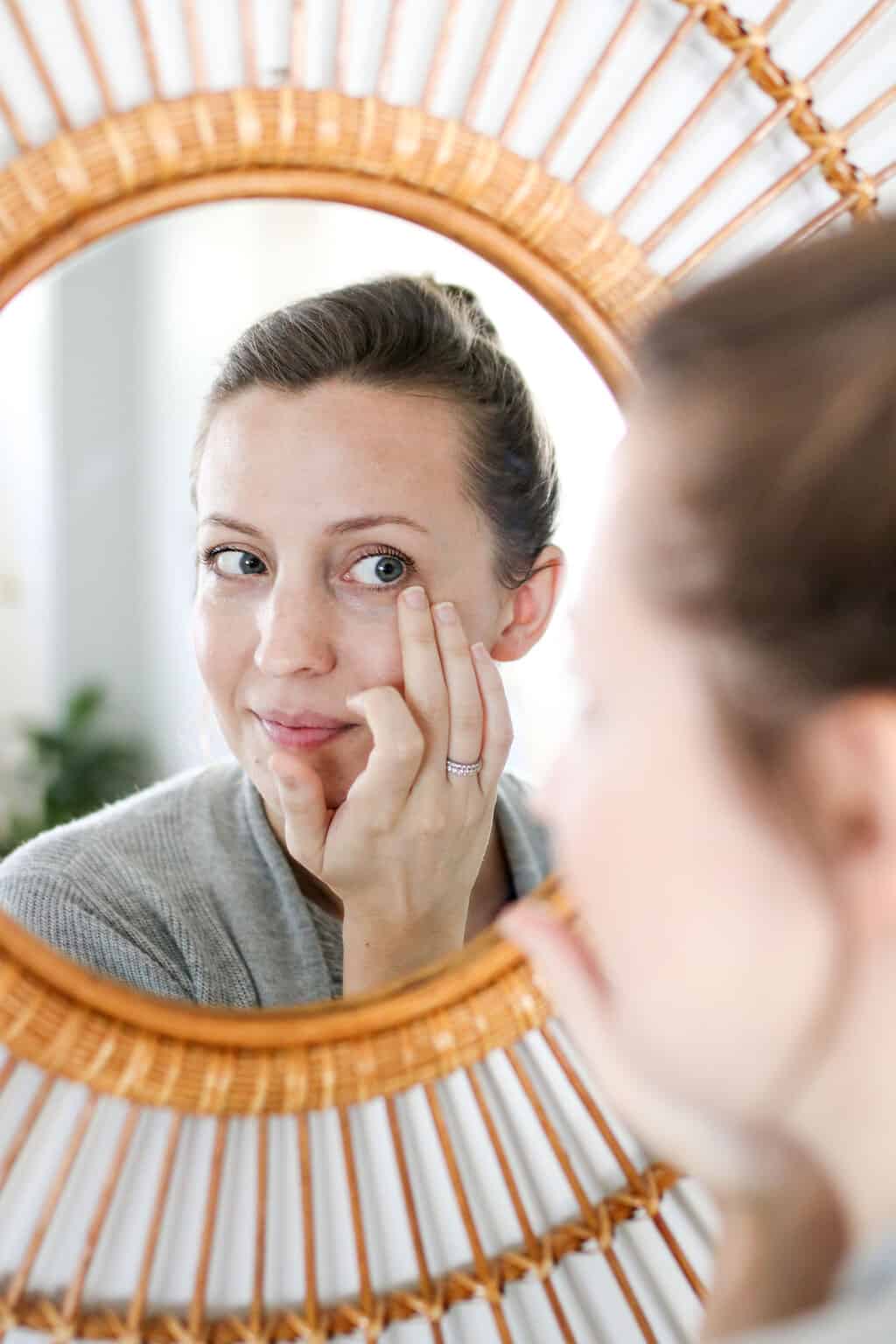 Well, I usually fall somewhere in between those two extremes, and so I do neither. Instead I go around buying every face cream I can get my hot little hands on. Then slather them on my face (sometimes at the same time) like a mad scientist at the makeup counter.
A lot of anti-aging products come with hyped-up claims they can't possibly live up to. Nevertheless I'm determined to try them all out myself, even if it sets me back a pretty penny. Something is going to work and, heaven help me, I'm going to find it. So when Introstem reached out to see if I'd be willing to take their products for a test drive of course I answered with a resounding yes!
As a face cream junkie my first thought was, do I really need another face cream? The short answer: no, probably not. The long answer: just kidding, of course I do when it's packed with legit ingredients like grape stem cell extract, calendula, aloe and gingko.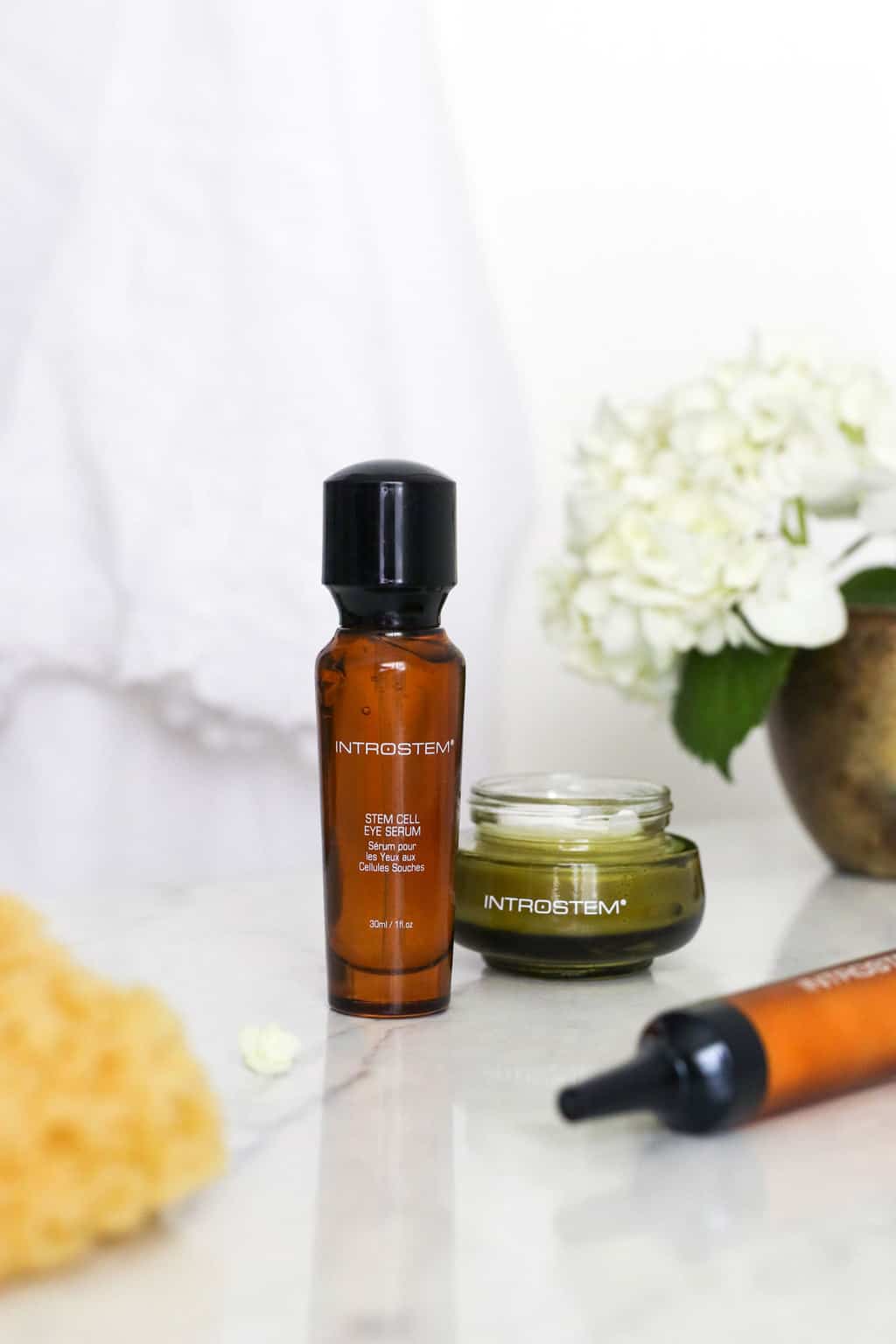 We tried Introstem - here's what we thought
What makes Introstem so intriguing is that they're on the cutting edge of the beauty world, straddling the line between nature and science. The shining star in their ingredient list is hemp seed oil, a non-THC compound extracted from male cannabis plants.
It's rich in things like omega-3 and omega-6 fatty acids and a plethora of minerals such as potassium and magnesium as well vitamins A and E. And it's said to help soothe inflammation and calm irritation, offer antioxidant protection and leave skin feeling soft and supple.
Plus, Introstem uses powerful peptides, vitamins, minerals, antioxidants, and humectants to give skin a renewed luminescence and vitality. Their list of ingredients is seriously nothing to scoff at, with things like:
Grape stem cell extract, which is embryonic in nature and able to transform themselves into human-identical cells when applied to the skin, help heal and regenerate the skin.
Seaweed extract, fantastic superfood for the body, significantly boosts skin health.
Peptides are protein fragments that are made up of amino acids. They're important when it comes to the formation of proteins in the skin, and two of the most important ones are collagen and elastin.
Green tea extract is packed with polyphenols, and these have some extraordinary antioxidant properties, making green tea one of the best botanicals for minimizing the visible signs of aging.
With high expectations, I tested a few of Introstem's products for 2 weeks to see if they really work like they say they do.
Here's what happened.
With the bags under my eyes being the biggest giveaway that I'm no longer 21, I reached for Introstem's Stem Cell Eye Serum first. Infused with sodium hylauronate and stem cell extract, it promises to plump and smooth fine lines and puffiness around the eyes.
As per the instructions, I washed my face before applying 1-2 pumps under my eyes. (The good news is a little goes a long way—I divide 1 little pump between both eyes, then dab what's leftover on my laugh lines and the crease between my eyebrows for good measure.)
I gently patted for a couple seconds until it was completely absorbed. And then I went to bed.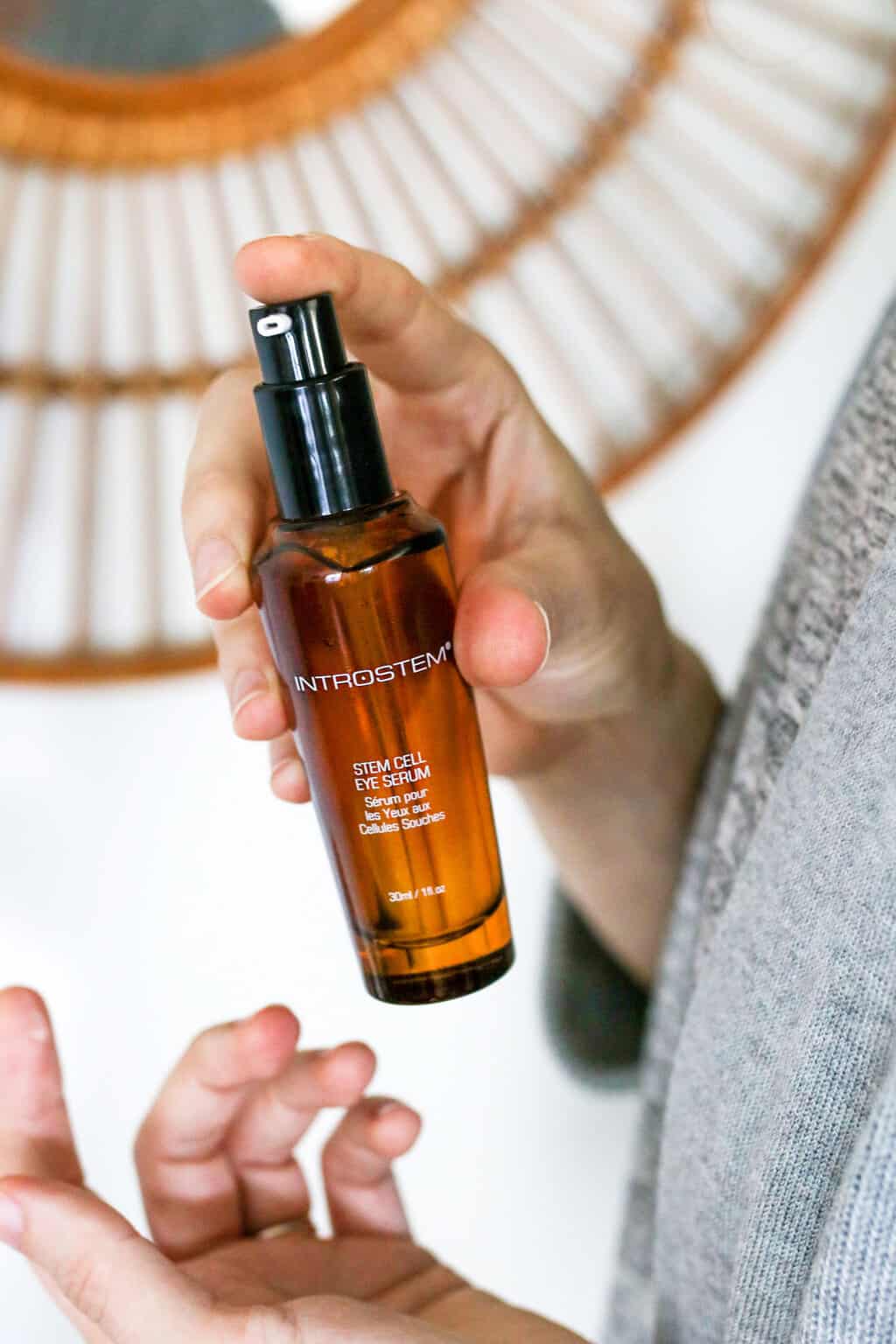 The first couple nights I didn't notice a difference. But I loved the way the product felt (cooling and non-greasy) and I liked that it blended seamlessly underneath my eye makeup, so I started applying a tiny bit twice a day.
I wasn't really hoping for big changes, but you know that tell-tale crease underneath your eyes that highlights your bags?
Well, somewhere around day 5 it stopped being as noticeable. Then the puffiness and dark circles faded a bit, too, so I stopped wearing as much makeup. One morning I got up extra close to the mirror to see if I still had crow's feet (spoiler alert: yes, but they had softened a bit, too).
Truth be told, this one little serum has managed to do what no other lotion or potion has come close to: it's made me look well rested in less than a week. So much so that I stopped wearing concealer altogether. With this serum, I'm happy going au natural for the first time in years.
Next up was Introstem's Hydrolift Face and Neck Cream. It's a daily cream super-charged with peptides, vitamins, retinyl palmitate, collagen and grape stem cells to lift and firm the face, neck and décolletage.
You're supposed to apply a dab to clean skin every day, but like the eye serum, I apply a little bit each morning and night just after cleansing my face. Once I've covered most of my face, I gently massage it in to encourage lymph drainage, get rid of any puffiness and help the cream fully absorb.
I really like that it's rich and thick, so it stays on my skin for a while and it leaves my normally dry skin feeling hydrated. The downside is that since it's so thick, you have to apply it liberally to cover your face and neck.
I want mine to last forever, so sometimes I just use it as a spot treatment on my forehead and on any dry spots. I also use whatever's leftover on my neck and the back of my hands.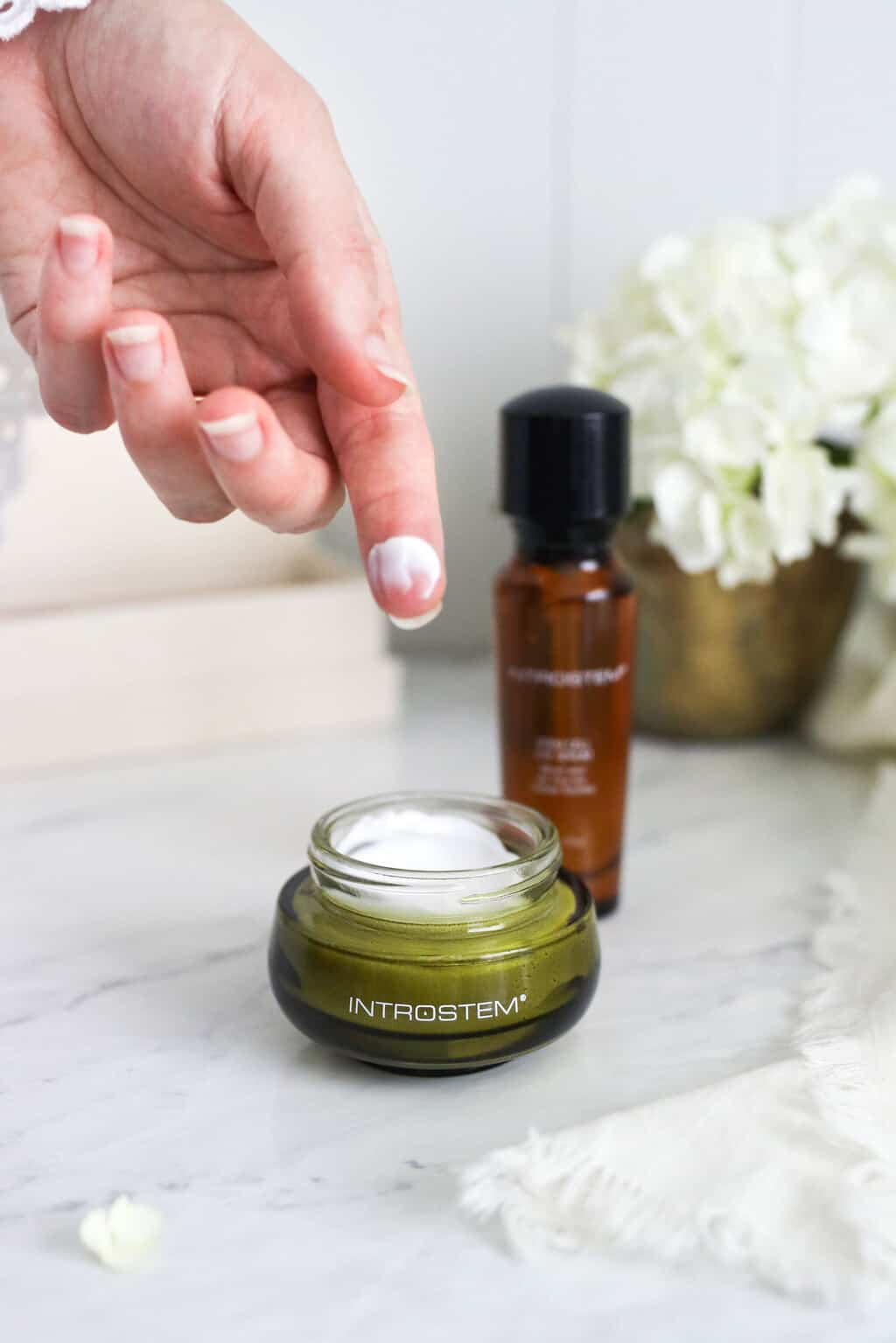 While I didn't notice any plumping action, I did think my skin started to look dewier and more even the longer I used it. And unlike some other creams, it doesn't bother my sensitive skin or lead to breakouts.
Since I love that it creates a smooth canvas for my makeup, I plan to continue using it in the morning as primer to help conceal my pores and at night when my skin feels dry or tight.
Stem Cell Nonsurgical Syringe
Lastly, I used the Stem Cell Nonsurgical Syringe to target my deep lines and eye wrinkles. I didn't know what to expect with this one because it looks just like a syringe, but it's filled with a potent wrinkle fighter you're supposed to apply topically once a week.
A high dose of stem cell extract, peptides and sodium hyaluronate is designed to target frown lines and eye wrinkles, but I found it to feel a lot like those line fillers you get at the makeup counter. To be fair, I love those so this was right up my alley and it quickly became one of my favorite products.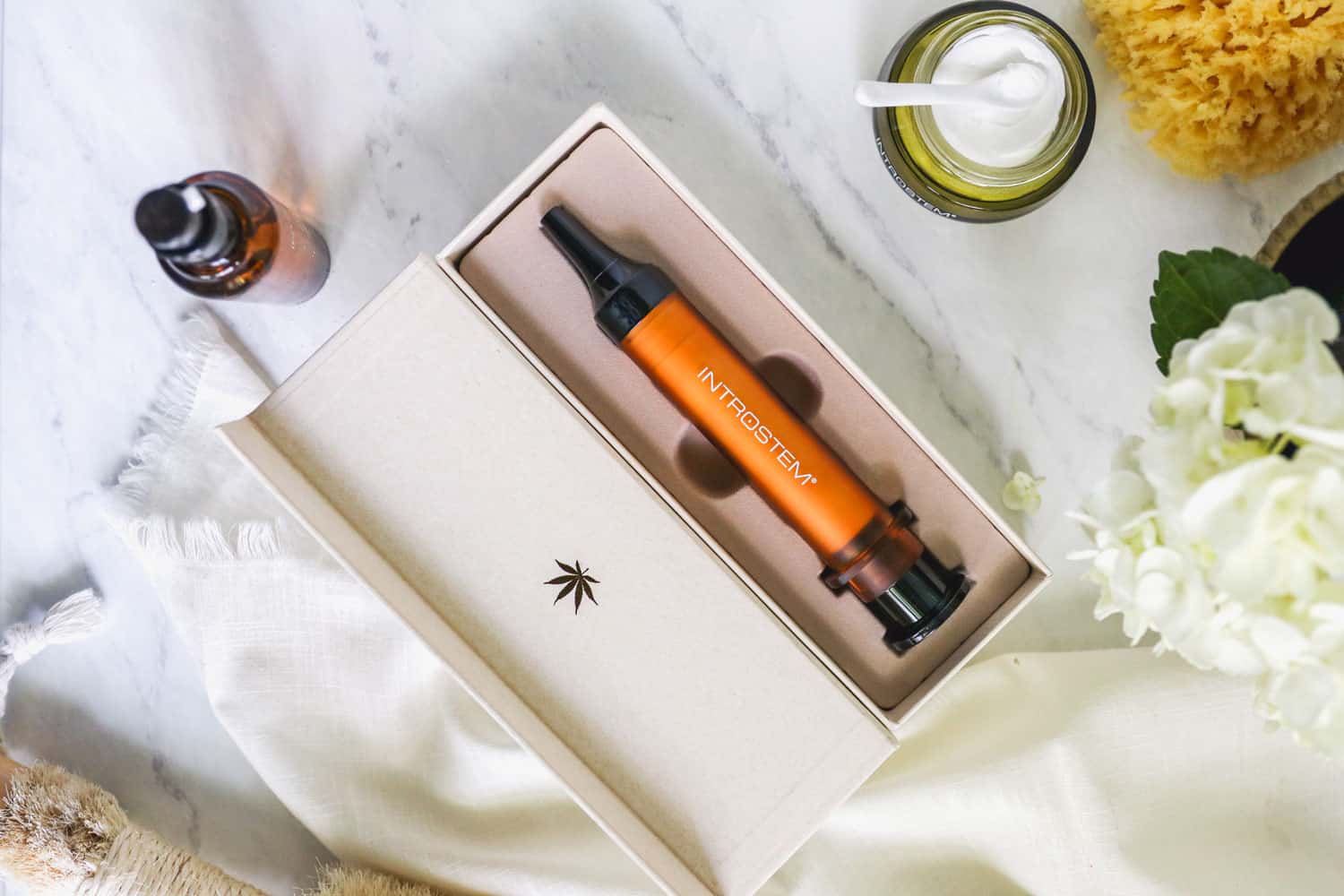 It comes out of the tube like a serum, but then glides over wrinkles and settles into fine lines like a mousse. When it dries, it gives skin a soft, matte feel and instantly makes wrinkles less noticeable. Since I sometimes forgot to use it at night, I applied it in the morning and just covered it with makeup–and it was great! Easy to cover and it gave my skin a super smooth finish.
If only I could use this stuff every day (I don't recommend that), I'm sure I would pass for a velvet-y smooth 21 year old – easy.
While I'm not sure if it's the result of the weekly syringe or the daily face and neck cream, after two weeks I did notice my forehead lines were fainter and I just felt like my skin looked better overall. With subtlely smoother, fresher looking skin, less noticeable lines and brighter under-eyes, I felt comfortable wearing a lot less makeup and just letting my skin breathe.
The only thing I did different was use Introstem. So would I buy them again? Absolutely.
An Introstem Update: Two Years Later
When beauty products are on the pricier side, what you don't want is to spend a ton of money figuring out what works and what doesn't. What you do want is for your future self to travel back in time and tell your present self how everything worked out so your present self can alter the course of history and avoid making the same painfully expensive beauty mistakes. Amiright?
Consider me your future self.
I have been using Introstem for almost two years now. In full transparency, it's just taken me a while to work through my original supply—I haven't purchased any more—so, take that for what it's worth. But by this point I have a much better idea of what actually works and what doesn't. I also know what I gravitate toward every day, which products are worth the high price tag and how the products handle under makeup, in the sun, and while I sleep.
If my experience can help you make a better beauty decisions, then I'm happy to help! Just note that this my personal experience. I'm not a professional beauty blogger, so I can't tell you if there's anything else on the market that might work better at a lower price tag—I just don't know. But I can tell you how my opinions of Introstem have changed over time.
What I still use and what I skip
Let's just go through them one by one, shall we?
Stem Cell Eye Serum
I'm not just saying this because Introstem originally sponsored this post, but this stem cell eye serum is the best eye cream I have tried. Ever.
As I get older, I've been waking up most mornings with pretty noticeable bags under my eyes. Some creams hardly touch them. Other creams get in my eyes and leave me with puffy, bloodshot eyes and bags. But this eye cream is liquid gold.
You only need a tiny drop to shrink bags almost immediately. It's not greasy at all, meaning you can apply it before putting on eye makeup and it won't make your concealer melt or slide off. And because you don't need to use much, it lasts forever. One bottle has lasted me almost two years, making it more than worth the price.
Hydrolift Face and Neck Cream
I really enjoyed this cream but I didn't see mind-blowing results.
It's thick, which is great if you have dry skin like I do, but I had to use a pretty sizable dollup every night to cover my face and neck. Overall, I'd say the entire bottle was gone within a couple months and I didn't notice any huge changes in my skin from using it. While I didn't need to use as much moisturizer in the morning (my skin felt just as dewy the next morning as it did at night after applying), my wrinkles were still pretty noticeable.
Stem Cell Nonsurgical Syringe
I'm pretty sure I still have this somewhere, I'm just not sure where. When I first tried it, I loved how it smoothed out the lines on my forehead and between my eyes, almost like a silicon wrinkle filler. But once I rinsed it off, either at night or the next morning, my skin looked the same. I'm a beauty minimalist, for the most part, and since I didn't see immediate results I just stopped using it.
While a quick Google search tells me that some people swear by it, I couldn't get in the habit of using it everyday. Had I given it more of a shot, it might have worked better.
How long do the results last?
The only real, tangible results I saw were from the eye serum, and I'd say they last about 24 hours. If I apply in the morning, my under eye bags will still be de-puffed at bedtime. Sometimes I apply another dab or two at night before bed, but by the next morning I usually need more serum.
Can you apply makeup over Introstem products?
Yes! I used all three products under makeup and they never caused any issues, either in the form of melting or breakouts. Make sure to wash your face before applying in the morning and give them plenty of time to sink in. Then apply makeup like you normally would.
Do you have any 'after' photos?
No, mainly because I don't really have any 'before' photos. The photos I took for this post didn't really highlight my eye bags or crows feet, so my 'after' photos wouldn't look much different. In fact, I might even look a couple years older, and I didn't want that to dissuade you!
6